Hit the water
For anglers of all ages and abilities, Lake Placid is ideally located near tranquil lakes and the famous Ausable River. Join the ranks of men and women who have traveled here to fish this excellent river. It is not only beautiful, but also historically awesome.
Fishing in Lake Placid
The Lake Placid region's fishing opportunities cover a lot of species and locations. Rainbow or lake trout are known to swim in Mirror Lake, which is located right behind Lake Placid's downtown business district. At the north end of town, fishing Lake Placid lake, which yields some lakers of frightening proportions every spring, is always a favorite.
In the nearby village of Saranac Lake, the Saranac River flows through town and offers fine fishing as it winds toward Lake Champlain.
Fly fishing in the Ausable River
There's also the East Branch of the Ausable River, which is less famous than the West Branch but offers good opportunities for trout in the town of Keene. In addition, the area's backcountry ponds offer beautiful brook trout and superb fishing in a truly wild and remote setting.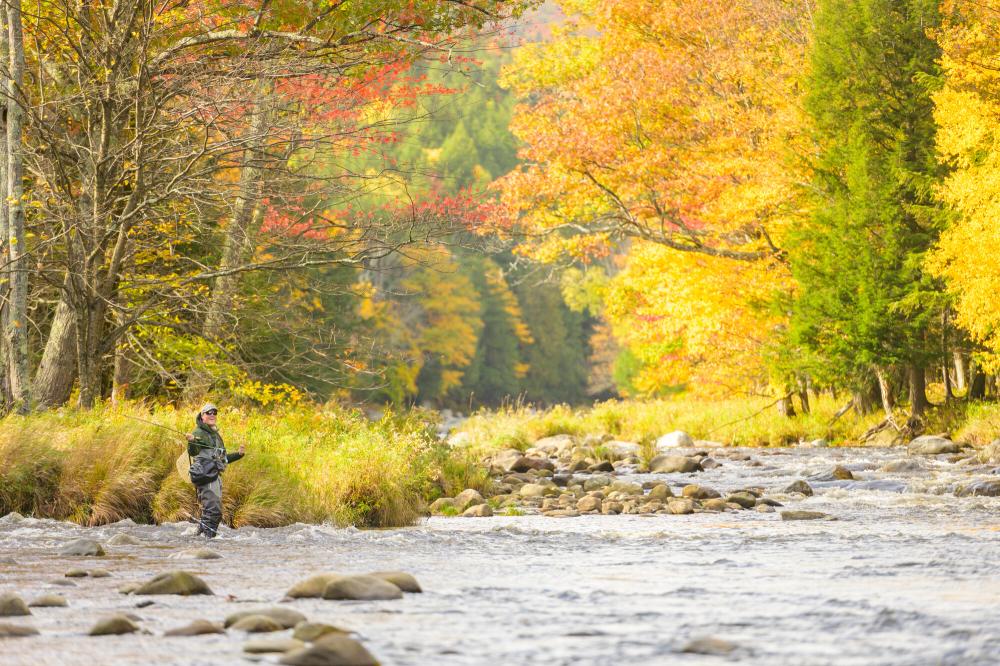 Fishing season in New York keeps getting better as spring begins to win the wrestling match with winter. Fly fishing men and women know what we're talking about — the best hatches begin in May and the insect activity has the trout looking up, as we like to say.
Adirondack fishing trips and guides
Don't know your way around, or need a little help getting started as an angler? No problem! Our region has numerous experienced – and in some cases legendary – Adirondack guides who will put you into fish early and often, while entertaining and educating you along the way.
When your day on the water has ended, the Lake Placid Region has scores of quality dining and lodging options for all tastes and budgets. It's another reason why so many anglers make annual pilgrimages to the region each season.
New York fishing regulations
Fishing is one of the best family activities, and kids under the age of 16 don't need a fishing license to enjoy it. New York fishing licenses for those over the age of 16 are currently $29 annually for New York residents. Residents over the age of 70 pay just $5 annually.
When purchasing, be sure to ask about special license types you may qualify for, as fishing licenses can be obtained in conjunction with hunting licenses. Also, special licenses are available for veterans, active-duty military, and those with certain disabilities.
Leave No Trace and Love Your ADK
The magic of the Adirondacks is the result of previous generations taking a long view and protecting the mountains, lakes, and rivers within the Blue Line. That tradition continues today as we support and encourage everyone to practice Leave No Trace ethics, which help protect the lands and waters of the Adirondacks.

Seven Principles of Leave No Trace