Lake Placid is for everyone!
With incredible views, shops and restaurants galore, endless possibilities to play in the outdoors, and history at virtually every turn, Lake Placid is an easy destination to choose for your next Adirondack visit. We want your time with us to be fun, exciting, and accessible as you explore what Lake Placid has to offer. Our region has a variety of experiences designed specifically with our visitors with disabilities in mind. Because we wish to provide as many fun experiences as possible, we've created a list of some of our region's best accessible experiences to enjoy.
Accessible attractions in Lake Placid
You can't come to Lake Placid without visiting, well, Lake Placid! The Lake Placid Boat Tours and Marina will provide you through a narrated 16-mile tour of these waters and the history surrounding them as you relax on an enclosed pontoon boat, feasting your eyes on the surrounding Adirondack beauty. The use of a wooden ramp allows the boat to be accessible via wheelchair from the dock. During your tour, you will learn about Adirondack wildlife, the Great Camps of the region, and Whiteface Mountain. The tours are first-come, first-serve, so be sure to arrive early and make sure you get a spot!
While known for our scenic beauty, Lake Placid earned its place in history — twice — after hosting the Winter Olympic Games in 1932 and 1980. Many of the venues are not only still standing, but they also remain open to the public and allow visitors to take a trip through history at numerous destinations.
The Olympic Jumping Complex is a must-visit for any and all. Watch aerialists showcase their acrobatic abilities from the deck of the Intervales Base Lodge, or take the glass enclosed elevator up to the observation deck of the K-120 meter jump and watch jumpers fly through the sky amongst the stunning backdrop of the Adirondack High Peaks. The ADA compliant gondola is another option for visitors to make their way from the Intervales Base Lodge to the 90 and 120-meter ski jump towers.
Mt. Van Hoevenberg boasts the only combined bobsled, luge, and skeleton track east of the Rockies. Visitors have the choice to watch athletes practice, take a tour of the property, or enjoy a bobsled run down the Olympic track. Luge classes are available as well. Both the bobsled run and luge have accessible options on a case-by-case basis. Visitors interested in the bobsled or luge offerings are advised to call the office in advance to see what arrangements can be made. The three floors of the property can be accessed via elevator, allowing all visitors to explore the facility, go on tours, and witness athletes as they train. For those who wish to take a tour of the bobsled run, a vehicle is available to transport you as well as any mobility aids or devices to the top and, when your tour is completed, back down. The new Cliffside Coaster at Mt. Van Hoevenberg is North America's longest mountain coaster experience, following the 1932 Olympic bobsled track as well as exploring surrounding scenic areas. The Cliffside Coaster is accessible to all with a friendly and accommodating staff ready to support your needs.
It was at the Lake Placid Olympic Center in 1980 that the US men's hockey team toppled the Soviet Union on their way to winning the gold medal. Before the Miracle on Ice,16-year-old figure skater Sonja Henie charmed the world, winning a gold medal in the 1932 Winter Olympics. An elevator allows access to the two floors of the center, both floors consisting of a floor plan accessible to all visitors. Note: the Lake Placid Olympic Center is currently under construction. Read more about renovation projects, what's open, and projected project completion timelines!
The Lake Placid Olympic Museum recently received an exceptional update, with galleries sharing Olympic history in well-lit, dynamic displays that are accessible and may be experienced by all. A fully accessible elevator is available for use to access the museum.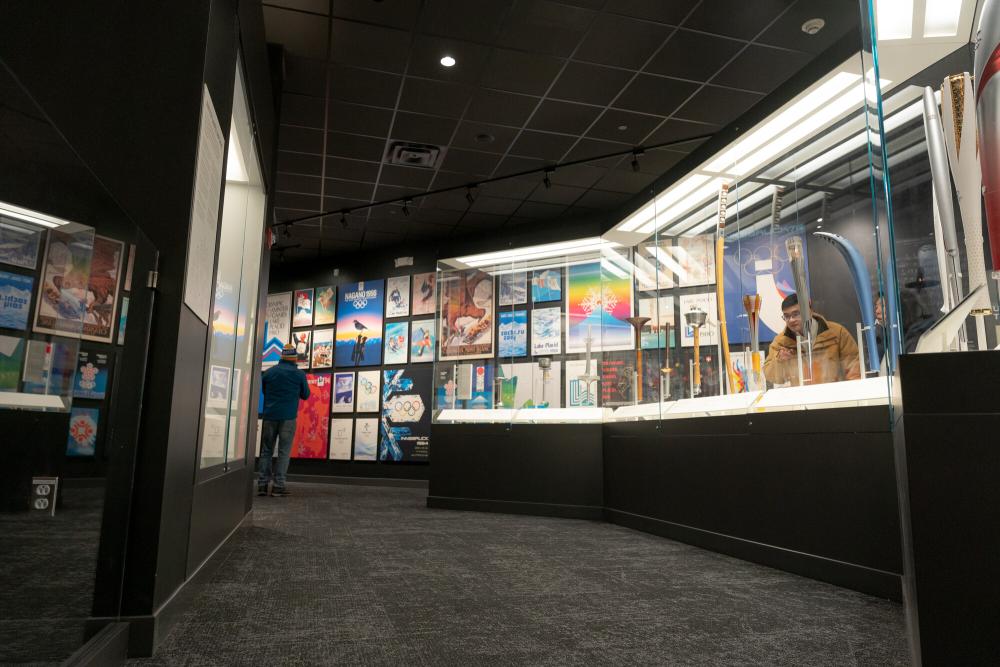 Beyond Lake Placid
Accessible Adirondack fun does not begin and end in Lake Placid. Far from it! In Saranac Lake? Check out ADK ArtRise, the Adirondack Carousel, or any of the many accessible activities Saranac Lake can offer. Going to Wilmington? You can't pass up a chance to take in the incredible views at High Falls Gorge or a ride in the Cloudsplitter Gondola before exploring our accessible trails and locations. Hanging out in Tupper Lake? Getting wild at the Wild Center and getting lost in the stars at the Adirondack Sky Center and Observatory must be on your to-do list.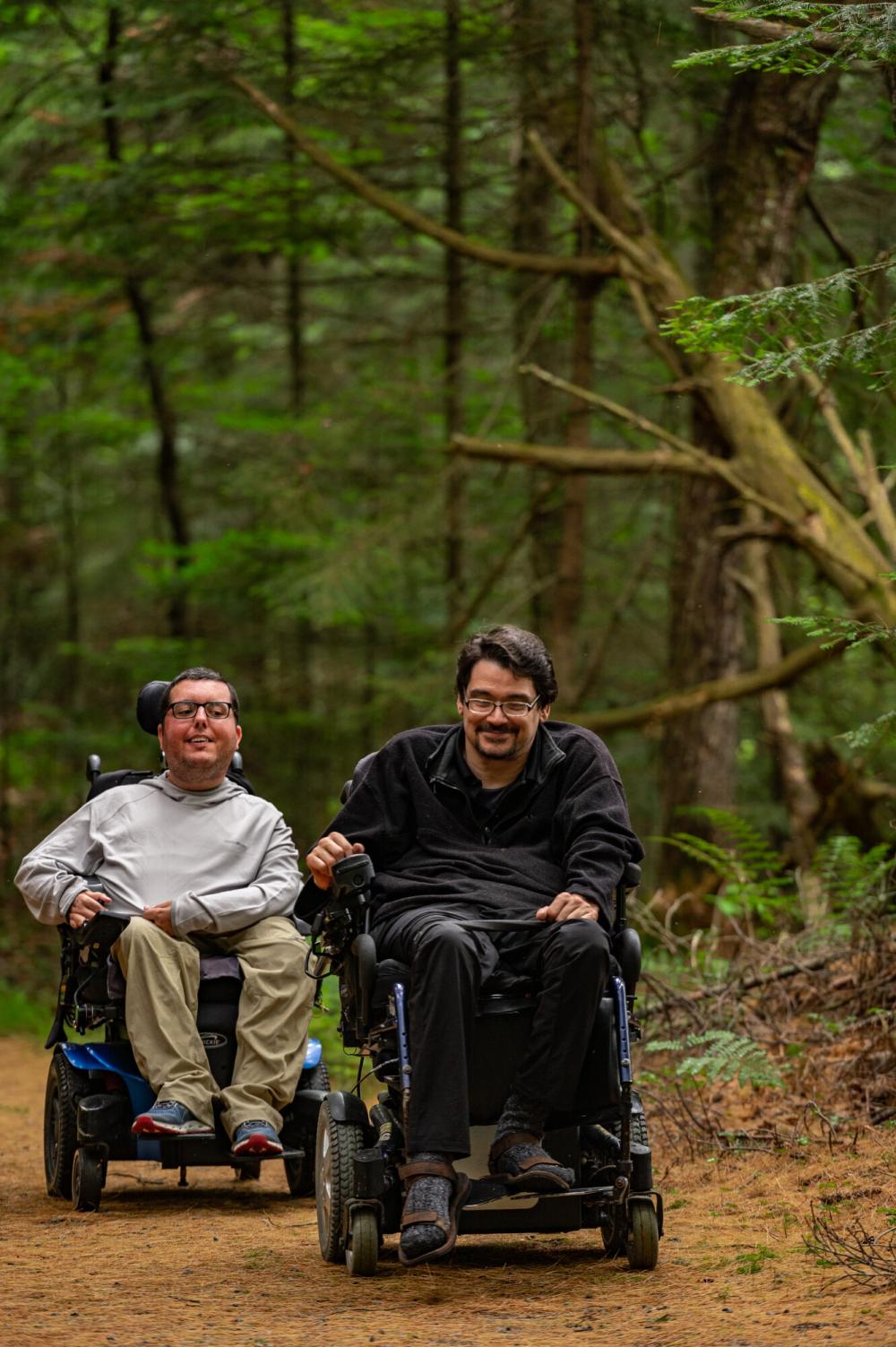 Additional travel tips
Questions? Please feel free to call ahead to chat directly with a hotel, restaurant, or attraction.
If you have special needs, please mention them at the time of reservation, and call the provider 24 to 48 hours before your arrival to confirm that proper accommodations have been made. Don't hesitate to ask for specifics such as door and bathroom measurements if you question whether or not your wheelchair will fit.
Please be specific and clear when describing a disability. Not all service providers know the "lingo" of accessible travel, but they do want to help make sure you have a wonderful experience when you visit. Give as many details as you can about your needs. The more information a service provider has, the better they will be able to accommodate you and make your visit as easy and comfortable as possible.