Lake Placid ice fishing
Traditions are what make the Adirondacks, and one of the oldest is ice fishing. A little snow and ice won't stop the fishermen in Lake Placid from hooking a great catch, so why should it stop you? The ponds and lakes of the region are ripe with fish, all year round! Why don't the fish freeze in the ice? The lakes around here aren't your usual. Dug from ancient glaciers that carved the iconic Adirondack mountains, the lakes are deceivingly deep, meaning more hiding spots and plenty of fish during cold winters!
Break through
Make ice fishing the main event, or just one of the activities that make your winter visit to Lake Placid one to remember. Don't forget your auger, bait, lure, and of course, the hut. Be prepared! While the wild icy frontier may look inviting, the frigid temperature still begs for you to bundle up before you go. Ice fishing can be heaps of fun, but preparing before you head out will ensure you get the most out of your trip.
Although there aren't any prime spots immediately in the village, waters as close as 4.5 miles out of town are the key to your next catch!
The best spots for ice fishing near Lake Placid
Not sure what lakes and ponds are safe for ice fishing this season? No biggie! We've got just a few that we think you'll love.
Connery Pond is located just 4.5 miles outside of the village of Lake Placid, and surrounds itself with some grandiose scenery. Nestled below the giant shadow of Whiteface Mountain, Connery Pond boasts 83 acres of ice, and all sorts of fish to catch. You'll find splake, yellow perch, sunfish, and pumpkinseed (yes pumpkinseed is a fish), as well as brown trout!
Copperas Pond requires some tact to get to it. This pond requires a steep half-mile hike to get to it from the highway, but the fishing is worth it. The pond is completely secluded from vehicular traffic, so it's just you, the lake, and the fish you catch! If you're looking for some much-needed peace and quiet for your next trip, Copperas Pond is all you need.
If you're looking to get more out of town with an easy-access pond, Lake Colby is the perfect spot. Not only is it easy to access, but the lake also turns into an ice fishing oasis in the winter, developing its own shanty town stocked with snowmobiles, fishermen, and the best part, fish! Lake Colby is also home to multitudes of different fish, including landlocked salmon, brown trout, rainbow trout, yellow perch, and pumpkinseed (still a fish).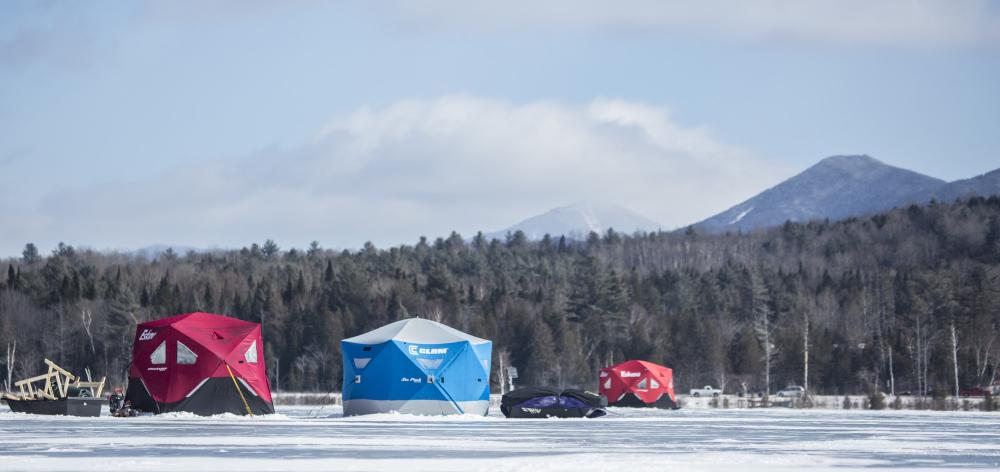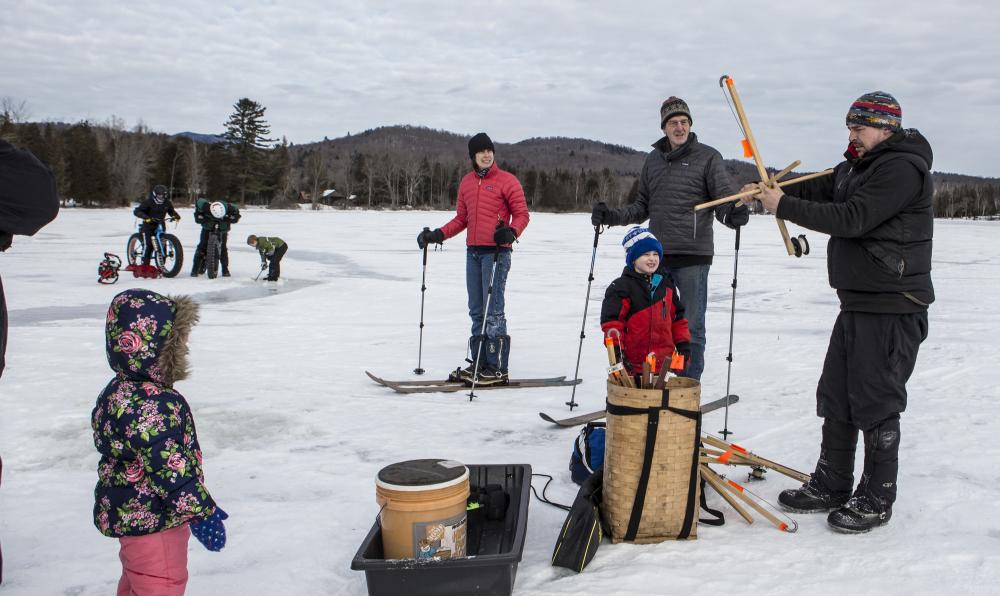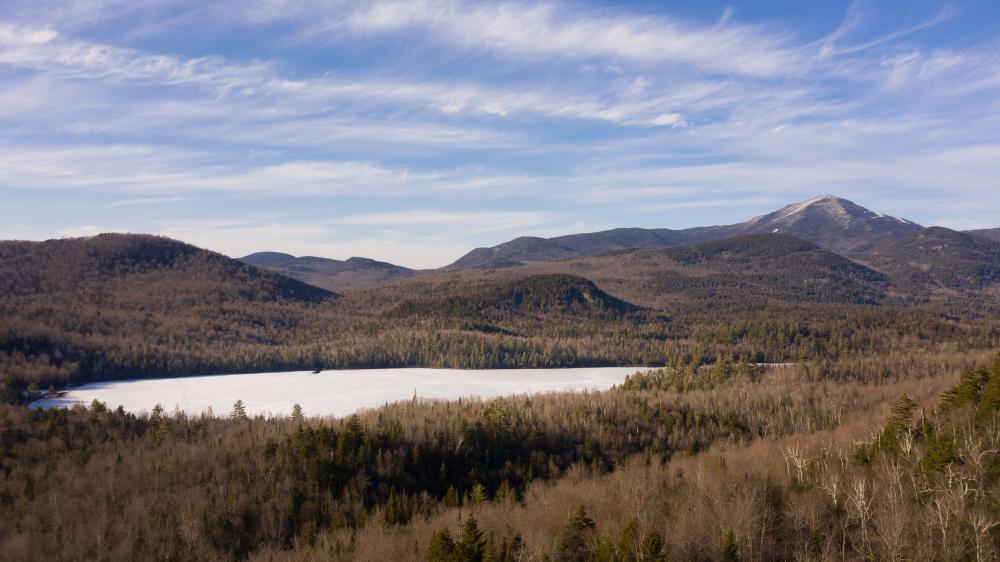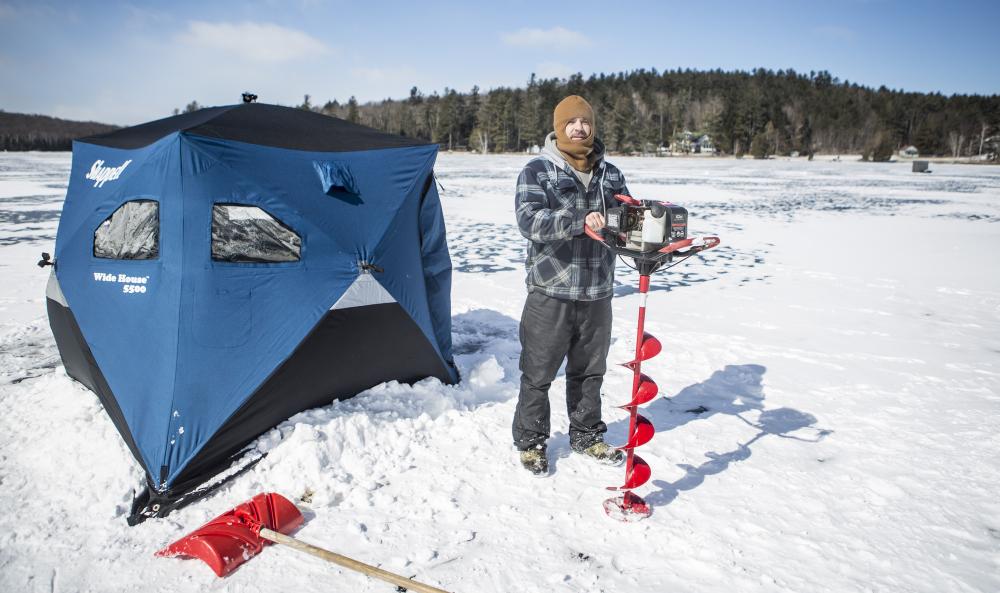 New York Ice Fishing Regulations
One of the best family activities, fishing is fun for all! Kids under the age of 16 don't need a fishing license to enjoy it, however, for the rest of you, New York fishing licenses for those over the age of 16 are currently $29 annually for New York residents. Residents over the age of 70 pay just $5 annually.
Before you purchase, be sure to ask about special license types you may qualify for, as fishing licenses can be obtained in conjunction with hunting licenses. Also, special licenses are available for veterans, active-duty military, and those with certain disabilities.
Love Your ADK
To keep the Adirondacks wild and beautiful, and keep activities like ice fishing thriving, we ask that you take the Love Your ADK pledge, and practice Leave No Trace principles!