Fun trails through big mountains
The Adirondack Mountains are famous for skiing and hiking, but they're becoming known for awesome mountain bike trails, too. We take mountain sports seriously, so we've been working hard on creating and expanding top-notch mountain bike trails near Lake Placid that are suitable and immensely fun for beginner and expert riders alike.
Trail systems galore
Experienced riders, or anyone looking for more variety, should either head to the Lussi and Logger Trails or the Craig Wood Trails. The former is accessible from town and has the highest concentration of single track in the area, while part of the latter is built on the side of an old ski hill.
No bike? No problem! You can rent everything you need from one of our local gear shops. And be sure to ask staff there about trail conditions before heading out! While you're in town, don't forget to check out the Wilmington Mountain Bike Fest, held every summer. 2023 dates are due to be announced, so be sure to keep an eye on our events page for this, and for other group rides and activities!
Beginner-friendly biking
Anyone looking to give mountain biking a try should head to the Henry's Woods and Heaven Hill trail systems. Located right around the corner from each other, these trails offer a stupendous amount of variety along mostly easy terrain. Not familiar with the trails? You can check out Lake Placid on Trailforks, and peruse the plentiful biking trails while your out there.
If you're looking for a good-sized trail system and one where you can rent bikes, check out the trails at Mt. Van Hoevenberg. It's a great spot for first-time and beginner riders, and has several amenities, including a shop, food, and bathrooms. With friendly staff on hand to answer questions and give tips, plus an excellent variety of trails, it's ideal for the whole family.

Trail building and the Barkeater Trail's Alliance
The mountain biking community in the Adirondacks is welcoming, friendly, and always caring for and developing trails for everyone's enjoyment. A big part of the community is the Barkeater Trails Alliance (BETA), which builds, maintains, and advocates for a system of community and backcountry trails for ski touring and mountain biking ​in the greater High Peaks region of the Adirondack Park. BETA hosts regular volunteer trail work days and fun riding events. Even if you're not a local, you're welcome to join. Learn more about BETA and how you can support trail building and maintenance in the Adirondacks.
In an area as big as the Adirondacks, there are sure to be a number of unique spots for mountain biking. Explore beyond Lake Placid to the awesome, varied trails in Whiteface Region and around Lake Champlain. Whiteface's Hardy Road trails are local favorites, while the Lake Champlain Region's Blueberry Hill trails are fantastic for biking year-round.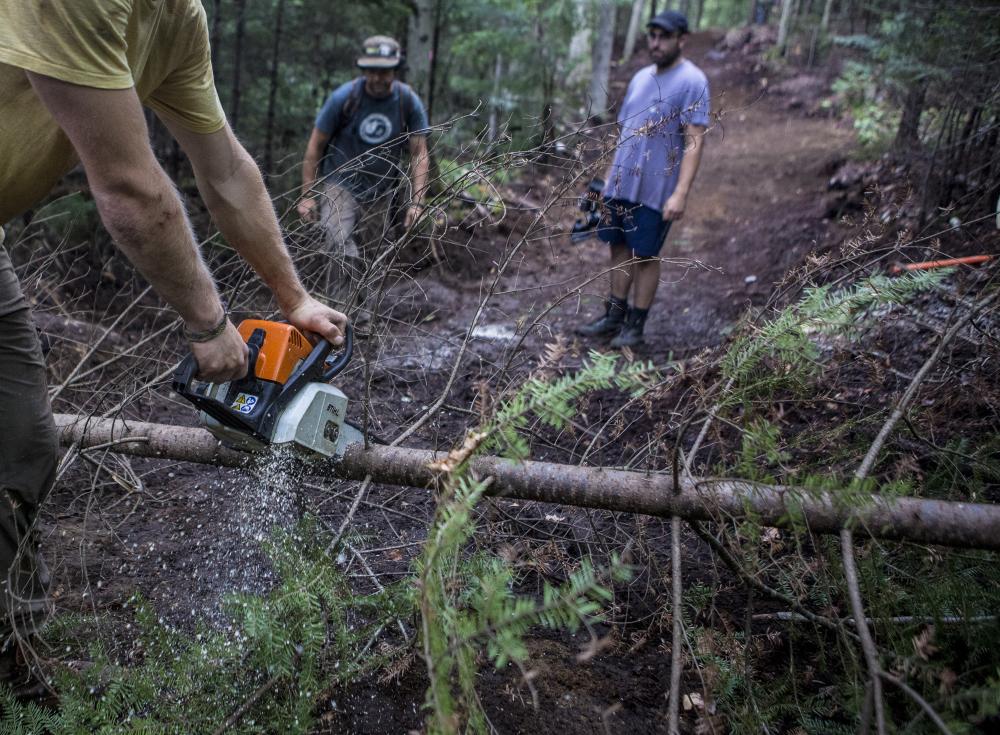 Ride with Gratitude
We invite you to take the Ride with Gratitude pledge and live out the principles that help make our trails accessible and here for good.
1. Respect this gift
Riding trails on public or private lands is a gift, not a right. That hiker we just passed? She might own the land we're riding on. With every ride, let's remember to be grateful for the landowners and others who make it possible.
2. Protect nature
Enjoy nature, don't ruin it. Keep on the trails. Erosion is our single highest impact when we're out riding. Skidding causes erosion. Cutting corners can cut off access. Riding muddy trails messes it up for everyone. If we see animals, don't bother them, remember them. Pick up trash, pack it out, carpool here and back.
3. Care for others
We share the trails with others, and they have the same rights and responsibilities as each of us. If someone needs help, we help. If someone needs encouragement, we share our enthusiasm. And if it's going to make the situation better, we dismount. Be nice, yield to others, and give a smile.
4. Be the example
We know our limits, and we ride within them. Beyond the ride, let's park where we're supposed to keep the tunes to a dull roar, and leave the IPAs for après somewhere else. Reckless behavior? A simple, polite call out will do.