Stay dry: A word to the wise
Spring is a beautiful time to be in the High Peaks, and it's also a good time to pay close attention to trail conditions. The state Department of Environmental Conservation asks hikers to help protect our forests by sticking to low-elevation trails until things dry out. Hiking during any time of the year can be dangerous to both you and the trails, but spring hiking in the Adirondacks brings additional considerations. Up high, hikers will still find winter conditions this time of year, including deep snow and sub-zero temperatures. A bit lower there's a good chance of finding lots of water and mud. As snow and ice melt, the increased water flow makes easy stream crossings more dangerous, and the mud makes trails soft and vulnerable to foot traffic.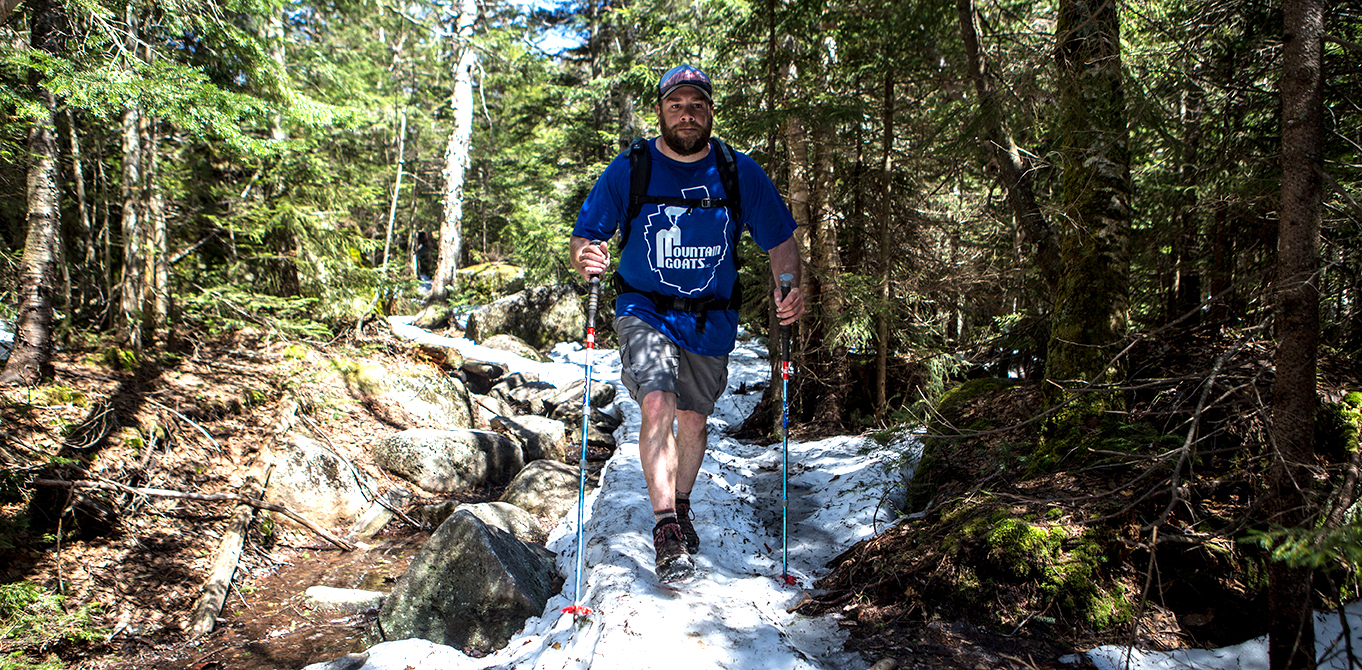 That doesn't mean hikers should give up on spring hiking in the Adirondacks and wait for summer, it just means they should look for alternate treks until warm temps and sunshine can work their magic. With that in mind, every spring brings me back to two iconic High Peaks adventures: Avalanche Pass and Indian Pass. The trails are both long enough for a day hike, the destinations are not to be missed, and choosing these over a mountain will reduce hiker-induced erosion in higher elevations.
Avalanche Pass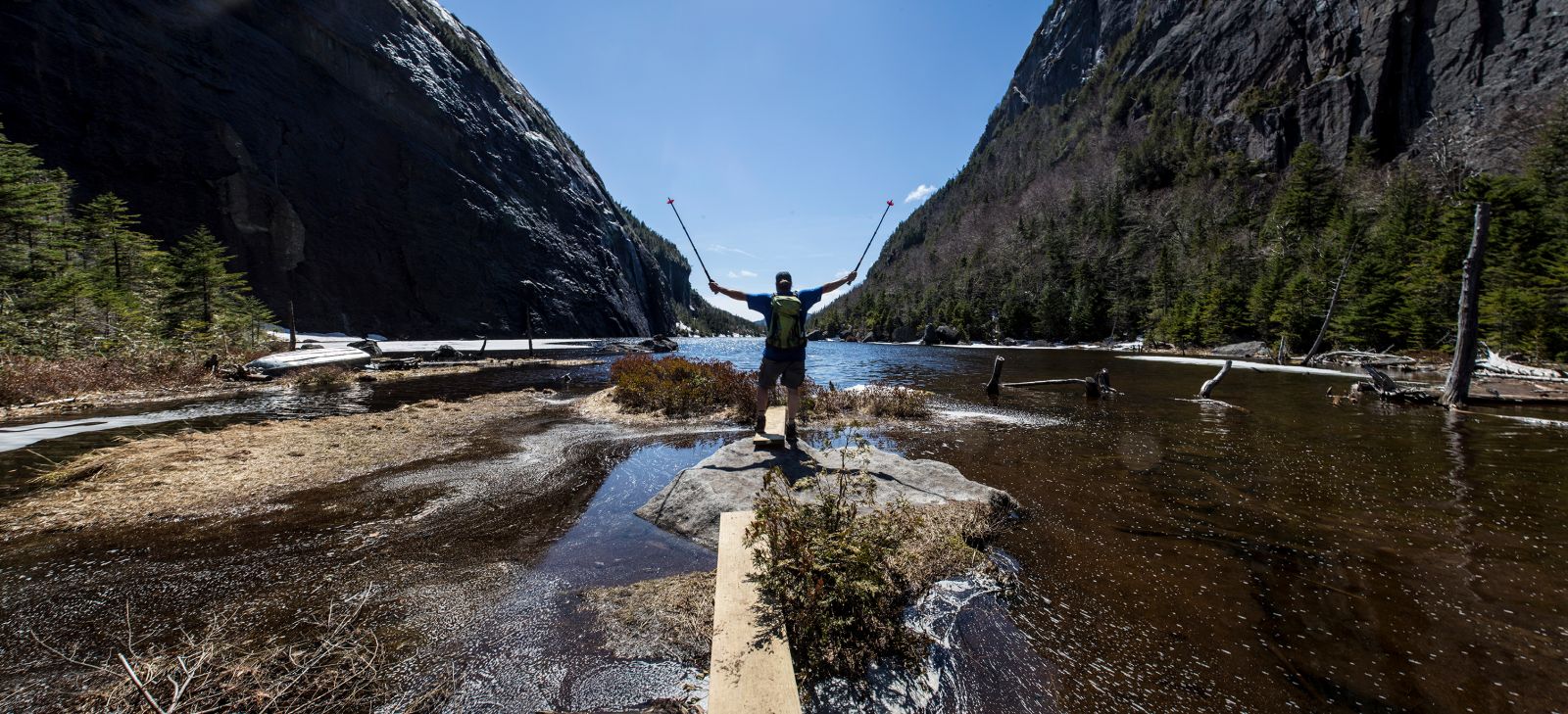 I still remember the first time I saw Avalanche Pass. There was a moment of anticipation as I made my way along the base of a cliff, sandwiched between Colden and Avalanche mountains. Then the forest gave way and I was on the shore of Avalanche Lake, staring in wonder at the behemoth rock wall that forms the waterbody's eastern shoreline.
My companions and I spent a couple of hours exploring the trail as it snakes around and over the boulders on the western shore. A giant jungle gym, there are wooden ladders for ascending the largest boulders and catwalks over the water called "Hitch-up Matildas" bolted into rock faces, making the impassable passable. That maiden voyage happened because a group of us were visiting the region and we were exhausted from our hike up the 5,114 foot Algonquin Peak the previous day. I'm not one to let a nice day go to waste, so the long, relatively easy hike to Avalanche Pass was perfect.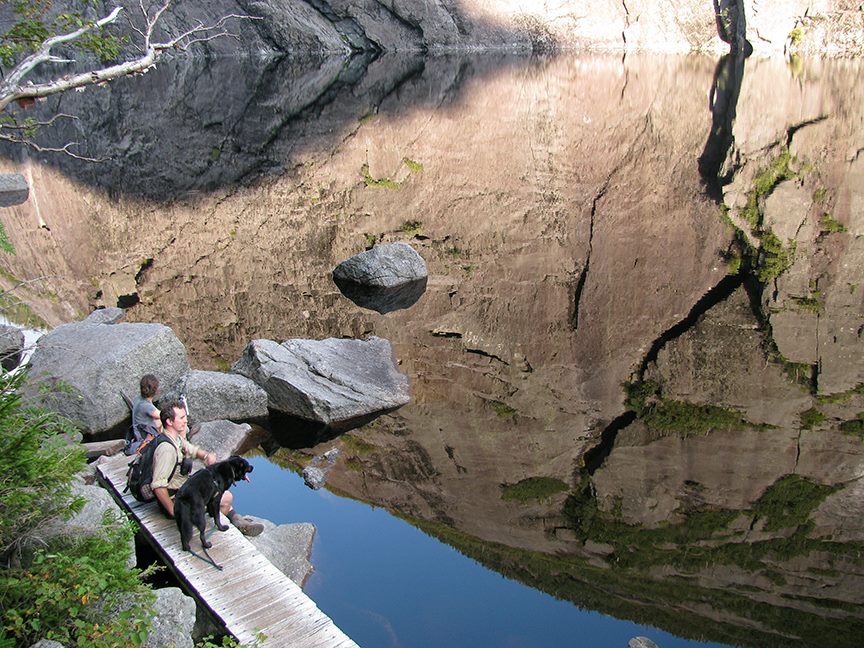 The trail starts at the High Peaks Information Center parking area — take Route 73 east from Lake Placid, turn right on Adirondack Loj Road, then follow that to its end — and gradually winds its way to Marcy Dam. The dam isn't there anymore, but the gorgeous view of Mount Colden is. Take some time to check it out — the area that's at the base of Colden's slides is your destination.
The path leaves the dam and slowly gains elevation along Marcy Brook, which it crosses on a large wooden bridge at about 3 miles. The brook, with its speckled, rounded boulders, makes for good rest-stop scenery.
Continuing on, the trail goes by the route up Colden before climbing to the height of land that's just before the pass. This is where things get interesting. Slides swoop down and stop just short of the trail, which cuts right through the enormous pile of logs they left. It's a wonderful scene of beauty and destruction that culminates at Avalanche Pass. Hang out on the shore here, or explore a little farther if you're feeling adventurous.
Indian Pass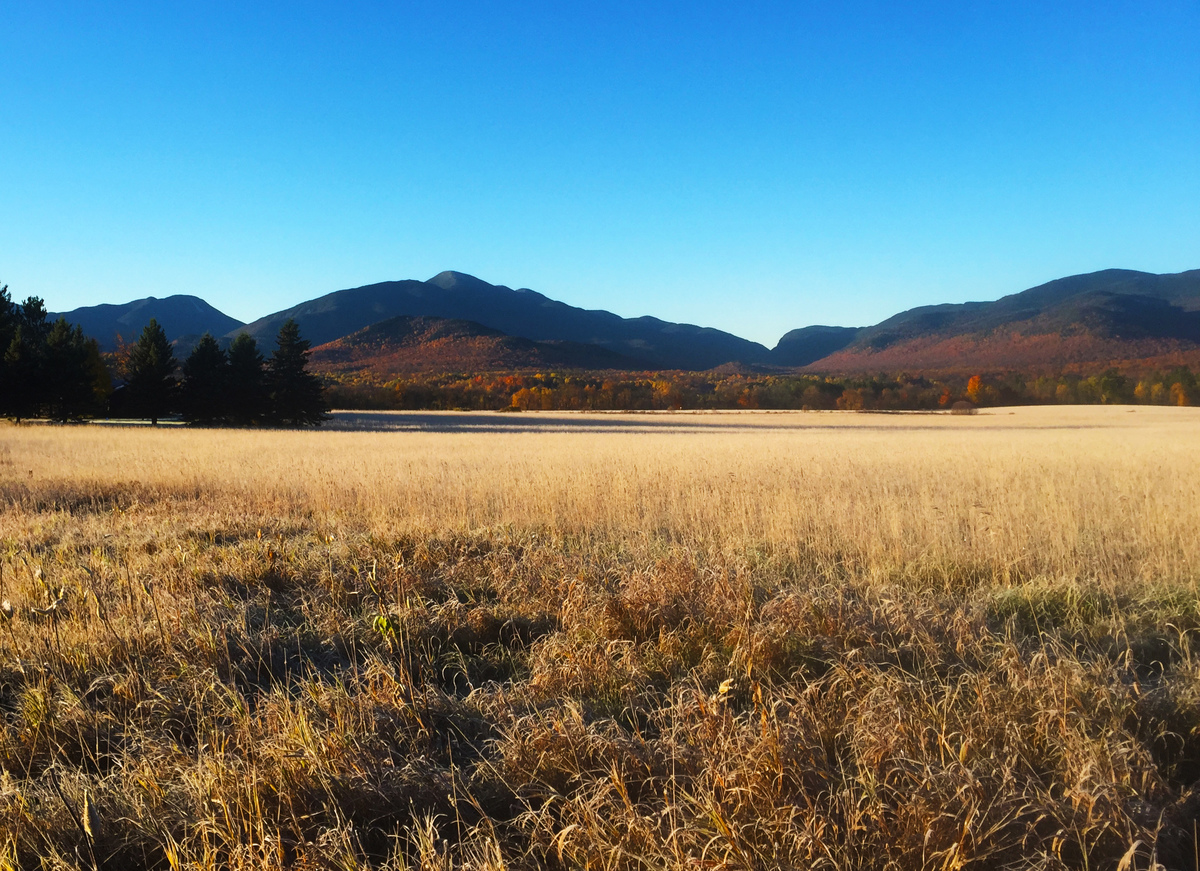 The MacIntyre Range forms an enormous, jagged wall between Indian and Avalanche passes. It's a formidable boundary that's worth exploring. The entire range can be traversed in a day by a fit hiker, but in the spring it's better to stay low.
I've only been to Indian Pass once. It was a sunny, late-winter day that turned into a full-scale blizzard by the time we were heading back, forcing us to make haste before the snow covered any sign of a trail.
The snow started as we began the long climb into the pass, creating a wonderful scene of big, white flakes drifting past the cold, dark gray cliffs. By the time we got to the height of Indian Pass it was snowing heavily. There's a 1,000 foot rock wall here, which can be seen from Adirondack Loj Road on the drive in, and its bulk vanished into the haze above us. The massive boulders at the bottom of the pass appeared from the haze like dinosaurs as we walked.
It felt as if we were standing before something incomprehensibly large, and we were, but as the storm continued it became increasingly difficult to see anything. We made our way back after spending about 10 minutes at our destination, and we immediately noticed that our tracks were disappearing as quickly as the rock features we'd left behind. This is a lesson for exploring the mountains — weather can change quickly, so don't hesitate to turn back if things start to look dicey. Luckily, as we found ourselves back on lower ground the snow tapered off to a flurry, which eased our minds.
The trail to Indian Pass also begins at the High Peaks Information Center parking lot. Head back out to the toll booth and take the trail toward Heart Lake and Mount Jo, both of which you'll pass. It's about 6 miles to Summit Rock in the pass. I hear there's a great view from there! Along the way you'll pass Rocky Falls at 2.1 miles and the Scott Clearing Lean-to at 3.8 miles. Give yourself a full day to complete this hike. It isn't terribly difficult, but it's long and there are a lot of mostly gradual uphill sections to ascend.
---
My favorite thing to do after a day hike is to head into town to grab food and a beer. You'll have no trouble finding both in Lake Placid!
---
In related ADK activities: