A perfectly-sized getaway in the heart of the High Peaks
Cooler air is drifting in, daylight hours are becoming shorter, and the brilliant colors of autumn are making a grand showing. Fall has arrived, right on schedule, and now is the perfect time to escape for a few days and savor the season. Situated just perfectly amid the Adirondack High Peaks, Lake Placid is a place where you can be close to everything, yet magically feel like you're far from everywhere. This village is so much more than just a cool place to experience the leaf change, it's bursting with possibility, sporting everything from amazing cuisine to engaging activities, from great shopping to rich history, and it's also an exceptional place to connect with nature – in short, it's the perfect setting to immerse yourself in the heart of an Adirondack autumn. Explore some of the area's best with our 72-hour itinerary, full of activities that will help you to recharge and rejuvenate, and sized just right for a refreshing little getaway.
Day 1
Paddle Mirror Lake
Launch the first day of your fall getaway on the waters of Mirror Lake! In case you aren't familiar with the village of Lake Placid, there are two lakes in town – Lake Placid and Mirror Lake. Mirror Lake is the smaller of the two and visible from Main Street. Mirror Lake is easily accessible, and ideal for paddling! Bring your own canoe, kayak, or stand up paddleboard, or rent from one of the several boat and paddleboard rental businesses in town. Electric motorboats are permitted on Mirror Lake, but gas powered motors are not. Launch from one of two places: the DEC boat dock on the lake's northern shore, or the park near the town beach. Once you're on the water, you'll enjoy a unique view of the village, and have 128 acres of sparkling Adirondack water to explore!
Visit John Brown Farm
Next, head to New York State Historic Site John Brown Farm, located near the ski jumps and only a short distance from Mirror Lake. Here, you will find the historical homestead and final resting site of John Brown, the famous abolitionist of Civil War days, alongside a memorial and fascinating educational exhibits. Touring the site is a wonderful way to get to know the area's link with the Abolitionist movement and some of the people who have have made a sizable impact on the local area and history of the nation. The John Brown Farm is also home to some incredibly beautiful hiking trails that are suitable for all levels of hikers. Even better, the trails are dog-friendly, so if you've brought your four-legged companion along with you, this is a great hiking stop for everyone! The site is open year-round, Wednesday through Saturday, 10 a.m. - 5 p.m.; Sunday 1 - 5 p.m.
Insider tip: Pick up lunch to go from one of the sandwich shops in town and enjoy a leisurely picnic at John Brown Farm!
Tour North Elba Historical Society
One of the coolest and most interesting local spots to visit is the historical Lake Placid Railroad Station, which houses The History Museum, operated by the Lake Placid-North Elba Historical Society. The museum's mission is to document and preserve the history of the Village of Lake Placid and the Town of North Elba, and there's always an engaging, fascinating exhibit on display. A current exhibit, "Through the eye of Grover J. Cleveland", highlights photographs captured by Grover Cleveland, who at one time was employed as a professional photographer in Lake Placid. The display includes many images of the village before and after the 1932 Olympics, as well as some of his commercial work. Past exhibits and collections include topics such as the photographs from the 1932 and 1980 Winter Olympics, the Stedman and Moses Collection of Glass Plate Negatives, the Noah John Rondeau Collection, and Hiking to 100: The Centennial of the Northville-Placid Trail. (Psst: the museum is especially welcoming to hikers of the Northville-Placid Trail - check in with the museum for more details!) The History Museum is open Wednesday through Sunday, 10:00 a.m. to 4:00 p.m. from Memorial Day to mid-October.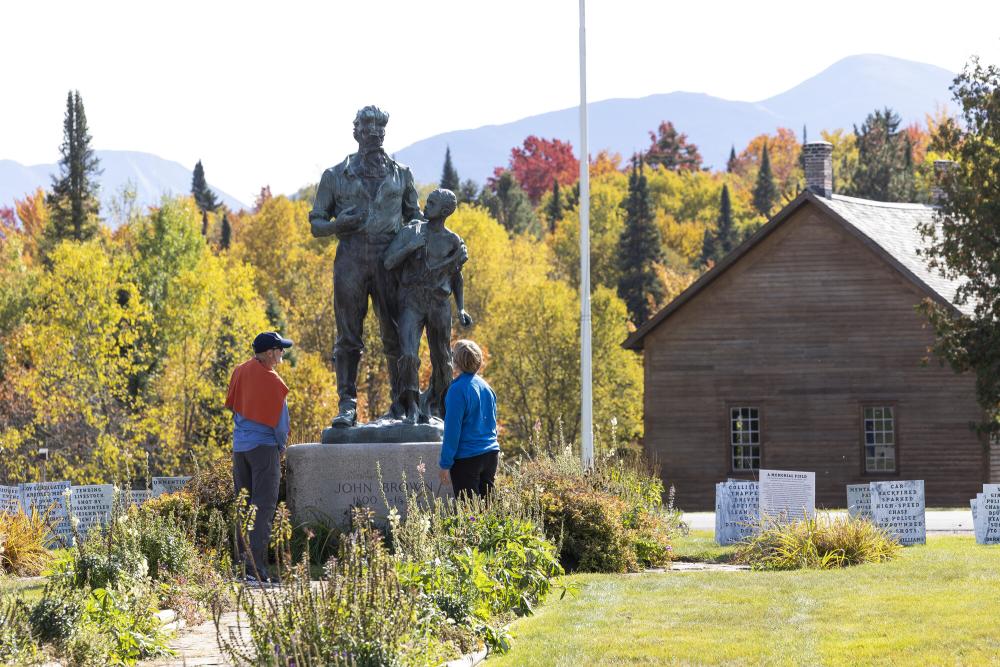 Day 2
A medal-worthy day
No visit to Lake Placid would be complete without catching a spark of excitement that still remains after the 1932 and 1980 Winter Olympic Games. Spend today immersing yourself in Olympic history and rediscover the thrill of the Olympic Games that lives on in Lake Placid! The new Olympic Center museum houses North America's largest collection of Winter Olympic artifacts, interesting interactive exhibits, cool and innovative displays, and captures the spirit of Olympians and of the Olympic Games that is nothing short of inspirational.
When you're done at the Olympic Center, head over to the Olympic Jumping Complex, for big excitement that's virtually guaranteed! Visitors to the Olympic Jumping Complex can opt for a lift on the Skyride, a state-of-the-art 8-person gondola that transports you to the base of the ski jumps. From there, you can ride a glass-sided elevator to the top of a ski jump and experience a unique and breathtaking autumn view of Lake Placid and the surrounding area from the sky deck! Another option available to the adventurous spirit is to simulate a ski jump experience on the Sky Flyer Zipline! Depending on the timing of your visit, you might also catch ski jumping team training in action, or have the opportunity to watch an actual competition (check the events schedule for details)!
Insider tip: To allow yourself a stress-free visit with plenty of elbow room and to avoid lines or shorten wait times, enjoy touring the Olympic Center on a weekday. Also, check out the tasty and convenient on-venue dining available!

Day 3
Explore by boat
You've already paddled Mirror Lake, and now it's time to experience the waters and views from Lake Placid! You won't want to miss the opportunity for a unique view of Lake Placid's Great Camps and Whiteface Mountain via Lake Placid Boat Tours. You'll get a ride on one of the trademark pontoon boats and travel sixteen miles on the lake as you learn about points of interest along your tour from friendly and knowledgeable locals. Tours last approximately one hour and begin at 9 a.m. daily.
Explore on foot
After exploring the waters of Lake Placid, get your land legs beneath you as you explore the village on foot! Main Street has it all – unique shops and galleries, great dining options, and even the perfect cost-free activity to either work up an appetite, or walk off a meal in the prettiest setting imaginable! One of the most pleasant ways to spend time in the village of Lake Placid is to take a walk, run or stroll around Mirror Lake, and fall is a spectacular time of year to enjoy this simple, but delightful activity. The distance around the lake is 2.7 miles, and you'll appreciate the wide, well-maintained sidewalks and benches placed at nicely spaced intervals along the route where you can stop to rest or just enjoy the spectacular mountain and lake views. You're sure to finish your loop around the lake with some great photos – it's not at all surprising that people describe their journey around Mirror Lake as the favorite activity of their trip!
Insider tip: Many of the restaurants offer outdoor seating or tables with a view, so you can enjoy your meal while you don't miss a minute of the fall scenery. Reduce wait times at restaurants and avoid parking hassles by visiting the Main Street area mid-week!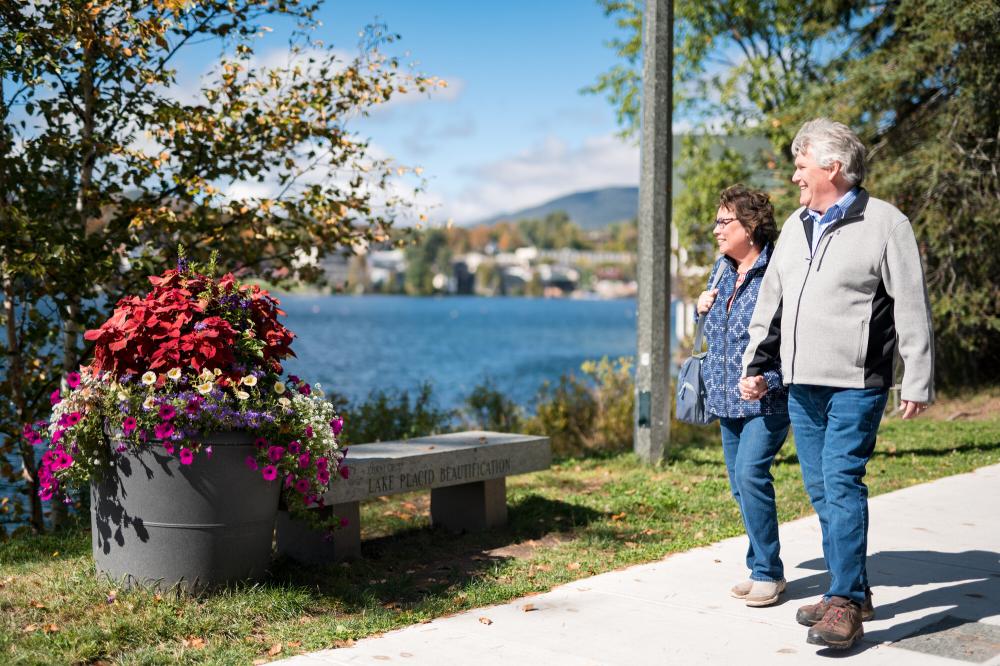 Whether you're new to the area or a frequent visitor with a list of favorites that you'll return to time and again, each visit to Lake Placid is sure to find a new way into your heart. Visit this fall and discover something new!