Before the Miracle on Ice, the Whiteface Veterans' Memorial Highway, the Palace Theatre, and other Lake Placid heavyweights (like the Lake Placid Pub & Brewery), there was ski jumping. Yes, the first ski jumps at the present-day Olympic Jumping Complex in Lake Placid, NY were built in 1920. And ever since then ski jumping has been as much a part of Lake Placid as the equally impressive mountains and lakes.
For most of the world, ski jumping is something only seen during the Olympics. But here in Lake Placid, the ski jumps are a defining feature of the landscape. Every single day people drive by, visit, or dream about rocketing down the massive slopes. No, in Lake Placid, ski jumping is not something that only comes up every four years; it's something that comes up daily.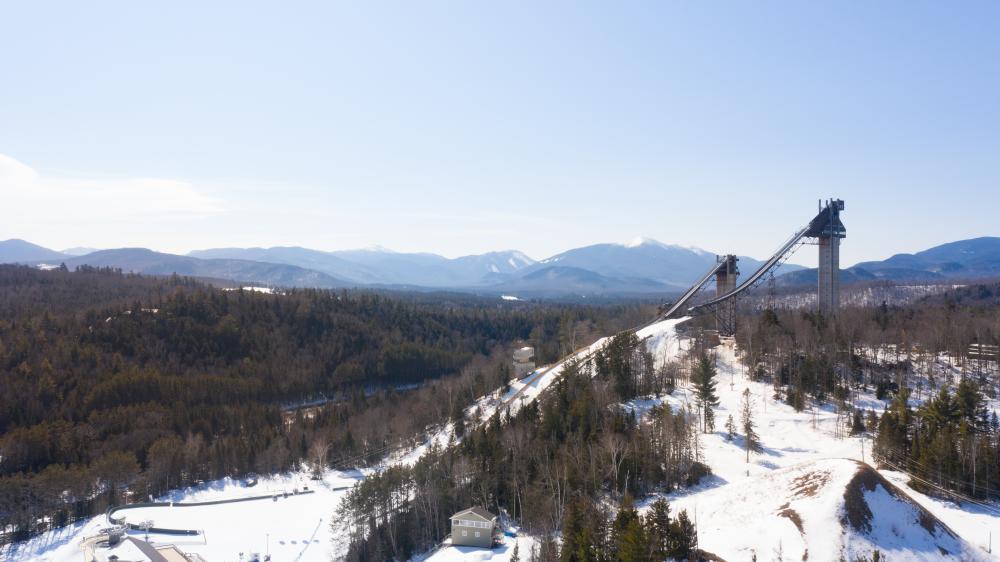 And for good reason.
These Olympic icons just got a big upgrade. With new improvements to the jumps, this venue can now host events any time of the year, and the athletes could not be more excited about the future.
Where it was
Ski jumping might only come to your attention once every few years so maybe a little history is in order.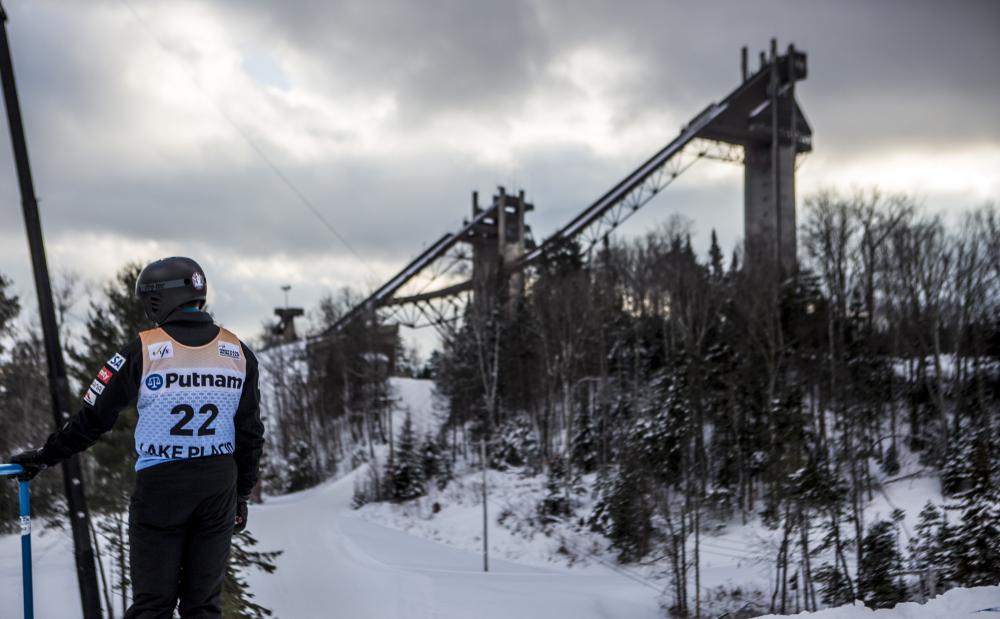 Ski jumping is a discipline of Nordic skiing, a style that originated in Norway and includes all types of skiing where toes are set in bindings and heels can rise. Think cross-country skiing. Recorded origins of ski jumping date to 1808, but it wasn't until 1924 when ski jumping made its Olympic debut in Chamonix, France. Chamonix, France was actually the site of the first Olympic Winter Games, which means that ski jumping was one of the first sports in the Winter Games. (This event was for men only at that time. Womens ski jumping was not introduced to the Olympics until 2014.)
The jumps in Lake Placid were originally built in 1920 by the Lake Placid Club. Since then, there have been a few changes, including changes to the heights. The current hills (90 and 120 meters) were built in 1994. That was almost 30-years ago. Today, the jumps may look a little different, but the high flying spirit is still the same.
Where it is now
According to Rebecca Dayton, General Manager of Mount Van Hoevenberg and the Olympic Jumping Complex, there was a vision for upgrading these venues for quite some time. With feedback from U.S.A. Nordic, International Ski Federation (FIS) officials, athletes, and experience with hosting major competitions and recreational opportunities, the Olympic Regional Development Authority (ORDA) put together a plan that would sustain them more years to come.
Upgrades mean ski jumping is becoming four-season in Lake Placid. In summer, when athletes are training, water can be run down the track to facilitate a jump. Porcelain on the track and plastic on the landing hill provide a simulation of snow when watered down, allowing athletes to use the same equipment they do in winter. Summer training was formerly only available on the K-90, K-48, and K- 20 hill; now it is on all hills including the HS128 (formerly known as the K-120).
Ironically, winter is when the inruns (the ramp track for the skis) would become problematic. Most skiing requires snow and sometimes ice (but not waterskiing!). At times in the past, a changing, non-consistent winter weather pattern made things a little sketchy to set tracks on the hills. If the temperature warmed up a bit, the entire track could be lost. The crews needed to physically bring up the snow, pack it down, and form a track for the ski jumpers. Indeed, weather played a relentless role in the process of forming the inruns, and it was extremely costly and unpredictable for any ski jumping event in the winter. Obviously this made it hard for athletes to plan training camps, and harder to maintain the spotlight on the world stage. It averaged about 10 times per year the inruns needed to be rebuilt in winter.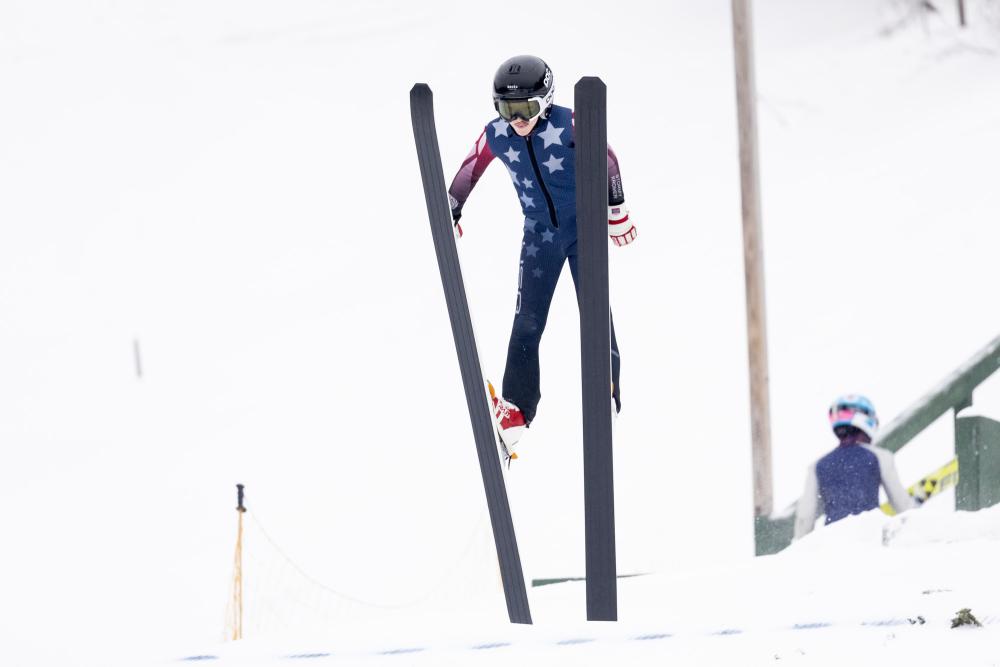 Now, they never have to be rebuilt. A refrigeration system kicks on at 60-degrees Fahrenheit. Frost rails are on the inruns to help ensure much more consistency and predictably. The outruns were re-contoured and have a more competitive profile. Snowmaking was improved. No matter the temperature, jumping can happen in Lake Placid. Historically, summer jumping was a big deal here and included stored snow, but it was only a once-a-summer occasion. But now, the hills can be open for training and events throughout the year on account of the frost rails and plastic surface. In fact, with the new frost rails, the ski jumps here are now the only ones in North America homologated for year-round jumping. Homologation means that the jumping hills were brought up to the highest standards for FIS and U.S.A. Nordic competitive events. There is an approval process that must be met in order to achieve this status, and it's certainly a game-changer for Lake Placid, which can now host premier ski jumping events again and hold training camps that measure up to facilities in Europe.
Where it's going
Anything to improve the quality of the venues for athletes is a good thing, but we aren't all elite athletes. The best part about the upgrades and improvements is that they are making Olympic facilities more accessible for the general public. A recent renovation to the base lodge gives spectators a place to warm up. An ADA-compliant gondola was also installed to bring athletes and visitors to the base of the jumps, and during non-competition times, a glass elevator brings people to the top of one of the jumps to take in the view and experience the world from a ski jumping position.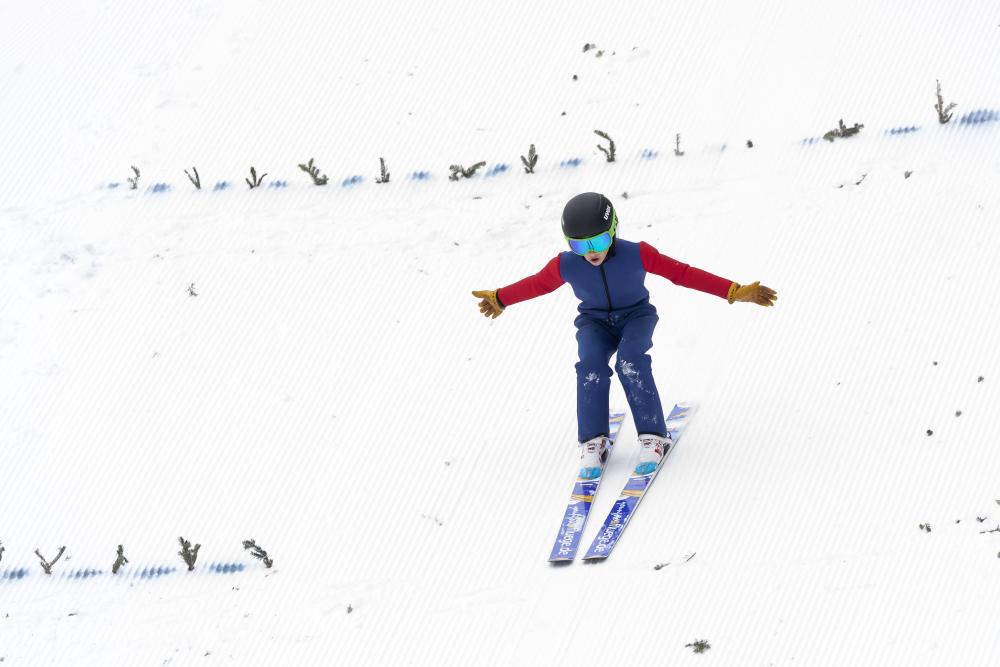 There are a lot of opportunities to watch ski jumping (in person and live on TV) coming up. On Christmas Eve and Christmas Day the new and improved jumps are hosting trials for the 2022 U.S. Olympic team for Nordic combined and ski jumping. (This event will also be broadcast live on NBC.) These trials will showcase athletes who have been training for years for a chance to make it to the Olympics. On Christmas Day, December 25, three athletes will earn their spot on the U.S. Olympic team. Local ski jumper Nina Lussi, who has trained and competed all over the world, is one of those hopefuls.
The Empire State Winter Games are in Lake Placid 3 - 6, 2022, and athletes of all ages will be competing in a variety of winter sporting events. In 2023, Lake Placid is hosting the World University Games. This international competition spans 11 days and includes 12 sports, over 2,500 athletes and coaches from 50 countries, and 86 medal events. What this all means is that after years of being out of the spotlight for multi-nation events, Lake Placid is ready to jump back into the game!

If you want to get into the game yourself, or you have a child who wants to learn the sport of ski jumping, the Olympic Legacy sites offer a program called J.A.G.S (Jump, Aim, Glide & Slide) for youth to learn the basics of sports like skating, ski jumping, luge, bobsled, cross-country skiing, and hockey. Lake Placid has sent athletes to the Olympics for years, and it's time to foster the next generation of athletes.
Billy Demong, Adirondack native and CEO of USA Nordic, said the modernization of the jumps will allow "the athletes to really push the envelope of what's possible in ski jumping." With opportunities for both beginners and elite athletes looking to train for international competitions, the Olympic Jumping Complex certainly deserves to stand atop the podium.
---
Header image courtesy of the Olympic Regional Development Authority