There's a thick sense of motivation in this crisp mountain air. From "couch to 5K" runners, to athletes training for the world stage, mountain towns inspire all who walk their streets. But what is it about these little communities that breed miracles on ice, dogged determination, and athletic dreams come true?
From the place that has sent an athlete to every winter Olympics since 1924, I sat down to talk to biathlete Tim Burke to see what it is that makes Lake Placid so special.
Burke grew up in Paul Smiths and went on to compete in four Olympic Games, take silver in the 2013 Biathlon World Championship, and manage six podium finishes in World Cup races. Following the Pyeong Chang Olympic Winter Games in 2018, Burke has gone on to coach and inspire youth from around the country.
Do you remember the first time you tried biathlon?
TB: "I grew up skiing… I was going to ski practice and competing from a really young age. Then, I can remember going over to Mount Van Hoevenburg as a kid and skiing by the biathlon range. I got to see the local biathletes out there skiing and shooting. As a young boy of about 12-years-old that just looked like something I needed to get into."
"I gave it a try. I was hooked from the first time, and didn't look back."
PeyeongChang, 2018. Photo courtesy of U.S. Biathlon and NordicFocus
Does the location you're in have any effect on your mindset, motivation, or the way you train?
TB: "For sure, training setting has a big effect on all of that. I think that's one reason I was really lucky to grow up around here and to spend a lot of my career training here. I really believe this is one of the best areas to train as a Nordic athlete. From the trail running, to the road biking, to mountain biking, to hiking, canoeing, and skiing, you've got it all here."
"To have that variety in a place as beautiful as this means a lot in a sport like biathlon."
What effect does Lake Placid have on your training?
TB: "There's a reason why there are so many kids here that end up competing in the Olympics. For sure we have great youth programs, but I think as a kid growing up in this area, you realize that the Olympics aren't this incredibly far-fetched thing. It's something that you can do. Pretty much everyone here knows someone or knows of someone who competed in the Olympics."
"Anywhere you go in town you see the old Olympic torch, and the speed skating oval, and the ski jumps, and the bobsled, and you're reminded of what's possible. That's something that's unique to this area and it plays a really big role in the continued Olympic interest from younger athletes."
Oberhof, Germany, 2018. Photo courtesy of U.S. Biathlon and NordicFocus
What does it mean to you to be a local Olympian?
TB: "I think everyone is proud to be an Olympian, but I'm especially proud to be an Olympian from this area. The history, the legacy of this area sending an athlete to every single winter Olympics is just incredibly special. I'm just proud to be a part of that story."
How do you feel about all of the renovations and new facilities?
TB: "It's really exciting to see. [There are] the new ski jumps, a new biathlon venue, and we already have a world class bobsled and luge track. With those venues we'll keep attracting top international competition. That's another thing that helps this area and that Olympic legacy. Kids have access to that. They see that. They feel the excitement of those competitions, and they naturally want to take part."
"It definitely gives me a sense of pride, I'm excited for the biathlon world to come and experience what Lake Placid has to offer. I'm also excited for the kids and the local programs to get to see such high level competitions. I know that will be really inspiring to them."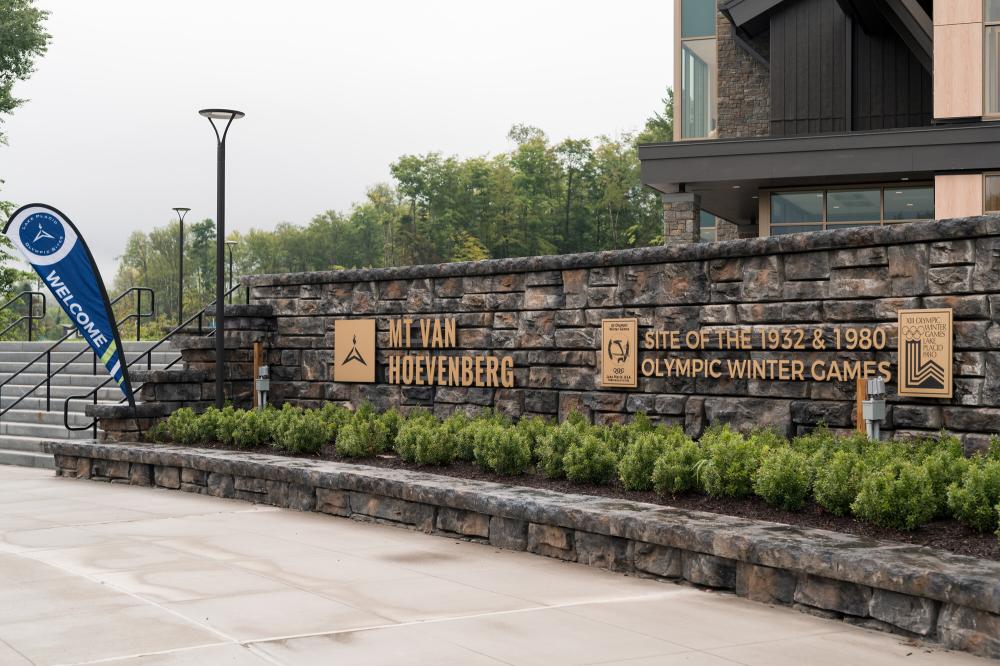 ---
Want to hear more from local athletes? Just ask around! Like Tim, Nina Lussi is a local athlete who is inspired by Lake Placid. There is sports history around every turn, and that history is still in the making today and its woven into the fabric of the community. Some local hotels and resorts are managed by Olympians. Our restaurants even take home gold medals! You don't have to get here "first," but you definitely don't want to miss out on a winter in Lake Placid.
Despite the "magic in the air," that mysterious inspirational energy may be less ethereal than it seems. With the upper echelon of athletes walking among us, and world class competition setting the bar, this region has set an exceptional standard to live up to. So take a walk around town, check out the Olympic facilities, old and new, and don't be surprised if you leave with a little more spark than you came with.