The waters of Adirondack lakes have different forms: wind ruffled, slate gray on a gloomy day, misty on a cool morning. Each is beautiful in its own way, but for many, there is nothing as perfectly sublime as when the water is so calm and flat that it looks like glass, water so smooth that you feel like you could glide across it more beautifully than any figure skater. For water skier Ali Baumbach, glassy water — or simply glass — is a key ingredient for the perfect day of enjoying her favorite sport.
"The best part about water skiing is skiing glass. When you're on glass and you're in the rhythm, it's just magical," Ali says, noting that to get that kind of gorgeous water, you need to set an alarm. "You really need to get up early to get that good water. Glass probably only lasts for only an hour in the morning, probably from 5 to 6, and it's just when the water is so calm and so beautiful and being out on it is just indescribable. It's just so calm and fantastic."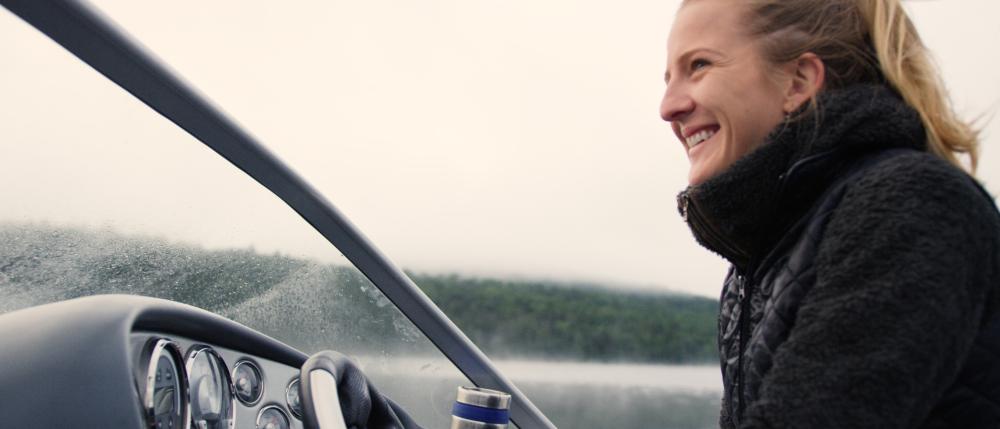 Adirondack sunrises are warm and glowing, no matter where they are witnessed from. But just like skiing on glass, you have to be awake for it. The reward is immeasurable. Ali, who has seen countless sunrises at this point, adores first light, noting, "I feel like that's kinda why you keep going out there; you never really know what you're going to get. It makes it even more special when it's a beautiful sunrise, it's glass, you're just with a great group of people that, that's just the happiest I am all summer. That's why you keep going back, because it's not always like that."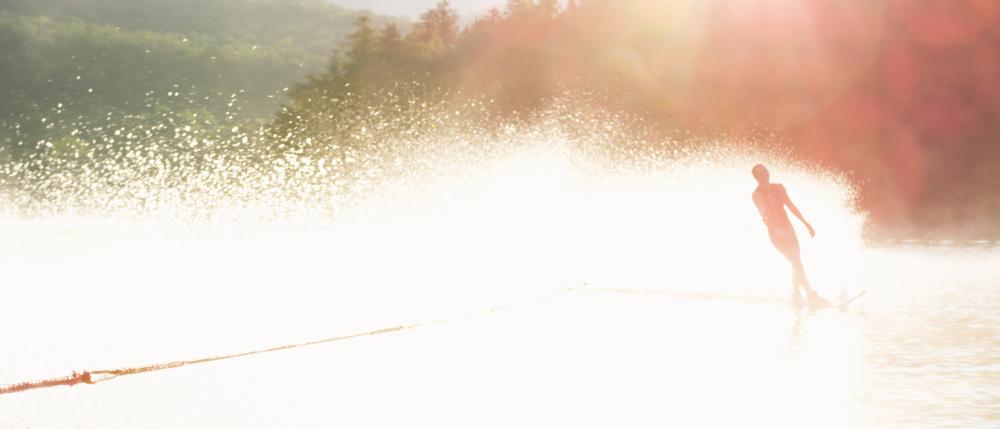 Ali grew up in the Adirondacks and to this day she tries not to take the natural beauty or the quiet lakes for granted. Even after a lifetime, Ali still has moments when she realizes, "This is spectacular. It puts me in awe." Ali notes that in the Adirondacks, unlike other vacation destinations, the views while skiing are equally impressive. Skiing on Lake Placid means that Whiteface, the fifth highest peak in the state, looms over the lake with its striking profile. "I love it and I'm so appreciative," says Ali.
Just as good as — if not even better than — the views is the community of fellow water skiers Ali has always had around her. She started out at the age of 5, in a family full of water skiers who showed her the way. As she grew older, started competing, rising to the national level, Ali has always found people around her to be just as enamored, just as excited, about water skiing as she is. While she might be alone on her ski, she has friends and family with her out on the water. Getting out in the mornings together means enjoying the quiet water together, reveling in what she describes as "a good vibe and we can all just enjoy what we love to do together, which is the best."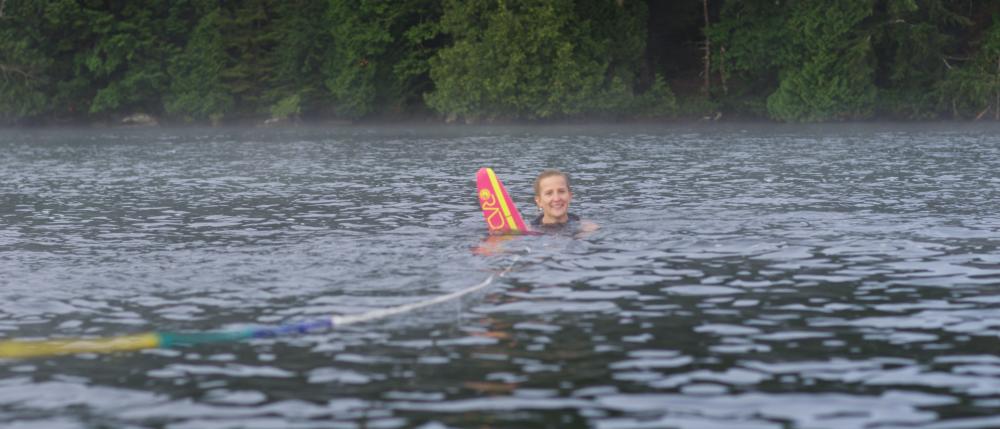 And as for Ali's idea for a perfect morning? "Sun shining, glass, with about three of my friends and we're all just laughing on the way to the course." And that crisp, maybe even chilly fresh water? "Once you're in it, it's so worth it. It's crisp and quiet, you're the only one out there. Up here, you kind of have it to yourself, which is really nice."
Explore the waters of Lake Placid for yourself and see why people like Ali fall in love with our quiet lakes and gorgeous sunrises. While you're here, explore other ways to play outdoors, dine overlooking Mirror Lake, and sit back and relax.
---
The Dawn Patrol series:
Episode 4: Mitchell and Bethany