Hiking is not an exact science. Even though there are hundreds of lists containing "10 essential items to bring on a hike," there is no one absolutely correct way to hit the trail. That was a big draw for me: There is an element of self-sufficiency, largely driven by trial and error, that's intrinsic in climbing mountains.
I've been exploring the High Peaks for almost 20 years now, and I've learned quite a few things by simply putting my boots to the dirt. Every mistake was a chance to learn and better my routine, a lesson in how to enjoy the woods in a safer way. The following recipes are reflections on my own wilderness pursuits. If you're an avid hiker, you can probably relate to some of these stories. If you're new to hiking, they can serve up some valuable tips to help you better enjoy your time in the mountains.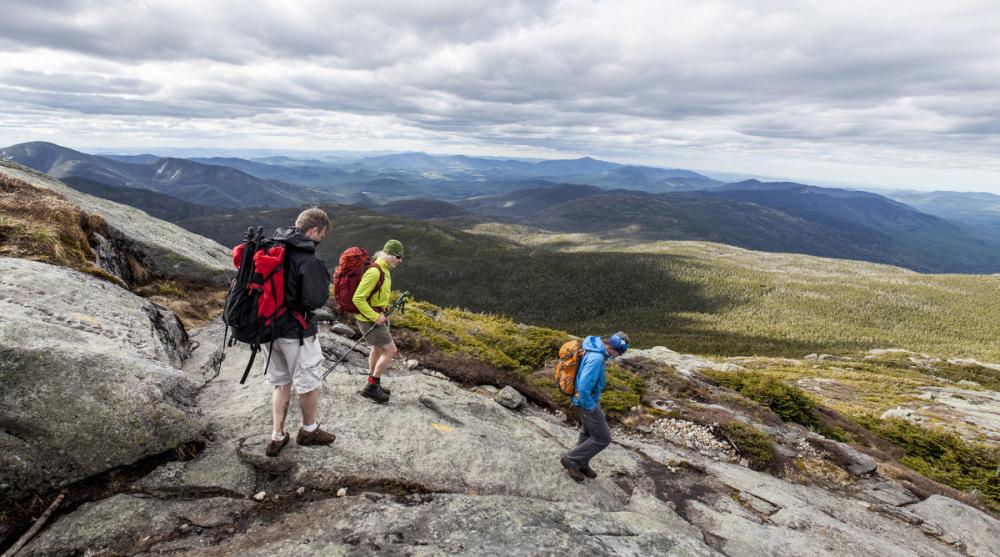 Timing is Everything Pie
1 cup of inexperience
5 tablespoons of excitement
1,000 out-of-shape pounds
7.4 miles of trail
A handful of trail mix
No head lamps
Combine all of the ingredients, let sit for nine hours, then rapidly attempt to cook until finished.
---
It was my second time hiking in the Adirondacks and my first High Peak: Mount Marcy. I was young, ill-prepared, and enthusiastic. The guidebook told me it was 7.4 miles to the top, and that number seemed pretty low for the highest peak in the state. Time for some Timing is Everything Pie!
The Marcy hike happened 18 years ago so the details are foggy, but here's what I remember. Four friends and I hit the trail around 1 p.m. in spite of the raised eyebrows on the guy in the Adirondak Loj parking area's toll booth. There was barely a dash of hiking experience between the five of us, and I think he could tell.
Our troupe made our way to Marcy Dam in a fast, spirited manner and congratulated ourselves on how "not that bad" the hike was so far. After a well-earned break at the dam, the trail got steep and we got tired. We reached Indian Falls, the 4.5-mile mark, and simmered there for a while. We were more than halfway to our destination and the sun was still shining, so we figured we had plenty of time.
Continuing on, we eventually entered a high-elevation sphagnum bog, where there's a fantastic view of Marcy's summit, and one member of our little group exclaimed, "That's the top? I'm not climbing that thing!" He returned to the falls to wait for us.
Down to four we trudged on, slowly making our way up the summit cone. As we rounded the top of Marcy, the setting sun greeted us to the west. We spent about a half an hour at 5,344 feet before the encroaching darkness convinced us to leave.
Re-entering the woods, we made two discoveries: Dusk on a mountaintop is nighttime in the woods, and none of us had a flashlight. The next 6.5 miles were spent feeling our way down the mountain, desperately trying to stay on the trail by the light of the rising moon. Shortly after Marcy Dam we managed to get behind a group that had head lamps so we followed them, our beacons in the night, to the parking area. It was around midnight when we pulled out of the lot.
Timing is Everything Pie taught me that 7.4 mountain miles aren't the same as 7.4 city miles, that it's wise to leave earlier than 1 p.m. for a long day hike, and that a head lamp is a worthy investment.
Hearty Weathervane Stew
1 fresh, unclimbed mountain
2 level cups of heightened awareness
2 TBS of overconfidence
1 armload of dark clouds
4 quarts of summit fever
Slowly whisk the first four ingredients with summit fever, bring to a roiling boil, and serve at a frenzied pace.
---
Ah, the 46 High Peaks. It's so much fun to check summits off the list, and to regale friends with tales of my adventures. Their pull on me is gravitational, which is why I started hiking alone 10 years ago.
One of my first solo adventures was Porter Mountain, a 4,059-foot High Peak I'd often bypassed en route to its closer neighbor, Cascade. There are three paths up Porter, so I skipped the familiar Cascade trail and embarked on a 4.5-mile route that was new to me. It starts at the Marcy Airfield parking area on Route 73 in Keene Valley and goes over a few smaller bumps, including Blueberry Mountain, before reaching the long ridge that ends on top of Porter.
The day began with a blue sky and large, billowy white clouds that were slowly drifting by overhead. The trail didn't waste any time becoming steep, and it stayed that way for awhile before eventually reaching the first section of open rock. It was here that I first spied the dark clouds to the south. Perhaps, I thought, they'd just stay down there. I ducked back into the trees and heard a low, distant rumble. No big deal.
I soon came to another view, and I could see the clouds were now directly behind Giant Mountain, which meant they were headed my way. I was making good time, though, so I continued to the top of Blueberry, where I could see the ridge to Porter. To the south, lightning was lighting up the sky and the low rumbles I heard were louder, and more pronounced. It's only 2.1 miles from here. I can do this.
A gathering storm is seen from the summit of Blueberry Mountain.
I quickly dipped into the col between the mountains, and about halfway up the steep slope to Porter's ridge a blast of thunder hit that was so deep I felt it rumble in my guts. I did an about face and retreated. I was back on Blueberry minutes later, and the scene unfolding before me was unsettling: Giant Mountain was gone, eaten by a wall of purple-black clouds that was producing timpani-drum groans and lightning that branched across the sky with fierce speed and breadth. Looking down at the rock I stood upon, I saw streaks of rust — there's iron in these mountains, and iron attracts lightning.
I don't think I've ever moved so fast in my life. With every opening in the forest the storm looked closer; with every advance the storm made the landscape disappear.
When I finally reached the large, open parking area, the small green mountain that's just across Route 73 was framed by an enormous black curtain. A starting pistol shot of lightning split the sky behind the mountain and I made a dash for my car, closing the door just as the first drops of the ensuing downpour began pelting the windshield.
Hearty Weathervane Stew taught me the importance of heeding the weather, and that lightning on an open ridge is a terrifying sight, regardless of how far away it is.
The One That Got Away Mystery Rolls
4 trailless peaks
Dozens of downed trees
Enough boulders to build a new mountain
Copious amounts of mud
1 stick of salami
1 loaf of bread
1 pound of your favorite cheese
Combine the first four ingredients. While you're waiting to see what happens eat the salami, bread, and cheese.
---
When my wife, Anna, and I decided to tackle four mountains in the Western High Peaks we only partially knew what we were in for.
We followed the old woods road for 4.5 miles from the Coreys parking area and set up camp near the Blueberry lean-to. Our plan was to hike the three mountains — Seward, Donaldson, and Emmons — in the Seward Range, then do Seymour Mountain as a standalone the next day.
The adventure looked reasonable on paper, and we left early enough in the morning to suggest we were doing fine. We set up camp, ate lunch, and followed the cairn marking the Seward Range trail. I think we were about halfway up Seward when I realized the reality of our situation: If we were hiking maintained trails, we probably would have been sitting on the summit by now. Instead, we were slogging through mud, clinging to trees, and picking our way through boulders. The scene was awesome and wild, but it was also a lot harder to navigate than the trails we were used to.
By the time we made the summit it was late afternoon and I was beginning to doubt the likelihood of two more mountains. We descended the steep, rock-strewn gully on the backside of Seward and reached Donaldson in less-than-record time. Understanding that we still had to make it back up the gully and back down the thick mess of Seymour, I offered two options. We could cruise to Emmons as quickly as possible to tag the final summit, or enjoy our time on Donaldson for a bit before heading back to camp. We chose the latter, which we both agreed was a better decision considering the long, strenuous day we'd had. The mountains aren't going anywhere, and the Western High Peaks are beautiful — we'd be back for sure.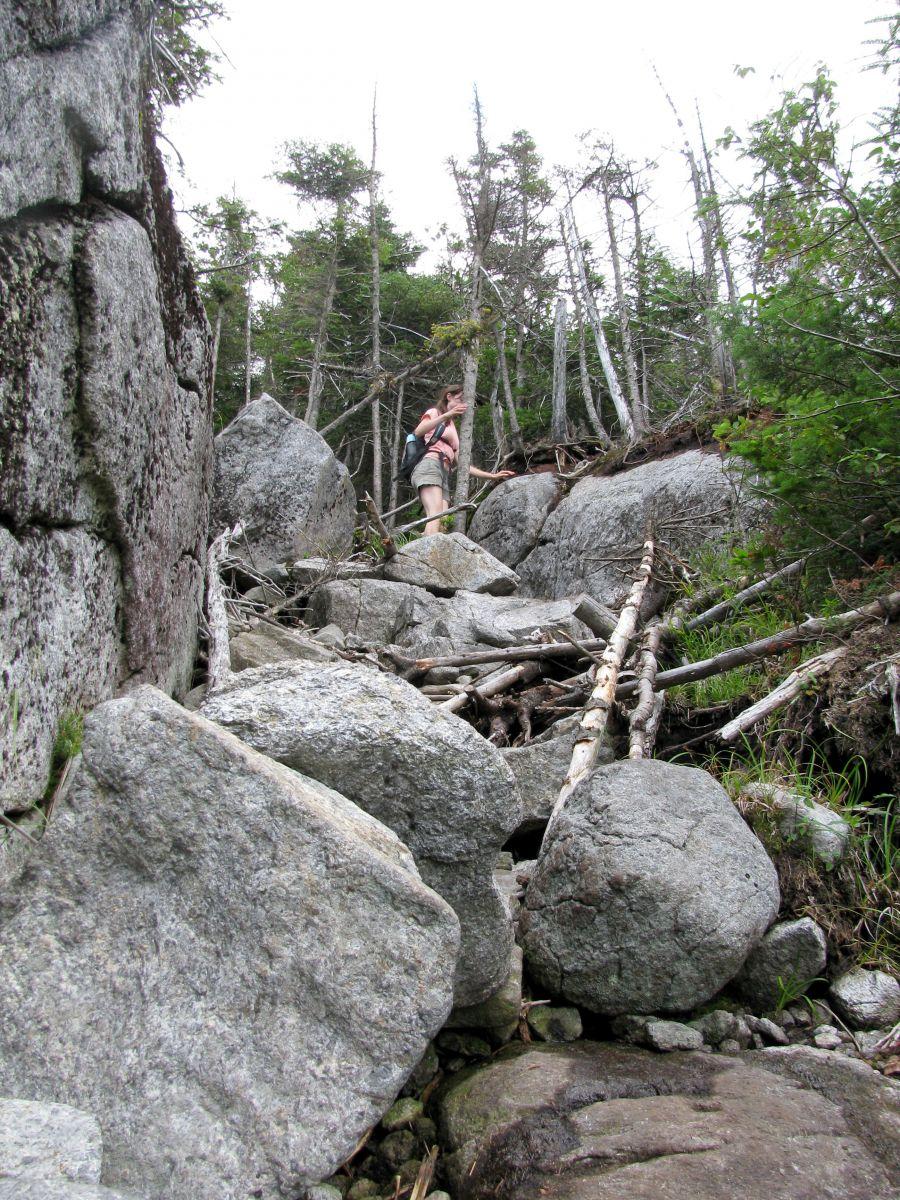 We made it back to camp around nightfall, made dinner, and were up early for our next adventure. The hike up Seymour was equally challenging, so the view from the top was a fitting reward for the effort required to reach it.
The One That Got Away Mystery Rolls taught me that I've actually learned something in two decades of hiking in the Adirondacks. We were surprised by the challenge of the unmaintained trails, but we made the right decision to turn around — unlike my decision to continue up Porter with lightning in the distance. It's OK that one got away. The mountains will still be there, and we're still around to climb them.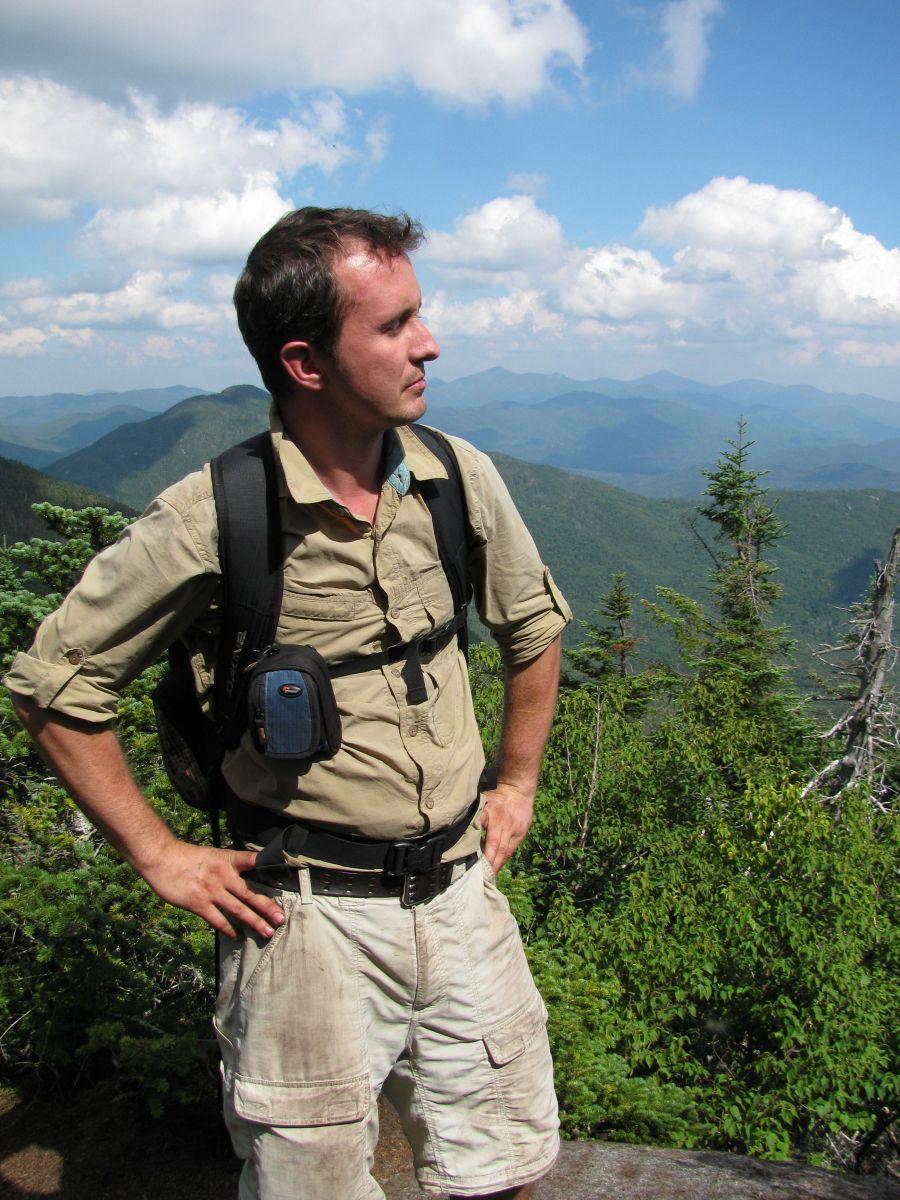 Want to get out and hike in the Lake Placid Region? Check out our hiking page. If you want to tackle longer trails, try camping to get a head start on the day.
---
This week in related ADK trail mix news:
Meals worth making the trip for
Something fishy along the Coast