Winter brings a whole new view
Honestly, there's no better place to hike than the Adirondacks. When hiking is the topic of conversation, visions of fall foliage or hot summer days probably come to mind, and for good reason. But, the fun doesn't have to stop when the snow starts! In fact, a winter hike can be an awesome experience that can be just as fulfilling as a warm-weather hike. Winter has a unique way of creating landscapes and views that can look surreal, dream-like, and every bit as breath-taking. But, with cold weather comes a whole new set of precautions, and it's important to be prepared for your cold weather hike. Once prepared, you can experience a whole new way of hiking with views that are every bit as spectacular as those on a crisp fall day!
The magic of the Adirondacks is the result of previous generations taking a long view and protecting the mountains, lakes, and rivers within the Blue Line. That tradition continues today as we support and encourage everyone to practice Leave No Trace ethics, which helps protect the lands and waters of the Adirondacks.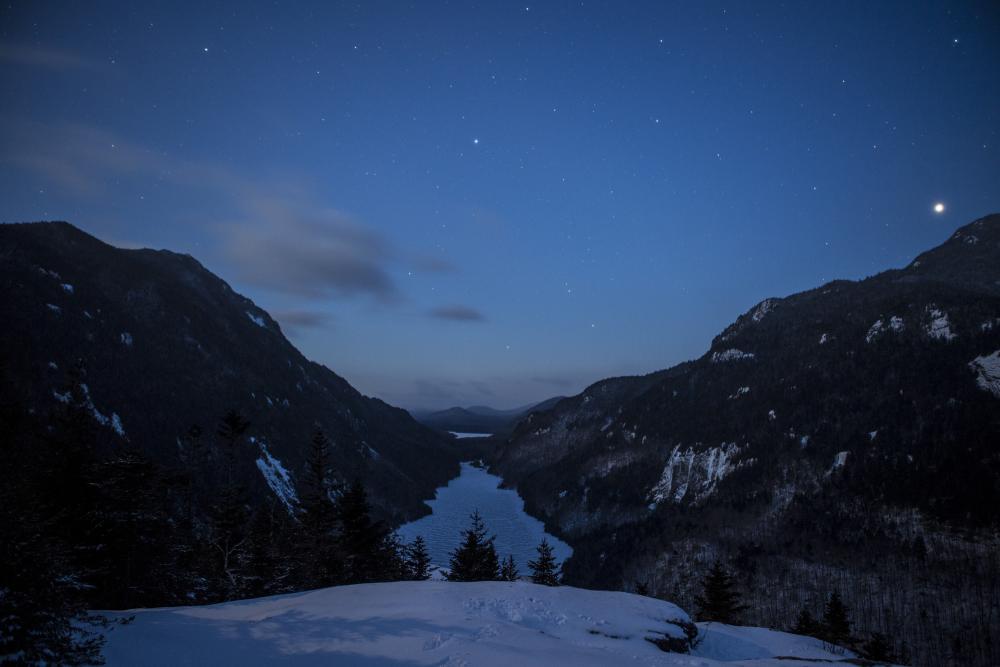 Be prepared
The essential part of any hike, in any season, is to be prepared. In winter, this sentiment rings as true as ever. Rapidly changing weather conditions, potentially bitter-cold temperatures at the summit, and the threat of "post-holing" all pose real threats to a hiker's safety. Supplies like gloves, snow spikes, extra layers, and a headlamp are all vital for a winter hike. When planning a winter hike, we highly recommend purchasing a guidebook and map, and talking to local experts or guides before setting out on your adventure. With ever-changing weather conditions in the higher elevations of the Adirondacks it's important to be prepared and have a plan B. This can mean either choosing a less challenging hike, a hike location with better weather, or finding something entirely different to do that day.
Choosing the right hike
It's especially important that you understand your skill level as a hiker before embarking on a winter hike. For hikers, Lake Placid and the surrounding area offer plenty of options. If the High Peaks are what you're searching for, then the Lake Placid area can give you that. We reiterate; even in mild weather conditions, these hikes can be rigorous and challenging and the winter season doesn't make these hikes any easier. For the casual and inexperienced winter hiker, the area is home to hikes like Mt. Jo, Mt. Van Hoevenberg, Cobble Hill, and many more. These hikes offer a safer and less challenging winter alternative to the High Peaks.