The Winter High Peaks
(Insight & tips from guest blogger Spencer Morrissey)
Getting that "W" after your number sure is a big deal - we understand it is an amazing accomplishment. The High Peaks in winter can be very intimidating to some climbers who have limited or no winter experience, others may get a bit too confident in their perceived abilities. However, if you make the correct choices it shouldn't be overwhelming and your chances of a safe climb, success, and fun increases exponentially. And as always, consider consulting/taking along a Licensed Adirondack Guide.
A great many of the High Peaks in winter are an imposing mission and maybe shouldn't be your first winter peak. Many of the High Peaks will require 10-12 hours of time in the woods - being cold, maybe wet, and at times exhausted. Many are well over 12-miles during a single day. However, with any mountain in winter there are a few things to keep in mind before you go out: Am I equipped with the correct gear? How am I going to protect myself from the cold? Am I layered properly to stay warm (core, hands, feet, and head)? Do I have the proper nutrition? What's the weather going to be like? Did I tell people where I was going? (the list honestly goes on and on!). But just as important, you should consider if you have the ability to tackle a High Peak or should get a couple smaller peaks under your belt first.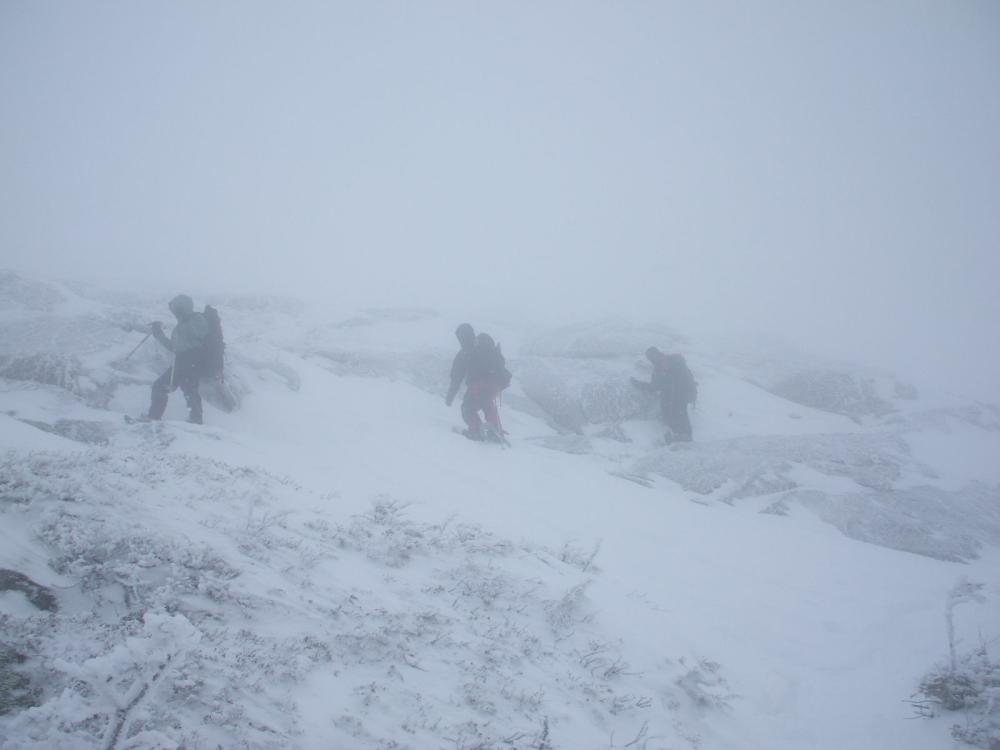 Know your limits
The only way to truly know your winter limits is to get out there and do a bit of snowshoeing. Not only that but you also have the chance to try out some new gear that maybe you have never used before, but this is also a good opportunity to see if you have your layering down. The best way to get ready for a High Peak is to do some hikes that are not quite so demanding, and work your way up from there. Maybe consider Noonmark, Hurricane, VanHoevenberg, Pitchoff, or Owls Head. 
Great first High Peaks
Cascade and Porter Mountains are the most climbed of the High Peaks and quite often a person's first - it should be the same in winter. These peaks will get the ball rolling with a shorter hike, with steep sections, and a true above tree line feel and conditions. Phelps Mountain is a bit longer at just around 9-miles roundtrip. But it also is a bit more demanding at the end with very steep terrain. Wright Peak might test your limits for a first High Peak but it's not out of reach for many first timers. The climb is long and steady with a large amount of time above tree line. The above tree line experience on this guy is unmatched with arctic conditions. Tabletop Mountain would be the perfect first "trailless" High Peak to start with. While the climb and hike are a bit longer than the others it gives you an idea of what the herd paths are like in the winter. 
There are others that you might consider if you feel you're up to a slightly larger challenge like: Esther, Big Slide, Street and Nye, and Upper and Lower Wolf Jaw Mountains. Again these might be better 2nd or 3rd peaks as you build experience, get a grip on your abilities, and a handle on gear and layering.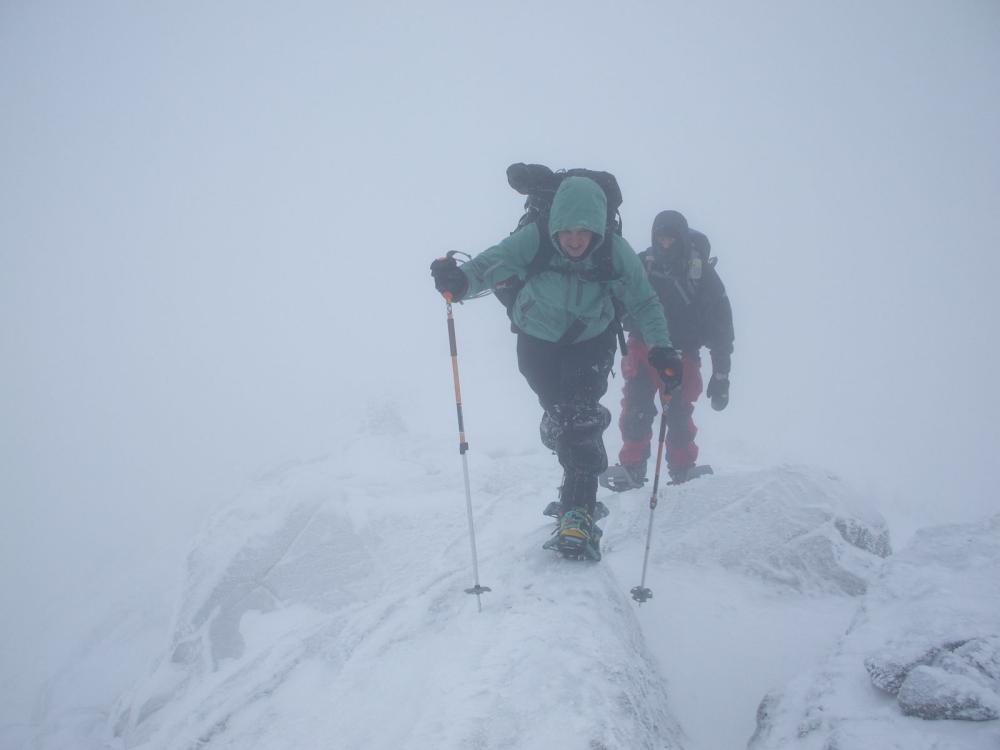 Moving on up
Some serious long days will eventually come when you tackle Haystack, Basin, Saddleback, Gray and Skylight, Cliff and Redfield, the Santanoni's, and Allen. With winter climbs like these it may be required to start before the sun is up and finish long after the sun has gone down, this is par for the course and your headlamp may very well become your best friend.
The good news is a typical winter High Peaks climb will burn you out of 3500-5000 calories in per day. That means - eat up and enjoy good food. Celebrate when you get out and have a worthy meal, your body needs it, and if you plan to go again the following day, your body will need that energy. 
Please be sure to visit each page for the peaks you plan to climb. We have laid them out so that you have an idea of what the most popular winter routes are, what you can expect when you get there, a bit on your typical weather for your above tree line experience, typical trail conditions, special gear needed, and the estimated time to accomplish the climb. The important thing is to be safe while having fun, happy climbing!
Leave No Trace and Love Your ADK
The magic of the Adirondacks is the result of previous generations taking a long view and protecting the mountains, lakes, and rivers within the Blue Line. That tradition continues today as we support and encourage everyone to practice Leave No Trace ethics, which help protect the lands and waters of the Adirondacks.
Seven Principles of Leave No Trace