Bikes have never really been my thing. A couple of good crashes in my younger years and I more or less wrote them off as not for me. When I moved up to the Adirondacks, I started meeting more and more mountain bikers. Take road biking and add in roots, rocks, and hills? No, thank you. Or so I thought.
After years of keeping biking at bay, I was finally convinced to give the trails at Mount Van Hoevenberg a try. It was a crisp fall morning and cars were just starting to fill in the parking lot. Walking toward the base lodge, I was filled with trepidation. I was convinced that this was a terrible mistake, but I was also determined to see it through. Luckily, the friendly ORDA staff immediately put my nerves at ease.
Following a warm welcome they got down to business. While one person grabbed rental bikes and helmets for my partner and I, the other walked us through the map. She explained the color coding – yellow trails indicate beginner routes, orange is for moderate, and blue for expert – and provided a few recommendations. The map was largely covered with yellow and orange trails, making it a perfect venue for a true beginner like myself. By that point our bikes had arrived.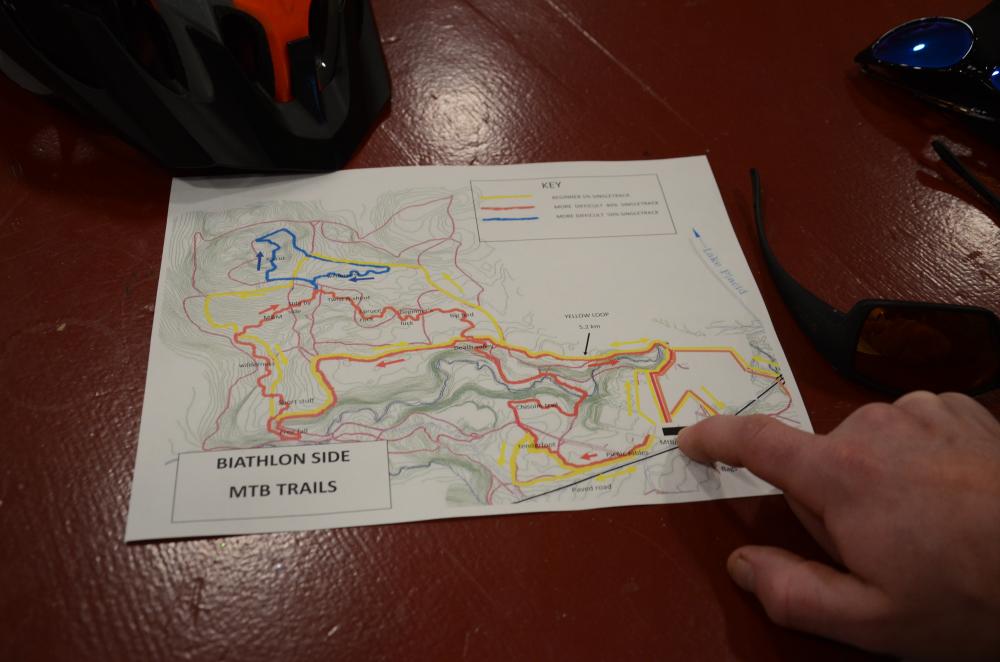 Fully equipped and properly fitted, we headed out to hit the trails. The old adage of "it's like riding a bike" proved true. Within a few wobbly pumps of the peddles, I was somewhat steady and on track. We decided to take the shortest beginner loop to start. After all, everyone needs a warm up! Within moments we arrived at the Olympic biathlon range. We paused for a moment to check out the site and take in the history before continuing on our way.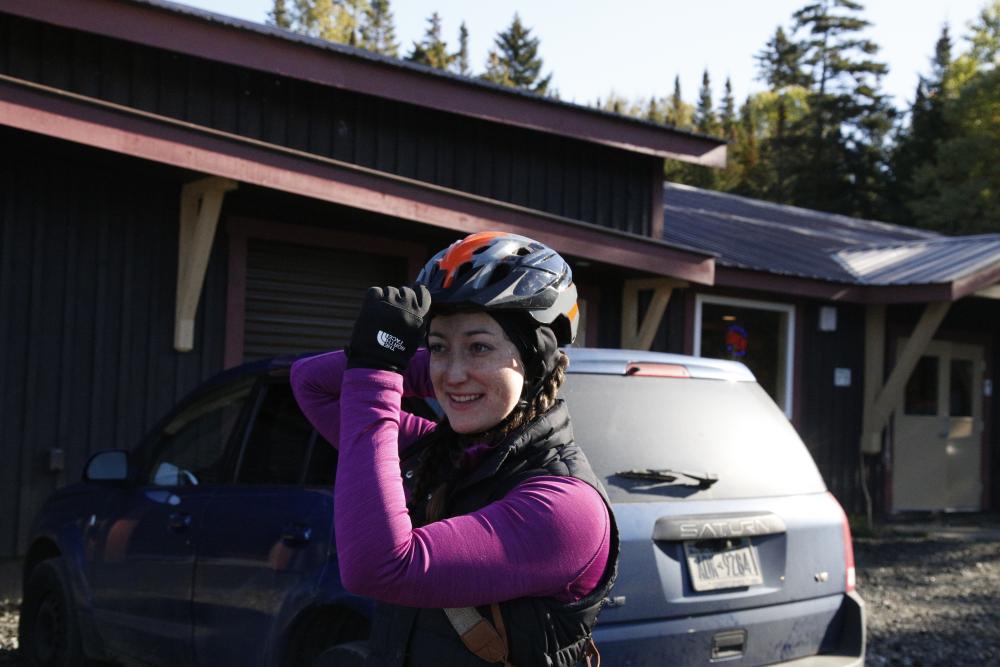 Thanks to clear trail markers, finding our way was a breeze. The beginner path was wide and well-groomed – a perfect match for my not-so-great steering and braking abilities. Short and scenic, the trail circled through the woods before returning to the parking area. Already I was feeling more confident and eager to tackle more. We reassessed the map and chose our next route. Fallen leaves crunching under our thick tires, we picked up speed as we rolled through the forest. After a few sweeping turns we were deeply immersed in the trees and up ahead was my first big challenge – a short but somewhat steep downward sloping hill.
Heart in my throat I gripped the handlebars tighter and prepared for the descent. Involuntarily my hands squeezed hard on the brakes and I came to a sudden stop at the crest of the hill. I wasn't ready yet. With a polite giggle, my partner waited as I walked my bike down, got back on, and started off again. Now I was more determined than ever to tackle my fears.
Over the next hour we navigated the vast network of trails, which follows some of the same routes used by Nordic and biathlon skiers in the winter. Weaving left and right at varying intersections we tackled several more hills of varying grade. The further I went, the more ambitious and in control I felt. Switching gears began to come easily, and my body naturally adjusted to standing in order to power myself up the steeper inclines. Over rivers and around bends, we passed beautiful scenery but saw hardly anyone else. We were in our own little world.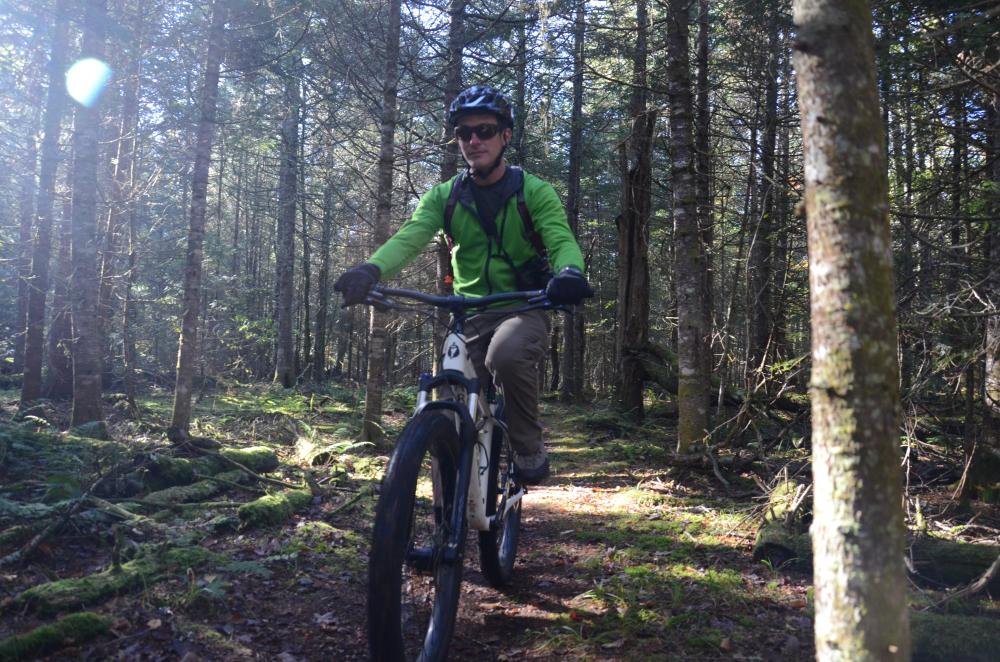 Before I knew it we were back at the start. Faced with the decision of calling it a day or heading back out, it was a no-brainer to choose the latter. I was excited to get back out there, but this time I wanted to try something a little bit harder. After consulting our trusty map, we chose a route that combines beginner and moderate trails. Grassy roadways gave way to single-track paths cut directly through the trees. No longer able to ride side-by-side, my partner and I fell into line with me in the lead. Over roots and rocks, around bushes and tree-trunks, and ducking low-hanging branches we maneuvered the trail, albeit slowly. It was thrilling, and I found myself grinning ear to ear. This was a new way for me to experience the outdoors and I was loving it.
Eventually, we had to turn around. As we headed back toward the lodge, chatting animatedly about our newly-discovered hobby, I saw a big hill up ahead – even bigger than the one I had bailed on earlier in the day. While I was feeling bold on flat ground, hills still caused my grip to tighten and my stomach to turn. This was it though, my last chance to prove to myself that I had overcome my fears. I pointed my front wheel directly at the center of the trail and took a deep breath. Fingers hovering over the brakes, I fought the urge to clamp down. The wind picked up, whistling between the cracks of my helmet. The multi-colored leaves littering the ground transformed into a fiery blur. It was exhilarating. Fear had finally transformed into adrenaline.
Back at the lodge, we returned our rentals and promised to come back soon. Cured of my fear, and with a new-found passion for mountain biking, that is a promise I look forward to keeping.
Whether you're an avid mountain biker or a skeptical beginner like myself, I highly recommend giving Mount Van Hoevenberg a try. With trail passes ranging from just $7 for juniors and seniors to $10 for teens and adults, and rental packages ranging from $32-48, it's a fun and affordable way to find out if mountain biking is for you. For an Olympic-style experience, sign up for Van Ho's Bike and Biathlon package, which includes a trail pass, rental equipment, a lesson, and ten shots at the biathlon range. The only thing you need to worry about is getting hooked!