Lake Placid: A mountain town with a special history
When you think about Lake Placid, your first thought might be: Olympics! But this small town has a rich and vibrant history that includes so much more!
Popularity of the Adirondack region as a destination soared in the late 1800s, when the nation's most wealthy and influential citizens built their Adirondack Great Camps here. The social elite would "vacate" the stifling summer heat of northeast cities for the cool Adirondack air. Yes, this is the origin of the word – it's where vacations began.
Competitive sports stage
Lake Placid's winter sports history began with Melvil Dewey, who refused to listen to skeptics, extending the Lake Placid Club's season through the winter of 1904-05. By 1914, Dewey had garnered the support of the community as he succeeded in creating the country's first winter resort. Quickly successful, Lake Placid has been part of the competitive world sports stage since the 1920s and it's still going strong!
Lake Placid hosted the 1980 Olympic Winter Games and hosts world-class sporting events every year. To learn more, be sure to visit the Lake Placid Olympic Museum downtown.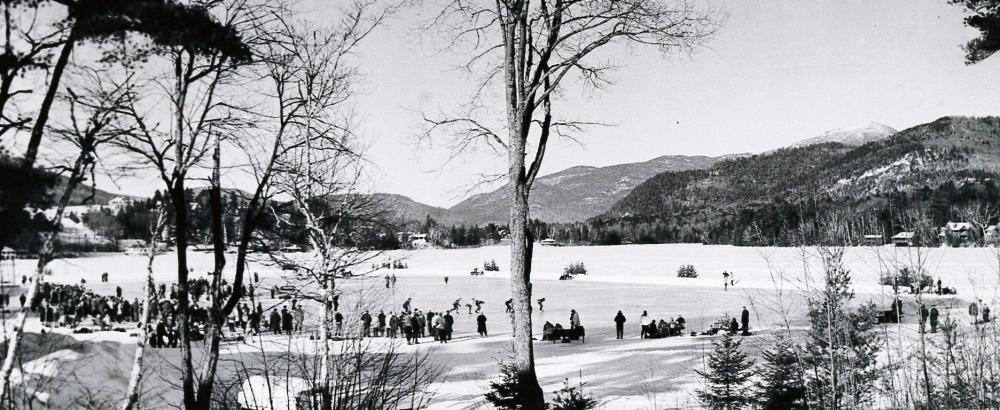 Hotels, movie stars, and the First Lady of Radio
Over the years, Lake Placid has seen faces and buildings come and go but they all leave a special mark. From elaborate hotels to an actual opera house, Olympian Jack Shea to the American superstar singer Kate Smith, whose voice was known to everyone in the mid-20th century, all have their place in our history. This charming village has been mentioned in a Cary Grant movie as a great place to fall in love, made notorious in a more recent, croc-tastic film, and even seen movies filmed here, going as far back as 1926.
Today, you can learn about the people — famous and less so, but no less important — who have made Lake Placid distinctively fascinating at the Lake Placid-North Elba Historical Society Museum, which is housed in a former railroad depot.
Lake Placid today
The area continues to beckon visitors year-round; to shop on the charming Main Street, to enjoy a variety of performance arts, and to sample area dining fare. As you stroll around Mirror Lake or travel farther afield, you'll find historic sites and treasures all around you. What are you waiting for? Let's explore!