One traveler's perfection is another traveler's "oh no, Mom picked the most boring thing to do everrrr." Planning the perfect trip — whether for a day or a week — can be a challenge, but when it comes to autumn adventures in Lake Placid, let all those worries slide away! Nestled in the heart of the Adirondack Mountains, surrounded by big beauty and even bigger fun, Lake Placid is a charming destination with an abundance of colorful activities and unique adventures. As the leaves change into vibrant hues of red, orange, and gold, this idyllic village gets to show off its diverse range of attractions and activities that cater to individuals of all ages and many, many, interests. From outdoor enthusiasts to families seeking memorable adventures, solo travelers to cozy couples, Lake Placid offers an autumn experience that is second to none and ample opportunity to try a little bit of everything! Grumpy teenagers and laid-back grannies alike will find something special to love in Lake Placid this fall, so that everyone gets their perfect day.
Outdoor enthusiasts' paradise
For those looking to spend time outside, whether you're a pro athlete or a more casual enthusiast, Lake Placid is an absolute paradise during the fall season. The region is renowned for its breathtaking natural beauty, and fall only accentuates this beauty. Hikers of all ages and experience levels can explore an array of trails that wind through gentle forests, up the High Peaks, and alongside scenic waterfalls, offering panoramic vistas and stunning fall foliage. The range of choices means finding the adventure that is right for you, your friends, and your family!
Lake Placid is an ideal destination for letting everyone in your group choose an adventure! So if Junior picked a hike in the morning, maybe Uncle Mortimer would love to go for a scenic mountain bike ride in the afternoon. Hit up the rental shops and tour the quiet neighborhoods of Lake Placid, or head out of town for dirt trails. You'll be treated to picturesque views of the lakes and mountains that make this area so special. With cooler temperatures and fewer crowds, fall is the ideal time to embark on an invigorating cycling adventure.
Speaking of cool temps, while fall isn't ideal for swimming, spend time on the water with a paddling activity. Downtown shops offer rentals of canoes, kayaks, SUPs, and even aquabikes and paddle boats! Take a break and enjoy views from the lake with someone else at the wheel: boat tours on Lake Placid (the lake itself, no crocs here!) let you feel the cool Adirondack air and enjoy a relaxing ride through history! If part of the crew would rather shop, you can arrange to meet up afterward and everyone heads to dinner happy!
Olympic dreams
The Olympic Games may only happen every two years, but in Lake Placid, it's always Olympic season, and fall is no different! Fall, with the stunning, colorful foliage and perfectly cool weather, is a wonderful time to make the most of Lake Placid's legendary Olympic Legacy Sites. Whether your idea of vacation perfection includes immersing yourself in history or the fastest adventure you can find, the Olympic Sports Complex at Mt. Van Hoevenberg abounds with hiking, bobsled and luge experiences, a mountain coaster, indoor climbing gym, and the legacy of the 1932 and 1980 Olympic Winter Games. Olympians past, present, and future have competed and trained right here, and you can be part of the experience!
Just a few miles away, the Olympic Jumping Complex offers a unique opportunity for families to witness ski jumpers soaring through the air and taking to the skies. You can get in on a bit of the action with a gondola and glass elevator ride to the top of the jumps for 360-degree panoramas of the colorful village and landscape, as well as a zipline for the brave on the way back down! Although you can visit the ski jumps year-round, we're partial to the blazing fall views you won't find anywhere else.
Newly renovated, refreshed, and better than ever, the Olympic Center downtown features a world-class museum that appeals to even the non-history fans in your family, legendary rinks where you can lace up your skates, the Olympic Speedskating Oval, dining, shopping, and more! Stay for lunch at Roamer's and enjoy one of the best views in town, overlooking the High Peaks and the Olympic Oval. The variety and mixture of Olympic activities make it easier than ever for everyone to find something they simply don't want to miss.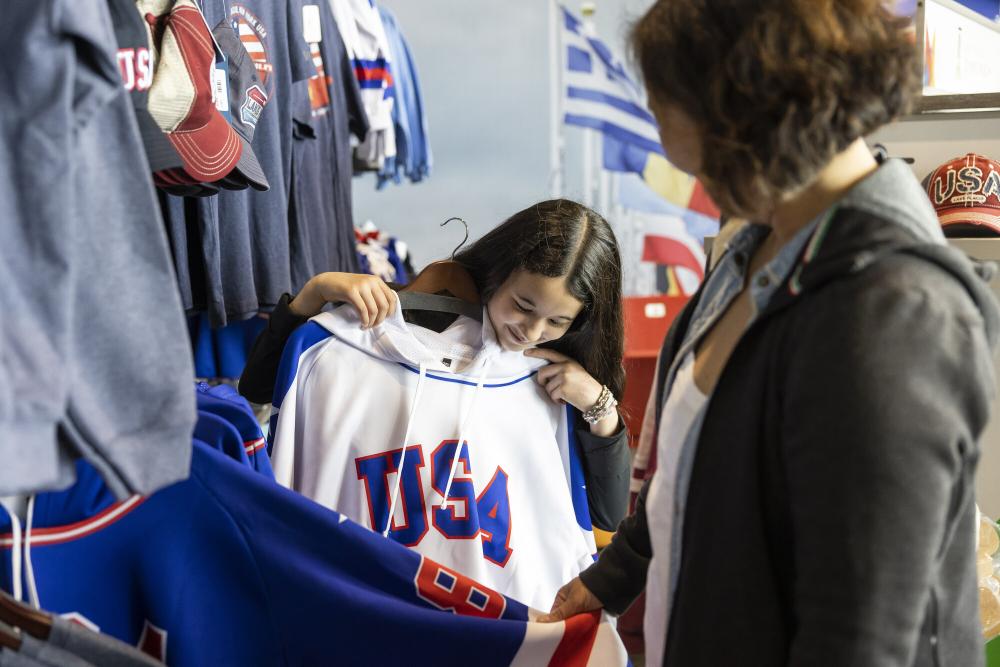 Stay, dine, relax!
Lake Placid's dining scene is a culinary journey in itself, and autumn brings a delightful twist to the experience. Local eateries embrace the season's bounty, offering farm-to-table dishes that showcase the region's freshest ingredients. Whether you're looking for fresh squash bisque, pumpkin pie, or apple everything, the fall-inspired menus are a treat for the taste buds! Punctuate your perfect day with a lively family meal, a cozy, romantic table for two, or stroll Main Street, stopping in at candy, ice cream, and popcorn shops for all-day snacks! Wherever you choose to dine, you'll find yourself immersed in fall flavor and color.
Pro tip: the longer you visit, the more opportunities you have to sample the local flavor. Mix and match culinary flavors over breakfast, lunch, and dinner for a culinary adventure for all.
After a day filled with adventures, Lake Placid offers a range of lodging options that cater to varying preferences, budgets, locations, and even styles. Whether you're seeking a rustic cabin tucked away in the woods, a cozy bed and breakfast with a touch of vintage charm, or a luxurious resort overlooking the water, there is absolutely an overnight option for you that will offer comfort, relaxation, and an Adirondack home away from home. Families can opt for spacious suites or cottages equipped with modern amenities that ensure a comfortable and relaxing stay. Many accommodations feature stunning views of the surrounding mountains and lakes, allowing you to wake up to breathtaking vistas that capture the essence of fall in the Adirondacks.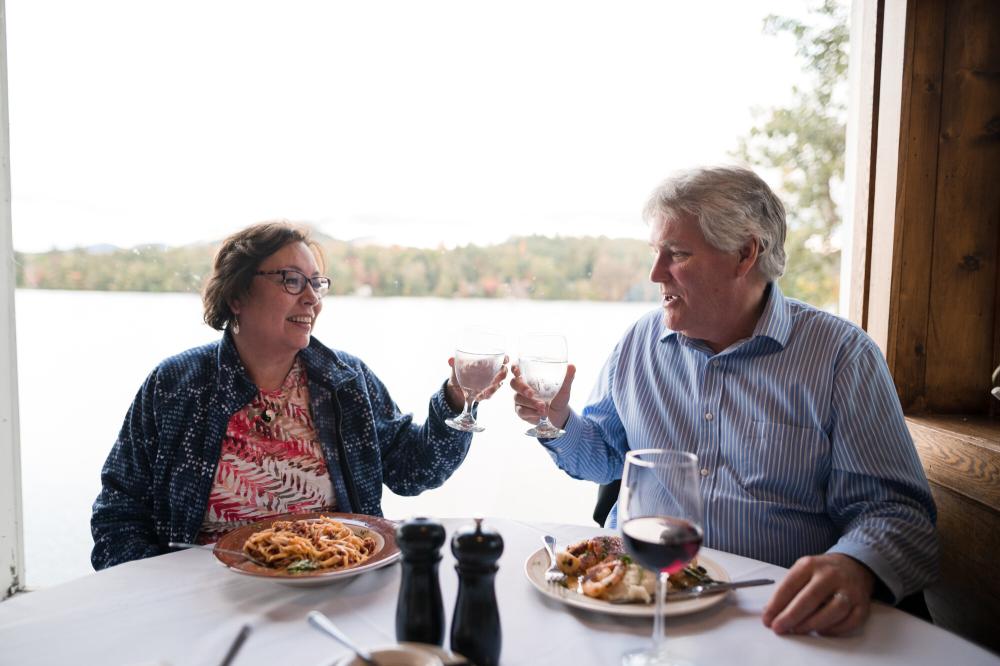 On the town
Take a moment and look around the village. You see a lot to do, don't you? Lake Placid may be a small town, but it is full of interesting shops, galleries, and adventures. This is the kind of town where you'll find a drop-in foot spa next door to a chic shop, a movie theatre next to an artful home decor boutique, and a scenic park conveniently next door to a beloved gear store. Time traveling is possible here at the Lake Placid-North Elba Historical Society Museum or the John Brown Farm State Historic Site. Immersive activities abound, too, whether you want to get crafty at a bead shop, at a paint and sip bar, or at a dreamily-scented candlemaking experience. Rainy days aren't a worry this fall, with indoor activities including a new bowling alley or special events at Lake Placid Center for the Arts.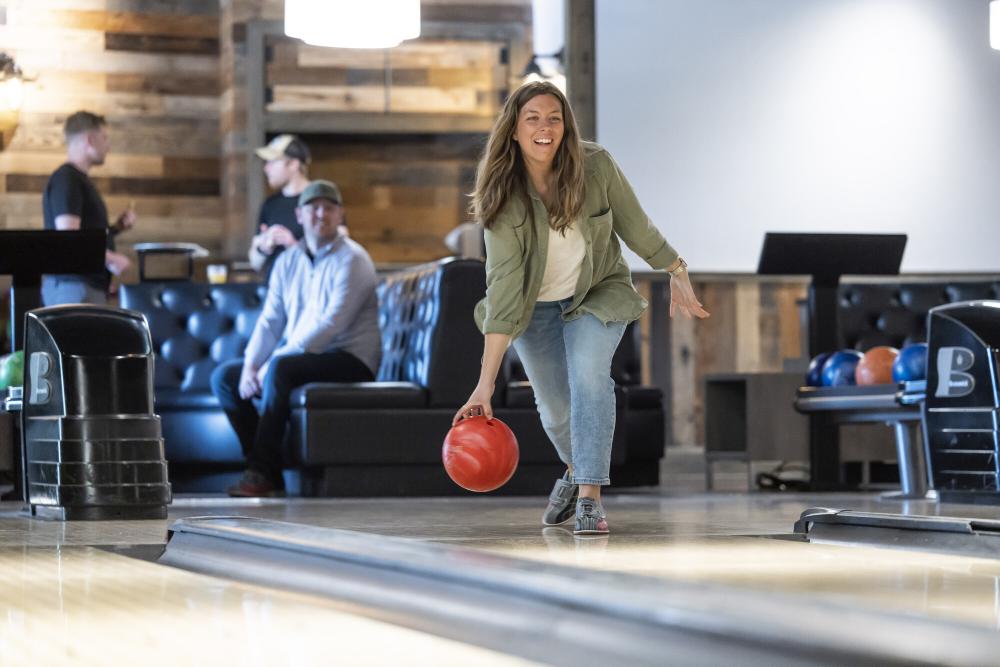 As cool, leaf-tinged fall breezes sweep through the Adirondack Mountains, Lake Placid becomes an enchanting canvas of colors and experiences. Whether you're an outdoor enthusiast, a food lover, a family with kids, or empty nesters seeking a tranquil — and quiet! — retreat, this charming village has something special to offer. The diverse range of attractions and activities, from outdoor adventures to culinary delights, ensures that Lake Placid is a destination where cherished memories are created for individuals of all ages and interests. Embrace the magic of fall in Lake Placid and discover why this captivating destination is a haven for those seeking the perfect fall escape!