I think it's safe to say that I will never be an Olympian. Probably most of you won't be either. If you're reading this and you're an Olympian, or on your way to becoming one, we all bow down to your perseverance, ability, and all-around awesomeness. I can barely skate, but I know my Lutz from my Axel. I quit cross-country skiing after my mother and I got tangled up (read: lost, cold, and cranky) on a trail in the woods somewhere, but I still think Bjørn Dæhlie is one of the coolest people to hit the snow. I think ski jumpers may be among the most daredevil people on earth, but watching them slice through the sky is astonishing. In other words, the Olympic Winter Games are awesome. I love everything about them.
But again, most of us are not Olympians. That doesn't mean we can't pretend, like grown-up kids, or experience some of the exhilaration and beauty of Olympic sports. Lake Placid was the site of Olympic Winter Games in 1932 and 1980 and the village does a really great job of celebrating those extraordinary games, while also looking to the future. Lake Placid wants everyone to experience the Olympic spirit, including people just like you and I. When you visit Lake Placid, it's possible to live your best, Olympic life for a day, two, or even a week! Here's how.
Dress the part
If you're going to get into the spirit of Lake Placid and the Olympics, you may want to go wild and get some new, awesomely Lake Placid-ish clothes. No, I'm not talking plaid flannel; I'm talking Olympic swag! Inside the Olympic Center on Main Street, the official Olympic Center store has all the gear and souvenirs you need! Pick up an Olympic winter hat, Lake Placid jacket, stickers, posters, and, most crucially, a golden medal! You'll need it for selfies and the podium!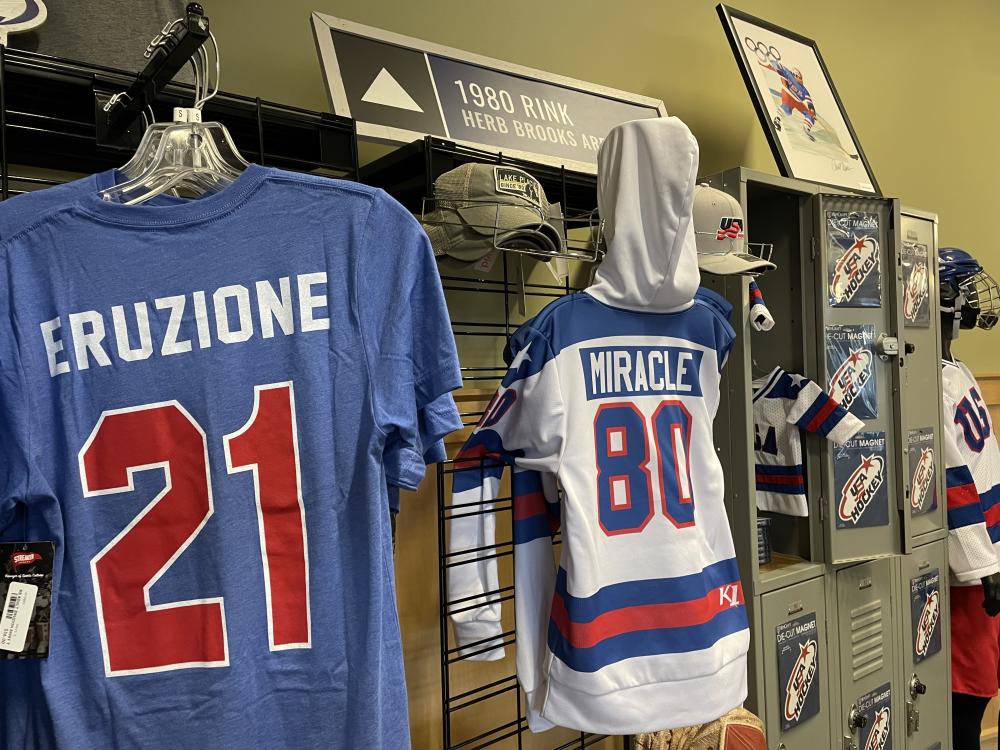 Down Main Street, the USA Hockey store is another can't-miss stop for Olympic gear. Grab a USA hockey jersey, special Miracle on Ice gear, pucks, and other Olympic sports clothes to complete your Lake Placid Olympic look. This is also a great place to buy gifts for everyone you know, so they can share in the magic.
In keeping with the spirit of my Olympic adventures, I opted for a very special coat: an Asics parka created for the 1980 Olympic Winter Games! If you were in Lake Placid during the '80 Games you would have seen a veritable ocean of these distinctive blue and yellow coats, plus matching hats, snowpants, and boots. Since the matching hat is, alas, too small for my head, I took along a woolly Olympic hat, in case things got chilly. After all, Olympians need to stay warm and play responsibly.
Faster
The first part of the Olympic motto, "Citius, Altius, Fortius," faster is one of the keys to many Olympic sports. Speed skating? Fastest wins. Downhill skiing? Fastest gets the gold. Flinging yourself down an icy chute in a bobsled or on a luge sled? Fastest is #1 and quite possibly the most terrifying, in my opinion.
Located just a few miles from the village, the Olympic Sports Complex at Mt. Van Hoevenberg was where cross-country skiing, luge, and biathlon events were held for Olympic Winter Games in 1980, as well as the bobsled in 1980 and 1932. Tucked into deep woods, the complex at Van Ho continues to be updated, rejuvenated, and home to sporting events featuring the best athletes from around the world. That includes you and me, obviously!
In 2020, a new attraction opened up that allows non-Olympic hopefuls some of the thrills of the bobsled track. The Cliffside Coaster is a mountain coaster — part rollercoaster, part bobsled, all fun — that transports riders up the mountain in bobsled-style sleds alongside original bobsled runs. Once you get to the top, the speed and the brakes are all in your hands! The coaster track parallels the 1980 bobsled track and in-sled narration guides you along famous curves like Big Shady. Unlike a roller coaster, you never ride upside down (thank goodness), but the twists and turns, which mean banking sharply left and right over nothing but air are wildly thrilling. You'll find yourself shrieking, giggling, and wanting to ride again as soon as you stop. Probably.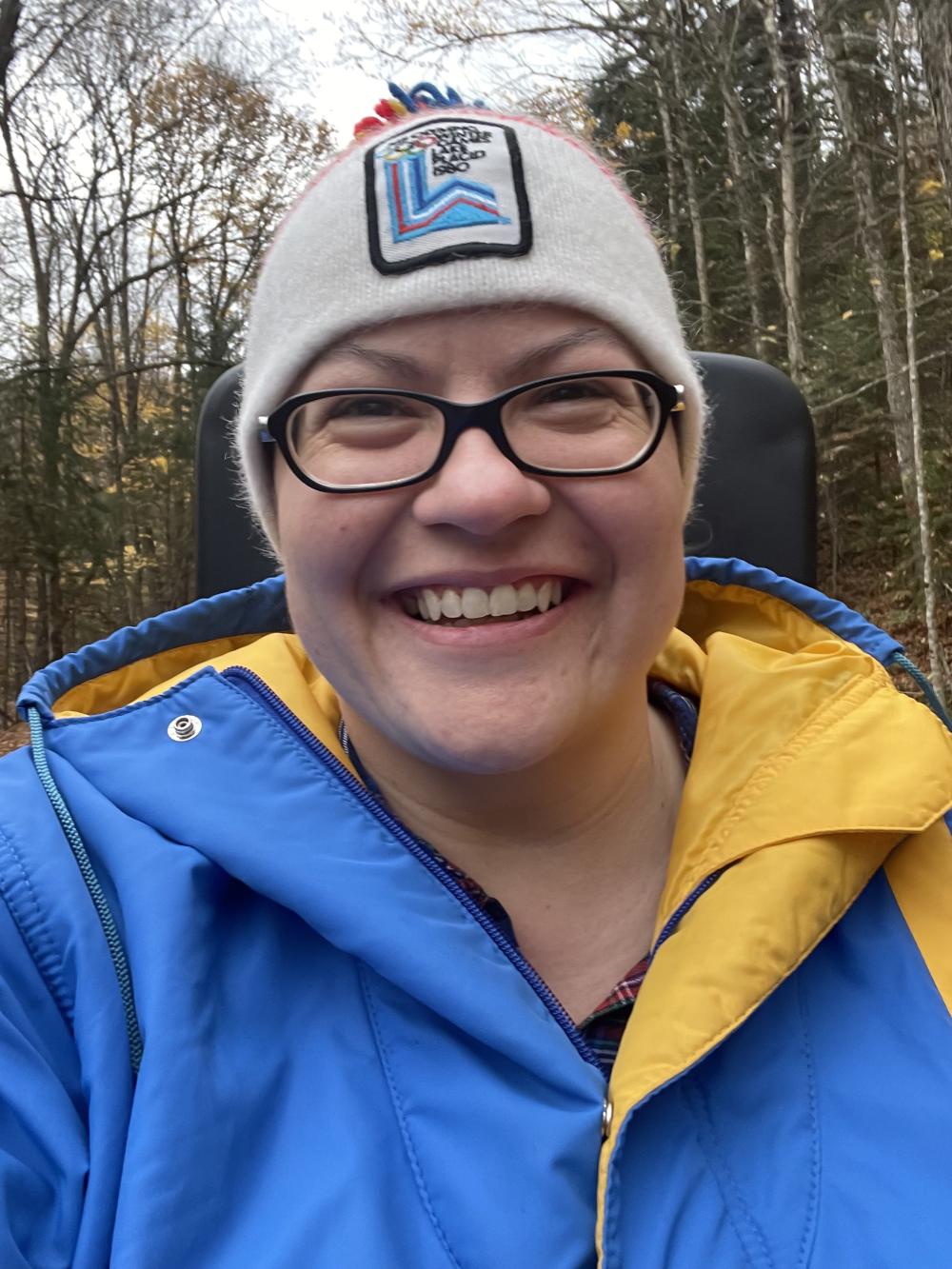 Van Ho is also home to more than 55km of excellent groomed cross-country ski trails. There are trails ideal for the casual skier, the hardcore, and the Olympic hopeful. It's one of the only Nordic centers with snowmaking, too! Competitions including the Empire State Winter Games are held here, and the trails will see competitors from all over the globe ski in the 2023 World University Games, one of the largest sporting event gatherings in the world where, once again, seemingly impossible speeds will make for amazing feats of athleticism. For your Olympic adventure, ski equipment can be rented at the Mountain Pass Lodge, which is also home to a cafe, gift shop, Swix retail store, and an ultra cool viewing area where you can watch bobsled, skeleton, and luge athletes practice their icy starts!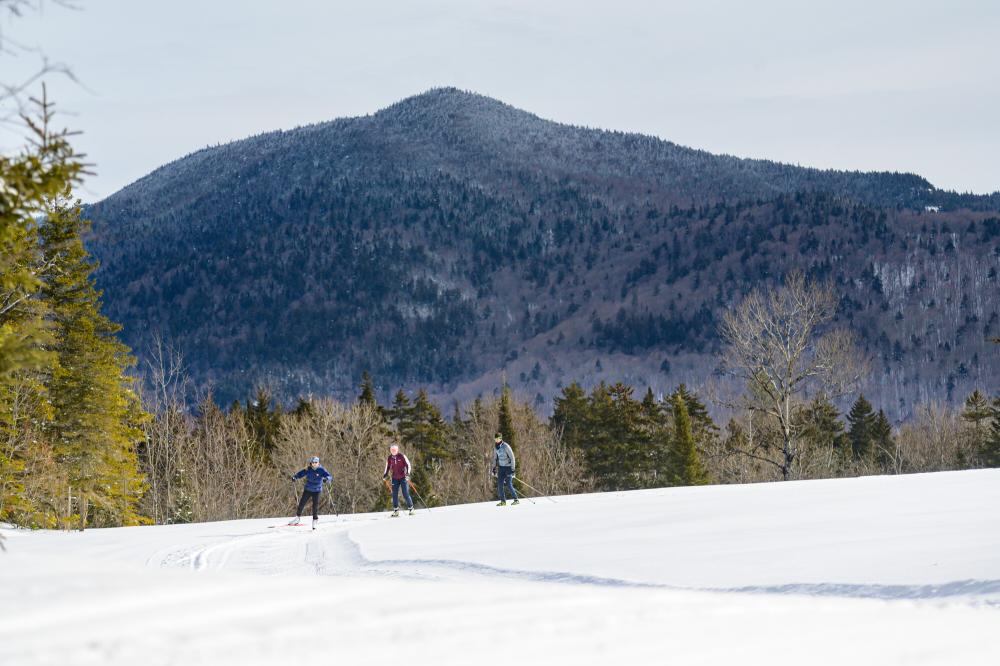 Higher
You can't have winter sports without scaling some heights and I mean that literally. There's no downhill skiing without a mountain and there's no ski jumping without getting some big air!
Located just a few minutes from downtown, you can't help but notice the Olympic Jumping Complex. The ski jumps are visible from all over the village, whether you're sledding at the golf course or taking in the views from the Olympic Center. The complex isn't just a newly updated, world-class facility for athletes, it's also a very family- and visitor-friendly destination where you can get a feel for the ski jumping experience. Gondolas sweep you up the jumping hill to the base of the jump towers, where a swift, glass-enclosed elevator whisks you up into the air. A viewing area with breathtaking views of the snowy Adirondack High Peaks that seem to go on forever. Take a peek down the hill; you don't have to worry about skiing down the jump (thank heavens for that elevator!) but from here you get a really good idea of what ski jumpers face every day!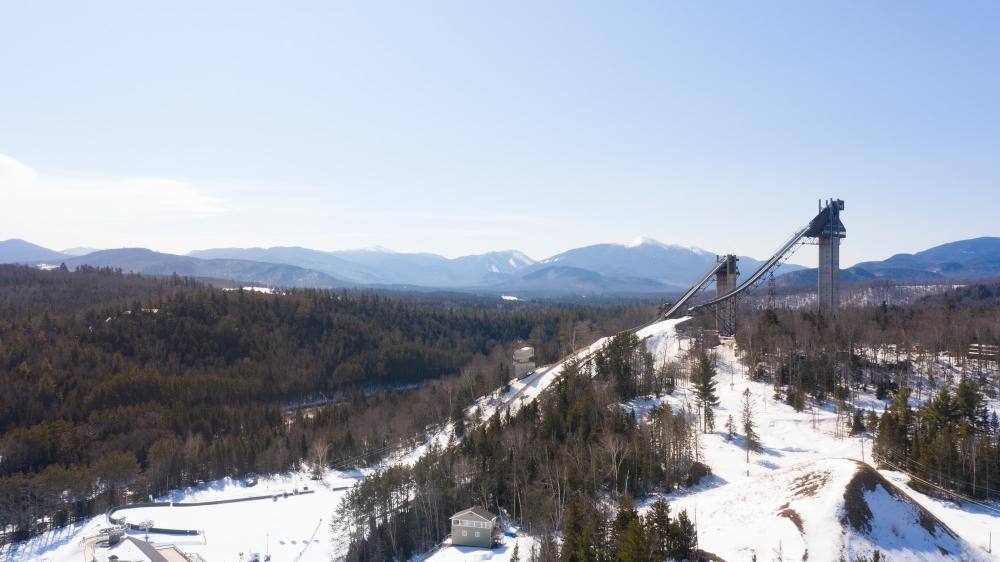 If a visit to Olympic Jumping Complex has you giddy (in a good way) and you're looking to reach even greater heights, then have I got a ski center for you. Whiteface Mountain is just a short drive from the village and it is packed with history, fun, and plenty of altitude. At 4,867' in elevation, Whiteface is the fifth-highest mountain and the highest ski slope in the state. The 90 trails here are actually spread out over three peaks, offering skiers and riders of all levels more than 25 miles of snowy goodness. A brand-new quad, Legacy Lodge, and other enhancements make for sweet days on the slopes. Beginners such as yours truly can start out at Bear Den, a fun-filled area that's pretty, offers one on one lessons, and is excellent prep to get your mountain legs under you. There's no shame in the Bear Den: remember, we're all Olympians and we have to start somewhere! Plenty of local kids started skiing here before heading to the Olympics.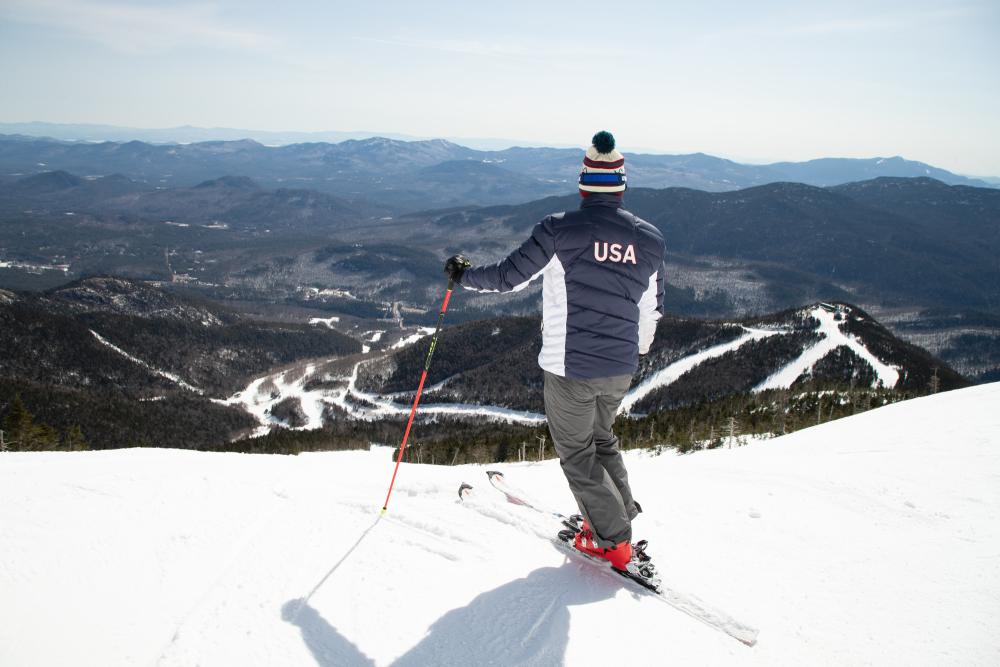 Stronger
As I noted above, I may not be a great skater, but I think ice skating is a dreamy way to have fun and get a bit of exercise in winter. Winter in Lake Placid offers several options for hitting the ice and embracing your inner swan. When the ice is thick enough, skaters can enjoy the fresh air out on Mirror Lake, a sweet experience. For the Olympic experience, however, you'll want to try either (or both!) outdoor skating at the Olympic Oval or indoor skating in the Olympic Center. A few laps on Olympic ice and you'll be feeling stronger than ever!
The historic Olympic Oval was where the speed skating for the 1932 and 1980 games was held, as well as a few other events in 1932, plus opening and closing ceremonies. It was on this rink that local skater Jack Shea won gold in 1932 and where American Eric Heiden won an astonishing five gold medals. People still talk about seeing Heiden around town during the games! You don't have to worry about setting a world record here; instead, you can focus on the fun! The oval is a pretty spot to skate, especially in the evening with the village lit up around you.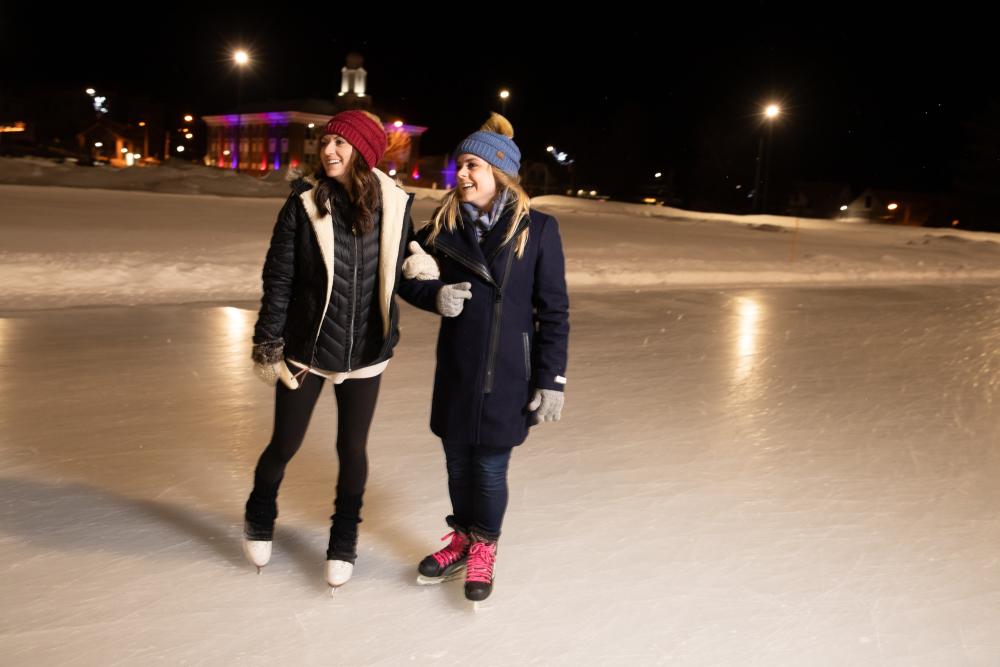 Inside the Olympic Center, not one but three great rinks offer a variety of icy events, including public skating! The rinks inside the Olympic Center each have their own history and personality; the 1932 Rink is where Sonja Henie delighted the world with her figure skating and it was the first indoor rink for an Olympic Winter Games. Down the hall, the famous Herb Brooks Arena is as close to a church as you can get in the hockey world! It was here that the legendary Miracle on Ice occurred in 1980. Skating here will give you chills! While you're plotting your dreams of Olympic glory, don't worry about gear: you can rent skates on site, so all you have to worry about is sticking those landings!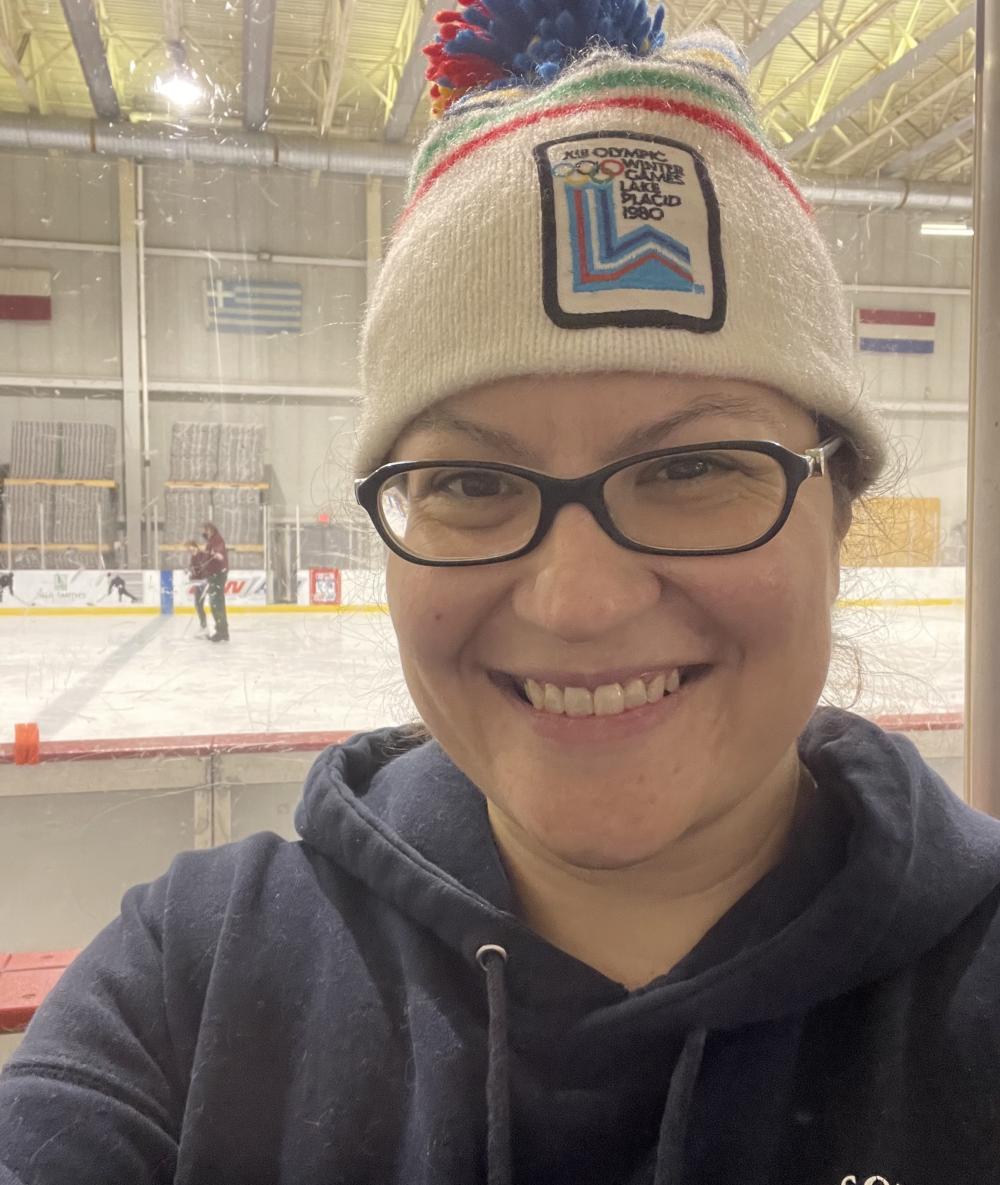 To be an Olympian, you have to be strong in body and mind. A neat way to make your mind stronger, better, and more useful at trivia is a visit to the Lake Placid Olympic Museum. There you'll find a fascinating array of exhibits about Lake Placid's Olympic history, with interactive activities and displays of artifacts and memorabilia. You'll learn so much about what made the 1932 and 1980 games uniquely special that you'll feel inspired to get right back out onto the ice, track, or trails. The exhibits here include medals, uniforms, and equipment — such as a hockey net — that were used in the games. It's a fun way to remind yourself that the very places you ski, skate, and play have been visited by Olympians, too.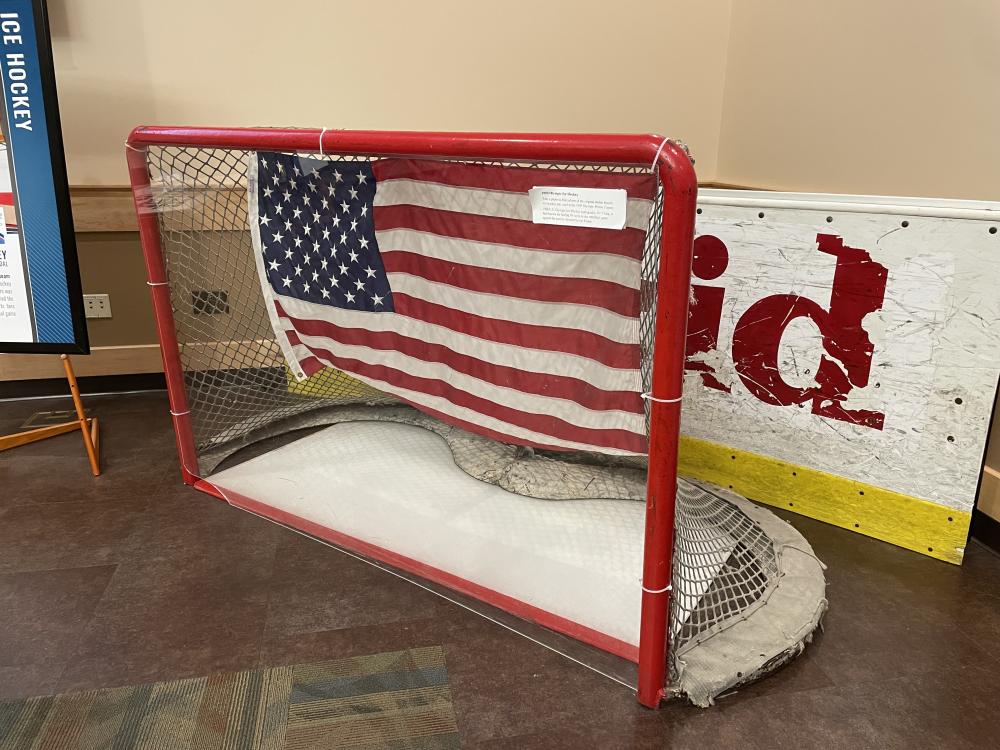 While you're in town, chat with the locals: many were here for the 1980 Olympics and were a part of all the excitement. Hearing about it firsthand is a fun treat you won't soon forget!
A winter visit to Lake Placid is your chance to go faster, higher, and be stronger, to create golden moments that might not make the front page of The New York Times, but will surely make for unforgettable memories. There are other adventures in town, too, including a toboggan slide on Mirror Lake, s'mores over a fire, and snowshoeing with big views! I know it's a lot of activities to pack into just a day or two, but this is winter fun that can't be beat, so start planning your adventures today!! I'm trying to get my boss to send me to the Olympics (any Olympics), and after these adventures, I'm more determined than ever. Maybe I'll see you there.