Take it from us, there's nothing more stunning than fall in the High Peaks. And while it's nice enough just to be here when the leaves are at the their peak, it's a little nicer to take a hike. The crisp air, the smell of autumn, the leaves floating gently to the ground — it's all part of the package.
1. Heaven Hill Old Orchard Loop
Heaven Hill is a small trail network located minutes from downtown Lake Placid, and the hiking here is some of the easiest you'll find in the High Peaks. Take your time exploring the trails as they wind through a pretty hardwood forest, just don't miss the Orchard Loop, where there is a breathtaking mountain view for very little effort.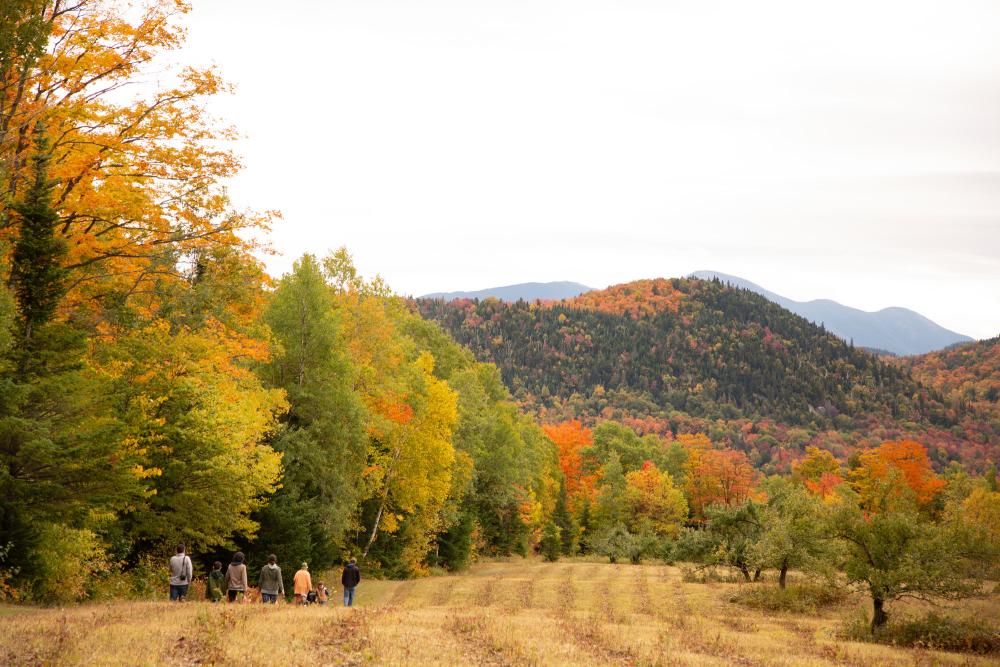 Stats
Old Orchard Loop: 1.4 miles
Big Field Loop: 0.9 miles
Bear Cub Loop: The main outer loop is 1.5 miles
Parking
From the intersection of state Route 73 and 86 in Lake Placid, take Route 73 toward Keene. Turn right on Station Street in 0.2 miles — it's the first right after you cross the Chubb River. Follow this road for 0.75 miles and turn left on Old Military Road. Follow it for 0.9 miles, then turn right on Bear Cub Road. The trailhead is on the right after about 3 miles.
2. Mount Van Hoevenberg East Trail
The relatively new trail up the east side of Mount Van Hoevenberg makes long, sweeping switchbacks as it gently ascends the mountain, making it an easier climb than the West Trail. Before your hike, start your visit at the brand-new Mountain Pass Lodge. There you will find hiking information, a shop, cafe, and information about other cool Olympic activities! When you're ready to hike, the trail works its way away from the cross-country ski trails and bobsled run as it climbs toward the summit ledges. Set aside plenty of time to enjoy the view of Mount Marcy, Algonquin, and some of the Great Range as you overlook South Meadow.
Stats
Elevation: 2,860 feet
Elevation gain: 948 feet
Distance: 3.6 miles
Parking
From downtown Lake Placid, turn onto Route 73 east and follow it for 6.3 miles, then turn right on Bobsled Run Lane. Follow that to its end and follow the signs to the trailhead.
3. Mount Jo
Mount Jo is a steep little mountain that offers close-up views of giants like Wright, Algonquin, Colden, and Marcy from its summit. The trail starts across from the Adirondack Loj toll booth and remains level until it swings away from Heart Lake. After a brief climb there is a fork — right is the Short Trail and straight is the Long Trail. We recommend taking the Long Trail up as it's not quite as steep, and if you're up for an adventure you can return via the ruggedly scenic Short Trail.
Stats
Elevation: 2,876 feet
Elevation gain: 700 feet
Distance: Short Trail, 1.1 miles; Long Trail, 1.3 miles
Parking
From downtown Lake Placid, turn onto Route 73 and turn right on Adirondack Loj Road, the first right after the ski jumps. The parking lots are about 5 miles from Route 73. Be sure to pay the parking fee at the booth, even if no one is there.
4. Indian Head
Indian Head boasts a classic High Peaks view of sheer cliffs and a long, narrow lake. If you're a hiker, don't miss it! The trail begins at the Ausable Club golf course which is private property, so there are a couple of things to be aware of when you want to hike here. The Adirondack Mountain Reserve and the state Department of Environmental Conservation have created a reservation system. You must make a free reservation to hike this property. When you arrive at the parking area off of Route 73, you'll have to show proof of your reservation. This measure is to ensure public safety in the area and keep the trail — and associated parking lots and roadways — from being overcrowded and unsafe. When you're hiking, be sure to stay on the trail at all times, don't camp on the property, and dogs aren't allowed. Other than that, regular hiking rules apply!
This first section of trail follows the Ausable Club's road to Lower Ausable Lake, and it's mostly an easy to moderate climb to the junction with the Indian Head Trail at 3.3 miles. Turn left to head toward Indian Head on what is now a traditional Adirondack hiking trail — expect tree roots, rocks, and pretty serious ascent of 730 feet in the next 0.8 miles. Indian Head is on a short spur trail to the right.
Stats
Elevation: 2,700 feet
Elevation gain: about 1,400 feet
Distance: 4.1 miles
Parking
From downtown Lake Placid, turn onto Route 73 for about 21 miles and turn right on Ausable Road. Park in the large lot on the left and follow the road on for for about a half mile, bearing left to head toward the tennis courts. The large wooden gate and kiosk mark the beginning of the hike.
5. Hurricane Mountain
Hurricane has an open rock summit, but there's a fire tower on top if you want to get a little higher. There are three ways to approach this mountain, one from Route 9N, another from Crow Clearing (the North Trail), and a third from the east. Whichever route you choose, the view from the top is one of the best in the Adirondacks. You'll see Lake Champlain to the east and mountains in every direction, including Vermont's Green Mountains and the High Peaks. The view of the Dix Range is particularly striking from this vantage point.
Stats
Elevation: 3,694 feet
Elevation gain: from Route 9N, 2,000 feet; from Crow Clearing, 1,600 feet; from the east, 1,700 feet
Distance: from Route 9N, 2.6 miles; from Crow Clearing, 3 miles; from the east, 2.7 miles
Parking
See the Hurricane Mountain listing for detailed parking directions.
---