1. Lake Placid is America's first winter resort.
Most folks remember Lake Placid hosted the 1980 Olympic Winter Games. Some know we hosted the 1932 Winter Olympic Games. But, Lake Placid's winter sports history began with Melvil Dewey, who kept his grand resort, the Lake Placid Club, open through the winter season of 1904-05. Thus began Lake Placid's heritage as America's First Winter Resort.
Sure, most of Lake Placid's visitors come here during the warm months, but today the area continues to beckon travelers to play in the snow — primarily due to the increased interest in winter outdoor recreational activities possible in the Adirondacks, like backcountry skiing, snowshoeing, pond hockey, and ice fishing. Oh, and skiing and riding the greatest vertical drop in the east at Whiteface Mountain.
Lake Placid knows winter. Trust me. We've been playing in the snow here for over 100 years.
Insider tip: When planning your vacation, check out the deals on the packages page!
2. Lake Placid has been part of the competitive world sports stage since the 1920s.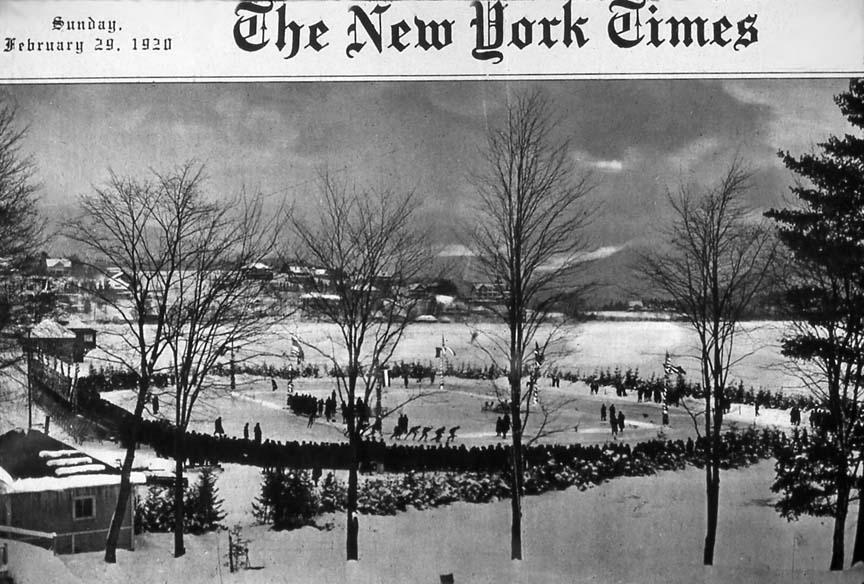 Charles Jewtraw, James Hennessy, and Ray Bryant, referred to as the "Lake Placid Skating Trio," were the first in a long line of Lake Placid athletes to compete on the national, and then the international scene. The three speed skaters were members of the thriving Lake Placid Skating Association. In 1920, the association, led by President Henry Uihlein II, boasted a membership of 472 and trained on Mirror Lake.
Fast forward to today, when Lake Placid (and the Adirondack region) continues to create Olympians. There's no perceived barrier to entry into the Olympics for youth who grow up here. Off the top of my head, I have one friend whose 10-year-old is training in ski jumping, and another friend whose 13-year-old son is a junior luge athlete.
Plus, Lake Placid is home to one of three U.S. Olympic Training Centers (OTC), too. The OTC caters to winter Olympic sports that include speed skating, but other sports training at the center include boxing, canoeing, kayaking, judo, rowing, synchronized swimming, team handball, water polo, and wrestling. Of course, the area welcomes a ton of folks training for various events, such as Ironman — almost year-round, too!
Because of the access to these unique winter sport facilities and the area's heritage, this part of the Adirondack region has sent athletes to every single Olympic Winter Games since resident speed skater Charles Jewtraw won the very first gold medal at the very first Olympic Winter Games in Chamonix, France, in 1924.
Insider tip: Be sure to stop into the Olympic Museum to learn more about Lake Placid's winter sports history when you're here!
3. The famous toboggan chute is green.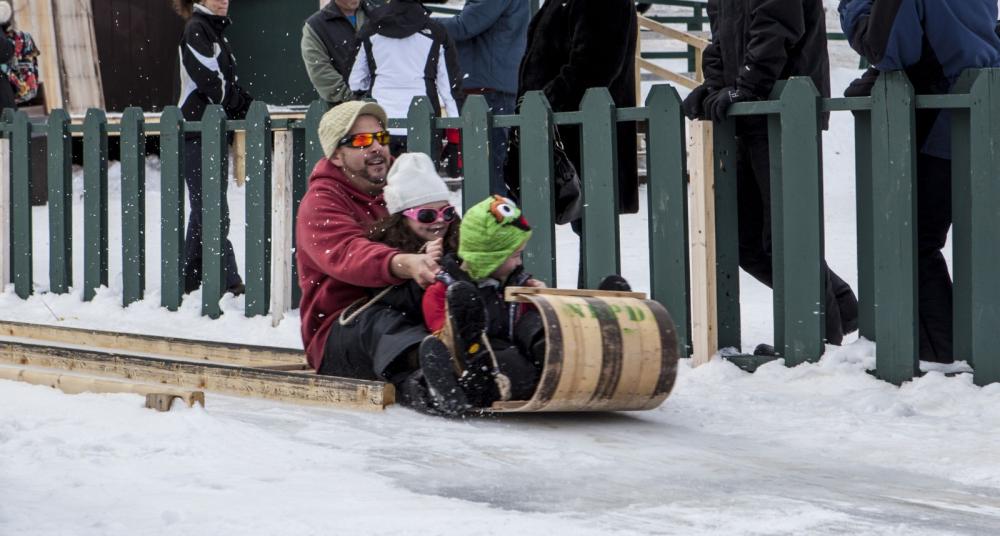 The toboggan chute was recently rebuilt, but there's some cool history about its predecessor. Like the bags at the grocery store, the previous toboggan chute was actually recycled. Its first job? A ski jump that was moved from its original location at the famed Lake Placid Club in the 1960s.
Today, this 30-foot-high slide sends toboggans down ice covered chutes onto frozen Mirror Lake. Depending on weather conditions, toboggans can travel over 1,000 feet once they reach the frozen lake surface!
Insider tip: The toboggan is usually open by the beginning or middle of January. Get there early during open hours and get a few runs in before the line gets long.
4. You can skate a 2-mile loop, on natural ice, 24 hours a day.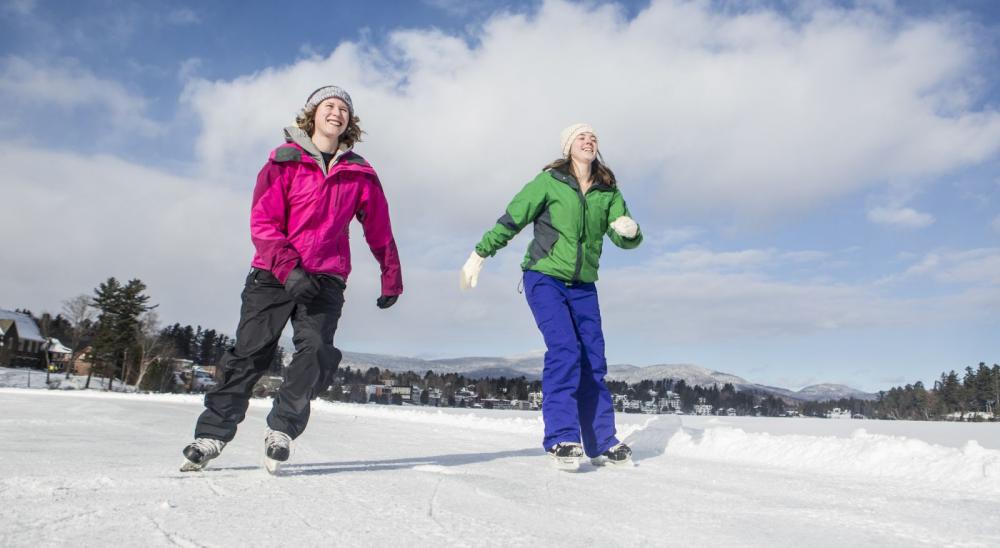 Mirror Lake is a big draw in winter — action-packed with a mix of dogsleds, pond hockey, toboggan chute activity, cross-country skiers, snowshoers, and recreational skaters on the 2-mile long, plowed track that circumnavigates Mirror Lake.
The Mirror Lake ice track was first cleared during the winter of 2014, and it was an immediate hit. In a terrific example of an effort that benefits both Lake Placid residents and visitors, a local crowdfunding effort raised funds to acquire a special lightweight machine with snowblower, plow and brush attachments, which allows the town to clear the ice track once the ice is 6-inches thick!
Insider tip: There are several places to rent skates in town — figure, hockey, and nordic — if you don't have your own!
5. You can invent your own perfect day.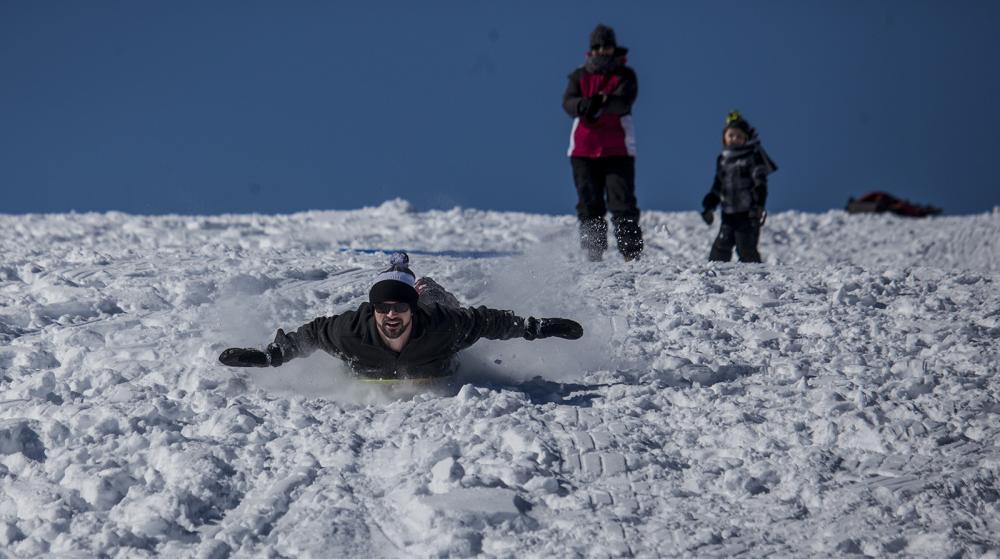 What's a Perfect Day? For some, it's a skate around Mirror Lake in the morning, a robust lunch with a view, a dogsled ride, then dinner and a movie followed by an evening spent reading by a roaring fire. For others, the day begins with a snowshoe hike, then a few runs down the toboggan chute, shopping on Main Street, and dinner at the pub.
Turns out, there is no single series of experiences that results in a Perfect Day in Lake Placid, so we're inviting everyone to Invent Your Own!