There aren't many places where you can get a big payoff from a small investment — luckily, Lake Placid isn't most places. Sure, the Adirondacks' 46 High Peaks offer some of the most outstanding views anywhere, but they also take the better part of a day to hike. Try one of these low effort hikes, and use that extra energy to explore downtown. After working your way through this list, consider tackling some of the other easy hikes near Lake Placid with our full list of trails taking between one and two hours to complete.
Take a trip to the other side of Whiteface Mountain to one of the best Adirondack hikes for kids. This trail started as a well-kept local secret, now it's a must-do — well marked, well maintained, and awesome in the view department. The path goes gently uphill past an old quarry, then climbs to a broad rock shelf about a half mile from the trailhead. After that the path is gently rolling to the large ledge, where there are outstanding views of nearby Whiteface and Esther mountains and other High Peaks to the south. This large ledge gives families plenty of room to enjoy the surrounding views, which is one of the reasons this is a top hike in the Adirondacks for kids.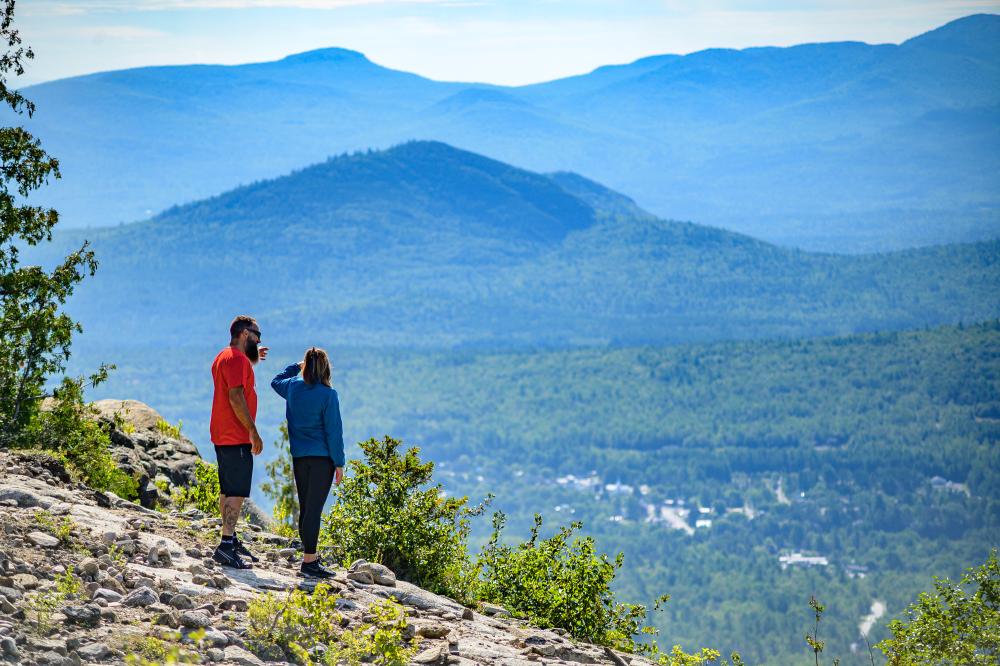 Get there: Follow Route 86 east into Wilmington, then turn left onto Route 431 at the four corners. Follow Route 431 for 3 miles. At the three-way intersection with the Whiteface Memorial Highway, bear right on Gillespie Drive (county Route 18A on some maps). Continue for 0.3 mile to the trailhead and parking area on the right, just past Lake Stevens.
Hike stats
Distance: 1.1 miles to the lookout
Elevation: 2,600 feet
This is a short hike up a small mountain that's home to some of the biggest views around.
The trail begins at a moderate grade and, thanks to a relatively new set of switchbacks, never gets too steep. You'll cross under a power line before beginning a climb that ends with a level stretch, which is followed by a right turn and a series of short climbs to the scenic southeast summit at 1.2 miles. These short climbs are what makes Baxter Mountain one of the best easy hikes near Lake Placid for kids that are ready to be challenged a little. Continue for another 0.1 mile to more views from the northwest summit.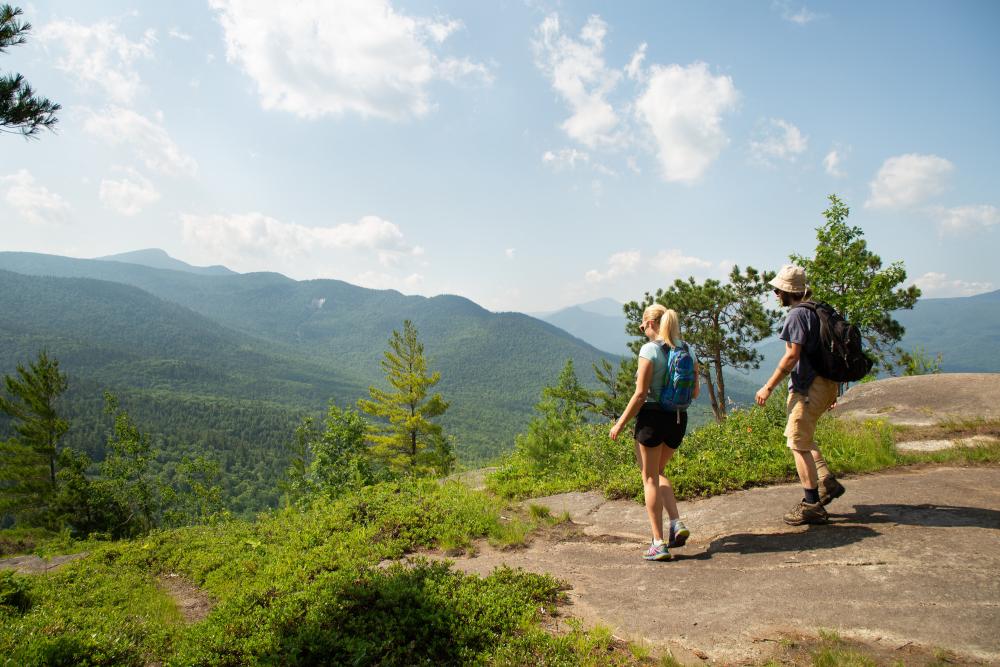 Get there: Take Route 73 west from Lake Placid and turn left on Route 9N, toward Elizabethtown. The trailhead is 2 miles after the turn, at the top of the hill.
Hike stats
Distance: 1.2 miles to the summit
Elevation: 2,440 feet
Ascent: 770 feet
Just across the road from the popular Cascade Mountain, the Balanced Rocks on Pitchoff offer a less crowded experience with excellent views and a pair of enormous boulders.
The trail climbs immediately from the trailhead, then reaches an easy stretch along a short ridge before swinging left and charging steeply up. There's a dip — that's the summit up ahead, through the canopy — before the climbing resumes. Take note that there are several side trails along the way; just bear left to stay on the main path. At the T-intersection, turn right to continue for the final 0.1 mile to the Balanced Rocks. Left reaches the viewless summit in a half mile.
Get there: From the intersection of Route 73 and Route 86 in Lake Placid, follow Route 73 toward Keene. Continue on Route 73 for 7.5 miles to the Pitchoff West Trail.
Hike stats
Distance: 1.6 miles to the rocks
Elevation: 2,990 feet
Ascent: 850 feet
It's called Heaven Hill for a reason — the 4 miles of trails here are easy and the scenery is unparalleled. Take a short drive from downtown to Bear Cub Lane and park in the large parking area. From there you'll have a bunch of options, but we recommend heading left and linking up with the Orchard Loop Trail. It's a pleasant walk through the woods that ends with an outstanding view of the High Peaks from an overgrown orchard. Loop through the meadow and look for birds and other frolicking animals before returning to see for yourself why this is one of my favorite easy hikes in Lake Placid.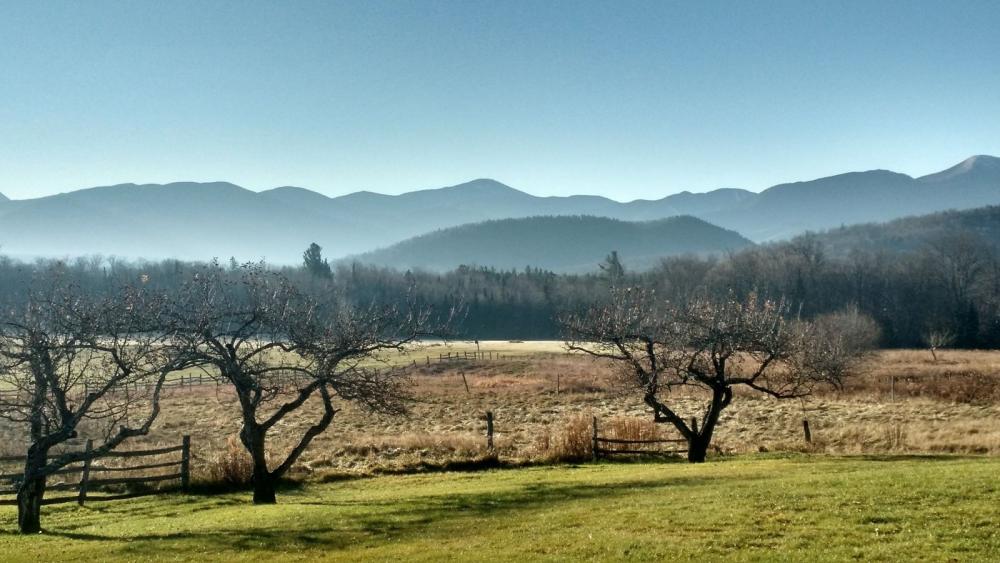 Get there: Turn onto Cummins Road, which is next to the Olympic Speedskating Oval on Main Street in Lake Placid. Turn left on Wesvalley Road, right on Mill Pond Drive, then left on Old Military Turnpike. Follow that for 1.5 miles and turn right on Bear Cub Lane. Follow this road for 2.2 miles — the parking area is on the right, shortly after the road makes a hard right turn.
Hike stats
Distance: 1.4 miles to the orchard
Elevation: 2,050 feet
Ascent: minimal
A long, gentle walk that ends with a dive off a dock? Sign us up! Take in the view from Connery Pond — just be sure to stay on the trail to avoid private property — then duck back into the woods for a moderate climb away from the water. The trail becomes a relatively flat, gravel-strewn road as it approaches Lake Placid lake. At the intersection, turn left and make the short walk to Whiteface Landing, which is an awesome spot for swimming, picnicking, and lounging. Right goes to the summit, a long, strenuous hike.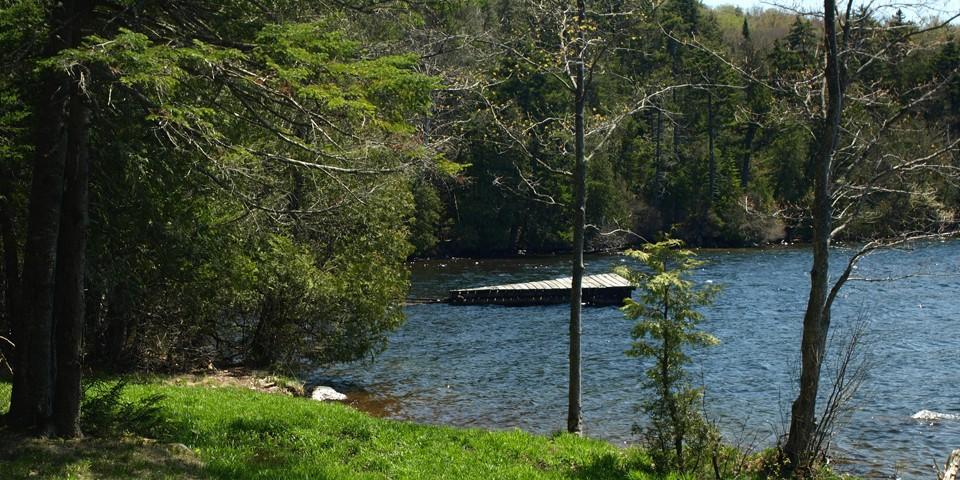 Get there: Follow Route 86 east toward Wilmington, then turn left onto Connery Pond Road. Follow this dirt road to the yellow gate and park here, being sure not to block the gate. This is the trailhead.
Hike stats
Distance: 2.5 miles to Whiteface Landing
Elevation: 1.860 feet
Ascent: 195 feet
---
There's nothing like a good meal after a good hike. Head into town for dinner, then relax with a craft beer or some entertainment — you've earned it!