Written by guest blogger, Lake Placid resident, and skating guru Christie Sausa.
The Olympic Speed Skating Oval is one of my favorite places.
So when I found out last year that the facility would be used for inline skating this summer, I was thrilled. Finally, a way to enjoy the Oval during the summer!
As someone who would often drive past sadly after the winter season ended, mourning the opportunity to glide on the legendary track where Eric Heiden won five-speed skating gold medals in 1980, I had long hoped the track would be used for inline one day. The Oval pre-renovation was marred with cracks and shallow gouges, making it unsafe for inline skating - now, the new track surface makes skating both possible and a pleasure.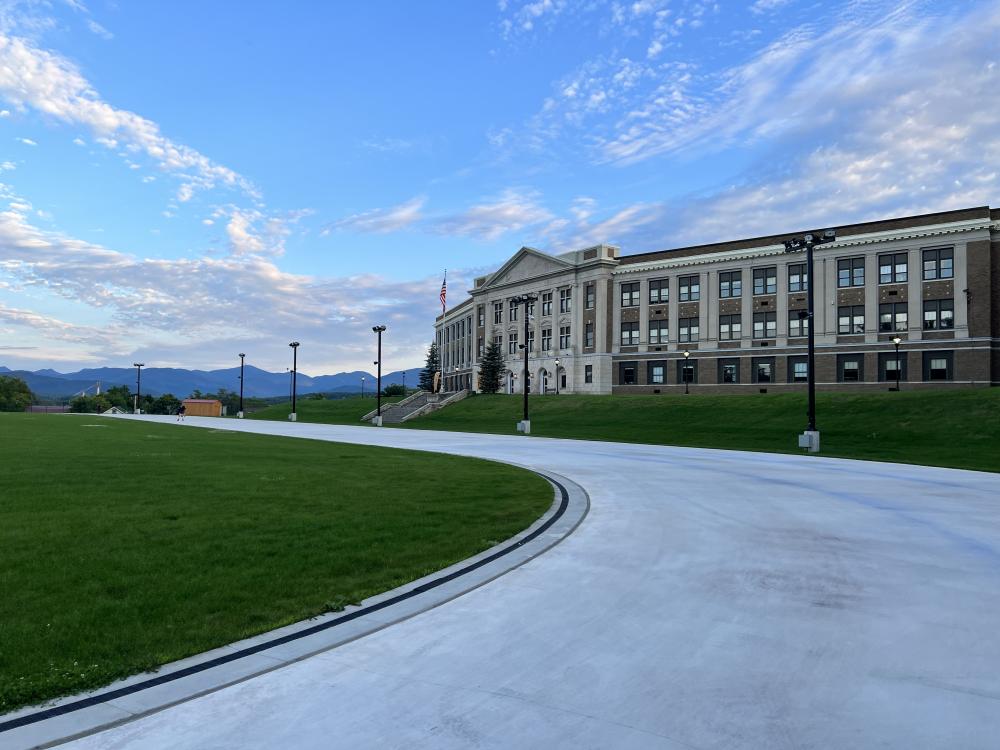 After several evenings spent rolling around the 400-meter track (that's ¼ of a mile, for those counting laps), I can confidently say that this is THE don't miss activity for the summer season in Lake Placid. Even if you don't think you can roller skate, you can probably do at least one lap and cross that off your bucket list. This is, after all, the only 400-meter Oval on the East Coast - if you can't make it in the winter (or even if you can), what better way to enjoy skating here than rolling along on a warm summery evening?
My first skate was on Opening Day on May 27th, and I immediately purchased a season pass for $50 as I knew, much like in the winter, I would be roller skating every day available. For more casual skaters, the entry rates are $15 per person for the 7 pm - 9 pm session (which includes rental inlines and highly-advisable protective gear). If you have skates, admission drops to $7, and you can rent safety gear for an additional $5. You can also access the bike lane for $5 per session. After brief closures for graduation and the Ironman triathlon, the season stretches to September 2nd and is open Wednesday-Saturday, 7 pm - 9 pm.
I'm certainly not new to inlining. In 2020, I purchased specialized figure skating inlines to jump and spin, practicing my figure skating moves on the Oval-adjacent hockey box and staying in skating shape while the Olympic Center was closed. But I hadn't skated on inlines since last year, so it was a bit of an adjustment getting back on wheels.
That first day, I wore my specialized figure skates. The surface was smoother than I expected - not quite cement-or-wooden-floor-smooth like an indoor roller rink would be, but impressive nonetheless. Few others were skating that day; most were rink employees or skate guards.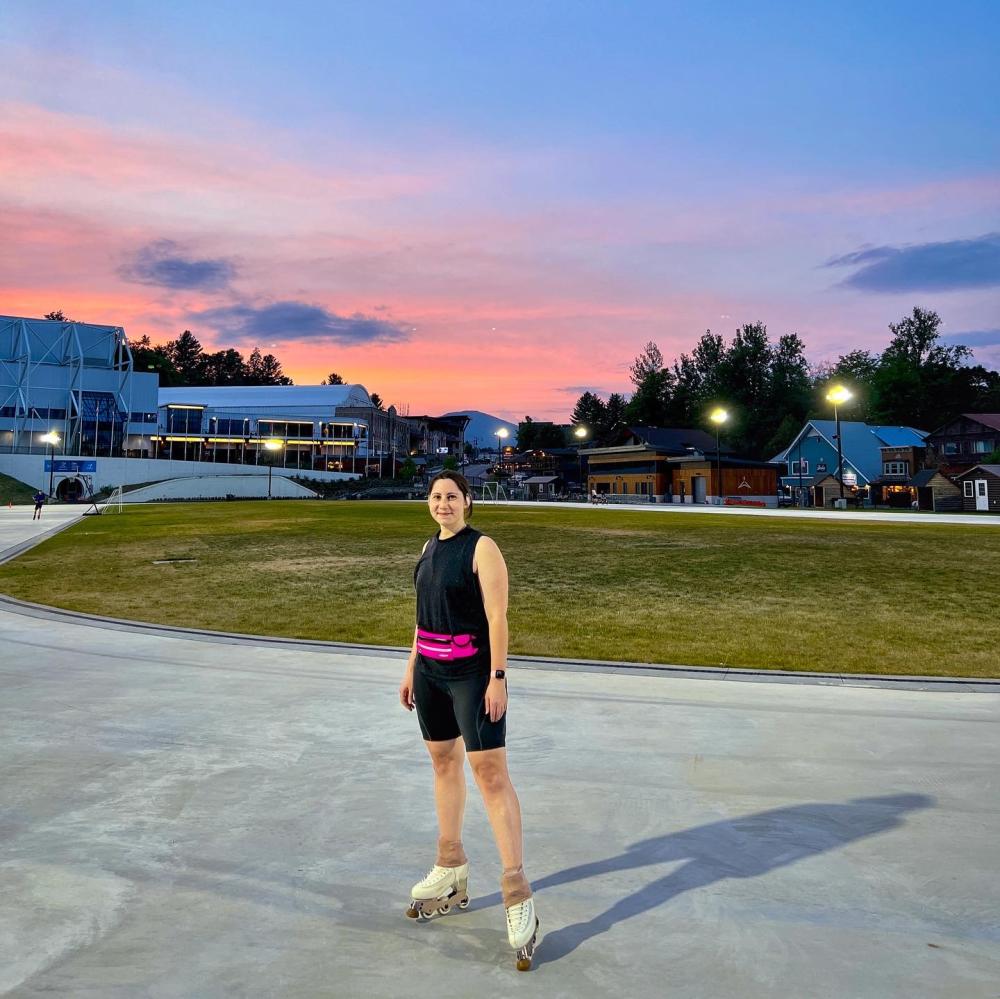 For the purposes of this post, I rented the Oval's inline skates and protective gear. The fleet is brand new, extremely well padded and comfortable, and has durable wheels, making navigating the track easier. The protective gear — knee pads, elbow pads, and wrist guards — are also in like new condition (because they are!) and feel durable enough to protect from the most brutal falls.
When I switched to my inline (speed skating-style) skates, I found the surface just as smooth for the different wheels and setups. The track is swept before each session, ensuring a minimum of debris and excess water on the track.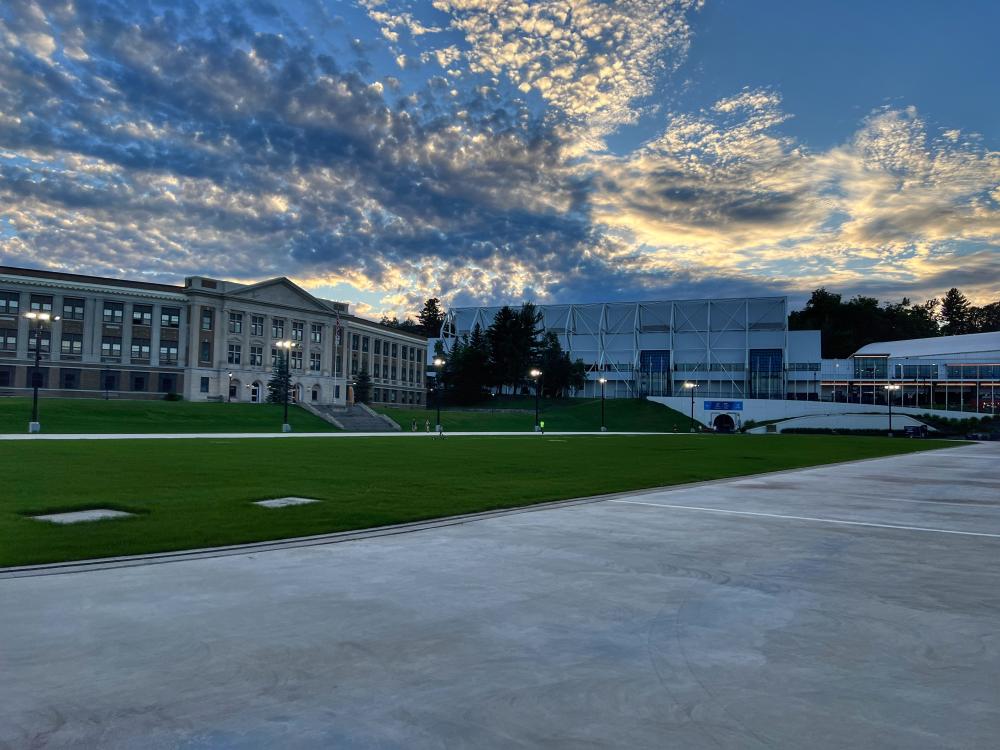 Also, the unique size and shape of the Oval allow skaters of all abilities to find their own space; unlike indoor roller rinks, which can often be dark, crowded, and boasting smaller dimensions, the Oval feels wide open because it is. Under the Adirondack summer sky, you can claim your own space, take your time learning, and enjoy the unique ambiance.
Local figure skater Anne Bennett tried inlining for the first time on the Oval and, within minutes, was doing skating tricks like spirals and lunges (we actually shot an Instagram reel of ourselves doing spirals on the rental skates). She agrees that the Oval's size and unique location are significant parts of its appeal.
"I thought skating on the Oval felt liberating," she said.
"The most significant difference between the Oval and other places is the scenery and amount of space. Most places don't have a beautiful view of the mountains and the spacious track."
Not to mention, roller skating is a great low-impact exercise. Personally, I notice my fitness significantly improves when I start speed skating every winter, and similar benefits can be gained from inlining. Especially when other inliners show up, and we can do laps together.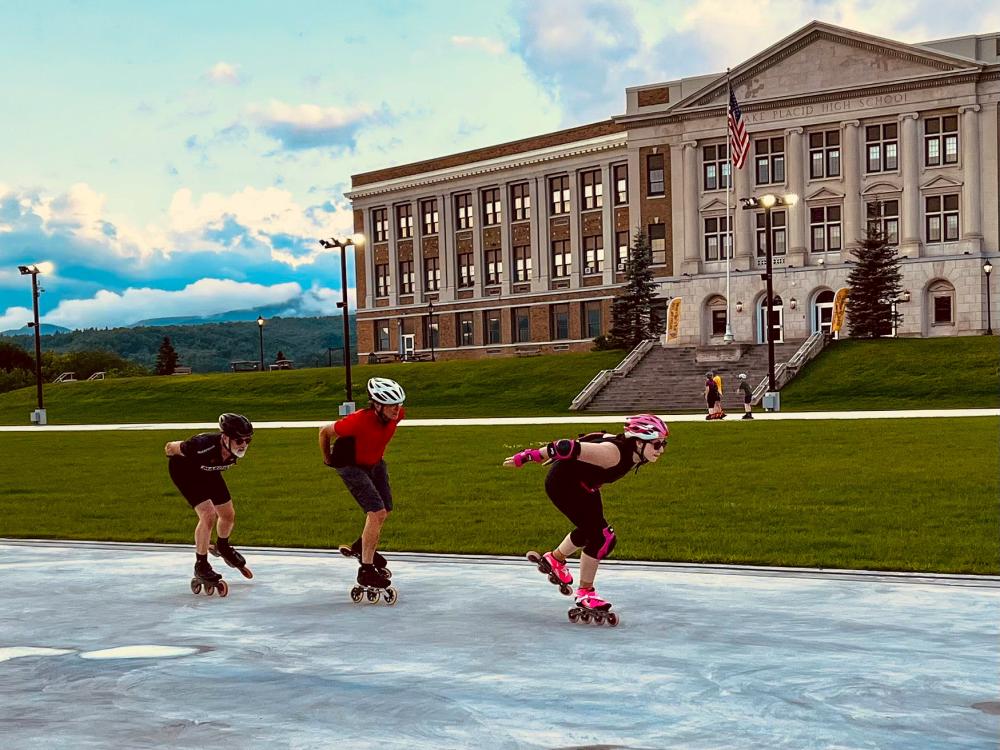 What struck me the most about the inline skating sessions on the Oval, though, was the increased accessibility and community.
Many aren't comfortable skating on figure, hockey, or speed skates, but roller skates feel more approachable somehow. And the Oval has become what many feel it should have been in the first place - a community gathering place welcoming locals and visitors alike to enjoy the venue all year round. And after a few slow weeks, it seems to be succeeding on that front finally.
I chatted with a few Oval users about their experience roller skating there so far, and they all seemed to appreciate the opportunity to skate during the summer as much as I do.
One local, frequent Oval guest Ryan Cuttler, enthused that he "likes skating on the oval because it keeps me active and gives people the opportunity to make new friends and enjoy the views" and noted that he thinks the setting is "one of a kind."
Another speed skater said they had been waiting for over a decade for inline skating to find a home in Lake Placid. Still, another, an Oval regular, said they loved to see so many people discovering the Oval for the first time in the summer.
I have to concur - I've seen such a wide demographic closely reflecting the population of Lake Placid during the summer. Every time I go, I see someone new, and you just never know who you will meet on the Oval. The other evening, I watched two young women with long dark hair struggling to skate; they fell every few feet but were laughing hysterically, clearly having a blast. A few weeks ago, the Oval seemed to belong to the hockey players, with a few doing fast feet drills, weaving expertly in and out of other roller skaters. Once in a while, you can see the aspiring speed skaters push their limits, trying to mimic the tucked position and arms flying stance, even if they only have plain roller blades. It's also common to see little kids, often wearing brightly colored skates of their own, scrambling with no fear around the track while a parent walks alongside to supervise. Sometimes, large groups, families, or friends show up; even the most timid new skater usually looks a bit more comfortable by the end of the session. Perhaps my favorite new acquaintances were two local young women, brightly clad in shades of red and pink, having their own "Barbie roller skating party"- we chatted and took a few photos together, then took a few laps.
And then there are the speed skaters, of which I am one. This season so far, I've reconnected with several inliners, two of whom I speed skate with on the Oval in the winter.
Many of our long-track speed skating athletes, including Olympic gold medalists Erin Jackson and Chad Hedrick, came from roller skating and inlining before transitioning to ice speed skating. Most elite speed skaters incorporate inline training in their off-season dryland routines, although inline speed skating racing is also its own sport. 28-time World Champion and Olympian Joey Mantia recently posted a video of himself inlining to his Instagram account, showing just how fast top-speed skaters can go.
Usually, in-liners must rely on local bike paths, parking lots, and even suburban cul-de-sacs to inline safely, although they must still be careful; road grit and small debris can get stuck in the wheels and damage the bearings. So having a dedicated, clean space for inline training is a massive boost for speed skating on the east coast, giving local and out-of-town athletes a destination to train while waiting for the winter season to begin.
One such inliner, John Sillero of Glens Falls, has been inlining for 35 years and thinks of the activity as an "excellent way to keep the rust off." We just skated together Wednesday evening, and he elaborated, saying skating helps him stay feeling young and fit, in addition to his other endeavors like hang gliding. He makes the nearly two-hour trip because he considers the Oval "the most scenic with the easiest access of any skating venue." Considering the next closest place to skate on an Oval is Quebec - and that's an indoor Oval - he's not exaggerating.
Granted, the Oval has been up against a challenging summer. While the Oval will open if the rain can be cleared enough to allow skating, exceedingly rainy conditions lead to track flooding and have caused ORDA to cancel sessions. Just this Thursday, the session was canceled because the track resembled a swimming pool; Friday's first theme night celebrating the music of the 2000s was also postponed to Saturday night after heavy rain and thunder left it mostly underwater.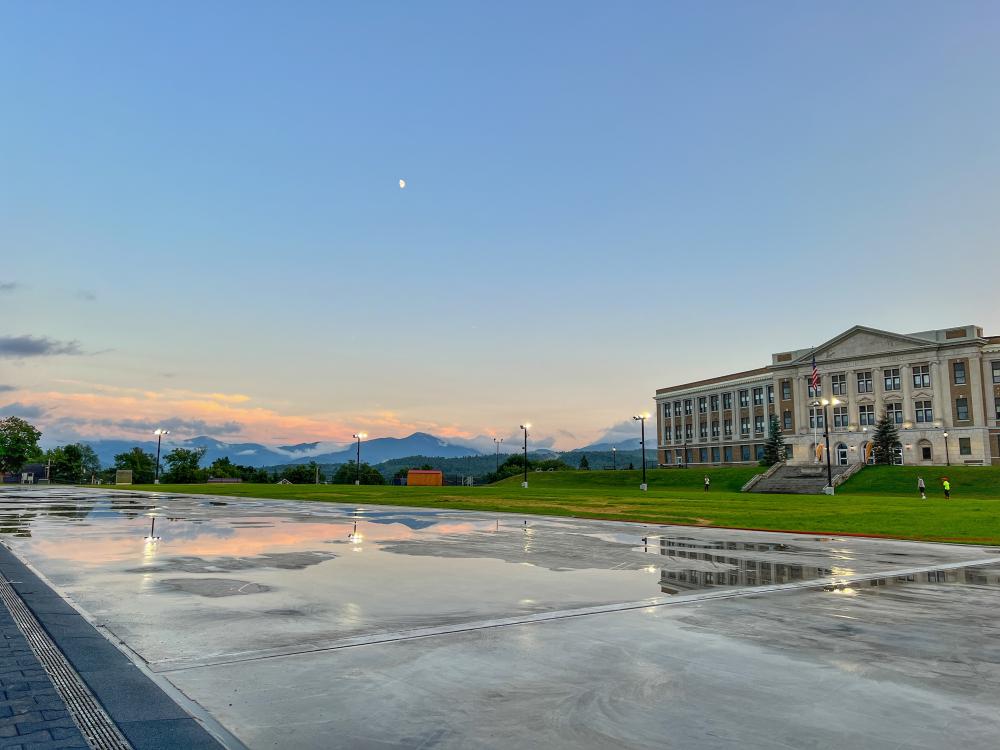 If nothing else convinces you to try roller skating on the Oval, how about this - second only to the Lake, the Oval might be one of the best places in Lake Placid to catch the sunset. From the backstretch, you can see the sunset glow behind the High Peaks (including Marcy!) in the distance; from the front of the track, the historic Lake Placid High School and Olympic Center can be seen, often with streaks of colors serving as a dramatic backdrop. A few weeks ago, two other inliners and I literally skated into a pink and yellow sunset.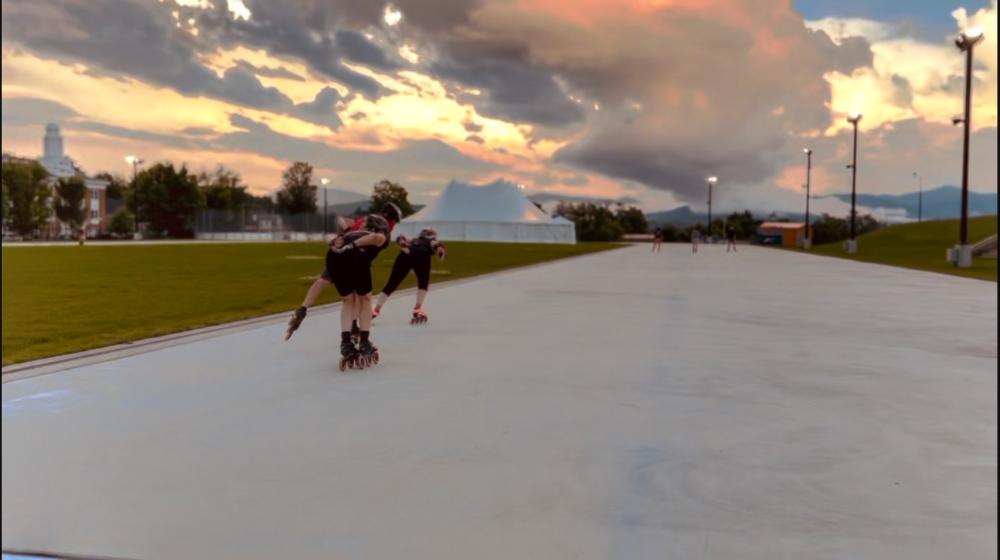 Talk about a perfect way to end the day in Lake Placid.
For more information about the Olympic Oval inline skating, visit ORDA's activity page . I hope to see you on the Oval!