The first Earth Day took place in 1970, making Earth Day 50 years old in 2020. I find it amazing that the 50th year is being honored in such an unusual and unique time, when the world is fighting the pandemic of COVID19. We are busy social distancing, trying to remain healthy, honoring the front lines of essential workers and medical staff and dreaming of days when we can literally open up our doors and enjoy the world — the earth — again.
Will it be different? Will we treat it differently? Will we respect it more? I know for sure that I will. I will make it my "new normal" as we are hearing so much these days, to make certain that my impact is less, the destinations that I choose to travel to are making less impact, and every aspect of my days can be changed to help protect what I am missing so much these days. Myself, along with millions of others understand the beauty and importance of our global home like never before. As we move forward, let's pay attention to the changes we can all make to keep our planet clean and healthy. Happy 50th Anniversary, Earth Day.
The Adirondacks: our responsibility
As our previous story "Be a Part of the Green Scene" mentioned, "When the Adirondack Park was created in 1892 by New York state, it was on the brink of widespread deforestation. Luckily, the Adirondack Forest Preserve was established in 1894 and the mountains became recognized as a constitutionally protected Forever Wild area. Since then, various groups, locals, and the state of New York have been fighting to keep it that way, but it isn't just on them to preserve this beautiful region — it is all of our responsibility to protect the Adirondack Mountains and its villages, including Lake Placid."
Placid perfecting eco-friendly
Lake Placid takes protecting the Adirondacks, the communities, lakes, and mountains very seriously. You don't need to look too far to recognize that this natural beauty has been protected and cared for on a daily basis. Business owners, public leaders, and community members make important decisions on how they can contribute to the planet and Lake Placid in everything they do. The pristine Main Street, the clear lakes, the beautiful views, and the fresh air don't just happen because you are in the mountains. The Adirondacks welcome millions of visitors each year, and there are challenges that arise and choices that are made to protect the park each and every day.
Eco-friendly lodging
Where you decide to stay on vacation is an important decision. The impact hotels have on our planet is a large one. It is up to us as consumers to carefully look into lodging and the practices that each establishment makes to lessen it's impact. Lake Placid has many hotels that are making positive impacts. They are contributing to Village Clean Up days, taking steps to be certified "green" and even having freshwater pools like the one at Wildwood on the Lake.
The Golden Arrow Lakeside Resort is deservingly recognized by Audubon International as one of the of the highest rated eco-sustainable properties in the country. Every decision that is made at this resort, from the limestone beach, which helps counteract the effects of acid rain that has been a problem in the Adirondack Park, to the first ever green roof in New York state, the Golden Arrow is a leader in Placid's green scene.
One of the many other lodging properties, The Haus, located right on Mirror Lake with front door access to Main Street, is using fair trade and eco-friendly decor in their construction, they strive to reduce their carbon footprint, and are proud to provide accredited "green" lodging.
Sustainable dining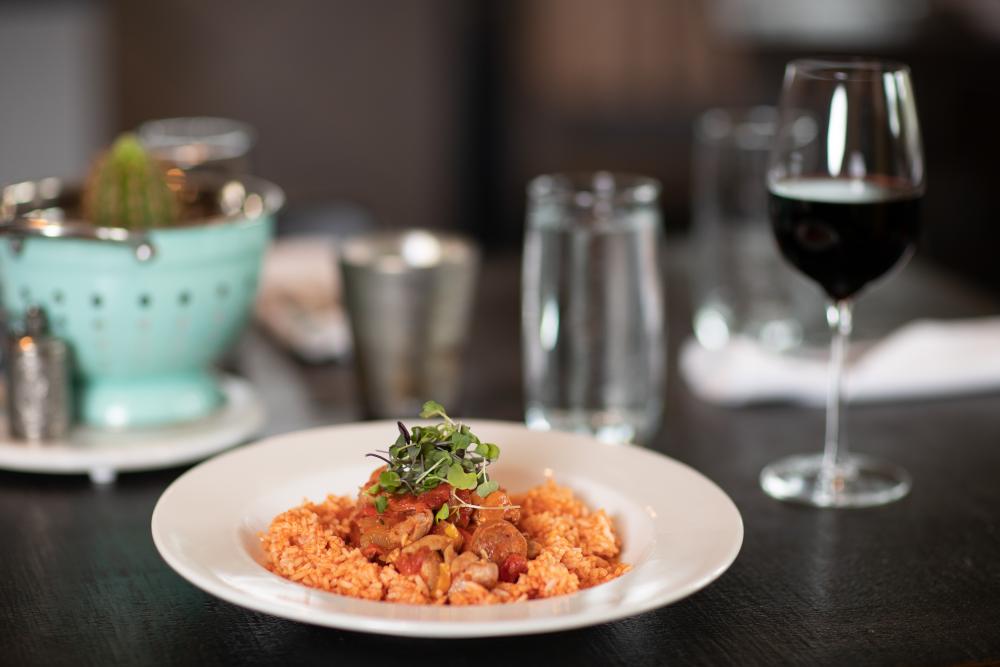 In Lake Placid restaurants are becoming leaders of the green initiatives in the community. From simple tasks of using biodegradable to-go containers, compostable straws, plant-based to-go silverware, and compostable pizza boxes to larger initiatives and for some, very large plans for the future.
The Lake Placid Pub and Brewery is 100% wind powered, replacing all of the electricity used with wind-generated, renewable, clean electricity. All of the spent brewing grain is donated to a local farm to feed a flock of sheep. The brewery buys produce, cheese, maple syrup, and more from local, Adirondack-based small businesses. The hot water created in the brewing process is used for brewing the next day, reducing the energy needed to heat the brewing water. Moving forward the brewery is implementing a composting program with a goal of reducing landfill use by 20% in the next year, and to be 100% landfill-free in the next four years.
Check out Liquids and Solids, Salt of the Earth Bistro, Top of the Park and Purple Saige Bistro on Main Street for more farm to table menus and of course green efforts and make sure your dining experiences complement your beliefs.
Shopping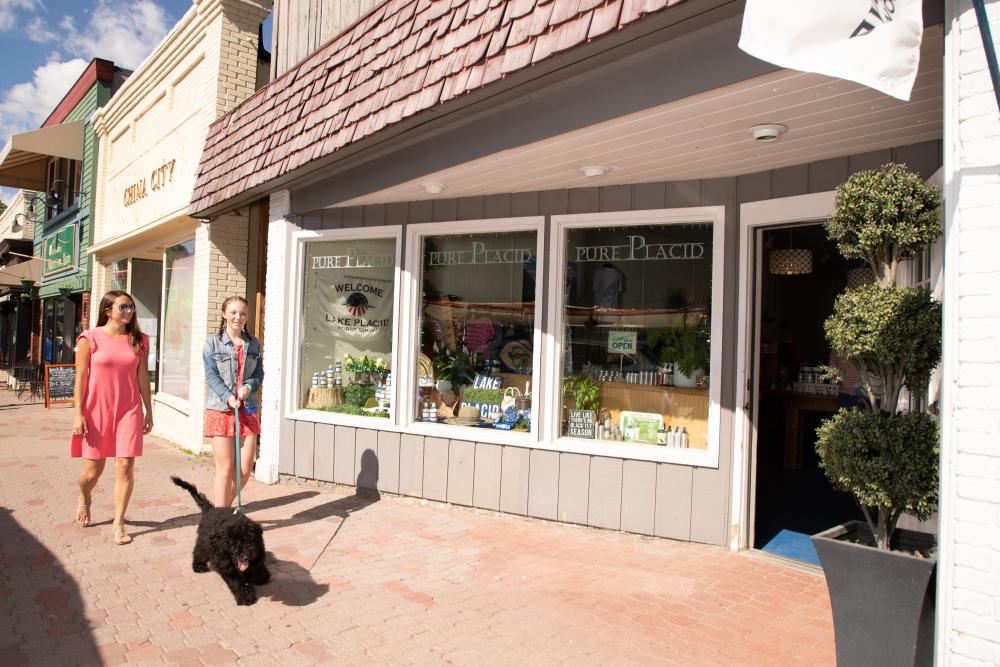 Did you know that the decisions you make, even when shopping, are important to our planet? There is shopping you can feel good about in Lake Placid. You can head down Main Street out in the fresh Adirondack air for some feel-good retail therapy. Head to Pure Placid for scents made with all-natural plant essences and essential oils drawn from untouched elements in the Adirondack Mountains, the nation's largest "forever wild" forest preserve. Even the packaging is something you can be proud of. The recycled glass and post-consumer recycled plastics are produced with the least impact on the environment.
Most stores along the beautiful Main Street take this type of pride in their products. Make sure you stop at Pine and Seek, right across the street from Pure Placid; they are ambassadors of the town and to reflect their love for the area and business in everything they do. The products are well thought out, from shirts made with recycled materials to less packaging at the check out. Next door at Mary Ballou Design, you can find beautiful cards, invitations and stationary all with the earth in mind.
Whether you are outdoorsy or indoorsy, Lake Placid can help you invent your perfect Earth Day, everyday, and as always, Leave No Trace ADK.
Stay, shop, and dine with the planet in mind in Lake Placid.