It's affordable! You don't need any special equipment, and there is no cost to access the trails or to enter the Adirondack Park. Leaving your budget available for lodging, food, shopping, or whatever you want.
It's great for all ages and abilities. No special skills are required, making it a great family activity. Something you can create lasting memories and tradition.
Handicap accessible trails are available - a few good options include:
Paul Smith's VIC, The Wild Center , and High Falls Gorge (Note: admission fees may apply)
You don't have to hike a high peak for a view. Try Cobble Hill, Owl's Head or Balanced Rocks.
You can pick your trail by hiking time. Visit the hiking page to see hikes by: 1-2 hours, 2-4 hours, 4-8 hours, 8+, the 46 High Peaks, plus Bushwacking & Adventures.



Hike Year-Round in the Adirondacks

Season doesn't matter. Hike year-round, just be prepared to change up your footwear.
Learn about snowshoeing, microspikes, and equipment & rental options from local gear shops.
It's great for your health. The fresh air and healing heritage of the Adirondacks couple with an activity that is proven to help reduce heart disease, hypertension, diabetes, obesity, anxiety, osteoporosis, arthritis, etc.
The Adirondacks have great, professional guides. They can assist you in planning that perfect day on the trail and can be an experienced hiking partner, so you don't have to hike alone.
A few of my favorite things:
While this is not specific to hiking - I think these activities compliment a hiking trip to Lake Placid and the Adirondacks.
Get a bird's eye view of the Adirondack Park from a scenic flight. It's a fun way to see where you've hiked, pick that next hike or just view the pristine Adirondack back-country.
View wildlife at the Adirondack Wildlife Refuge and Rehabilitation Center and/or The Wild Center. They are great ways to become familiar with the area, learn about and see wildlife you might not have experienced on the trail.

Hiking with kids? Read these tips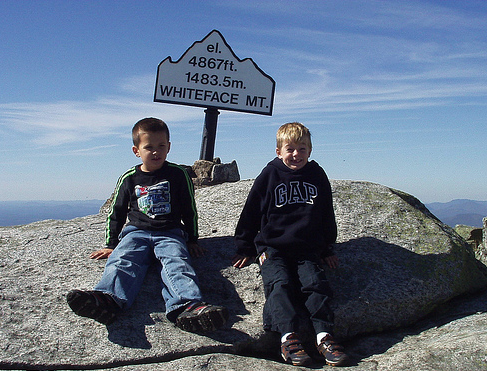 Want to Learn More? Visit our Hiking Page
Book a Lodging Package or Stay Today!