With fall comes cooler weather and the higher in elevation you go, the cooler it gets. With this cool high altitude weather comes more moisture and early introduction of ice – especially in the morning. Once fall gets a bit more settled in, winter conditions start to appear and there tends to be a change in the appropriate traction devises needed for a safe and enjoyable time on the trail. Below I have compiled a small list of traction equipment that you have to choose from readily in Lake Placid or online. Some are perfect for fall and other are designed a bit more for high mountaineering and full-on winter conditions. Please read on all the options to see which is better for you before you jump to a hasty decision. This will give you a better idea for your needs for the season you are in, the conditions you will be facing and outdoor activity you will be immersing yourself in. Unfortunately if you plan to have a long hiking career and plot to venture out in many different seasons you may need to invest in a couple of the below options.
Microspikes-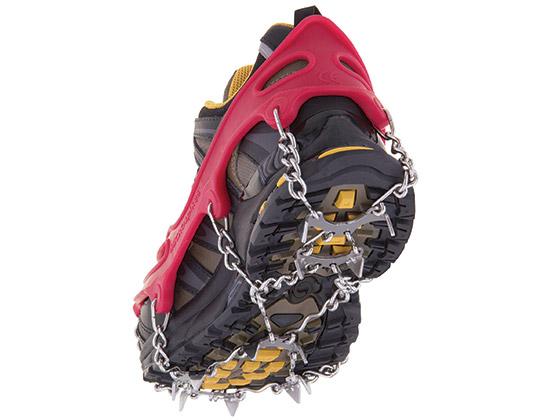 Good for: Fall and winter trekking on snow with a solid base or ice at a lower angle.
Price: $60.00
These little pieces of hiking gold are possibly the most popular member of hiking traction community that you will find out there on the trail. This small company, Kahtoola, out of Flagstaff Arizona hit a mint with these pull on traction devices.  These come sized from XS-XL. Be sure to use the sizing chart on the box, it seems to be dead-on accurate for sizing. These are perfect for hiking in the High Peaks with only a couple exceptions, such as the cliffs on Saddleback. These can also be used for winter trail running as well, but do not work well as an around-town traction option.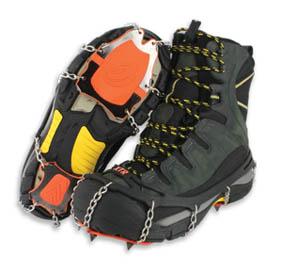 Yaktrax XTR-
Good for: Fall and winter trekking on snow with a solid base or ice at a lower angle.
Price: $60.00
These traction devices are similar to Micro-spikes but with the vision of a different company. The XTR model has had issues in the past with durability on the Adirondack's rocky trail condition, but over recent years has been remodeled and the issues seem to have been eliminated. These can be purchased in sizes S-XL.  These don't get the attention of Micro-spikes in the Adirondacks and High Peaks Region, mainly due to the previous manufacturing issues.  
Yaktrax makes many models of walking traction, the XTR model is the only one adequate enough for serious hiking. Other models (spring models) don't have the durability of the XTR and are not manufactured for the rigors of heavy duty hiking.
Full Mountaineering Crampons-
Good for: Winter mountaineering where other traction systems are not suitable. High elevation trekking, steep icy trail conditions
Price: $80.00 to $160.00
Full mountaineering crampons are made by many different companies like Petzl, Black Diamond, Hillsound and Camp. This category is the most complicated to understand and shop for. There are many varieties of full mountaineering crampons out there that vary in number of teeth, attachment method, metal type and recreational purpose.  Most come in sizes S/M or L/XL and are adjustable within that range.
Teeth-
There are anywhere from 8-16 teeth depending on model and company. Is more teeth better? Not typically, it depends. Crampon technique is huge in the proper function of the crampons. The front teeth or toe points are the most vital to look at. Some extend out further past the toe of the boot allowing for kick to make deeper and more prolific steps; some set back a bit and are designed more for walking. Flat front teeth are a hiking crampon for mountaineering. Teeth that are vertical in appearance are for ice climbing and are a bit more difficult to walk in.   
Attachment Method-
This is more important than one might think when it comes to buying a pair of crampons; they need to fit your boot properly.
Strap on crampons, will fit most boots, but the boots need to be stiff enough to support the crampons function. Strap on crampons take a bit longer to put on and take off and are harder to do so with gloves on. The strapping methods are usually easy to understand but may take a few practice runs to get them on tight and secure.  
Step-in or clip-on crampons use both a heel bail and toe loop - or - both a heel bail and toe bail. With these you need the proper boot to support the bail system. These fit mainly mountaineering boots with a lip on the heel for the heel bail and a lip on the toe for the toe bail. These crampons clip right to the boot and only have one strap around the ankle to keep the heel bail secure and to act as a leash if they were to come loose.
Purpose-
Sure you can use a full crampon to hike small stuff, but they might be over-kill as it is referred to. Be sure to use one that fits the purpose it will make your outing that much more fun, such as a Black Diamond Contact or Hillsound Trail Crampon. If you are going to be a bit more aggressive and climb some of the slides or the high peaks, maybe you will want a bit more aggressive like the Black Diamond Sabertooth or the Petzl Sarken.
Metal Type-
This is much less important of a feature. All are steel, but some are now made of a stainless steel. Some use lighter steel or less of it, to keep down on weight. Don't shop for a crampon by metal type but for the other functions and fit.
I guess the entire idea about the perfect traction is to shop around and know what you want it for. If you have more questions on traction selection stop into a local gear shop and ask a sales associate some questions. Wish to have a course or proper introduction to crampon use, see a local guide for an introduction course on winter mountaineering.