A premier family ski mountain destination
Whiteface Mountain is one of the best ski mountains in the northeast for a family ski trip. Nestled in the heart of upstate New York, just outside of Lake Placid, Whiteface Mountain offers a scenic and memorable winter experience for families. From thrilling and gentle runs, to fantastic amenities, there are countless reasons why you should choose Whiteface Mountain for your family ski trip. Here are five of those reasons!
Lessons tailored for kids
The folks at Whiteface understand that skiing can be an intimidating sport for beginners, especially for kids. That's why they offer specialized lessons tailored to the needs of young learners. Their instructors are experts at making children feel comfortable and confident on the slopes. Whether your child is taking their first ski lesson, or is looking to improve their skills, Whiteface has a range of options to meet their needs. These lessons not only focus on skiing techniques, but also instill safety and mountain etiquette. If your child is 4-6 years old, Cub Camp is catered to them, while Junior Adventure is perfect for kids aged 7-12!
Season-long kids program
If you and your family are Whiteface regulars, or want to be, the mountain has several season long programs suitable for varying ages and skill levels. With professionally trained instructors and a safe environment, kids are not only taught the art of skiing, but also encouraged to have fun and make new friends. Two levels of programs are available for kids aged 4-6, Powder Pup and Future Medalist. The Cloudsplitter Club, a program for ages 7-15, is a great mix of goal-oriented practice and fun, adventurous skiing with new friends. And while parents can sit back and relax, or go on carving their own turns, on their own time, Whiteface actually offers season-long lessons for adults too!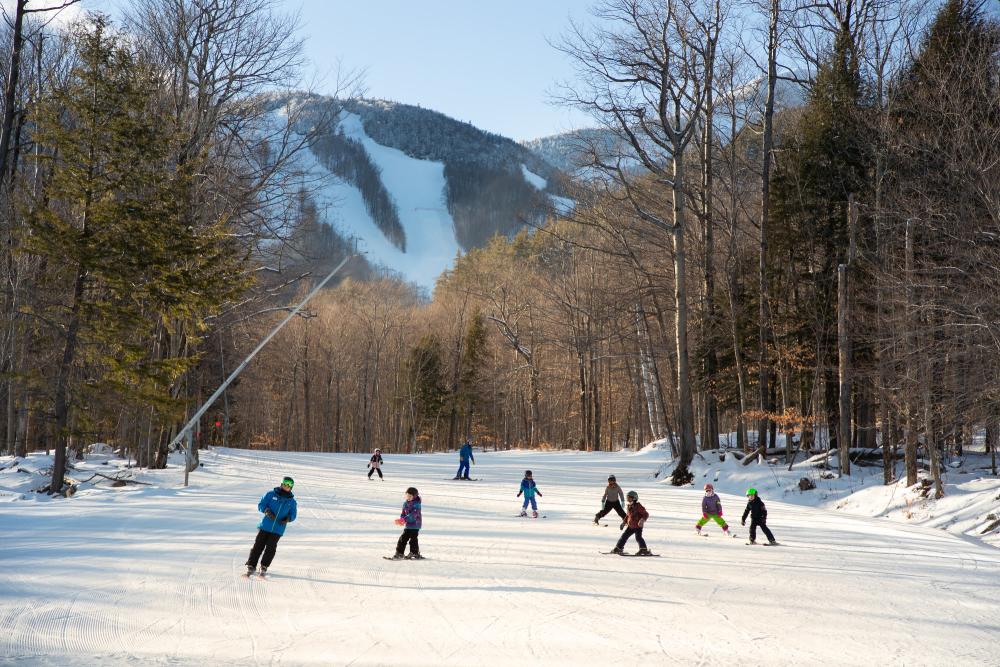 Terrain for everyone
Whiteface Mountain is a skiing paradise for families, offering terrain suitable for every level of expertise. Whether you're a seasoned skier seeking the thrills The Slides has to offer, or a beginner looking to learn the ropes, Whiteface has you covered. From the challenging runs for experienced skiers and riders to terrain parks with varying levels of skill for those who love freestyling, every member of the family can have their niche. Going by the numbers, you can really begin to appreciate how your family can spread out across the mountain, or choose to focus on a couple spots. Whiteface has 94 different trails to explore, totalling over 22 miles of rideable terrain. The breakdown of all their terrain: 37% expert, 41% intermediate, and 22% beginner. Now you see why this mountain is made for the entire family.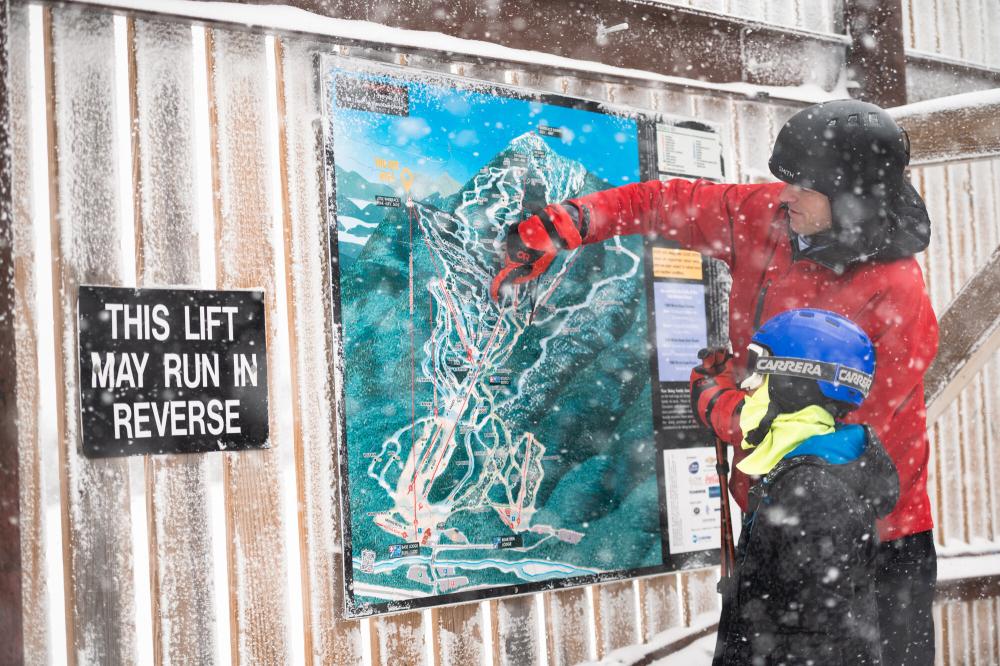 On-mountain amenities
Whiteface Mountain isn't just about skiing or riding; it offers comforts and amenities that will make your family's visit enjoyable and convenient. There's a restaurant ready for a post-run craving, in addition to lockers, a repair shop, rentals, and shuttle service between lots. All of this convenience ensures that your family's skiing experience is as stress-free and enjoyable as possible.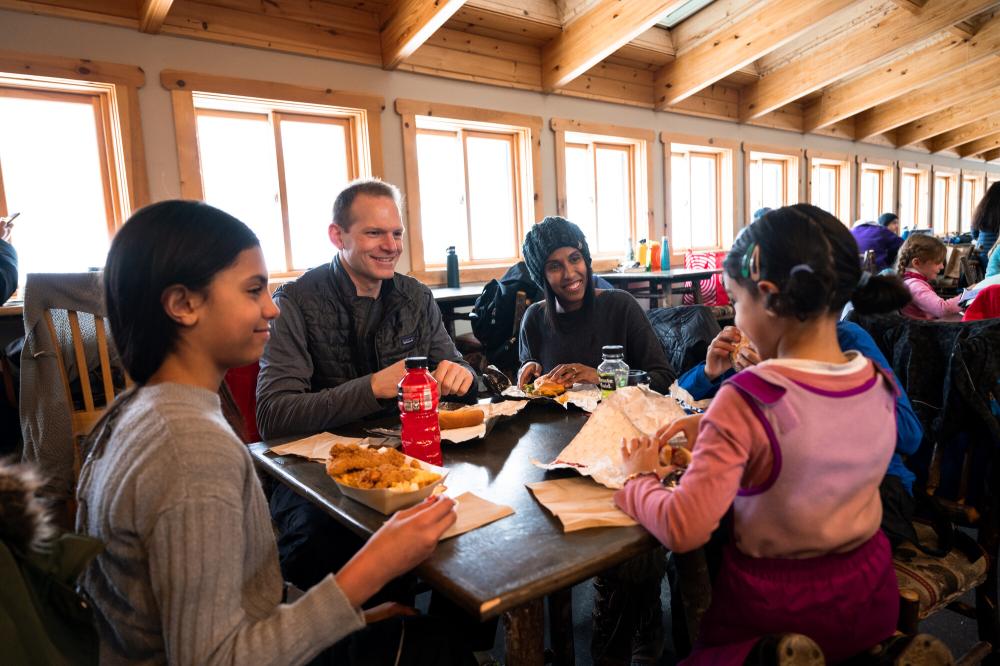 Off-mountain family fun
While skiing is undoubtedly the highlight of your Whiteface Mountain trip, there are plenty of off-mountain activities to keep the family entertained. Lake Placid is a short drive, and visiting Legacy Sites like Mount Van Hoevenberg and the Olympic Center can connect your family with our Olympic history in fun, exciting, and interactive ways. In Lake Placid, there are literally too many things to list off for your family to do. A highlight of any trip can be taking a dog sled ride around Mirror Lake, ice skating at the Oval, and walking downtown, weaving in and out of our interesting shops. These off-mountain adventures add depth to your family's ski vacation and create lasting memories!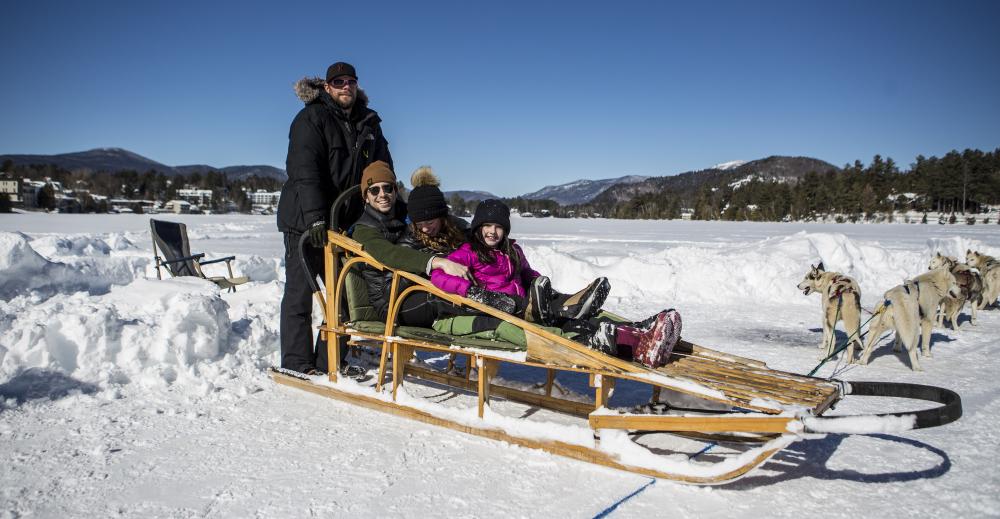 Whiteface Mountain is an ideal destination for a family ski vacation. With its season-long kids program and lessons for children, beginner-friendly terrain, on-mountain amenities, and a plethora of off-mountain family activities, it offers a well-rounded winter experience for all ages. So, start planning your family's adventure to Whiteface Mountain, it's time to hit the slopes and embrace the magic of winter in the Adirondacks!