Originally a project for her school, this blog was submitted by Emily Sheridan, a 10 year-old visitor to Lake Placid. We think she did an awesome job! Thank you to Emily and her whole family for sharing!
Ok, so picture this: When you put down your window, the wild greets you with a scent of pine and the sound of trickling streams. A gust of wind blows through your body as you take a breath of air. It feels comforting...and magical. The rest of the day you visit a fairy tale village with a cute plaza, eat delicious food and hike up a gorgeous mountain. And when you get in bed at the local inn, the wind blows and comforts you and it lulls...you...to..sleep...and you might be wondering "Well where was I?" Well, my friend, you were in Lake Placid. I think Lake Placid is a magical place and also the greatest place. (Tied with home, anyway.)
First and foremost, Lake Placid looks like a fairy tale village and that makes it the greatest place. I peered out the car window as a village began to unfold. The buildings look hand crafted and overgrown with all the wood, stone, flowers, vines on some of the walls, and moss on most of the roofs. And with lakeside buildings to my left and buildings on a hilltop forest to my right, it was a lot to take in. But I was diggin' it. "Woah. This. Place. Is. AWESOME!" I thought to myself. As Dad kept driving, we pointed out places to go. "That craft shop looks really cute!" I say, pointing to it. "A popcorn snack would be fun." Mom said as we passed the popcorn shop. "CRITTERS?!? That deserves The Cutest Shop Name Award and a visit!" I said as I pointed to the shop. "Why are there so many hotels?" my brother thought out loud. Sooner than later, my Dad said, "We're here!" We then parked into the hotel parking lot, got out our stuff and settled into our room.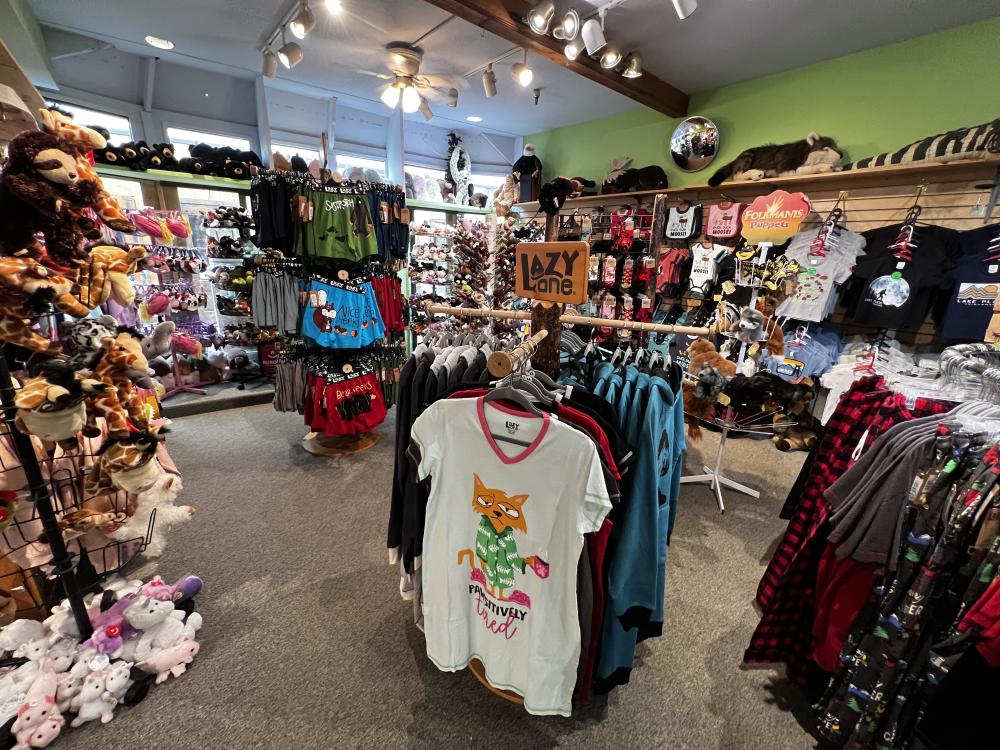 Also, cute stores make Lake Placid the greatest place. As we parked our car in the plaza parking lot, "Can we go to Critters first?" I asked Mom and Dad. "Sure!" Mom exclaimed. She thought that Critters was cute, too. I did a tiny happy dance. After taking a short walk, we opened the door. Quiet pop music played while I stared in awe of the plushie pyramids. Mom and my brother were over at the small things section, so I walked over to them. My brother was looking around when he came across a small glass. "Why is this glass so small?" My brother thought out loud. We both burst into laughter. "It's a shot glass!" Mom exclaimed, still laughing. (My brother now knows what a shot glass is when Mom explained what a shot glass is to him at Critters, by the way.) I replay the moment in my head to this day. Next, we went to Imagination Station. We opened the door to see a bunch of trinkets and toys. It lives up to its name. We didn't find anything except a ping pong game and the cutest handmade fox doll kit and I wanted it so badly. (Little did I know I would get the kit for my 10th birthday!) We also went to an Olympic museum. There's lots of 1980 Winter Games stuff. We even took a picture on a podium! And after a short walk, we had dinner.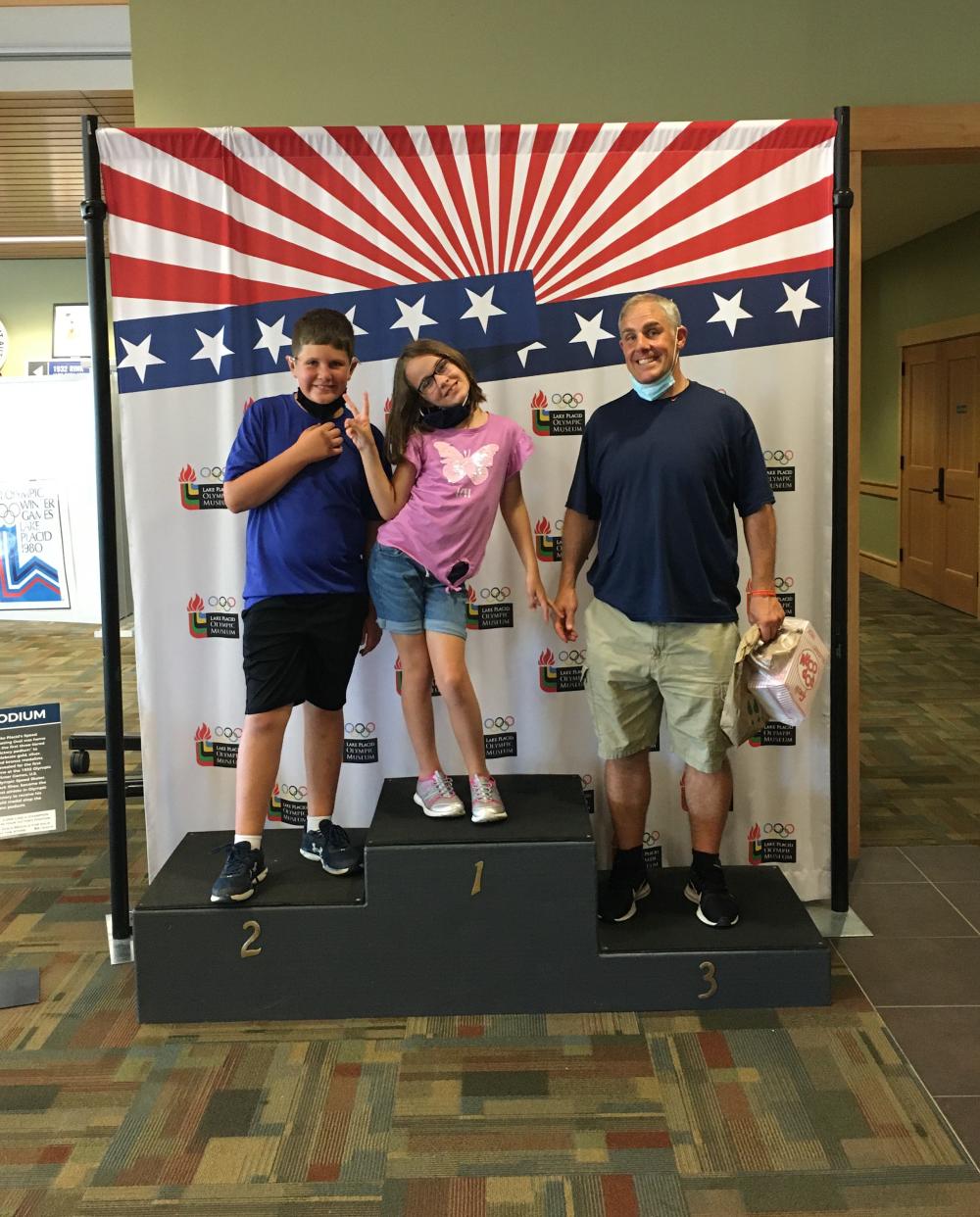 Lake Placid is the greatest place because it has delicious food. I was ecstatic that we were actually going to the place that I recommended to eat, Luna! We opened the door and the place looked very Italian with the wood, stone and clay. There was a bar with unique looking money that hung on the cabinets. The seating was not too fancy, but not low quality. "Very cute!" I thought. There was an opening towards the kitchen and the bathroom in the back. Abstract paintings adorned a wall. I instantly loved the vibes it was giving off. We all ordered a type of noodle dish. (Very strange, now that I think about it.) Dad also ordered cucumbers for me, which was nice of him. Soon we had bread with different kinds of crunchy edible seeds on the top (I would say it was 8 1/2 out of 10.) Soon I had my plate of cucumbers. I ate them like a rabbit. And soon, after 20 minutes of waiting, the food was ready and delivered. Slowly, I took a bite of my buttered noodles...THEY WERE THE BEST. I sank into my chair, still chewing the heavenly strings of pasta, smiling. "Are they good, Em?" Mom asks me. I nod. "They're the best." When we were done with our food and paid the bill, I walked out feeling like I could take on anything.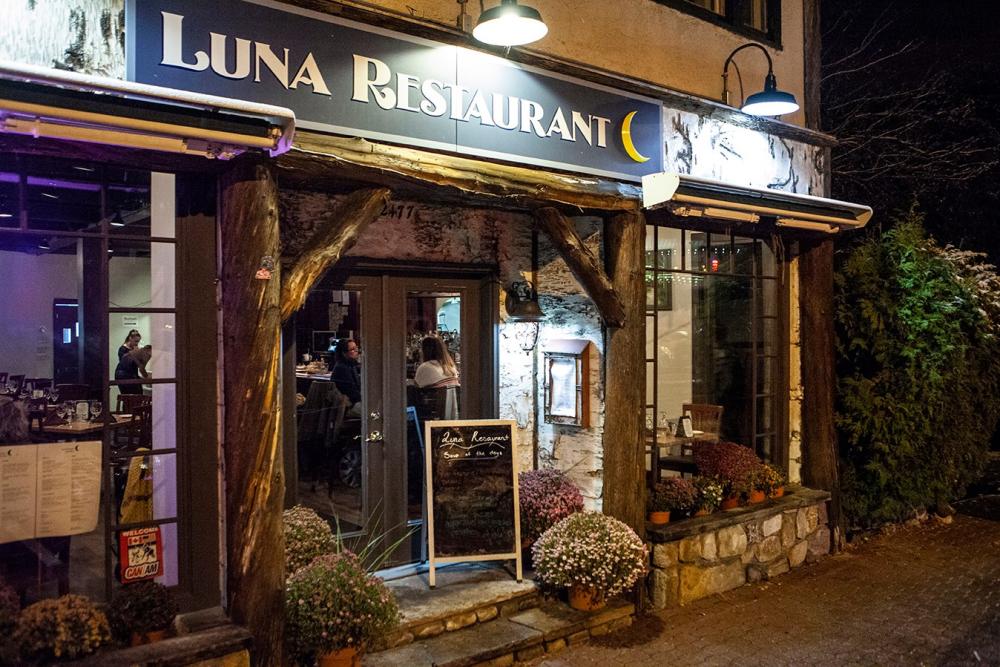 Lasty, Lake Placid has a mountain range like no other to make it the greatest place. I was snapping pictures with my iPod left and right. We were driving up Whiteface Mountain! (You heard me right with the driving part!) As we climbed higher, the temperature dropped to 54 Fahrenheit (about 12 Celsius) and the sky was whiter. It was pitch white and a bit cold when we got to the top. I put on my light jacket and ventured outside with Mom beside me. (For protection from falling.) We saw a castle-like building in one part of the top peak and we decided to explore it. I was warm inside and there was a Whiteface souvenir store. It had a big window to gaze into the haze. When we went back out, my Dad wanted to go to the actual top, but my brother and I were too cold and someone had to watch us, so it was just him. We took a video while Dad was exploring the top, when a gust of wind blew. We huddled even closer. When Dad came back, we walked back to the car and drove down. When we found a picnic table, we set up our lunch table. I stared in awe of the mountains, dressed with lush vegetation and, right then and there, I realized, "This place is magical!"
Lake Placid is a fairy tale village with a cute plaza with delicious food and gorgeous mountains. It's one of my 5 star places and it will always have a special place in my heart. And if you ever go to Lake Placid, I hope you have an amazing time like I did.
The End! :)