Vacations are fun. Who doesn't enjoy an escape every once in a while? But, let's be honest, the best part of any vacation is the food. Going out to eat and trying new things. Revisiting old favorites. Finding a hidden gem restaurant. Breakfast, lunch, dinner: it's all good.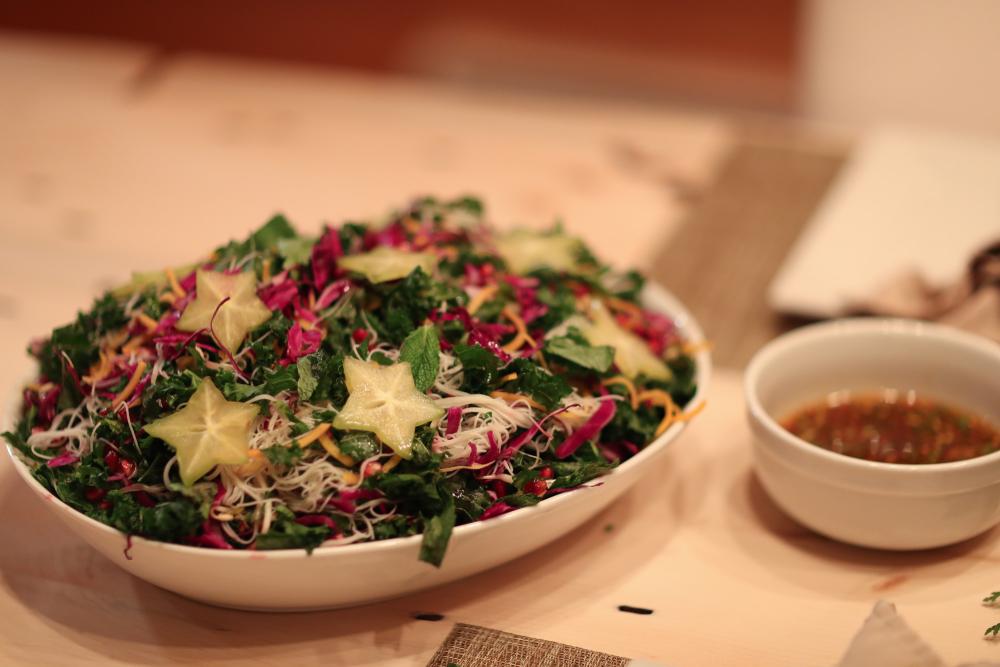 We want everyone to find their new favorite restaurant in Lake Placid, but we understand that sometimes there are dietary restrictions that may make dining out challenging. We're here to tell you that there is plenty of food in Lake Placid to go around. Vegan, vegetarian, gluten-free. Trust us, you won't leave hungry, and it doesn't have to be all salads! Just don't forget to save some room for dessert!
Deli and to-go selections
Just like the hiking trails here in Lake Placid / the High Peaks region, sometimes the choices are overwhelming. Everything looks good! Area delis and bakeries really make deciding a challenge with so many options friendly for all diets. The end result is always happy taste buds, though.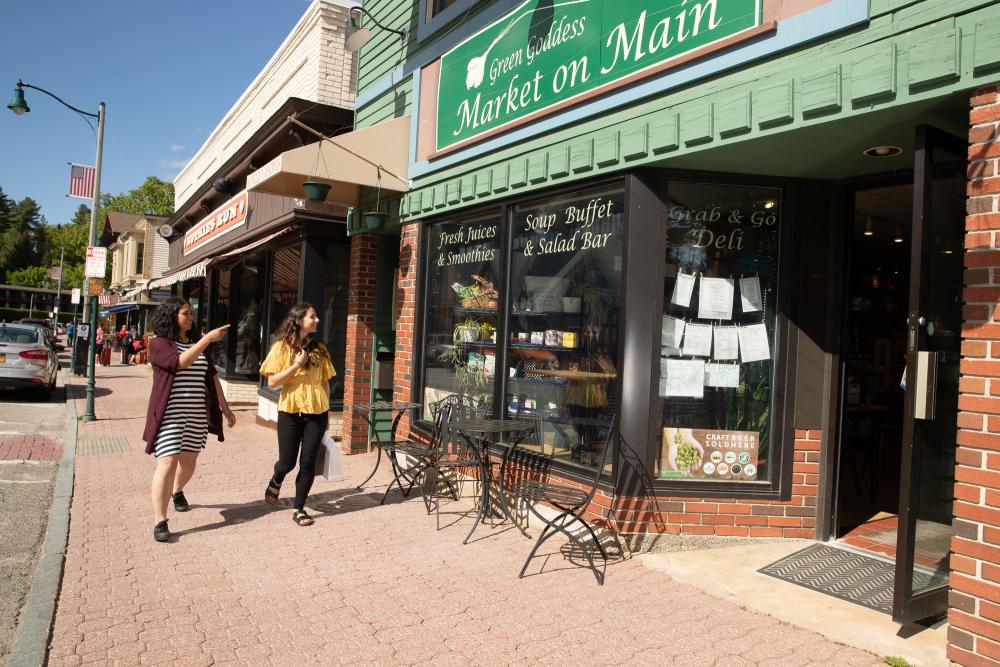 Whether you're on Main Street or near downtown, Simply Gourmet and Big Mountain Deli & Creperie not only offer 46 different sandwich choices (all named after the 46 High Peaks, of course), but offer a selection of breads and ingredients as well, so you can build your own meal to suit your diet. Another eatery with two locations is Green Goddess: one just outside of downtown on Saranac Avenue and one on Main Street. The Green Goddess Market on Main offers gluten-free and vegan breakfast and take-out, as well as organic options for vegetarian or meat-eating visitors. Further, the Green Goddess Natural Market (aside from being a great grocery store) has a wonderful café, Scape Café, with many options for ranging from delicious to extra delicious.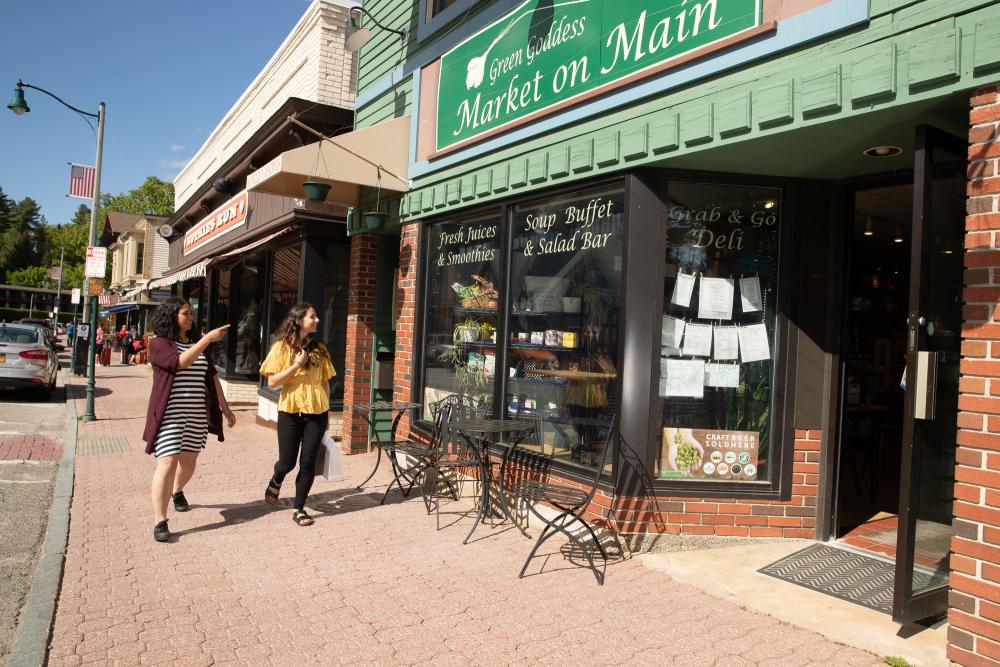 If you're traveling to Lake Placid via Keene or if Keene is your destination, don't forget to stop at Cedar Run Bakery & Market. Here, you might not find the sandwich you were originally looking for, but you will find a delightfully surprising array of vegan, vegetarian, and gluten-free choices.
Is it time for dinner? Yes!
It's important to remember that many restaurants and cafés roll out seasonal menus based on ingredient availability. Depending on when you visit Lake Placid, menus may change from what is written here in this blog. But that said, area restaurants make every effort to provide options for all diners and many are happy to accommodate dietary needs.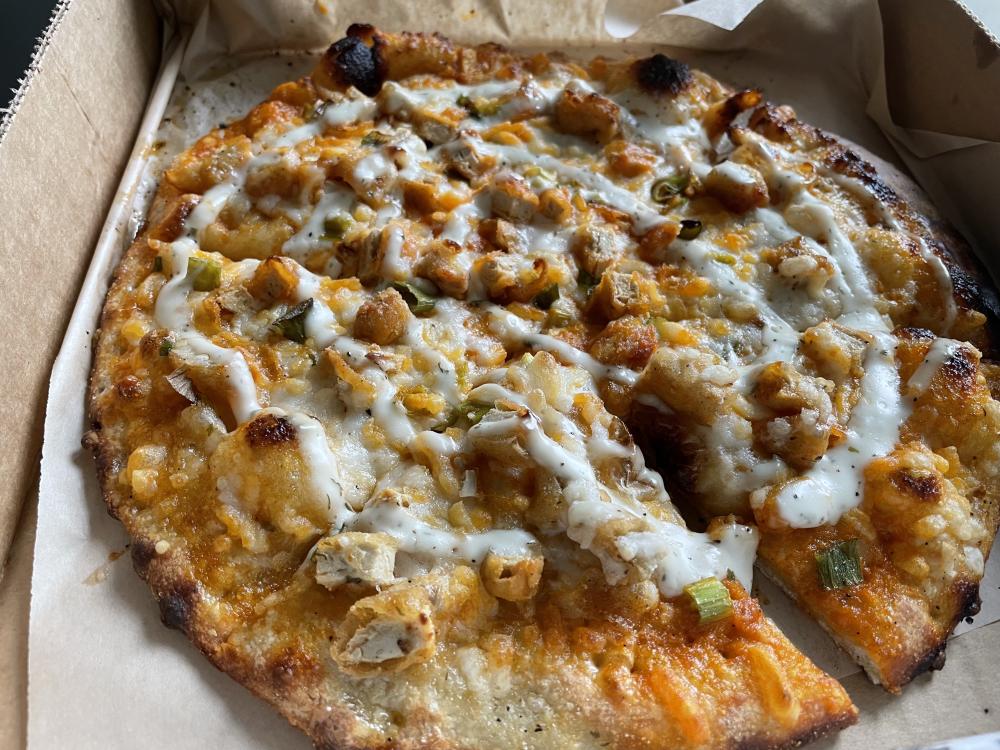 A local favorite, known for excellent craft beer and food, is Big Slide Brewery & Public House. Big Slide sources as many ingredients as possible from local farms. Executive Chef Greg Sherman has created a menu that caters to a variety of dietary needs: currently, there's the vegan buffalo "chicken" pizza (pictured above), the vegetarian white bean falafel, and four different gluten-free salads. The restaurant also has gluten-free rolls for sandwiches available upon request. Same with pizza doughs. Allergies? Don't worry, the menu has a QR code you can scan that will show you allergy information for all the items! Big Slide's sister brewery, the Lake Placid Pub & Brewery operates very similarly with gluten-free substitutions and available allergy information. The menu is labeled with which items are gluten-free, vegan, or vegetarian (or spicy!). Try the Impossible Smashburger, which is a plant-based burger with avocado spread, pineapple, tomato, and lettuce. Yum!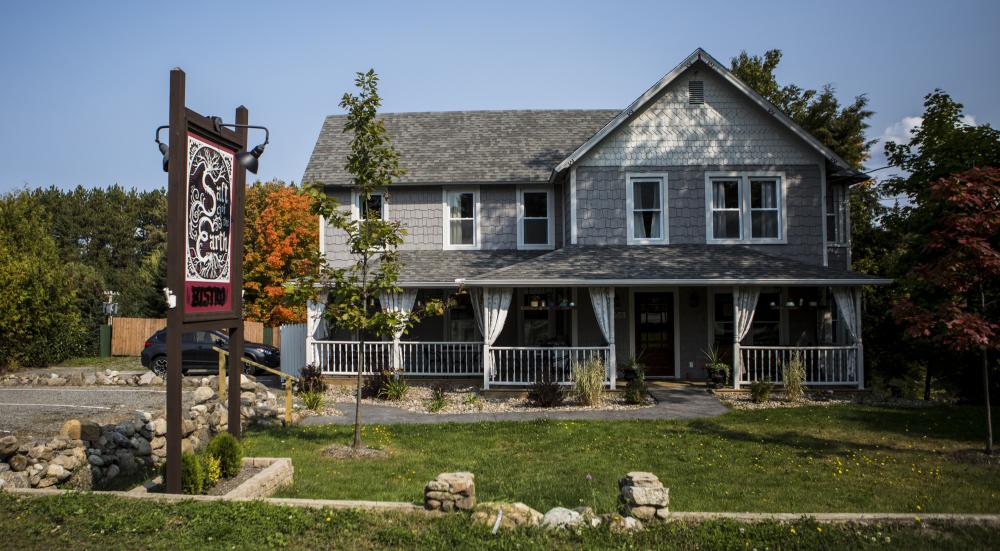 On one end of Lake Placid's Main Street, Generations' menu has a variety of gluten-free and vegetarian options. Most notable are the specialty pizzas, all served on a completely plant-based gluten-free cauliflower crust. On the other end of the street, Top of the Park serves up a sublime item called "Vegan Delight," which is a smoked balsamic portobello mushroom with hummus, roasted red peppers, olives, pine nuts, and vegan pesto. About one-mile from downtown, dine on vegetarian sweet potato tacos or a flavorful black bean burger at The 'dack Shack. If you're looking for something a little fancier, check out Salt of the Earth Bistro for wonderfully honest and fundamentally good gluten-free, vegan, or vegetarian selections. If you're looking for a new twist on an old favorite, Lisa G's has a lentil and veggie sloppy joe to provide homestyle comfort food with a vegan twist.
Feeling like pizza? Mr. Mike's Pizza offers gluten-free crusts upon request.
There may also be other choices at different places to eat! We recommend calling restaurants ahead of time or checking menus out online to see current options.
Don't worry - you can dine in, too!
If going out to a restaurant isn't on your menu, fear not: Lake Placid's grocery stores have robust aisles with plenty of vegan, vegetarian, and gluten-free options.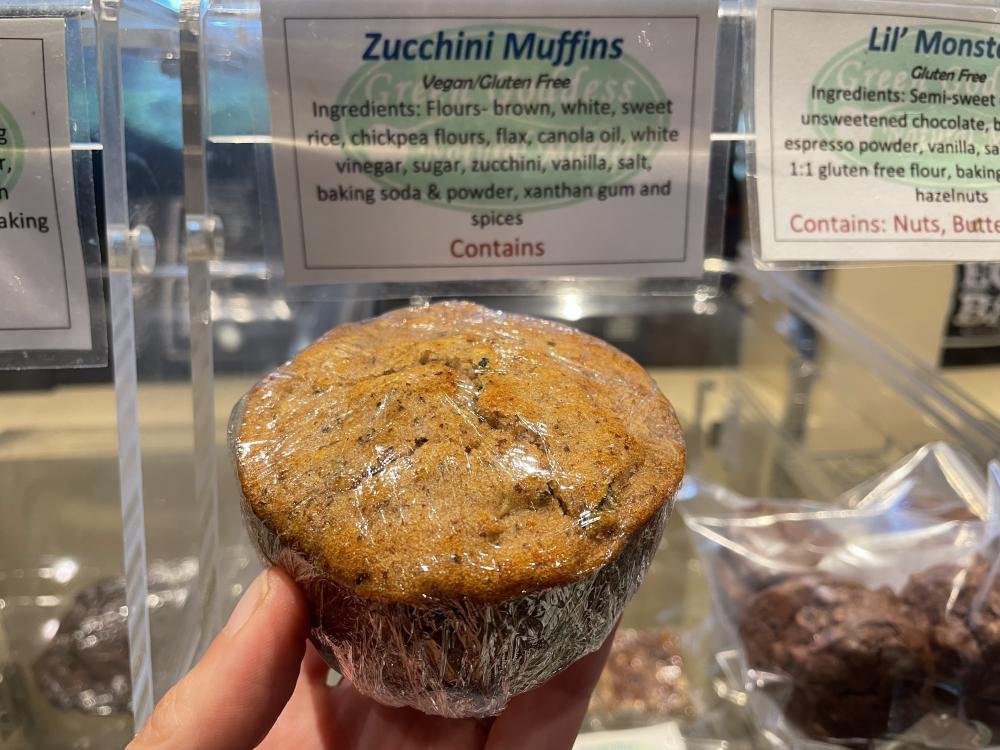 The best for last
Dessert is the best part of the day. Aside from delicious soft serve, Emma's Lake Placid Creamery offers light and refreshing dole whip (a fat-free, dairy-free, lactose-free, gluten-free soft serve dessert). Or head over to Lake Placid's Ben & Jerry's for ice cream that is certified vegan! Or pick-up a baked good at Green Goddess. Or dig into a delectable gluten-free raspberry almond shortbread at The Cottage. Or savor every sweet bite of the vegan and gluten-free Valrhona chocolate cake at Forty Six, located in Keene.
By now you're probably quite full, so it's probably time for relaxing on the beach or maybe a mellow walk around Mirror Lake. After a day of dining and exploring Lake Placid, a good night sleep also might be appealing. As you drift off in your cozy bed, visions of your next vegan meal might be dancing in your head!