Are you sick of opening an endless maze of new tabs and reading every menu in town? Tired of showing up to dinner only to realize that you checked the hours of the wrong restaurant? Take the hassle out of your dining experience, and eat like a local!
Let us help you fuel your perfect day! We talked to Lake Placiders for their go-to spot. Read on for your gastronomical guide to every occasion.
For date night
Recommended by Savannah Doviak
Looking for somewhere to take your partner? We were recommended Salt of the Earth Bistro for the perfect date night dinner in Lake Placid.
Salt of the Earth is "a small and quaint restaurant in an intimate setting." This woman-owned restaurant offers a variety of extraordinary flavors inspired by the travels of the owner, Andrea. Dishes are beautifully presented and the team is dedicated to ensuring a memorable dining experience. Take a look at their menu, and see what you think!
Reservations are recommended since this charming little place has a low occupancy in order to maintain the novel experience for every guest.
For the family
Recommended by Janelle Jones
For your night out with the whole family, Lake Placid Pub and Brewery is the place to be. With a menu that can satisfy even the pickiest of eaters, best-in-class beers, and a third floor toy room to occupy the kids while you're waiting, "the Pub" appeals to every member of the family.
The warm atmosphere, outdoor seating near Mirror Lake, and proximity to Main Street makes the Pub an obvious choice whether you choose to walk or drive.
For the younger crowd
Recommended by Alex Gerstner
If you and your friends are looking for a fun atmosphere for your bite to eat, Lisa G's has you covered. Their dog-friendly deck and patio provide a place for our furry friends to tag along, and their selection of drinks and unique takes on pub-style food make for a good night.
Alex from Lake Placid recommends this as her go-to. "The younger staff is always a blast, especially for hanging out at the bar on 'wing night.' It's a great social scene, and they have nice outdoor seating, too."
For breakfast
Recommended by Noah Ball
The most important meal of the day gets served up just the way you like it at Noon Mark Diner in Keene Valley! With breakfast served all day, the Noon Mark Diner is a cozy place to stop whether you're an early bird or waking up late after a day out in the mountains.
A hidden gem
Recommended by Glenn Pareira
Fuel your perfect day at our local's secret spot. Saranac Sourdough is a favorite for breakfast and brunch. Every meal is made with high quality local ingredients and hand-made bread baked in-house, giving you a real taste of the Adirondacks.
Based in Lake Placid since 1998, Saranac Sourdough has been family-run and a staple in the town for over 20 years. Grab a meal in the morning, and take a loaf for the road.
For a tasty treat
Recommended by Daria Stacy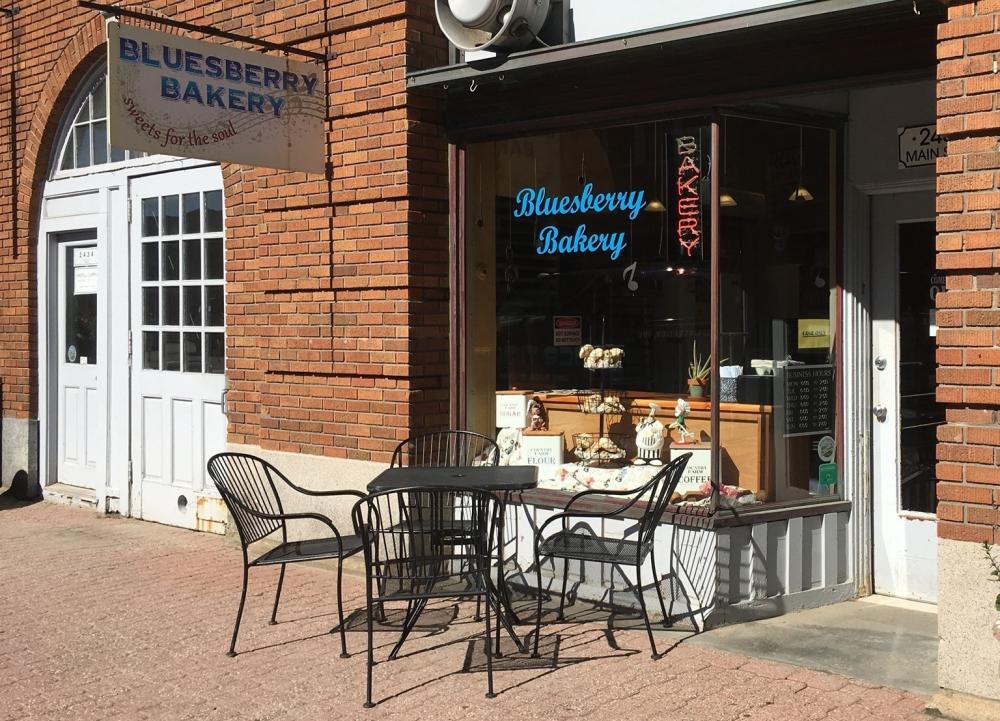 One blueberry scone and caramel latte, please! Head to Bluesberry Bakery to pick up a scone, muffin, or other freshly baked, mid-morning snack. The friendly staff and comfortable little space will make every visit feel like a local secret.
For a quick pitstop
Recommended by Nick Donaghy
Whether you're rushing to the trailhead, forgot your lunch, or you're late, you're late for a very important date, swing by the Adirondack Corner Store. With a deli for all your sandwich desires, snacks to take on-the-go, and groceries for when you're short of an egg, the Adirondack Corner Store is a one-stop shop.
Its simplicity and ease make this place a local favorite for a bite en-route. So, write down your order, grab some post-adventure electrolytes, and get on your way.
For cocktails
Recommended by Amanda Bruha
Top off the night at Top of the Park!
Top of the Park takes the time to find the finest wines, liquors, and craft beers so that you don't have to. Combined with their delicately crafted small plate options, you're sure to find a creative and delicious pairing for your drink of choice.
---
Whether you're looking for vegan dining, excellent BBQ, a quick meal, or dining for an entire week, come to Lake Placid. Whatever the occasion may be, make it a great one by eating like a local.