It takes a special kind of person to click the light on at 4 a.m. It's the type of person that dedicates their life to their passions. Even if it's not a career, they fill every ounce of free time with the things that inspire, motivate, and drive them. For the ice climber, that means rising before the sun and getting out there.
Bobby O'Connor has been here for nearly a decade now. He runs the outdoor program at the Northwood School, and he can't think of a better way to start the day than with an early morning climb.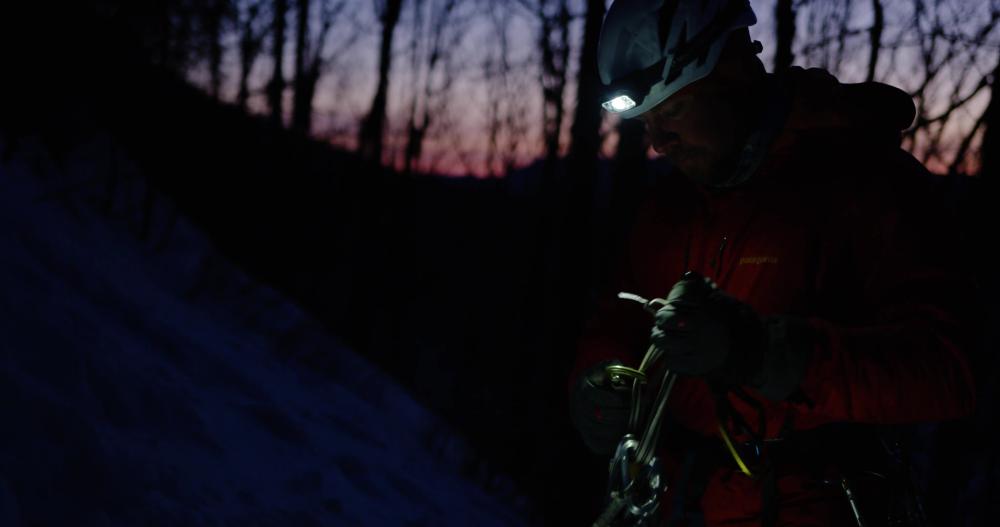 Originally from Saratoga Springs, New York, Bobby O'Connor pursued Expeditionary Studies at SUNY Plattsburgh, opening his eyes to adventure sports in the Adirondacks. "Being born and raised on the East Coast, my family is here, but I wasn't anticipating staying here," O'Connor says. "Finding work in Lake Placid and having a number of different adventure sports disciplines right here is what has kept me here. There's a lot of really accessible paddling, climbing, and skiing right here in the Adirondacks…"
O'Connor embodies the Adirondack lifestyle. It's one where everyone works hard and plays harder; one where waking up before dawn and getting your boots on is synonymous with a 9 a.m. cup of coffee. This place is built around the wild landscape and, as a result, it's brought the adventure closer to home.
O'Connor finds solace in the rhythm of ice climbing. Swing, swing, kick, kick. Swing, swing, kick, kick. Despite the intensity of the environment, the "methodical" and "thought-out" movement carries him high into the mountains, bound to his partner only by their rope and their mutual trust.
There's something incredible about those experiences and the accessibility of those remote places in the Adirondacks. Climbing two pitches of ice before breakfast, O'Connor says with a chuckle, "You get up 300-feet up off the deck, in a winter environment, and you're like 'holy smokes, this is crazy.' This is by far one of the wildest environments I've ever been in, it's 15-miles from home, and I'm going to work after this."
It's a lifestyle that is often inspired by and passed down by mentors. O'Connor recalls meeting one of his mentors and partners Casey Henley. "I met Casey, who had all this experience, and had the life I wanted to pursue. That was a big part of deciding what I wanted to do in the future. He was really humble, outgoing, and easy to get along with, but his biggest characteristic is that he wants to share his passion for the outdoors with other people. He'll go out of his way to make sure that you know how to do things safely, correctly, or just make sure that you're having fun while you're doing it."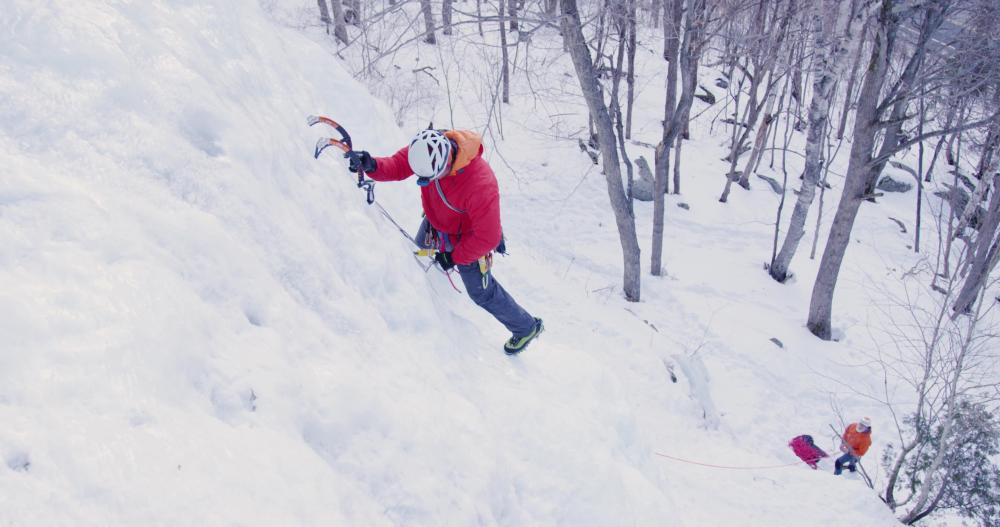 "Big names in the outdoor industry have [cut] their teeth here in the Adirondacks…Will Gadd, Conrad Anker, Alex Lowe...a number of big athletes. It's the world's best kept secret in the climbing industry," but the locals have been in on the secret. O'Connor says, "You don't have to travel miles into the backcountry to access these world class outings," making the Adirondacks the perfect place to get out at the start of each day.
Ways to fill these short winter daylight hours are easy to come by. What's harder is fitting it all in. So start early, get out there, and get after it with Dawn Patrol.
---
This story is a feature of Dawn Patrol, a series of videos created by Adirondacks, USA, highlighting incredible locals as they share their passion for their favorite outdoor activity and the Adirondacks.
The Dawn Patrol series:
Season 2
Season 1
Episode 4: Mitchell and Bethany