"Bike riding is a way to explore — a way to explore nature and the world."
– Cam Zink
There is no shortage of peaceful beauty in the Adirondack region, and Lake Placid is no exception. But away from the roads and the hiking paths many know and love exist the trails quietly traveled on two wheels (or skis and snowshoes in the winter). For mountain bikers, this region is one giant playground. We are spoiled rotten with our trail networks —seemingly endless, rugged, twisting and turning trails allowing us to ride as little or as much as we would like without moving our cars. That's why we get so excited when a new trail like Duffer's Delight gets added to the Craig Wood trail network: having MORE options on a trail network that is already too good to be true just seems, well, too good to be true. We have it all, and yet we are given more.
It is easy to get so caught up in the fun of our shredder's paradise that we forget to stop and take a moment to reflect on how these trails showed up in the first place. While it may seem like a mountain bike fairy comes along, waves their magic wand, and *poof* — a trail appears, that could not be further from the truth. Our trail builders do seem to have their own touch of magic, but thousands of hours of planning, fundraising, and manpower are in every roll, berm, and drop our wheels touch. (Waving a magic wand sounds so much easier, doesn't it?)
So who are the masterminds behind our beloved trails? Ladies and gentlemen, I introduce you to the Barkeater Trails Alliance or, as it is more lovingly known around town, BETA.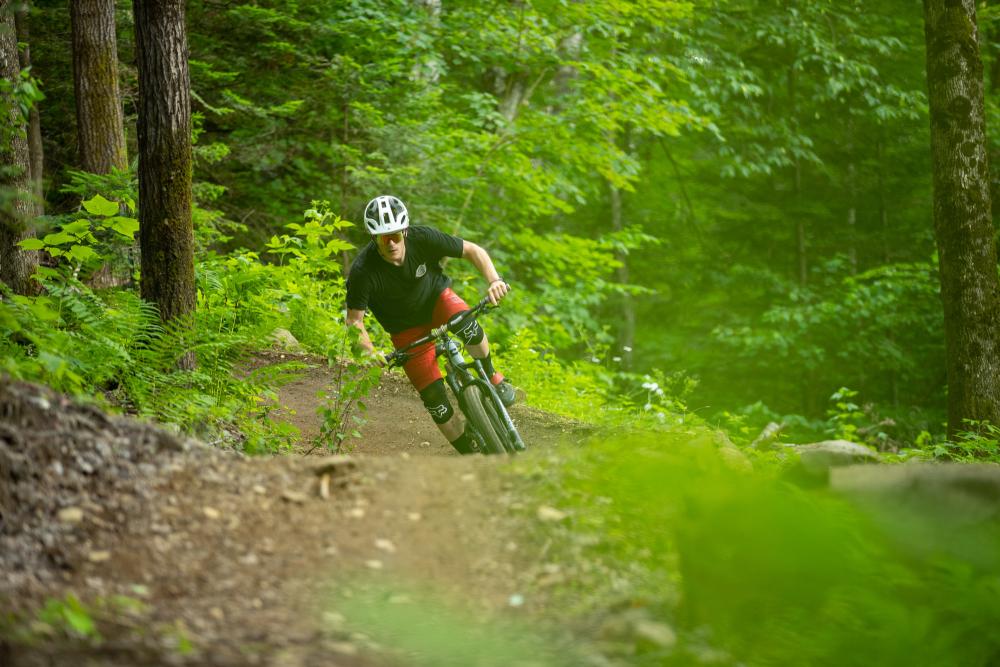 A conversation with Josh Wilson, executive director of BETA
Josh Wilson was kind enough to sit with us and share the in's and out's of how a trail comes to fruition, the story behind the development of Duffer's Delight, and new BETA projects in the works.
Thanks for speaking with us, Josh. Before we get into Duffer's Delight, can you tell us what needs to happen for a trail to become even a possibility before becoming a reality?
Absolutely. First and foremost, you need to identify a suitable area. Craig Wood already had a lot of work done to it, so we were limited in terrain that hadn't been built upon or was just usable. It becomes a question of "Where can we do anything that's worthwhile." Once we find a possible spot, we spend a lot of time in the area, walking around and trying to get a good sense of the terrain of where we want to build. We really pay attention to finding cool features or control points that are already there, like a cool rock that we want a trail to go past or an intersection with another trail that we are aiming for. There may be a hillside we want to get to. We just let the layout come to us. The longer the time you spend on the trail, the better that trail is going to be.
You mentioned that Craig Wood already had limitations due to how developed that network was already. What was the draw in adding even more to it?
We had our eyes on this parcel for a while. Again, there wasn't much land left without completely packing the trails together. But we just kept walking around it, talking about the kind of trail we wanted to build, and knew we wanted to build another intermediate trail in the area. We planned this for four years and ended up building for two. A lot of the trails in that area are relatively approachable because most of them have been built with an excavator. The excavator just makes it easier to manipulate the trail and make it a bit less technical. There were already some faster, flowy trails like Back 9 or 19th Hole with the occasional massive sharp rock in the middle of the trail. We were aiming for something like that, but even less technical. Our goal was to have another intermediate trail in the area. What's nice about Duffer's Delight is you can access it from the Jack Rabbit Trail which is a really nice, relaxed trail, or you can connect it with the typical, more technical routes throughout Craig Wood.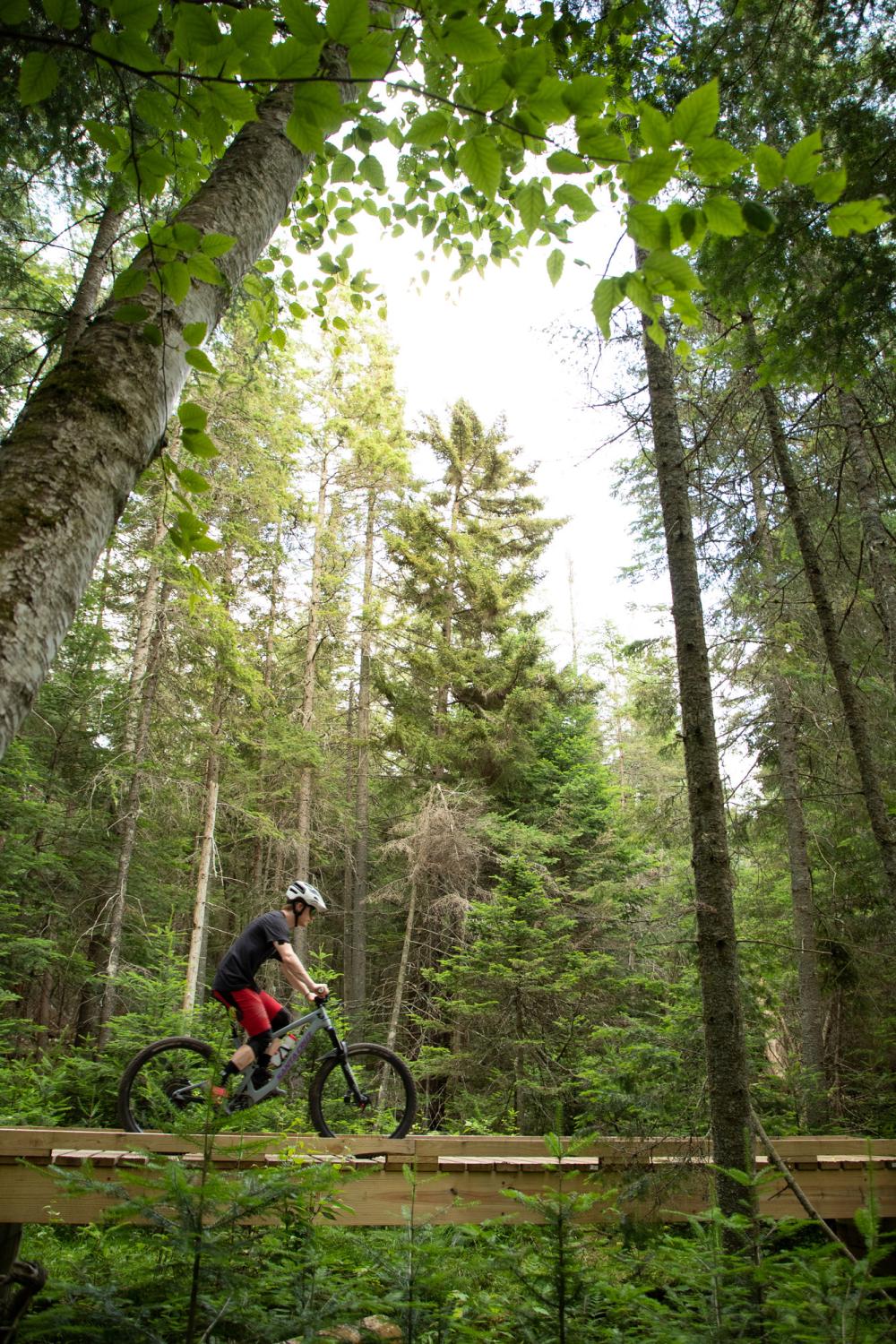 So how DID the name "Duffer's Delight" come about?
Honestly, someone just said it during one of our build days! We'd been throwing around different names, someone said "Duffer's Delight," and that was it. A lot of the trails around Craig Wood have names surrounding golf — like 19th Hole, Back 9, and Putt Putt. "Duffer" is funny because a "duff" in golf is a really bad shot. But in trail building, "duffing" refers to clearing away the trails of the organic matter that's there. It just works.
These kinds of projects obviously involve some form of financial support. How do you go about getting the funds needed to build a new trail?
However we can! The first year of work on Duffer's Delight, we used money raised through trail program, grants, fundraisers. This last year, we applied for the LEAF funding through North Elba. We applied last winter, and we were given money through the town budget which allowed us to finish building it. The full LEAF grant was not specifically for this trail only, but because of it, we were able to build some other stuff closer to Scott's Cobble [another well-loved trail in the Craig Wood trail network]. The finances from our annual trail funding goes to our trail crew, materials, and associated costs. That money comes through membership revenue, donations, and various grants.
You mentioned a "trail crew." Do you have an official staff of builders?
We do! It's myself and three other people, so four people total. A lot of our manpower comes from volunteers that come out for our volunteer trail building days. On any given trail day, we get an average of 20-25 people that show up which is just so awesome. In six hours of work, we can get 100-150 hours of active work from everyone there. So in an average year, we are getting 2,000-3,000 hours of volunteer work, and that number is based on the hours we officially track from the volunteer days. We have a lot more volunteer work that happens behind the scenes beyond the official days — people just doing general trail maintenance because they want to or know it's needed, people giving their time when someone needs a hand. The community is very involved.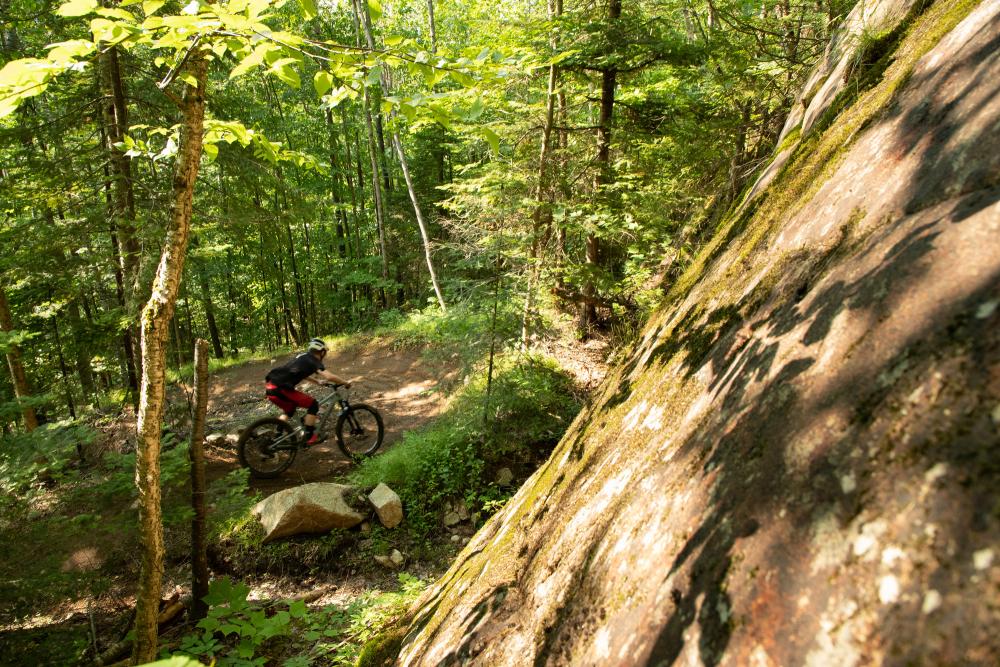 Why is it that there seems to be such an enthusiasm from local volunteers to give their time doing what really is difficult manual labor?
I think it's really because the idea of mountain bike trails are relatively new, especially compared to hiking trails. Around here, our trails are maybe ten years old or so, so you have people in the community who have been here since the very beginning and likely even before that. They've seen everything develop over time. And then there's the hiking trails of the Adirondacks that have been here for over a hundred years. None of us were around for that. They've just always been there. When that happens, I think it's easy to just take them for granted and forget all the time and labor that went into those. But with these mountain bike trails, many of the same people using them either hand a hand on making them or know someone who was involved with the process. So I think because of that, the mountain biking community just has that deeper appreciation for taking care of the trails and using them responsibly.
Does BETA have any upcoming projects in the works?
Oh yeah, we have quite a few projects, actually. We will be getting new signage put up at Craig Wood and other trailheads throughout North Elba. We are also getting a new kiosk on the Jackrabbit Trail at the McKenzie Pond Road trailhead. There is going to be a new panel with maps at Scott's Cobble parking lot and over by River Road to get on the Jackrabbit and Lussi trails. As for longterm projects, we've had a bunch of trails get approved to be constructed around the Loggers trail network between Old Military Road and Saranac Lake. There are some already started along the edge of Saranac Lake near Fowler's Crossing and between Fawn Ridge and Old Military. We also are hoping to get a 10-mile loop around Scarface Mountain if and when we can get the money to do it! So there are a lot of great ideas in the works, and the new builds are going to give even more direct accessibility from town without having to drive to trailheads.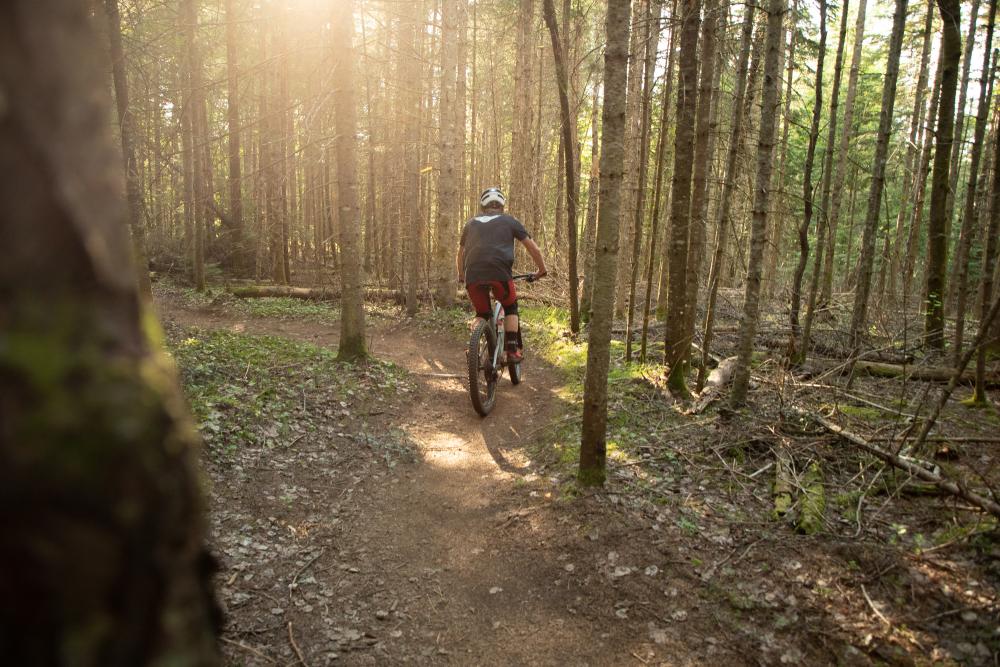 ---
No matter where you plan to ride this season, make sure the trails of Lake Placid are added to your list! All we ask is that you continue to exercise Leave No Trace principles — on our trails as well as every trail you ride, hike, ski, snowshoe, and run —while having a great time. We often discuss Leave No Trace principles while hiking, but these same principles apply to all trail usage to ensure the trails are sustained to be enjoyed by all for years to come. So brush up on your Leave No Trace list, grab your helmet and favorite dirt-shredding velocipede of choice, and #LoveYourADK while you go out to ride your perfect day in Lake Placid!