Being born and raised in the Adirondacks, I've always had a love for snow. And living in Lake Placid, I've had the opportunity to pretty much try it all. I've grown up skating on frozen lakes, snowshoeing up mountains, and skiing snow covered walking trails.
But I've also worked visitor service in Lake Placid for years, so I know that there are a lot of people visiting us that have never seen snow before. I'm here to help you learn to love the snow! Before you go out to play, make sure you're prepared with the proper base layers, outerwear, sunglasses on a sunny day, and plenty of fuel in your body. Eat a good breakfast, pack some water, and head out to play!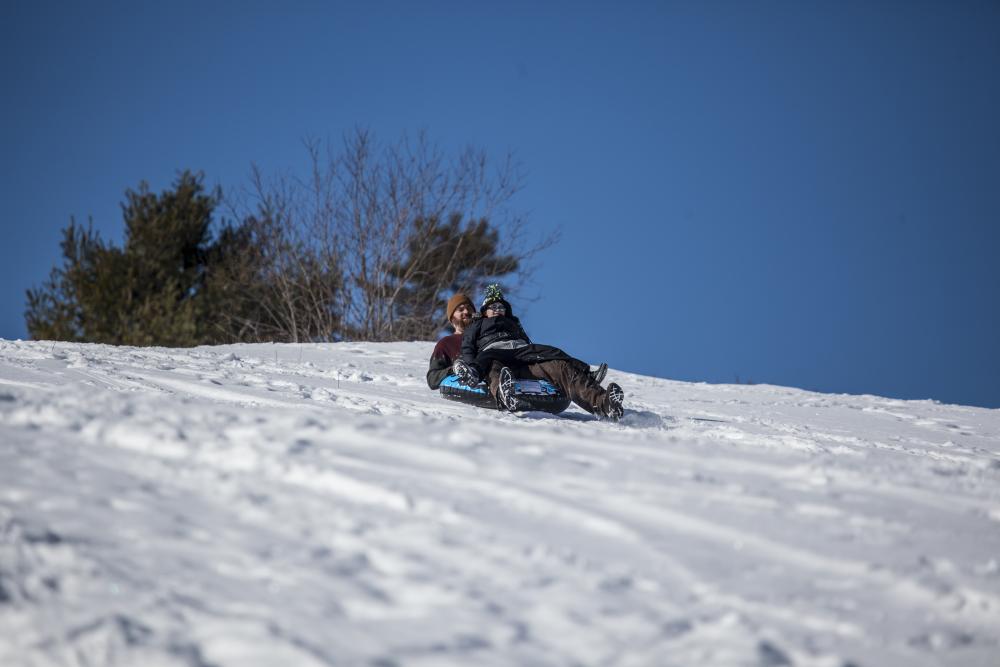 Let's start with an easy, family-friendly, and for the most part free activity. Sledding! Now, this isn't to be confused with dog sledding, even though that's a very fun activity you can also do while you're here. I'm talking about climbing up a snow covered hill, situating yourself on a sled, and zipping down while trying to not fall off. All you need is a sled (which can be purchased at a few different stores in Lake Placid) and a good snow-covered hill. A few local favorites are the golf course on Route 86 or the Teddy Bear Park on Hillcrest Ave.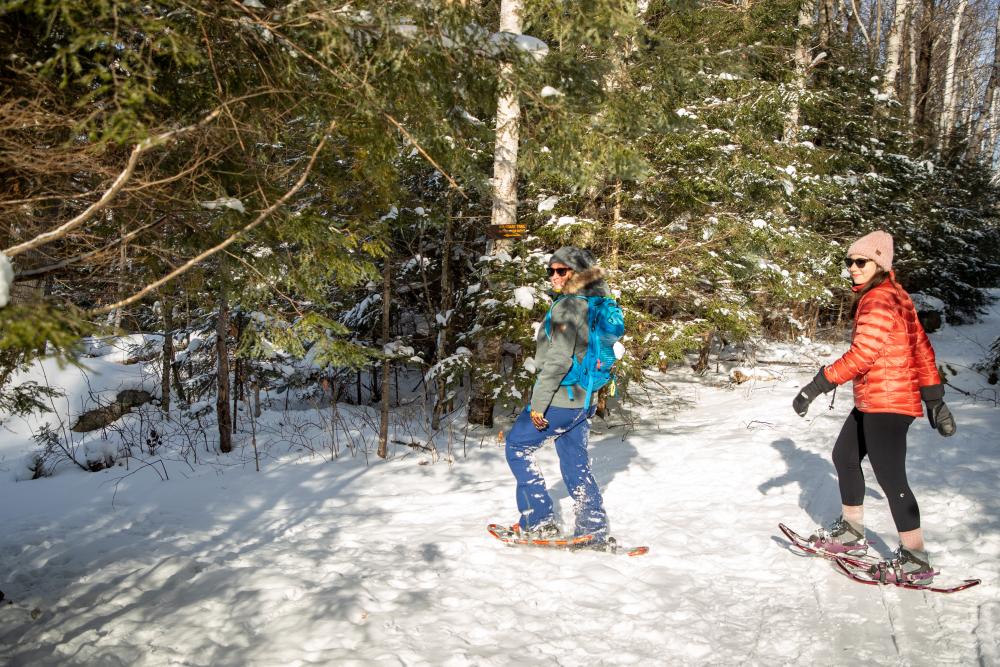 Snowshoeing is another fairly inexpensive and pretty easy snow sport you can try while you're visiting. Rent a pair of snowshoes from one of the many stores in town, like Eastern Mountain Sports, Locker Room 5, or High Peaks Cyclery, and hit the trails! The trickiest part is learning to walk with your legs a little farther apart than you're used to so you don't end up stepping on snowshoes and picking your feet up a little higher. Other than that, you can hit the walking trails geared up and ready to go. Snowshoes are important when there is more than 6 inches of snow so you don't end up post-holing. What is post-holing you ask? It's when your boot breaks through the top layer of snow creating a big hole on the trail. If you're lucky, it's only up to your ankle. If you're not lucky, if could be up to your waste. The reason this is so bad is because the hole then freezes and doesn't fill back in and someone else could step in that hole and get seriously injured. Some of the more popular trails to snowshoe are Henry's Woods, John Brown Farm, or Heaven Hill Trails.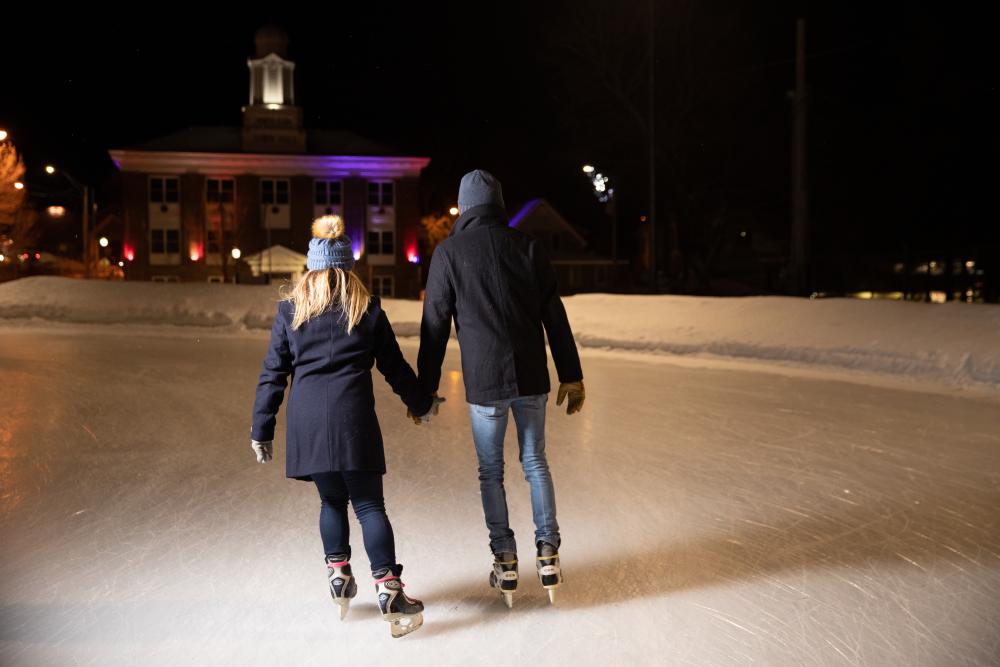 Feeling more adventurous and want to try something a little more extreme, but not too extreme? Put on a pair of skates and step out onto the ice. I suggest starting with the public skating sessions inside the historic 1980 rink or outside on the Olympic Speed Skating Oval. Two bonuses with starting here is that there are skate rentals available on site and the ice is smoothed over by a zamboni before every session. Once you get the hang of skating and you're ready for another adventure, pick up a pair of rentals from one of the stores on Main Street, like Locker Room 5, and step out onto the frozen Mirror Lake. The Village generously clears a path around the lake.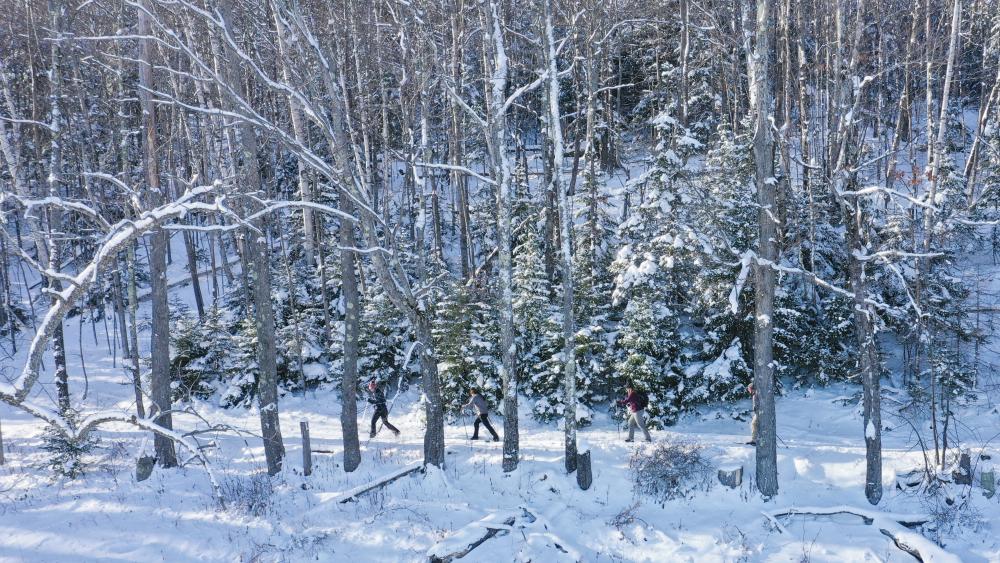 Last, but certainly not least, cross-country skiing. While there are many ways you can get out and enjoy cross-country skiing, if you don't have the equipment for it, you will need to rent a full set up. Boots, poles, and skis. If you're looking to get out on groomed trails and rentals, you can go to Mt. Van Hoevenberg or Cascade Cross Country Ski Center. Both of these facilities offer lessons to help you become the best skier you can be! Please check all Covid guidelines before planning your cross country ski trip.
When you're done trying all your new favorite winter activities, grab something to eat at one of our delicious restaurants and the take a stroll down main street to visit the shops.