Friends that travel together stay together
There is something very special about being on vacation with your best friends. There is a comfort in knowing you will enjoy similar things, the downtime will be respected, and the laughs will be endless.
In Lake Placid, there are so many winter activities and adventures for you and your friends to invent your own perfect vacation. Pack your coats and your cutest winter hats and head to the Olympic Village for winter fun that no other place can offer. Here is your guide to a vacation in wonderland with your best friends.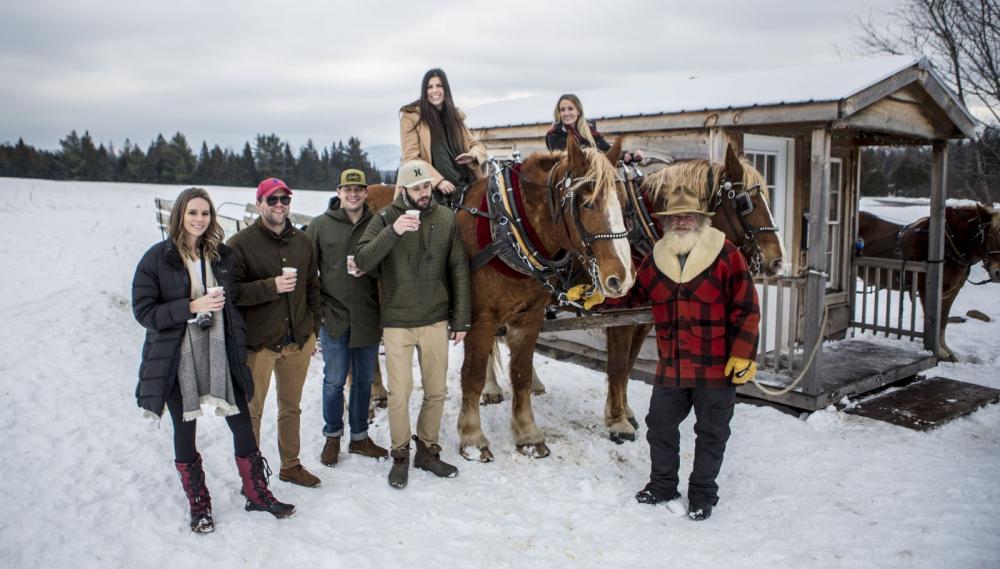 Horse drawn fun
A little hot chocolate and a beautiful ride through John Brown Farm State Historic Site is a great way to start. Country Dreams Farms has the kindest farmer, Geroge, who is ready to take you and your friends on a snowy adventure. He even wears a buffalo check coat, which will make your Instagram photos very stylish. There are enough seats for your entire crew and cozy blankets to cover up from the cold. The ride will bring you through the forest with amazing views of the ski jumps and mountains. The fresh air blowing through your hair is invigorating, and your laughter will echo through the forest. After your ride there is plenty of time for photographs and more cocoa. There is a little cabin to warm up in and visit with the horses, who will have a place in your hearts for years to come. This is what memories are made of.

Slide into fun
Want something completely unique and more daring? The toboggan chute on Mirror Lake in downtown Lake Placid will please everyone. Take the steps to the top of the reconstructed ski jumps and brace yourselves for the ride of your life. Have a seat on the wooden toboggan and hold on tight to your friends. You will be screaming all the way to the bottom of the jumps at 35 miles per hour! The frozen lake on the bottom is where you shoot out and glide as far as you can go. This fun ride is very affordable — it's $5 for as many runs as you would like — so get ready to head back up and race back down. Make sure to keep track of how far you went on the ice-covered lake below. There is always room for a little friendly competition. Losers buy all of the drinks at dinner later.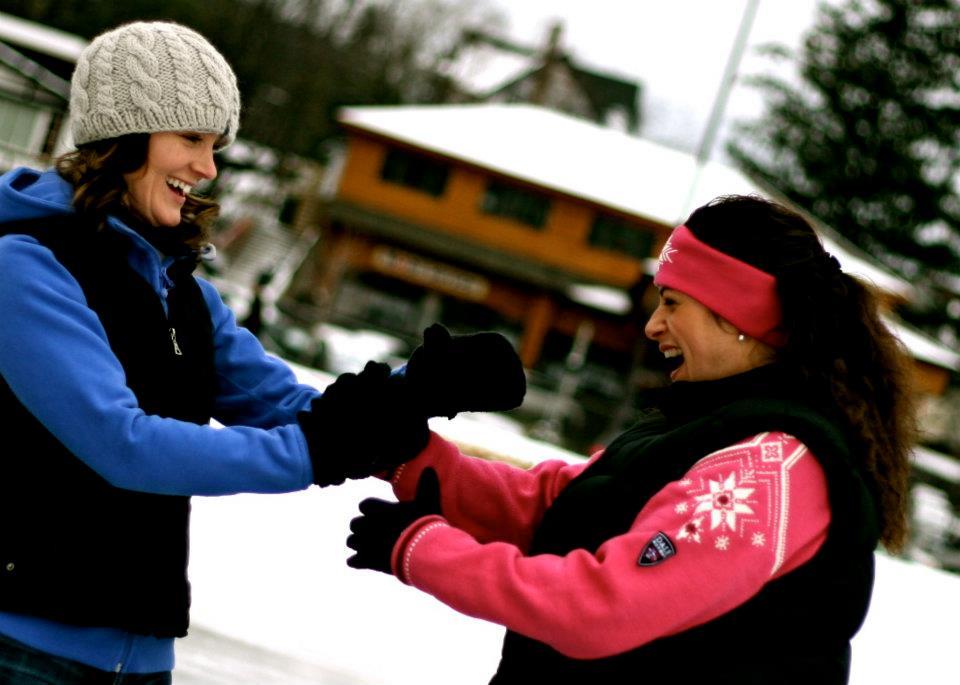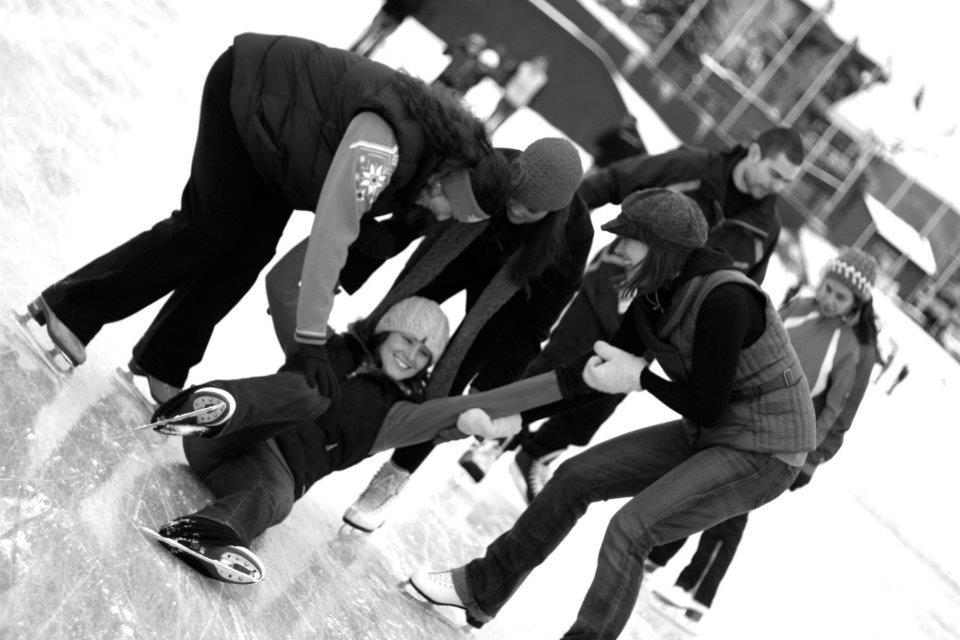 Photo credit: Elise Ruocco
Skate like an Olympian
It wouldn't be a trip to Lake Placid without an afternoon on the Olympic Oval. You can skate on the same track where Eric Heiden won five Olympic medals. This is a great friends afternoon with music, more hot chocolate, and your cute hats and winter sweaters. The oval has skate rentals or you can bring your own. There is even a really great hockey box if you're feeling a little competitive. Enjoy the snowy afternoon with the beautiful mountains in the background. Fresh air adventures are the best when shared with your friends.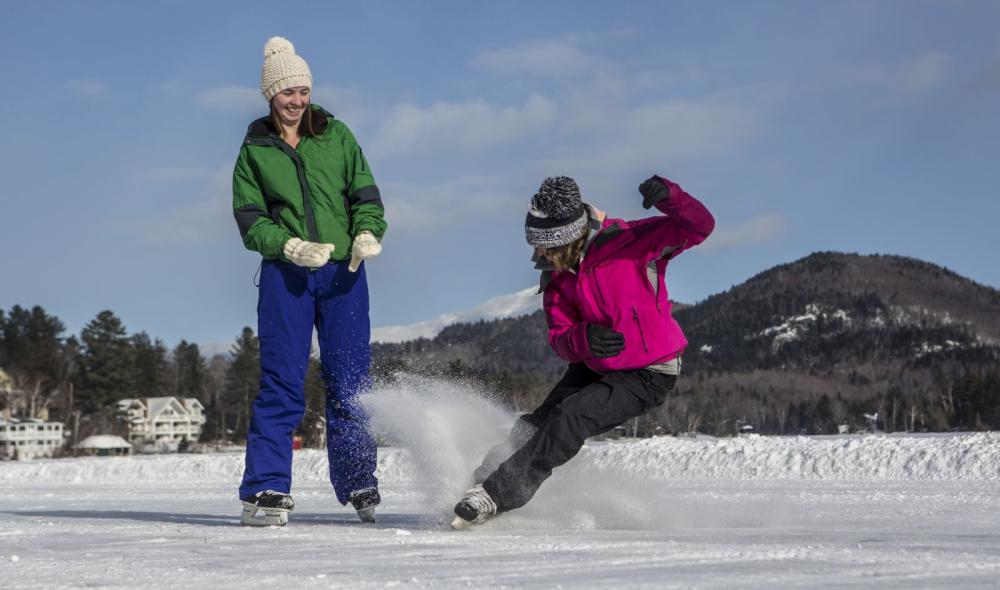 Enjoy Mirror Lake — it's free!
The frozen lake also makes for a great afternoon. Located right in the center of it all, Mirror Lake is full of activity even on a winter day. There is a plowed, 2.7-mile path around the lake for ice skating, walking, cross-country skiing, and snowshoeing. Grab your gear and just skate right out. The dogsleds in the background make for a postcard-perfect setting. This is perfect in the sunshine or evening hours and the best part is, it's free.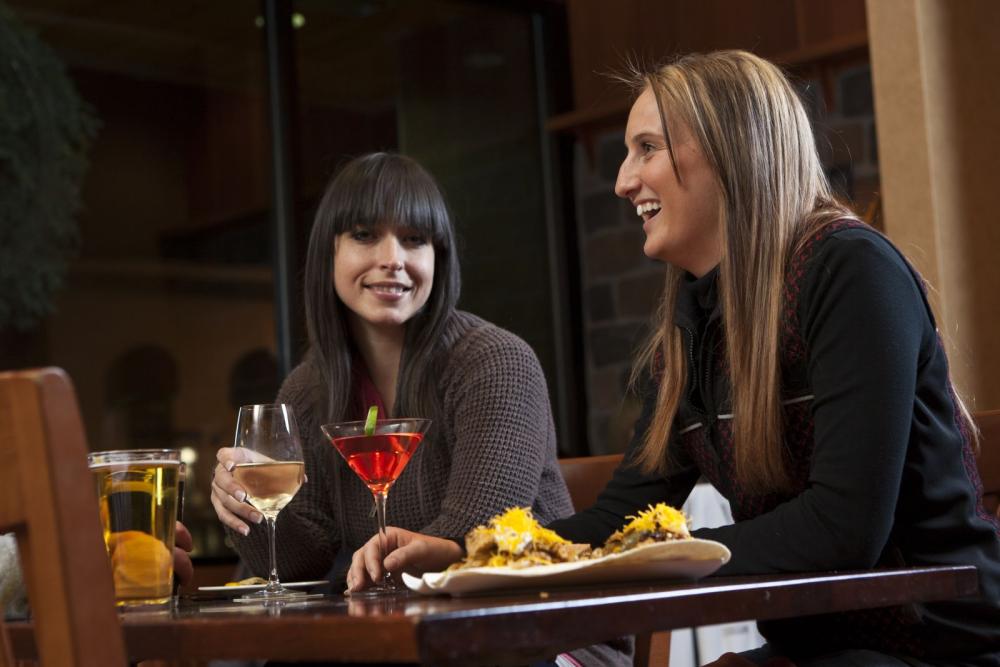 Warm up Lake Placid style
Remember the importance of downtime. A great way to catch up with friends in Lake Placid is to head to dinner at a local restaurant. Everything is really close in the village so there's no need to drive. Walk right off the frozen lake and you are ready to warm up by the fire. There are many restaurants all around town, on and off of Main Street. Apres ski specials are a welcome treat after the day spent in the snow. Hot toddies are just what the doctor ordered, and being with your friends makes your Lake Placid day simply perfect.
Lake Placid is the perfect destination for traveling with your best friends. Head to the Adirondacks and enjoy the snow, and all of the magic it brings. Make sure to stay, eat, drink, and play for a few nights to enjoy all that the beautiful town has to offer.
---