It can seem funny to think of "beating the crowds" when it comes to hiking in the many forests and mountains of the Adirondacks. But, while there are plenty of trails to go around, certain mountains turn out to be riding a surge of popularity. As a result, they actually get a bit crowded.
Starting last year, a new system coordinating safe parking, a shuttle service, and a choice of activities was put in place for Columbus Day holiday weekend. So everyone can choose their own adventure.
The Cascade Mountain Trail
It is the popularity of Cascade Mountain which led to an evaluation of the parking and trail situation in the Lake Placid area. Hikers wanting to summit Cascade this year will be directed to the Cross Country Parking Lot at ORDA's Olympic Sports Complex, from Thursday evening through the holiday weekend. The Cascade and Pitchoff Mountain Trailheads will be closed to parking from October 4 through Octobrer 8, 2018.
WIth over 600 people trying to hike from this trailhead last year, parking became impossible, and people were endangered. The large lot at the Olympic Sports Complex will be providing shuttle service to the trailhead from there.
Shuttles to the Cascade trailhead will be leaving from the parking lot on the half-hour, beginning at 7 a.m. each day to transport hikers to the trailhead. Shuttles will transport hikers from the trailhead back to the parking lot until 7 p.m. The last shuttle to carry hikers to the Cascade Mountain Trailhead will leave the parking lot at 3 p.m. After this time, shuttles will only be transporting hikers from the trailhead back to the parking lot, ensuring hikers have enough time to reach the summit of Cascade Mountain and return to the trailhead before 7 p.m.
High Peaks Summit Stewards will be present on the summit of Cascade Mountain, ready to answer questions and provide information.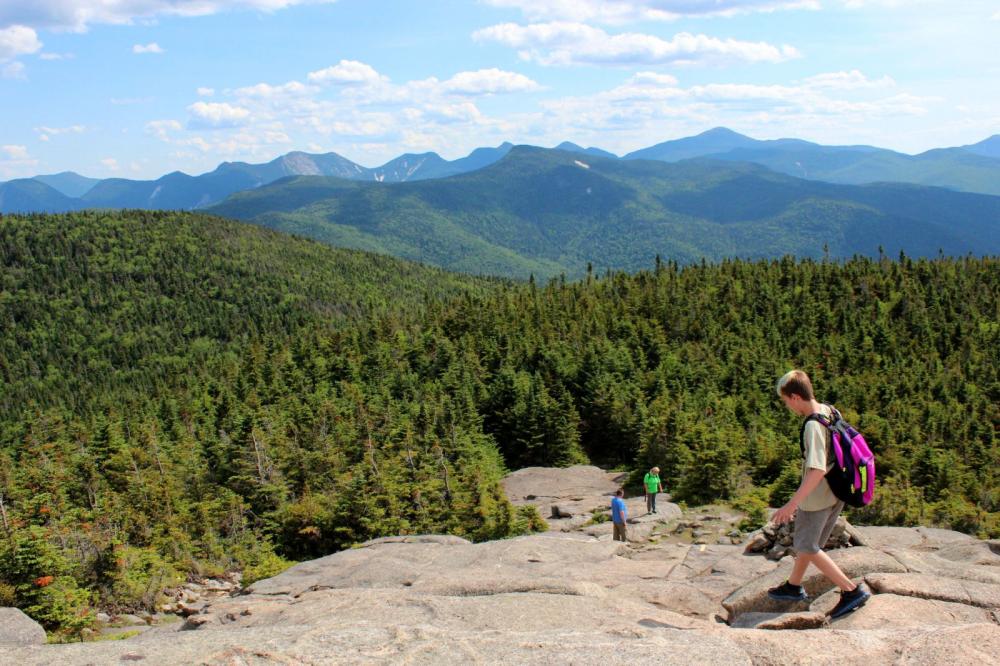 Across the street from the
Cascade Mountain
trailhead is the trailhead to
Pitchoff Mountain
, site of the famous
Balanced Rocks
.
If you have plans to take either of these hikes, keep this important information in mind:
Dogs are not allowed on the shuttle.
Bring plenty of water, a waterproof layer, and a change of socks.
Wear proper footwear.
Wear extra layers for colder temperatures at the summit.
Trekking poles or walking stick are a good idea, especially on the descent.
Be honest about your skills.
Stick to the trail to protect delicate alpine vegetation.
Pack it in, pack it out.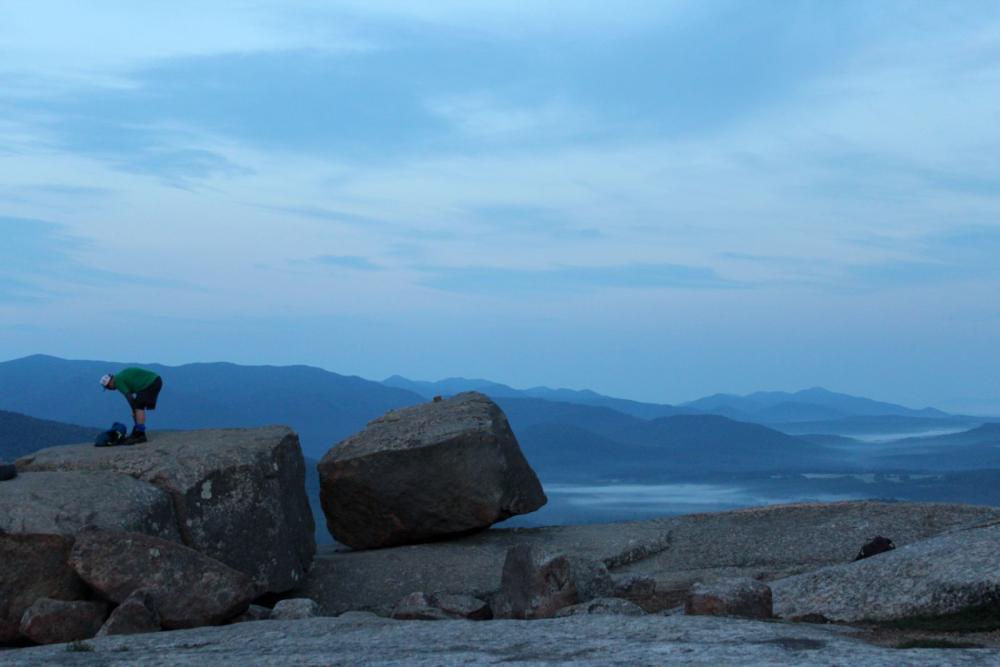 Self-assessment is important because last year one-third of hikers were not able to summit Cascade. This iconic mountain has a more difficult and eroded trail than it used to, and plans are underway to reroute it in a way that is less steep. To avoid disappointment, it is recommended that hikers look back on their previous hiking excursions, and consider the "Adirondack Mile" guideline.
Listed mileage for the hike cannot be compared to the same distance on a flat and finished surface. Mountain trails have a lot of incline, which means more effort on the way up and taking care on the way down, all on a surface that is highly variable.
Climb Mt. Van Hoevenberg
Fortunately, there is an alternative. From the parking lot you are already at the trailhead for Mt. Van Hoevenberg, and you can bring your dog on a leash.
You won't miss a bit of that gorgeous scenery, either.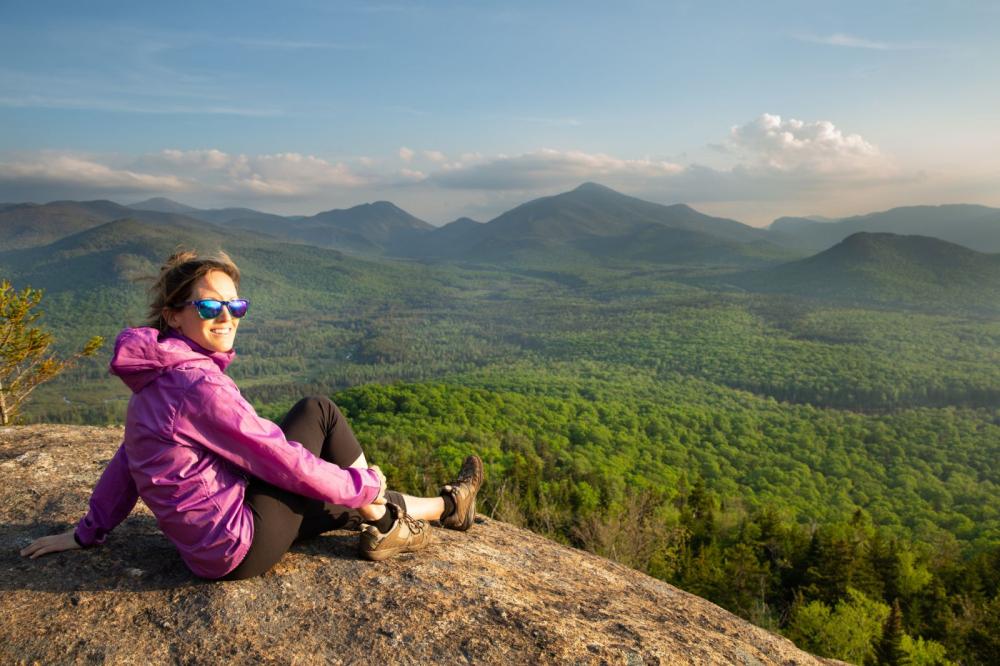 This hike compares favorably in terms of view, and is a markedly easier hike. Contrast and compare:
Cascade Mountain, one of the 46ers, is 4,098 feet tall, with an elevation gain of 1,178 feet, and a round trip distance of 4.8 miles.
Mt. Van Hoevenberg is 2,940 feet tall, with an elevation gain of 740 feet, and a round trip distance of 4.3 miles.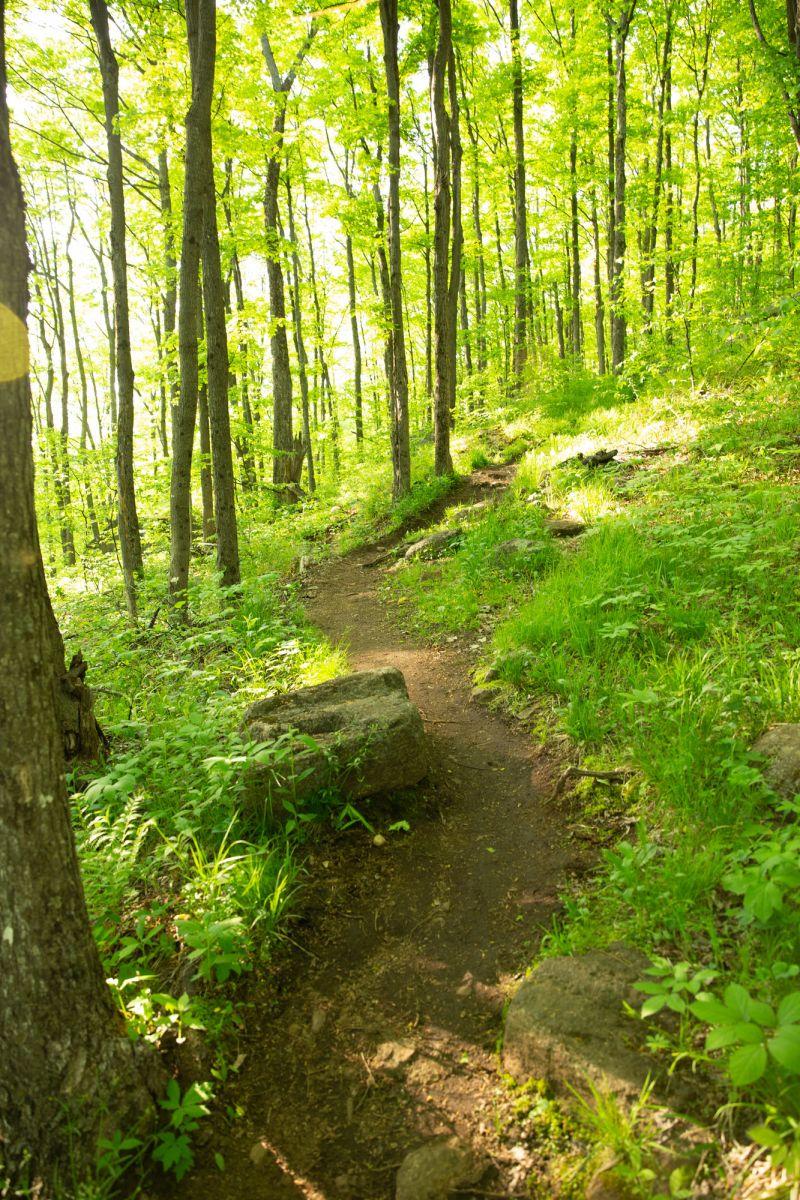 A glance at mileage make it look like a small difference. To make a rough guess at the toughness of the hike, let's multiply the elevation gain by the round trip distance. Because that will give an indication of the relative steepness of those miles. Cascade is 5,654.4, while Van Hoevenberg is 3,182, which means the shorter mountain is actually 56% of the effort needed to summit Cascade. Now you see the difference. Believe me, you will feel it, too.
Explore the Sports Complex
An option almost everyone is up for is enjoying the recreational and scenic possibilites of the the Olympic Sports Complex itself. Take the tour of the bobsled and luge complex.
There's mountain biking and paintball biathlon. Snacks, beverages, and last-minute hiking supplies are available.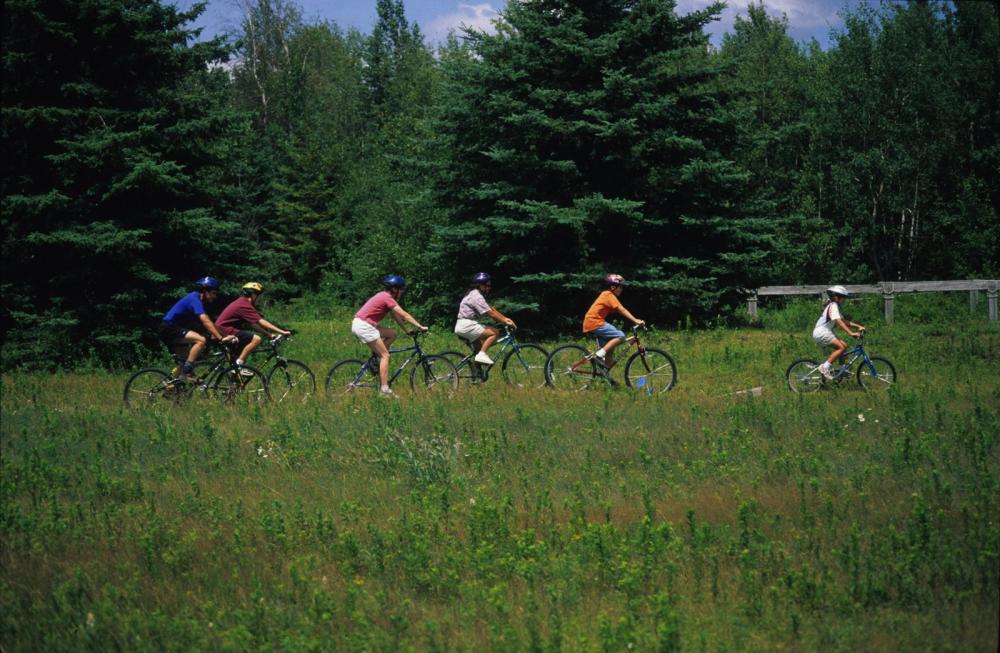 Hiking a giant mountain is a great way to enjoy our glorious Adirondack scenery. But it is far from the only way. And, for you and those close to you, it might not be the best way.
We have plenty of easy hikes. There's scenic drives that double as bike routes. Consult one of our Adirondack Guides for a personally crafted experience.