One of my favorite parts about traveling is finding the best restuarants in the destination. This can be a difficult task because, well, I don't know the area. I have found the best way to find out the real gems in a town is to ask the locals. You can ask any local from a bartender, to a clerk at the local bookstore where to dine, and hopefully they will steer you in the right direction, but how do you know if you have the same taste? How do you know they really know what they are talking about? Well, the only real way to know is to experience the places on your own. Lake Placid has so many great eating and drinking hot spots that it is impossible to list them all and guide you to the best spots for you. So, this is a guide to the best specials and features in town and the fun, the nightly events that travelers may not know about unless they "happen" upon them.
There are only seven days in a week and with 70 plus places to eat and drink, you better get started, or stay longer.
Monday:
The Monday blues are not an option in Lake Placid. Not when you can look forward to Wing Night at Lisa G's Restaurant. Every Monday night, sitting in the bar area you can enjoy crisp and juicy chicken wings. Whether it is classicly slathered buffalo style wings with blue cheese, perfectly seasoned teriyaki wings with wasabi dipping sauce, or out-of-this-world Greek style wings with feta dipping sauce, you won't have to choose. You can mix-and-match all night long. You should also include a Mango Margarita, one of the best in town is served right here.
Speaking of all night, there is an all night happy hour each Monday at Taverna, a local Greek restaurant, owned by a second generation of original family owners. They also offer Sangria Sunday, each Sunday night including prohibition era inspired cocktails and rare bourbons, but it's only Monday, so you better extend your stay.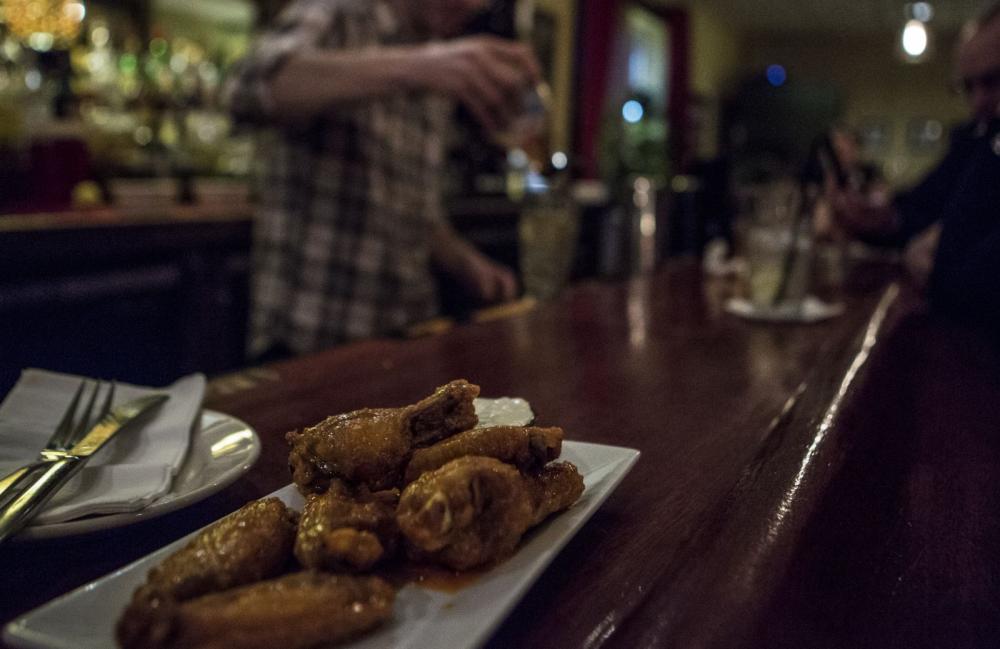 Tuesday:
In Lake Placid Tuesday's are famous for Two for Tuesday at The Lake Placid Pub and Brewery. Beginning at 6:30 p.m. every Tuesday for the past 21 years, the pub has offered two pints for the price of one. This bar special should not be missed. Three floors of fun, including the famous PJ O'neills where you will run into locals, olympic athletes, and a few friendly dogs on the porch. The menu offers everything from specialty bowls, shareables, and pizzas to delicious burgers. There is even a kids room on the third floor if you need a few minutes to yourself.
Tuesdays also mean Trivia Night at Generations Restaurant. Every Tuesday the restaurant has a competitive trivia contest. Get a team together, or just attend with a friend. Come up with a catchy name and answer trivia questions on histiory, music, sports, and geography while enjoying snacks and drinks. Prizes are given to 1st, 2nd, and 3rd place teams.
Wednesday:
Well, why not whiskey? The Great Adirondack Brewing Company offers something a bit different to get you over the midweek hump. Stop in and sample whiskeys in the newly renovated bar area. Whiskey night is every Wednesday from 9-11 p.m. This family owned and operated restaurant has been in business for three decades. Stop in, have a little whiskey, and say hello. There is an on-site brewery — one of the first in the state — with craft beers, and a full menu for lunch, dinner, and brunch.
Wednesdays on Main Street are also great for finding a seat at the bar. You can sip some fine wine at Top of the Park, or a whiskey cocktail to go with your bbq wings at Smoke Signals. For your late night head across Main Street to Zig Zags Pub, a party spot for sure.18 beers on tap and even more of a selection in bottles and cans. Make sure you swing in during your travels. Check for live music on the weekends.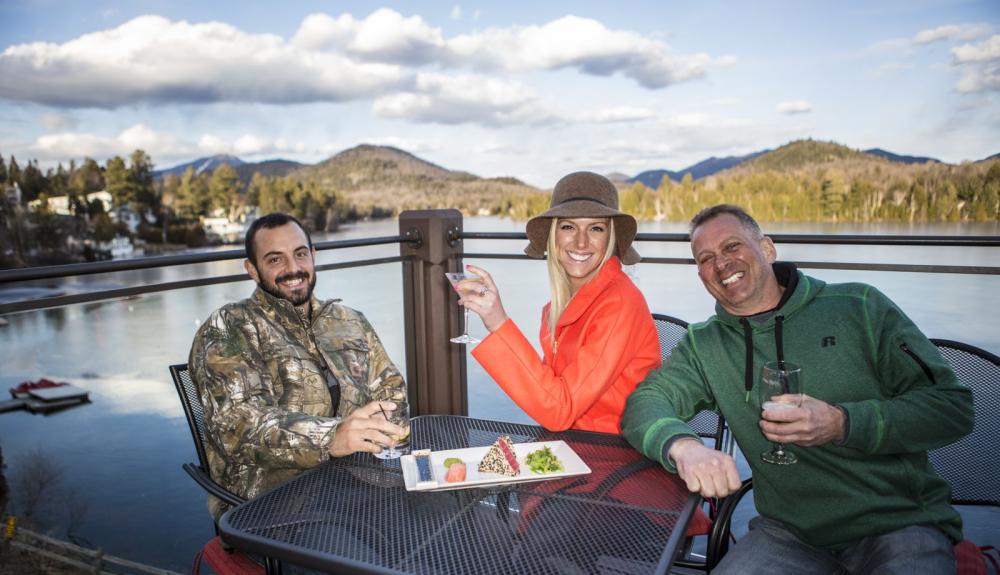 Thursday:
Back in the day (20 years ago), Ladies Night was every Thursday night at Roomer's Night Club. Now Ladies Night is something of the past, I think it was enjoyed too much and no one showed up to work on Friday's, however, now Thursday's at Roomers is for "Late Night Happy Hour." Every Thursday from 8-10 p.m. the young, or the young-at-heart, head to Roomers for a night of fun, dancing, and drink specials while the DJ plays your favorite songs. I requested ABBA, and although the dance floor cleared except for my crew, we appreciated the DJ cooperating with our choices.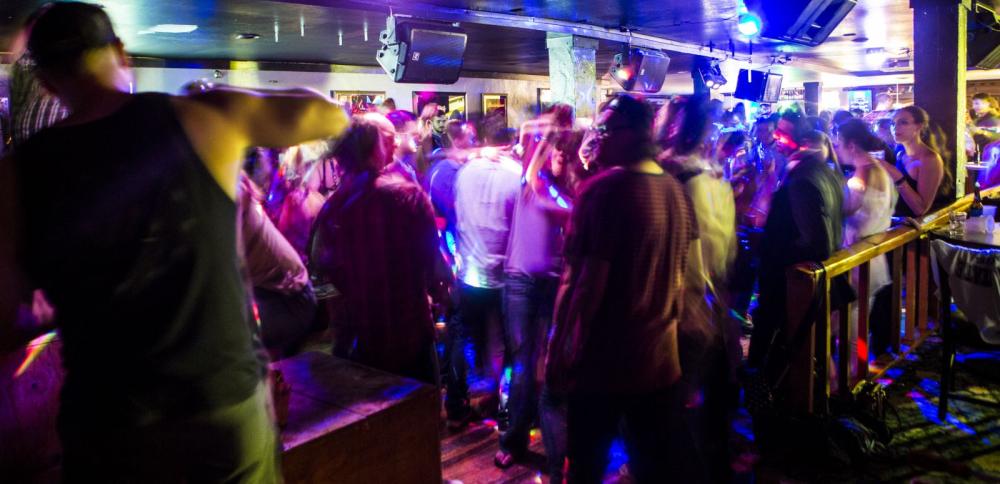 The Dancing Bears Restaurant is a perfect spot to head to for a happy hour any night of the week. On Thursday's there is live music and specialty cocktails on the deck from 5:30-8:30 p.m. with the "Muddles and Music" happy hour. Each week there is a different musician to enjoy outside when the weather is nice, and inside when the weather is not so nice. Either way, Thursday is a great night to get out and get your weekend started early.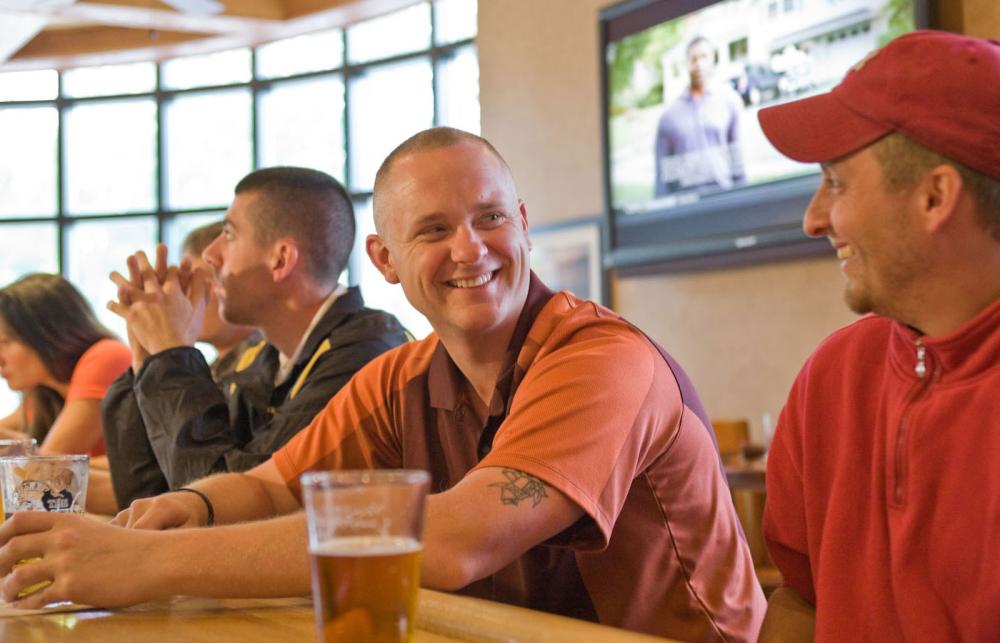 Friday:
Well, you made it. It is finally FRIDAY! Everything in Lake Placid is fun on Friday's. The town is full of the travelers coming in for a weekend get away, the locals are done with their busy work week and ready to unwind, and the bartenders are so excited to welcome you for live music, craft beer, and specialty cocktails. It is easy to unwind and see what is happening out in town.
Looking for something a little intimate? You do not have to be a guest at most Lake Placid hotels to enjoy the beautiful bars and restaurants. For example, The Whiteface Lodge has live music most weekend nights and one of the best mixologists in Lake Placid. You can cozy up by the fire, listen to the music, and enjoy a crafted cocktail just for you (the bartender there will ask you specific questions such as "what is your favorite season" and make your perfect drink).
Saturday:
Saturday brunch? Yes, at The 'Dack Shack! The former site of the famous Howard Johnsons is now the 'Dack Shack and they are keeping the breakfast spirit alive with brunch served on Saturday's and Sunday's. From 8-2 p.m. you can get Bloody Mary's, Mimosas, and clean food. No preservatives are ever added to their food so you can feel good about your decisions and choices, even if they weren't so great the night before. This is the "start all over again" brunch you have been looking for. Fresh day, fresh brunch.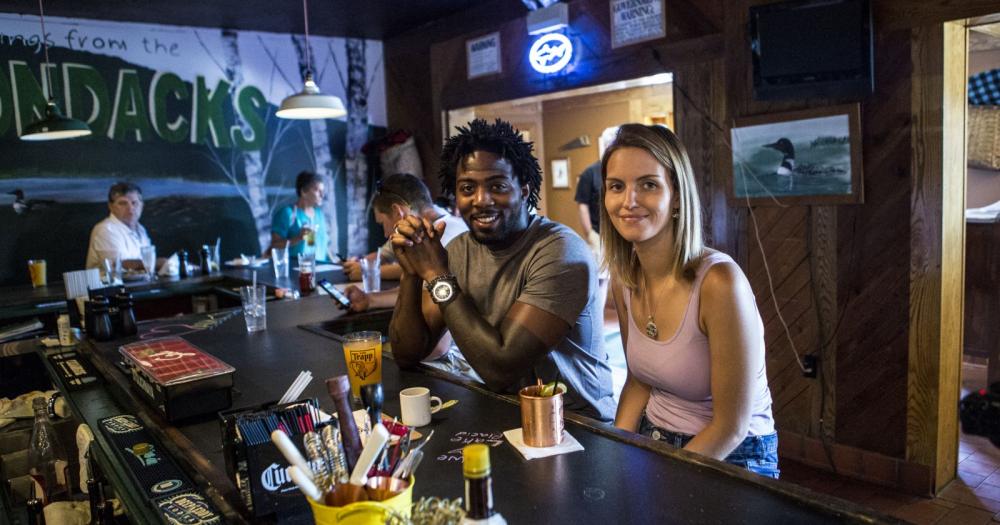 Sunday:
What would a Sunday be without brunch? You are in luck, Lake Placid does Sunday brunch right. There are a few options to choose from so make sure your brunch suits you. After all, you only get one brunch.
The Cottage Cafe: On the shores of Mirror Lake is the gorgeous Mirror Lake Inn. Sitting pretty right on the water is the Cottage Cafe, the casual dining restaurant of the Inn. This is a great place to eat, drink, and take in the view. The Cottage Brunch is a quick one, from 10:30 a.m.-noon, so be sure to rise and shine in time to enjoy pancakes, breakfast burritos, and mimosas while enjoying the view of the High Peaks and Mirror Lake, a great way to wake up in Lake Placid.
Big Slide Brewery and Public House: Whether you are sporting the messy bun, yoga pant look, or in your Sunday's best, Big Slide Brunch will be the spot for you. The chef prepares farm to table options, including farm fresh eggs, North Country cheeses, hams, and smoked bacon while the bartenders serve up botomless mimosas, bloody marys, and world class beer straight from the tanks. Jazz music in the background or occasional live music add to the industrial feel of this brewery. Brunch is served from 10 a.m.-2 p.m.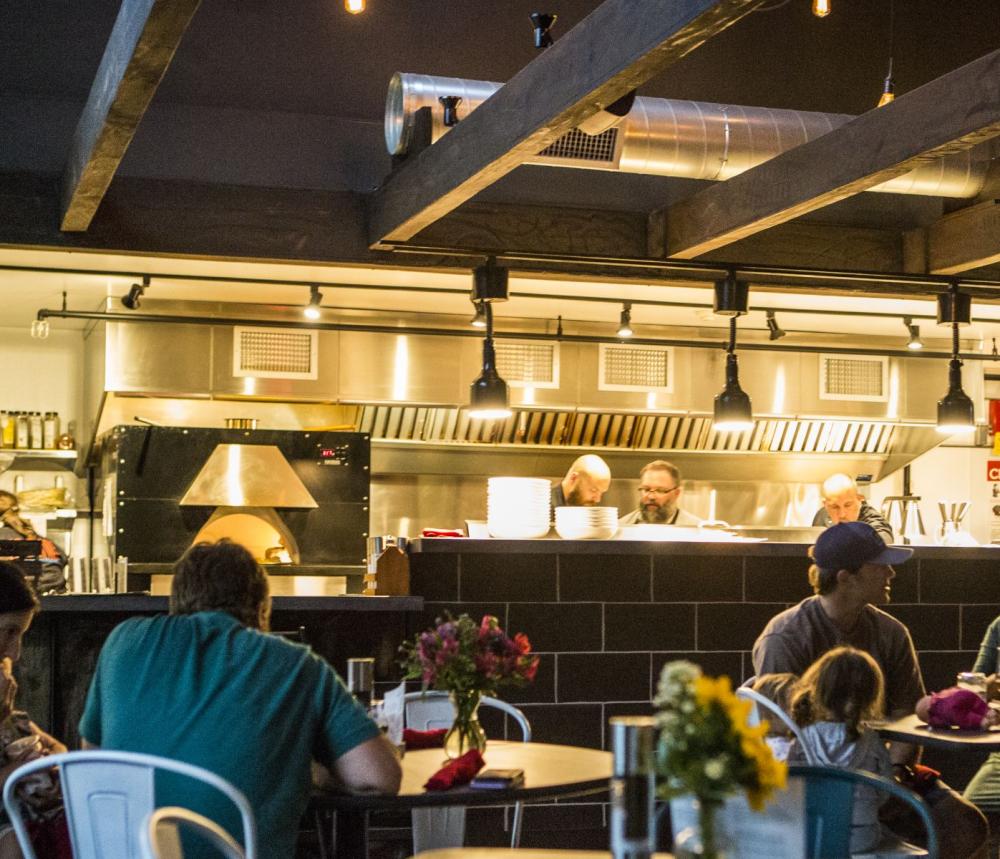 It doesn't matter what day of the week you are in Lake Placid, there are many ways to eat and drink like a local. Make sure you know the featured items and specials and ask around. From brunch to late night dining, Lake Placid is sure to have something perfect for you.