The Adirondacks is known for its spectacular nature and outdoor recreation. Lake Placid is also a hub of unique restaurants with a variety of food options from BBQ with Adirondack flair to seasonal veggie dishes. Since spring and summer in the Adirondacks are a great time to be outdoors, why not combine the outdoors with dining?
Enjoy your meal surrounded by mountain vistas and pristine lakes. Watch the sunset and dine under the stars. There are many restaurants in Lake Placid that offer outdoor and lakeside seating. You can also get your food to go to create your own outdoor dining experience along the waterfront in Mid's Park. Below are some suggestions, and most of these are located right downtown along Main Street.
Scenic views
Chow down on some of the best barbecue north of the Mason Dixon at Smoke Signals. Their deck overlooks Mirror Lake, offering ample outdoor seating. You can't beat the sweeping view of Whiteface Mountain and the Sentinel Range. The food is delicious too. Options range from classic ribs to more innovative dishes like the Smoked Reuben Sandwich (which is one of my favorites on the menu). You can't go wrong!
Family fun
Lake Placid Pub & Brewery is a staple in town with fun for the whole family. There are three floors, a lakeside deck, and a play area for kids called the Hoploft. Sit back with a beer at the bar—looking right into the Hoploft—while the kids enjoy themselves. The menu offers traditional pub fare like burgers, wings, nachos, and flatbreads. There are some great veggie options too. The beer selection features traditional and seasonal choices. My favorite is the Guideboat IPA.
Pet friendly
For you and your canine companion, Lisa G's has a great outdoor deck. It's a cozy place a little off the beaten path, located just minutes from Main Street, and good if you want to escape the crowds. The view is still spectacular with a deck that places you right above the babbling Chubb River. Locals love the wings, and there are plenty of different styles to choose from like buffalo, maple bourbon, Greek, and more. The menu also offers plenty of veggie options.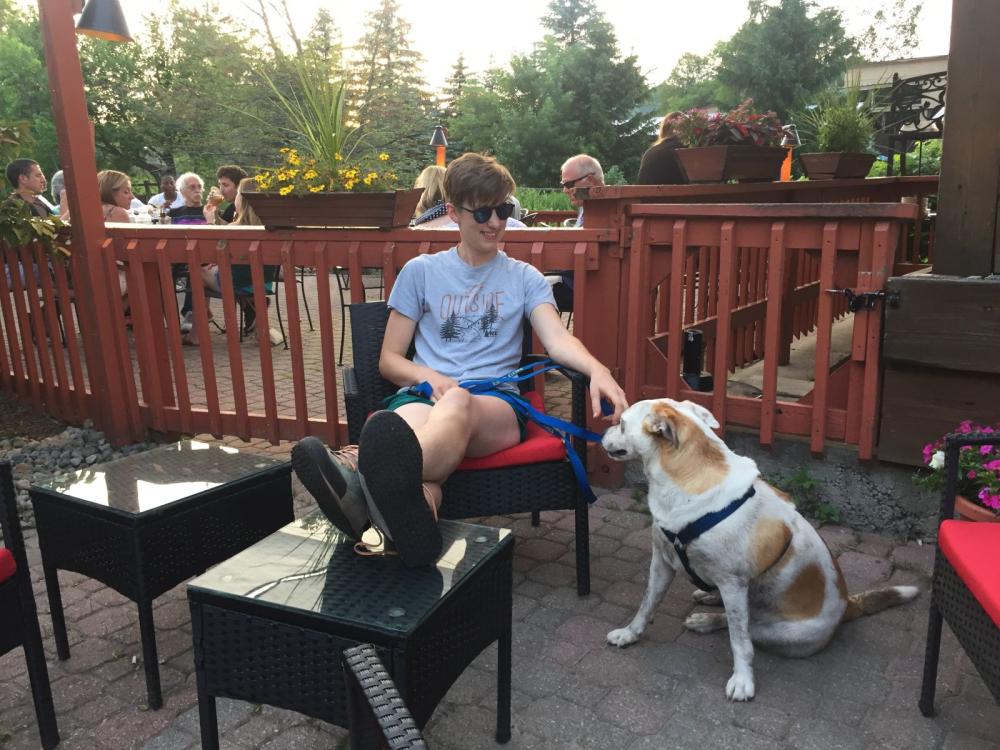 Date night
For a romantic evening soak in the stunning views from the Top of the Park's deck overlooking Mirror Lake. This restaurant prides itself on thoughtfully pairing dishes with their abundant wine, craft cocktail, and beer selections. You and your date can share small plates that offer seafood, charcuterie, cheese, and unique salad options. To end the meal, share a bowl of Aged Chocolate Balsamic Glazed Strawberry with a scoop of vanilla ice cream.
Travel by boat
Boat up to the Moose Lodge Boathouse at The Whiteface Club and Resort located right on Lake Placid lake. As you dine, you will have a fantastic view of Whiteface Mountain. The deck is also a fantastic spot for watching the sunset. The menu features a hearty selection of scotch, wine, and beer. Enjoy one of their signature cocktails, and don't forget to try the Lobster Roll. Outdoors at Moose Lodge is a definitively Adirondack experience.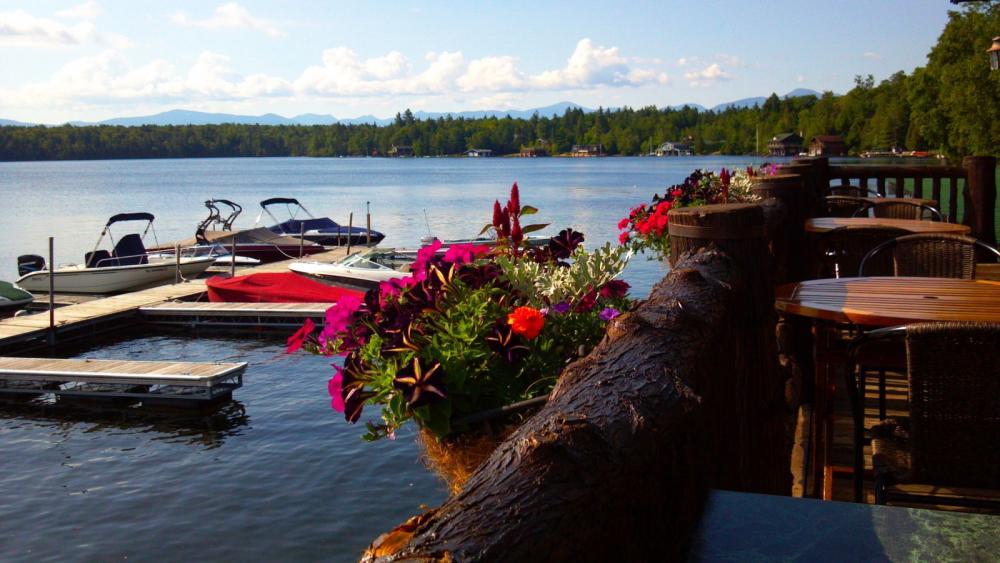 Picnic in the Park
Grab a bite to go and relax along Mirror Lake's shore in Mid's Park. You have many choices of food. If you feel like pizza, there's Ere's Pizza. Burritos from Wyatt's. Seasonal veggie and vegan options from The Good Bite. Crepes or a choice of 46 different original sandwiches, with a selection of fresh baked bread, at Big Mountain Deli & Creperie. In the park you can sit back in an Adirondack chair or dip your toes in the water. The bandshell features live music every Tuesday evening during the summer.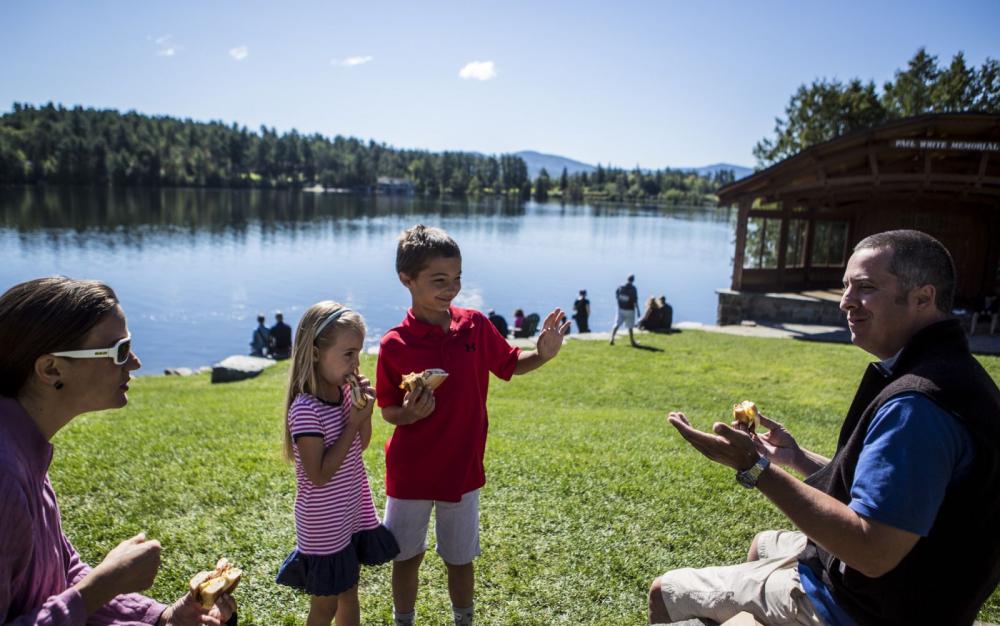 Don't feel limited by these options, there are so many more restaurants to choose from. Make a week of it and stay in one of our lodgings. Relax, eat, and drink in the outdoors!