Guest blogger: Alyssa Devlin
Outdoor Skating Near Lake Placid
If you're visiting Lake Placid in the winter months, there's probably a good chance you're here to ski – or for a hockey tournament on one of our indoor rinks. But if you're looking to get out into the wilderness without a huge athletic commitment (say, if ice climbing or alpine skiing isn't really your thing), then you should check out one of the nearby ponds or lakes for a fun skating adventure!
Locals are in-tune with a lot of the opportunities for skating in the area besides the Speed Skating Oval, and we'll let you in on our little secret. Some of the spots are less accessible than others, but all are worth driving out of town and hiking up into the mountains. Hey, you might even get to witness a game of pond hockey while you're out there!
Of course, it's imperative to know the ice is thick enough to venture out on - safety first!
Cascade Lakes
If you've ever driven up to Lake Placid from Keene via Route 73, you've driven through the Cascade lakes, a place where in the winter months it's not uncommon to see skaters out on the lakes. The lakes are great places for skating because they exist in a narrow fjord-like valley where the wind is often strong – this blows the snow across the lakes and allows the ice to solidify smoothly, with few bumps and little clinging snow. One lake in particular (the one closest to Lake Placid) is particularly popular, since it receives the best wind and thus the smoothest ice. The Cascade lakes are one of the most unique places to skate in the Adirondacks because the ice is so often in great condition, they are easily accessible by car, and are in an incredibly beautiful location – you can look up at the mountains and often watch ice climbers ascending the cliffs on the other side of the lake. They are a truly memorable experience, and for accessible, unique outdoor skating, they are my top recommendation. It can get cold and windy there, though, so be sure to bundle up! And afterwards, if you're headed back to Lake Placid you can stop in at Cascade XC Ski Center for a warm bowl of chili and a hot chocolate.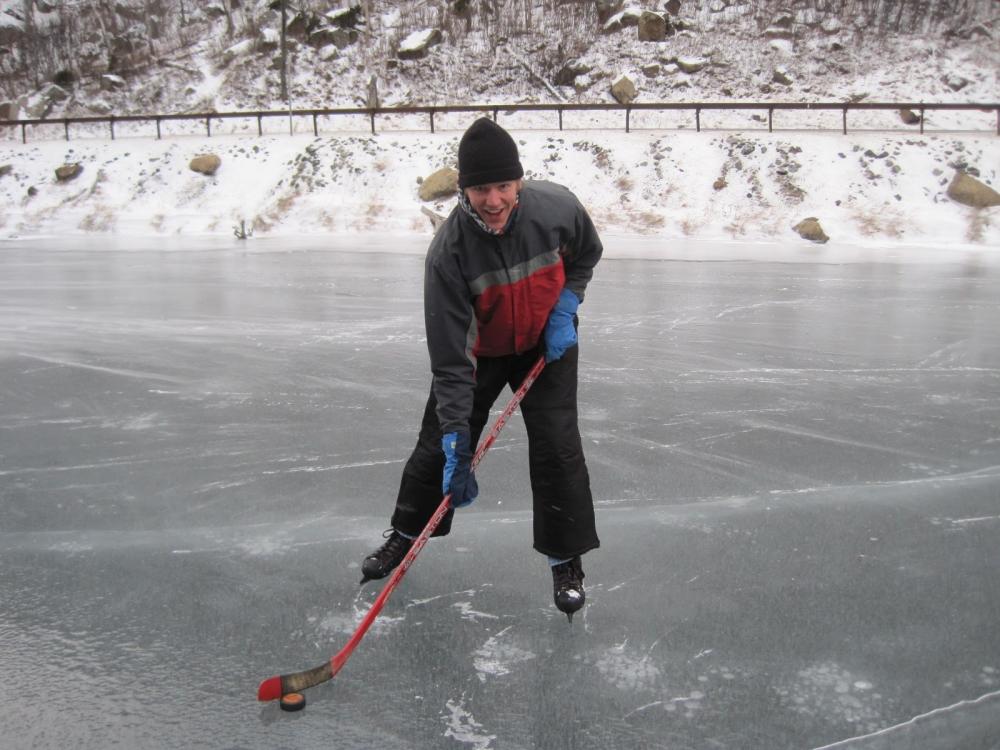 Giant's Washbowl
If you're looking for a bit of an adventure, you can hike up to Giant's Washbowl for a secluded, beautiful skating opportunity. Last time I skated at the Washbowl, I joined a rag-tag crew of middle-aged gentlemen all out for a game of pond hockey. Even if you're a lefty and lifelong skier using a righty hockey stick, you may still be invited to join the game. You'll have to hike up .75 of a mile to get to the washbowl—not too terrible of a trek with skates in your pack, though keep in mind that it will be uphill! To access the trailhead, take Route 73 south out of Lake Placid towards Keene, through Keene and Keene Valley until you reach Chapel Pond on your right. There will be parking by Chapel Pond and to begin hiking you will follow signs to Giant's Washbowl from the Chapel Pond Trailhead.
Connery Pond
Slightly off the beaten track, Connery Pond is a perfect location for skating if you also want to fit in a cross-country ski. To find the location, you will drive down route 86 away from Lake Placid – just before the intersection with River Road, there will be a pullover on the right before the bridge. From your car, you will cross the road, where you can strap on your cross-country skis. Ski along the road headed back towards Lake Placid for a brief way until you see a sign that sends the trail into the woods. Follow this trail until you reach an intersection – take a left. At the next intersection you will go straight, continuing on to Connery Pond. Soon, you'll approach a lean-to where you can strip off your skis, strap on your skates, and enjoy skating on the quiet pond.
Mirror Lake
If you don't plan on leaving downtown Lake Placid but want an opportunity to skate outdoors somewhere other than the oval, you can head over to Mirror Lake. The town has a small machine that plows and brushes a loop from the public beach to the Mirror Lake Inn, taking skaters along the lake with a view of dogsledders and cross-country skiers traversing the snow-covered lake. The path is open to all – there's no fee and if you're staying on Main Street you can easily walk down to the water with your skates. Some lucky guests at the Golden Arrow even have rooms that overlook the path – if you're one of those lucky few you can practically skate from your room! For those who have brought their hockey sticks, there are cleared areas in front of the public beach with goal nets where you'll often see pickup games happening. One final benefit of skating on Mirror Lake is that you're close enough to downtown Lake Placid to end your adventure with a cup of hot cocoa or other après skate beverage and snack at one of the nearby shops or cafes.
See you on the ice!