In my heyday, I could close out a bar with the best of them. Time was not a factor when I was celebrating life, and Saturdays were typically reserved for plodding around in full-blown recovery mode.
Since then, some things have changed. I still like to tip a few back but I'm a lot busier now, both in my personal life and in my professional life, so I've really learned to treasure my days off. I'm talking real days off, when I have no plans, no obligations, and no responsibilities. In my mind, those rarest of moments are best spent in the mountains, doing the things that first drew me to the Adirondacks nearly two decades ago. But exploring mountains takes energy, hence my newfound aversion to all-nighters.
Slide into a pint or two
Luckily for me, it's easy to "have my brew and get out too" in Lake Placid. I've been to places where the bar scene doesn't pick up until after 11 p.m. — an hour I'm usually in bed by — but that's not the case here. My wife, Anna, and I started the evening by meeting some new friends, Emily and Apollo, from the town of Catskill, New York, at Big Slide Brewery & Public House at 7:30 p.m. last Friday. The new Brew Pub is an arm of the famous Lake Placid Pub & Brewery that focuses on creating uniquely delectable beers and equally delectable dishes. The pub is located just outside of downtown on Route 73, near the Horse Show Grounds and ski jumps.
The place was packed with people drinking and having a good time — yes, that's a nod to the movie Road House — and with good reason. The beer there is delicious. I should know; I sampled five of them before settling on a pint of Berliner Weiss. The weiss had a distinctly tart flavor that went down smooth and lacked any of the heaviness that comes with stouts, which I also enjoy.
The Berliner was just one of five that came in the beer sampler we ordered. The others were Big Slide IPA, Raspberry Wheat, Bean-To Coffee Stout, and Imperial Honey Rye. I've had my share of Big Slide and Bean-To before, and they never disappoint. The raspberry and honey beers were new to me, however. The Imperial Honey Rye was a little too sweet for my taste, but it still had a nice flavor. The raspberry was a close second to the Berliner — definitely a great, smooth summer beer — but the uniqueness of the latter won me over.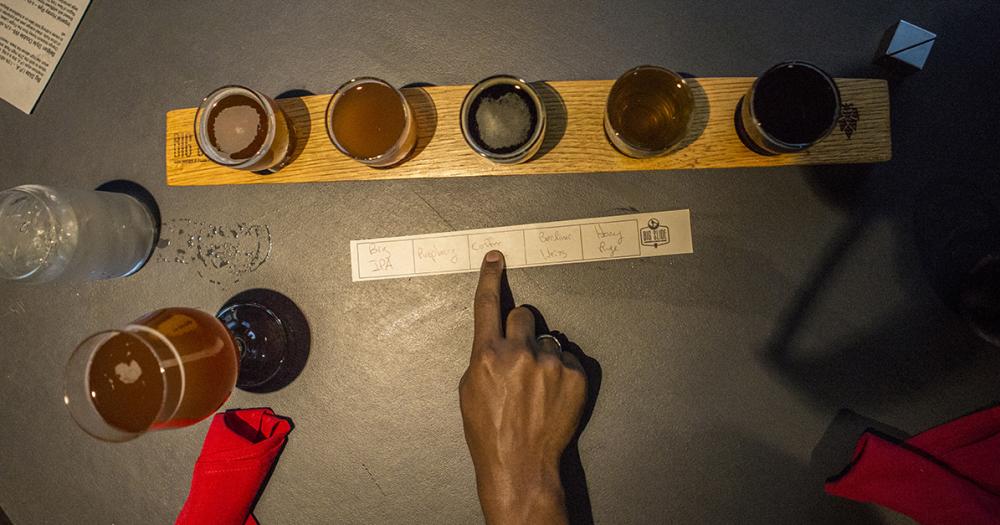 Zigging on a beer and zagging a good time at Zig Zags
After some great beer, food, and conversation at Big Slide, the four of us headed to Zig Zags Pub to get the downtown experience. It was 9 p.m. on a Friday and the place was rapidly approaching standing-room only. We ordered drinks, something that only took a minute thanks to the three attentive bartenders, and perched ourselves at a table by the front window. I highly recommend commandeering a window seat if there's one open, as they're the perfect arena for people watching. There was a constant stream of early-night revelers like ourselves walking by, and more than one group crammed themselves into Zig Zag's bobsled for photo ops. I love seeing people enjoying themselves in this wonderful region I call home!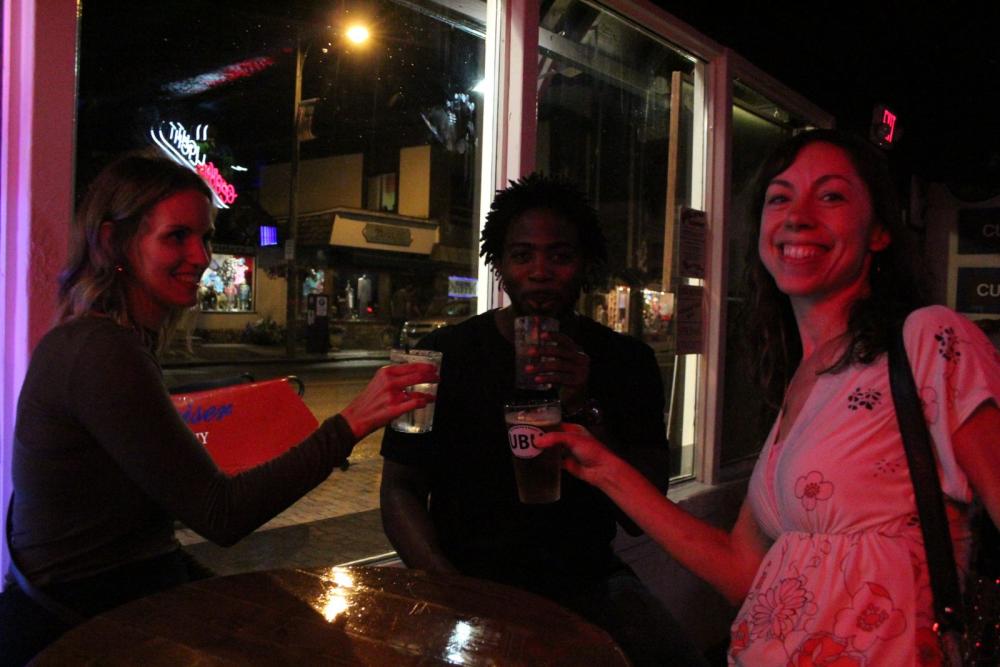 Speaking of visitors, Emily and Apollo were getting the full visitor experience during their stay in Lake Placid. It was their second time in the High Peaks, and the last time they visited they hiked Mount Marcy and explored downtown a bit. This time the couple tried rock climbing, stand-up paddle boarding, and they even sped along a 2-mile go-kart track in nearby Gabriels. I asked Apollo what he thought of their adventures, and he immediately commented on what a welcoming place Lake Placid is. That's something I like to hear, because I want people to visit! Needless to say, Apollo and Emily will certainly be back.
While we hung out at Zig Zags, our friend Glenn came in with a group of people who had just been to a rehearsal dinner for a wedding. A night on the town after a day of traveling and rehearsing for a wedding? What a great idea!
Did you hear the one about Roomers?
Anna and I were starting to get tired, but we had one more place in mind — Roomers Nightclub. That's right, there's a night club in Lake Placid, and we had to see it. We were told by several people (did we hear Roomers, perhaps?) that this is one of the bars that doesn't fill up until later. We got there around 10 and that seemed to be the case. There were maybe 20 people there, but the party was still going full throttle.
We soaked in the ambience for a bit — the flashing lights, the thumping bass, and the stone fireplace — and then we hit the dance floor. Anna and I are not shy when it comes to cutting some rug, or some hardwood, as was the case at Roomers. Being early risers, we only made it through a couple of songs before the tiredness set in.
As we drove down the main drag in Lake Placid with the warm summer air ruffling our dance-teased hair, we commented about how busy all of the bars and restaurants seemed. It was only 11, and everything was hopping. Anna lamented about how she still enjoys going out despite our new, adult lives, and I agreed. A night on the town is still fun, so I wouldn't be surprised if there's another downtown adventure for us in the near future!
Lake Placid is the perfect place to get ready for a night out. Take a hike, eat dinner, gather some friends, and check out our bars!
This week in related news: ADK BFFs
Little friends and friendly elves