The Adirondacks are an outstanding ski destination with numerous downhill and Nordic centers to choose from, but for those who prefer skiing on trails, the region has a bunch of that as well. You can accelerate to ridiculous speeds on the biggest drop in the east at​ Whiteface Mountain or spend a day kicking and gliding on the trails at the Cascade Ski Center.
With the creation and widening of the slides on the peaks, and the dozens of hidden glades, backcountry skiing is another story altogether. With more than 2,000 miles of hiking trails in the Adirondacks, opportunities for trail skiing are almost limitless. The only real limit is your ability to make the turns. Of course, not all 2,000 miles of trail can or should be skied — some are just not a safe option for descending with 5-foot-long planks tied to your feet — but many are seemingly designed for such activities.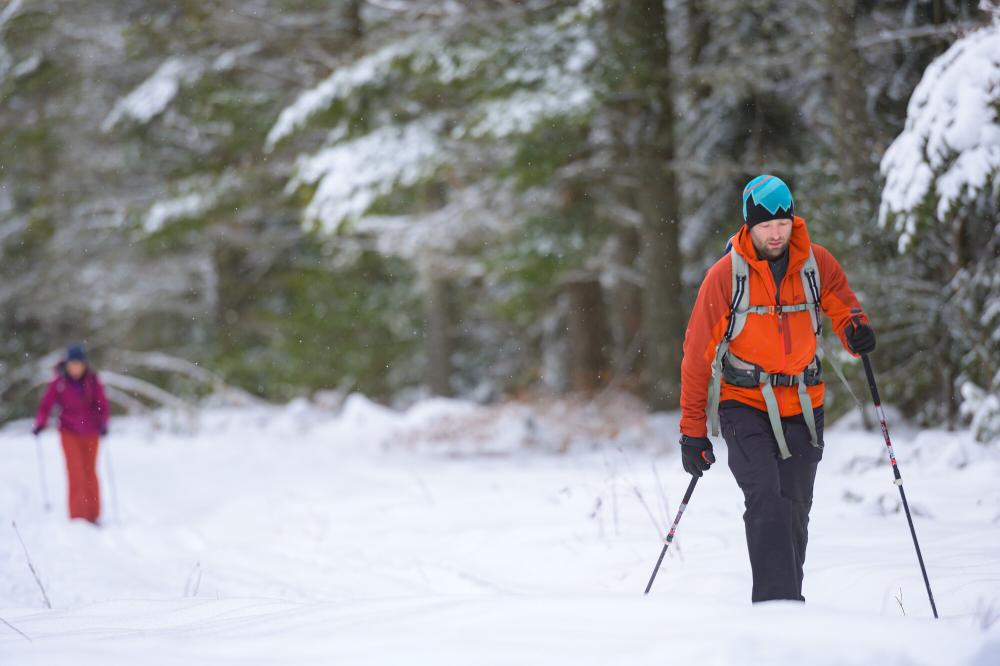 Trail skiing is also much more dependent on weather and conditions since there are no snowmaking guns to produce deep powder. You will have to do your research and in many cases wait until later in the season to attack some of the best routes. Exposed rocks and thin snow conditions exist even on trails that receive good snow accumulation, and you will have to be on your toes. For best conditions seek out trails that pass through open hardwood groves instead of dense evergreen stands. The evergreens keep a tight canopy in winter and often stop the flow of snow to the ground level.
While I can't say I have a favorite trail or region in the Adirondacks, I have to say the Lake Placid Region has some of the best trail skiing and most diverse terrain available in the northeast. Below are a handful of great cross-country ski-loop destinations in the area that are sure to please and get you excited for more.
Peninsula Trails
The Peninsula Trails are located in Lake Placid off of Peninsula Way, which is near the Comfort Inn on Route 86. This system is a series of intersecting trails that offer great cross-country skiing for the entire family. With easy grades and wide trail layouts, even the beginner or first timer can come here and have a nice time outdoors. The initial Corridor Trail accesses the other trail, which leaves it on both sides. All of the loops end back at the Corridor Trail. Great views out over Lake Placid lake are awarded to those who visit these trails.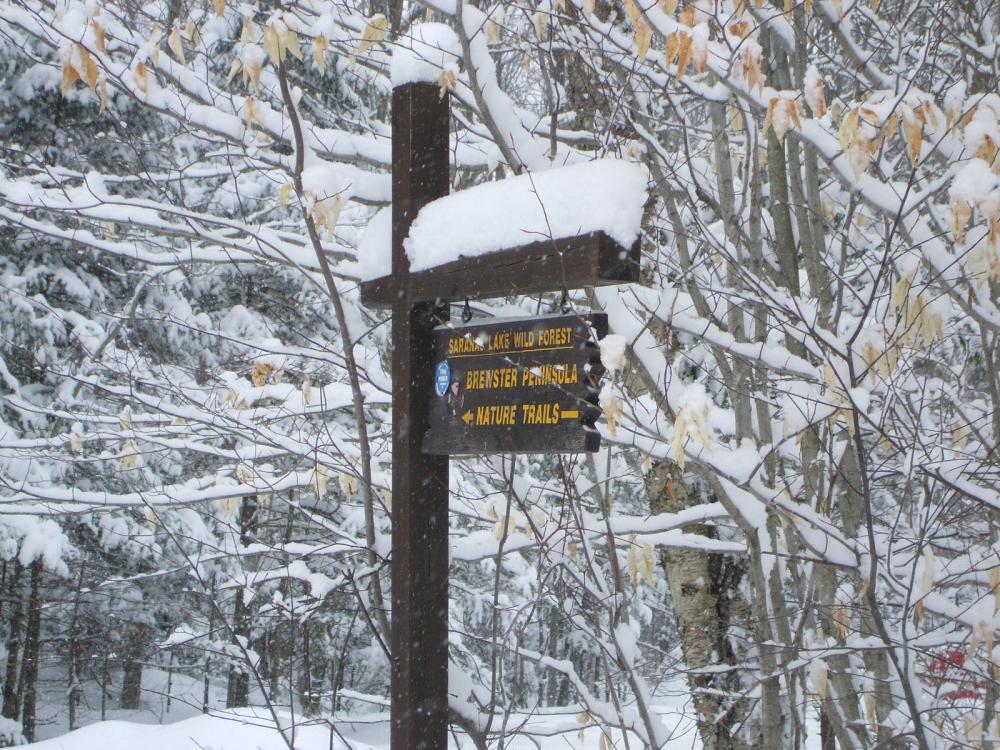 Marcy Dam loop
This 5.5 mile loop is located in the Adirondack Loj area and offers skiers a wide array of skiing opportunities. From the Loj parking area you will be on a heavily used foot trail. There are several ski trails that intersect the route part way into Marcy Dam, and these can be used for better conditions if the main trail is too icy. With countless undulating hills to contend with, the 2.1 miles to Marcy Dam are anything but boring.
From Marcy Dam you will follow the​ Marcy Dam Truck Trail, which leads to South Meadow. Rather than continuing all the way to South Meadow, hang a left onto the Mr. Van Ski Trail and return back to the Loj. The Mr. Van Ski Trail is a nice trail that cuts across South Meadow Brook and climbs nicely back up to the beginning of the loop you started on.
Henry's Woods
You can find these trails off of Bear Cub Lane, which is located off of Old Military Road in Lake Placid. The Henry's Woods trails comprise different loop options which are all fairly short, but combining more than one or even all of them will give you a nice few hours of skiing. The Plateau Trail is the flattest of the trails but it can only be accessed via the Loop Trail or Switchback Trail, which are both fairly steep in spots. The Switchback Trail and Rocky Knob Trail are only recommended for those experienced in steep slopes and tight turns. The Loop Trail gives you the best all-around skiing opportunity and still has a decent downhill ski, but because of heavy use it can be very fast and icy at times. The best time to experience the Henry's Woods Trails on skis is after a nice snowstorm, when there are a few inches or more on the trail. Get out early before it's all packed down again.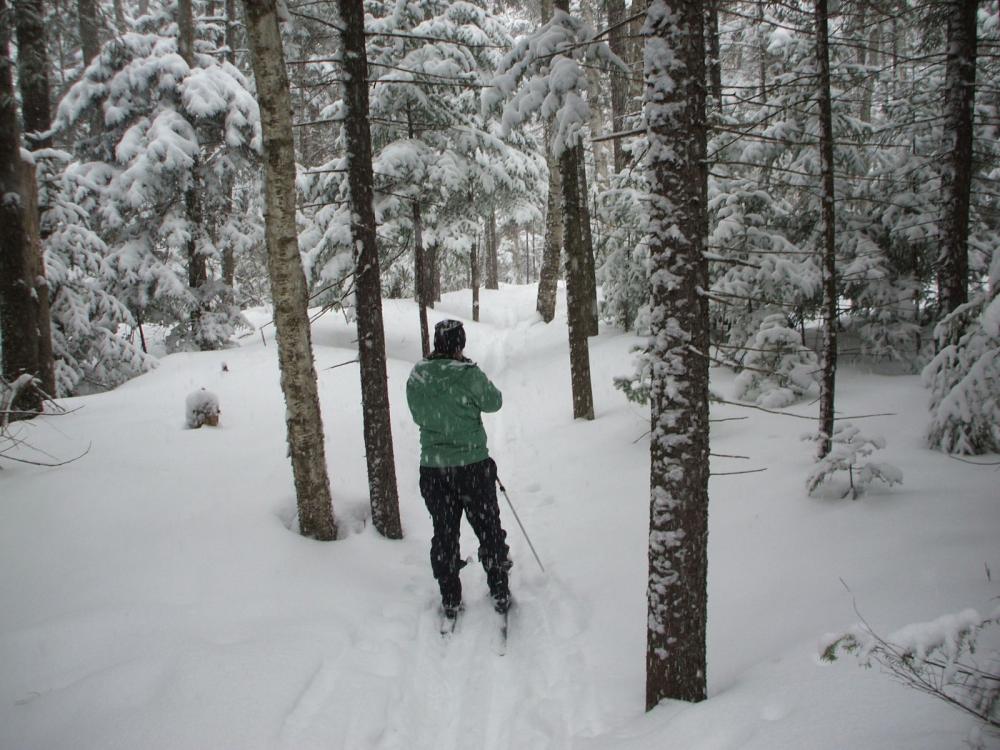 The Flume trails
You can find this trail system on Route 86 between Lake Placid and Wilmington. The Wilmington Flume Trail System has about 8 miles of trails but is divided amongst 16 very distinct trails of different ability, structure, and length. Cross-country skiing is an excellent outdoor recreation that one can enjoy here but remember — the trails are shared with snowshoers and the growing popularity of fat bikes make this a truly multi-use winter destination.
Johns Brook loop
This interesting loop of 5.8 miles is perfect for an intermediate skier who enjoys varied terrain, tight turns and narrow trails. Starting from the Garden Trailhead in Keene Valley, you will climb right out of the gate and then following a route of rolling hills with small, steep sections through narrow courses. There is one steep hill, which often needs to be walked, that will bring you to the ranger outpost. Crossing over a unique suspension bridge will bring you to the opposite side of Johns Brook, known as the Southside Trail. This trail back has a wide variety of terrain from flat kick and glide sections to short, steep drops. The climb out of the Johns Brook Valley is a very steep one that will bring you within a half mile of the trailhead.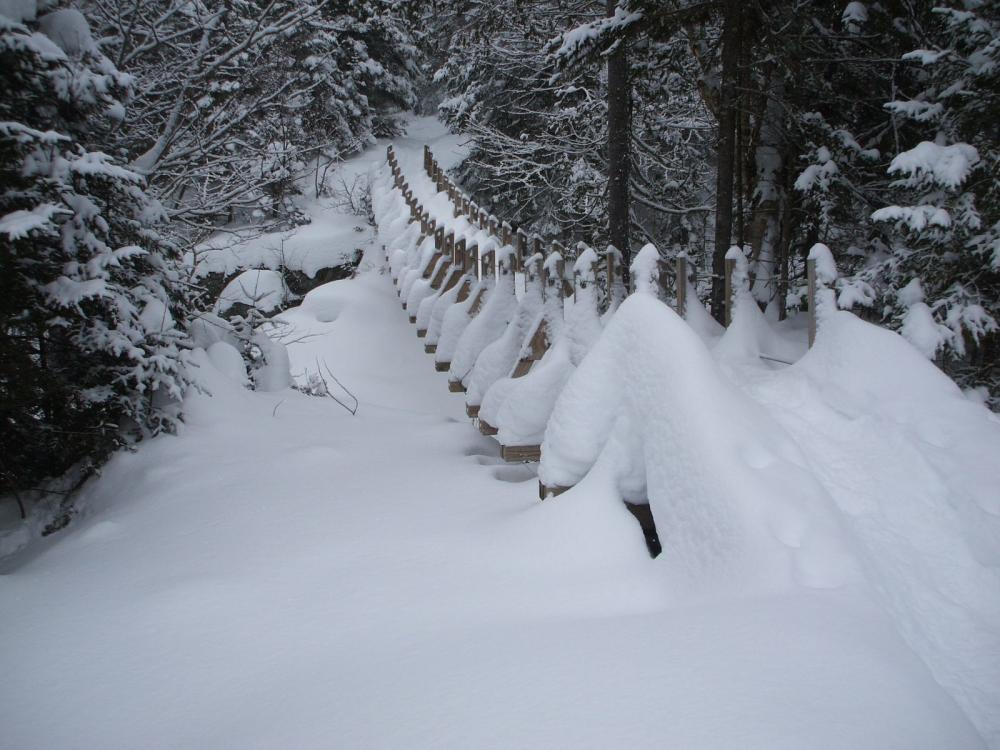 Choose from easy beginner trails to slightly more advanced trails as you begin to improve. Be sure to grab a trail map when you enter the VIC's main building — it will help make using the trail system much easier.
After a day on the trails, warm up with a nice meal, pamper yourself at a spa, or go shopping.