Ready to head off the beaten path?
I recently had the opportunity to sit down with Brian and Karen Delaney, owners of High Peaks Mountain Adventures, to learn about backcountry skiing. Brian, a licensed guide, encourages interested skiers to give backcountry skiing a try, but not without valuable information and equipment that will keep them safe.
Brian says the best thing about backcountry skiing is that no matter where you are in the Adirondacks, trail access is always within a few minutes away. The Delaneys have been skiing the Adirondacks for decades, and they still find new areas to explore.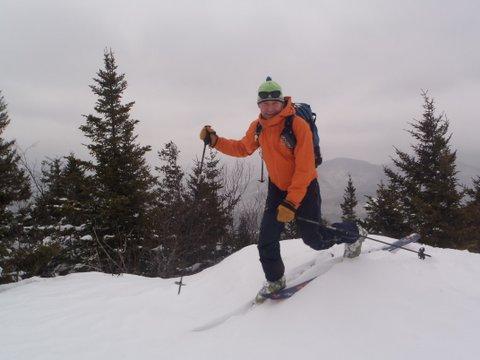 Where do we begin?
Backcountry skiing is not for novice skiers like me. As the name suggests, backcountry skiing is done away from the groomed Nordic ski centers on trails that range from flat to steep, such as the relatively easy Jackrabbit Ski Trail to the more advanced Avalanche Pass trail. There are no modern conveniences like chair lifts or lodges along these routes, so anyone entering the backcountry needs to be prepared. That's why, even though Brian and Karen say there is nothing like skiing the backcountry, they emphasize that safety is always a concern. They were happy to share a few pointers and a list of essential equipment you'll need if you're going to try this exciting sport.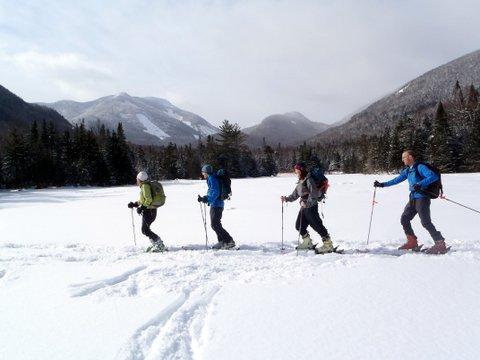 Backcountry skis have metal edges like alpine skis, which make it easier to turn and stop, especially on steep terrain, but you'll also need to go uphill. Climbing skins can be pulled onto the skis to grip the snow, and some skis have a fish scale design built into the bottom, which does the same thing. Unlike alpine skis, most backcountry ski bindings leave the heel free to make the going easier on flat terrain and while ascending hills. Some bindings have a heel clip for more control downhill.
Prep before you go
Before venturing too far into the backcountry, learn some basic techniques. Brian recommends learning the classic diagonal stride technique, and a "pie wedge" technique for stopping and controlling speed on downhills. Guides can help you learn the land, understand where it is safe to ski and where it is not. Backcountry knowledge is key to safety because there is always the risk of an avalanche, gear failure or getting injured.
Lastly, the Delaneys made a list of essential supplies everyone should carry when backcountry skiing:
First aid kit
Head lamp and extra batteries
Emergency blanket
Roll of duct tape (for emergency pole or ski repair)
Extra bindings and poles
Emergency whistle
Fire-starting materials/fuel kit
Knife
Extra hats, gloves and thermal underwear
Packable down jacket (this takes up little room in your backpack, but it's worth it)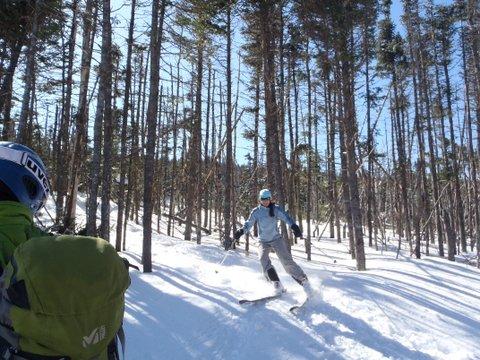 Why all the extra clothing? Brian says skiers will work up a sweat getting to the top of the trail. "Once you get to the top," he said, "change your base layers before going down so you don't get cold. Also, put hand warmers in the extra set of gloves in your pack. This way, when you're ready to change into them, they're already nice and warm for you."
Let us lead the way
A guided trip is perfect for inexperienced backcountry skiers, and for those who are comfortable with their gear there are endless backcountry adventures waiting for you in the Adirondacks. You can sign up for private trips with Brian or one of the other guides at High Peaks Mountain Guides, which has been open since 1983 in Lake Placid. Prior to your first outing, your guide will go over what you need to be prepared. He or she will give you a tutorial on using your equipment, to be sure you know how to ski and how to stop before hitting more challenging trails. While on the trails, your guide will determine your skill level and make suggestions for trails based on that. "Again," Brian says, "safety is very important."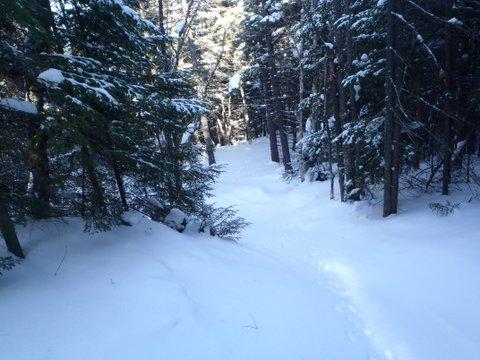 Why experience backcountry skiing? Brian says for him it is one of the most peaceful things he's ever experienced. "Moving over snow in an efficient way is like heaven for me," he says. "Backcountry skiing puts a smile on my face, and I can relive the experience in my mind time and time again. I love it."
Conditions on the trails change all the time, so Brian and Karen caution that you need to be thinking constantly. "The cool thing about the Adirondacks is that it offers every challenge for any level of skier," Brian said. "Challenging conditions might mean on some days you have to fight the trail, but that just makes you better." And getting better means you gain the skills you need to go further and further into the back country.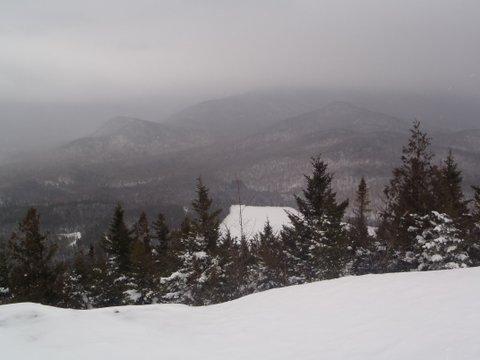 Brian suggests skiing to Marcy Dam from the Adirondak Loj in Lake Placid for beginner backcountry skiers. He said the Whiteface Mountain toll road in Wilmington offers a number of options to suit higher skill levels:
For the experienced skier, go to the top of the road and ski down the south side by Lake Placid. Off the Whiteface side, there are two other options.
For the intermediate skier, at the top of toll road, hang a left down the Ridge Trail, which leads into Porcupine Junction, then make a right to Lookout Mountain.

Of course, a guide will help you choose the right trail for your skill level. Sign up with one today, and start your adventure! As Brian said, "We're saving the world, one skier at a time!"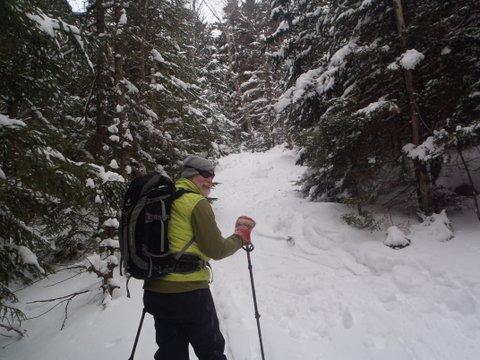 Ready to hit the trails? Plan your trip, book your cozy lodging, and we'll see you out there.
---
This week in related Adirondack skiing news:
Take the time to discover Titus.
Ski or snowshoe right out the door at Dewey.
Cross-country along the Coast.
Snowshoe & ski the slopes in Schroon.
Skiing in the heart of the ADKs.