Note: this blog was written in 2015 and was updated in January of 2023.
As a newcomer to the Adirondacks, I'm getting ready to spend my first snow season in the mountains. I was anxious to learn what I would need to help me become a veteran of winter sports, where to begin? Having limited skiing experience in the past, I know I will need equipment…but what? How much should I spend? Where do I go if I break something? What do I need besides skis or a snowboard? Luckily, we have tons of experts right in the area to help. Whether you're a beginner – like me – or a seasoned pro, these six shops offer the equipment, knowledge and service you'll need to help you get the most out of your winter adventures!
Lake Placid Ski and Board

Lake Placid Ski and Board has an entire array of ski and snowboard equipment to get you ready to take on the mountains. They can equip you from head to toe, including clothing (from base layers to ski pants and jackets) and equipment (from downhill skis and snowboards to poles and bindings). You can rent skis and snowboards for a day, weekend, week, or the entire season! If you'd rather purchase what you need, they offer packages for juniors and adults. This includes being properly fitted for your gear, and getting your skis and snowboards set up so when you leave the store you can go straight to the mountain. Besides sales, the shop offers safety support and repairs, including testing your bindings to be sure they are safe, tuning up skis, and making other repairs as necessary.
High Peaks Cyclery
Don't let the name fool you - if you are looking for cross-country ski gear, which is what I am doing, High Peaks Cyclery (HPC) is one of the places to go! I don't know much, so I found the staff to be extremely knowledgeable and patient. They asked all the right questions to be sure I get the correct equipment for me. Besides cross-country gear, they also carry downhill skis and snowboards. Clothing is also available, including great set-ups for base layers. For beginners like me, or growing children, a cool thing HPC offers is a recyclery upstairs. The upstairs room offers you the option of purchasing less expensive used gear to either see if skiing is for you, or to bridge the growth-spurt years! Looking to learn how to use all the winter gear they offer? Head next door to High Peak Mountain Guides, which was established by the same owners as HPC, and offers a wide range of guided trips for all ability levels!
Eastern Mountain Sports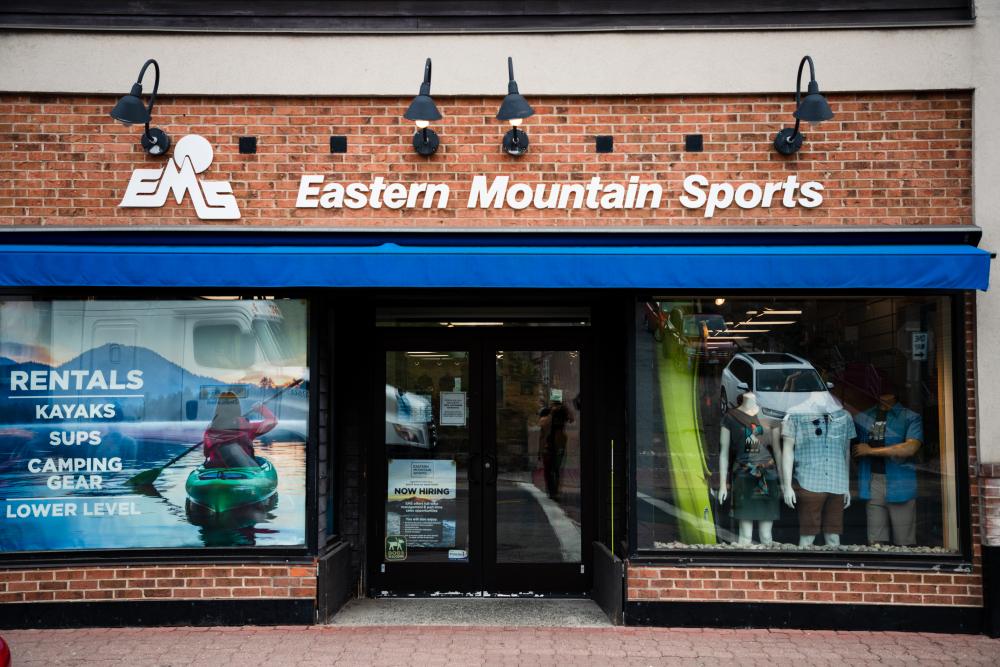 EMS is a one-stop-shop for all your ski necessities. They can fully outfit your entire family in outerwear, base layers, mid-layers and all other apparel - from socks, gloves, mittens, hats, masks, and even boots for when you are down from the mountains! They sell cross-country skis, bindings, helmets, goggles, winter gaiters, poles and backpacks. They also sell all the equipment you might need for snowshoeing, from beginners to elite. When I visited, I found the staff to be extremely knowledgeable and helpful, and I really liked the variety of options in apparel they offered.
Cunningham's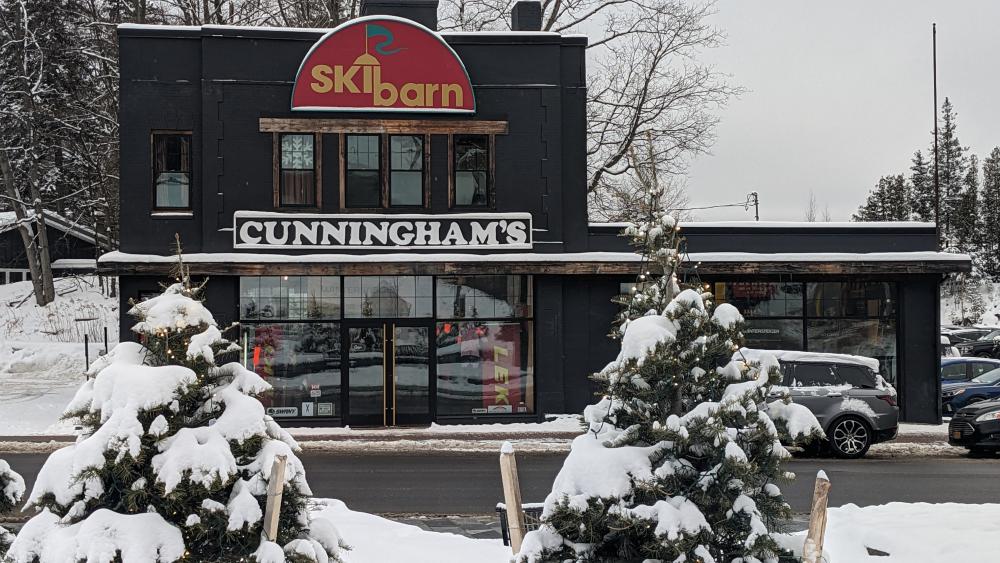 Cunningham's is a family-run business and it is the oldest family-owned ski shop in the United States. Their focus is on the quality of the product they are selling, so they tend to sell products made by companies in the US and those that are environmentally-friendly rather than equipment that is mass-produced or imported. They have a huge selection of rentals, from cross-country skis to downhill skis, snowboards, and boots. They sell jackets, pants, base layers, goggles, helmets, and poles. They also offer demos, so if you're not sure about purchasing some equipment, you can try it out for the day before buying, which seems like a great idea to me!
Placid Planet
Repairs are the specialty of Placid Planet, and for many people, this is where they go for their ski and snowboard edge tuning, waxing, and base repair! Their high-tech equipment and experienced staff can get you back on the mountain in no time - no matter the issue. If you're handy and like to repair your equipment yourself, you can purchase the tools and supplies you need to take care of that, as well. In addition, they sell outerwear and ski accessories: hats, goggles, gloves, helmets and poles.
The Mountaineer
When I visited The Mountaineer, I saw a little bit of a different side of mountain sports. They are known for their back-country ski equipment, and I learned a little about that while I was there. One of the things that impressed me was how knowledgeable each staff member was about every piece of equipment; this is because they all try everything, so they can give you personal references when they are helping you choose the right equipment for you. In addition to equipment sales, they install bindings and have a repair shop. Their book room offers an unparalleled selection of guidebooks and maps to help you safely plan your next winter adventure!
Cascade Welcome Center

The Adirondack Mountain Club's Cascade Welcome Center (formerly Cascade Cross Country Ski Center) sells cross-country skis, touring and back-country ski equipment, along with telemark boots. Besides the equipment, they also sell winter recreation apparel, area maps, and numerous guidebooks. If you're just looking to rent equipment, the Center has cross-country skis and back-country skis, as well as snowshoes and microspikes for use off property! A full service ski shop offers ski tune-ups and mountings for your personal gear too!
I asked each of the sales professionals I spoke with about the most important things to remember when planning a perfect winter adventure, and they all reinforced the following four tips:
If you're buying equipment, spend some time before you buy doing some research. You should know what you are looking for, and at least be able to understand the differences in equipment.
Make sure you have good socks and properly-fitting footwear – this can make or break your day!
It doesn't stop at the skis: eye protection is just as important as the rest of your equipment. Make sure your goggles are safe and provide UV protection.
Just because you have a warm coat doesn't mean you'll stay warm! The key to keeping your body temperature regulated is a good base layer – make sure you invest in that before you hit the slopes!
On your next trip to Lake Placid make sure you stop at one of the delicious places to eat and stay in one of our comfortable lodging options!
---
This week in related ADK pre-ski season news: Wax On!
Trading skates for skis: A first-time skiing adventure at Whiteface.
Newbie skier returns: Friends, falls, face-plants - it's all good fun at Titus.
It's cool: Snowshoe or cross-country ski at Dewey.
Ski and snowshoe adventures with CATS!
More Gore: Downhill just keeps getting better.
Nordic or Alpine: Lapland or Oak - you decide.