I'm a newbie cyclist. No, really, two months ago I got on a cycle for the first time, and it was one of the scariest things ever. I come from a mountain biking background, with big beefy frames and massive amounts of rubber grinding the ground. The change to not just a road cycle, but to a full triathlon time trial bike is a serious shock to my riding style. So the perspective you're about to get is truly what it is like to ride the Lake Placid Ironman loop for the first time.
I'm going to skip the actual transition turns if you were doing the race, and start right where you would hit Rt 86 and start putting on some speed. This is right around the Stewart's Shop closest to the Speed Skating Oval, which makes a great place to meet up if you're on a group ride so you can stock up on whatever you need. High Peaks Cyclery is also in view if you needed any forgotten gear before you take off.
The route begins with a short jaunt to a sharp right hand turn down what the locals call "Mill Hill" and continues south towards Keene on Rt 73. The section through town is basically flat and downhill, and allows you to settle in and find your cadence. It's a deceiving climb once you pass the Olympic Ski Jumps and start on to the more rolling sections as you approach the Cascade Lakes. I found that it looks flat and so I felt pretty slow, like I should turn up the energy output. But after about a 1/2 mile I could tell it was too much and dialed it down a bit. I took a look at the elevation changes when I got back in, and it is quite a bit more of a change than you'd think, so do be careful to not overdo it on this section... especially on race day.
Once you get to the Cascade Lakes you hit some mostly flat and downhill narrow sections. There are spots through here where the shoulder area is a little rough and you may need to move onto the road a little, but it is extremely narrow in spots so proceed with caution. I should also mention the view through here is awesome, there's a part of me that wishes this was the hill climb, as it goes by pretty fast headed down. Just after the end of the lakes is the highest speed section of the loop... check your fear at the door here...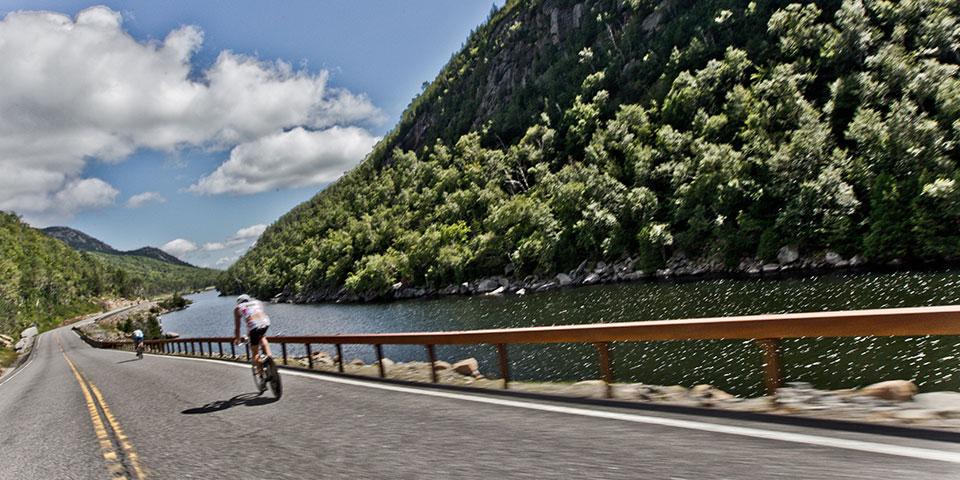 Having been cycling for a few weeks I managed to get into the high 30s mph on a few steep sections of where I've been training, but I was not ready for this. I managed to hit just under 50 mph while my knuckles turned white gripping the aero bars. The section is not just fast, there are some sweeping turns that make long-distance visibility difficult; you'll want to keep your head up while still watching for cracks and potholes, of which the there are many on the shoulder. I was forced to move out into the road for this section and built up a car or two that did not want to risk passing me even though I was hugging the white line. The good news is that if you hang on through this, the next section is nice and easy.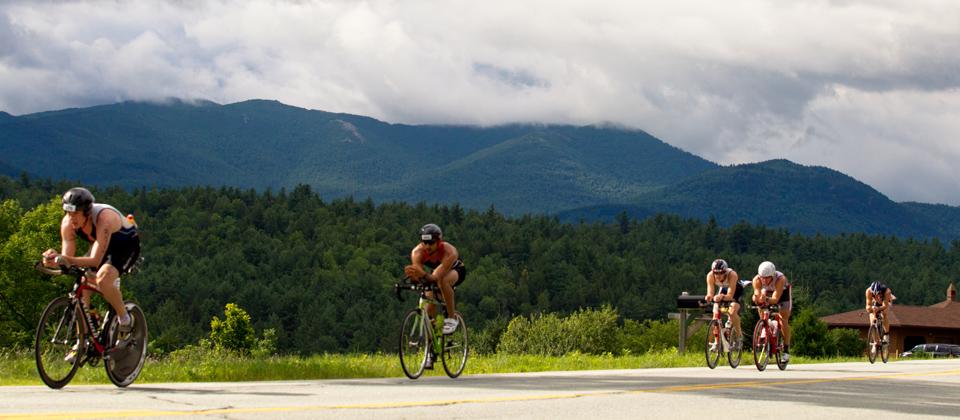 From Keene to AuSable the course is almost entirely flat. This is the time to settle in and grab a bar, banana, or whatever your favorite snack is. I munched on a Cliff bar, relaxed and took in the scenery along the river as this section is quite peaceful. The turn around in AuSable Forks came up fairly quick, and soon I was headed back towards Jay still keeping things nice and steady along the flats. As a note, the turnaround is only about 1/4 mile from a convenience store if you wanted to stop somewhere around here, or you can stop at one of the other stores for a break in either Jay or Wilmington.
Once you get back to Jay the real fun begins, and by fun I mean grinding out the next several miles in a straight gradual uphill. As a newbie I really want to get up and out of the saddle and really go for it, and it was hard for me to just sit back, relax, and focus on keeping a steady cadence. I did pass a couple of riders on this hill, which goes to show not everyone was cruising up it. Once you get up this section you roll down a nice downhill into Wilmington where you could get arguably the best sandwich in the Adirondacks for lunch. Believe me you're going to need it later, remember you're burning something like 2,000 calories today.
I had heard so many stories from others about the climb from Wilmington to Lake Placid. Honestly, I didn't think it was that bad. I managed to stay tucked in the aero position for most of it, and overall it was tiring, but not difficult. That said, the "Notch" (as we locals call it) can turn into a certifiable wind tunnel when conditions are right, and I could see this being much more difficult on the wrong day. The road is extremely narrow in a few spots and this can be quite hazardous, so be really careful when navigating these sections. Overall though, the views along the river are quite amazing, and I found myself spacing out watching fly fishermen as I pedaled along.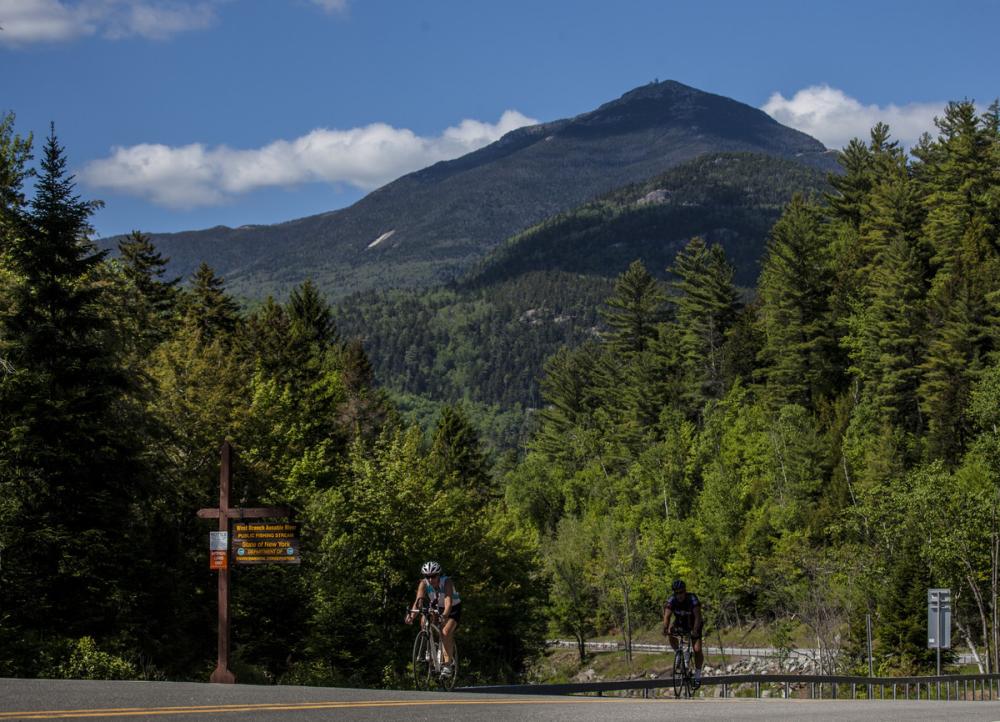 Once you see the golf course, you're pretty much home free. The last 1/2 mile or so is a nice gradual slope back into town where you can get some lunch or head to the beach to cool off after the ride. Now keep in mind, that was one loop. Race day you get to do it all again :-)
---
Riding 'round the Park:
Run a marathon? Nah, we'll ride it!
Cycle Adirondacks: tour extraordinaire.
Bike, hike, history - all in one family-friendly trek.