We have been getting dumped on this winter with light fluffy powder, but that hasn't stopped us from taking on more difficult hikes. Breaking trail can be very tiring, but we got an early start, brought plenty of food and water, and worked our way up to the really challenging adventures. Esther via White Brook was going to be one of those challenges that we had to get ready for. Feeling good, feeling rested, and feeling inspired we scoped out a potential route on our topo map and made the early morning drive over to Wilmington to do it. We had been eyeballing White Brook and Esther for quite some time and we were mainly waiting for a perfect forecast of blue skies accompanied by the fresh white snow.
We started from the Atmospheric Science Research Center (ASRC) trailhead parking, which is the most popular route for Whiteface and Esther. We followed the normal hiking trail to the base of Marble Mountain where White Brook crosses the trail. We then used a secondary path that brought us past a small shed and at that point we crossed the brook and hit the open woods. The forest was fairly open with mostly hardwoods but the snow was super deep. Small saplings and a bit of dead-fall slowed the pace, but mostly it was covered by the base of deep snow. We actually moved along pretty well in the beginning, but we needed to cross the brook again and get onto the steeper slopes. Eventually we came across a well-defined game trail that was plowed down pretty well by the local deer population, even though narrow, we followed it for as long as we could, or at least until it didn't go in the direction we needed it to. I would say it lasted a good 1/2 mile as it meandered around on the steeper mountainside. The steeper slopes caused us to snowshoe on a side hill and that started to get old and tough on my ankles, so we opted to ascend a bit to a higher shelf.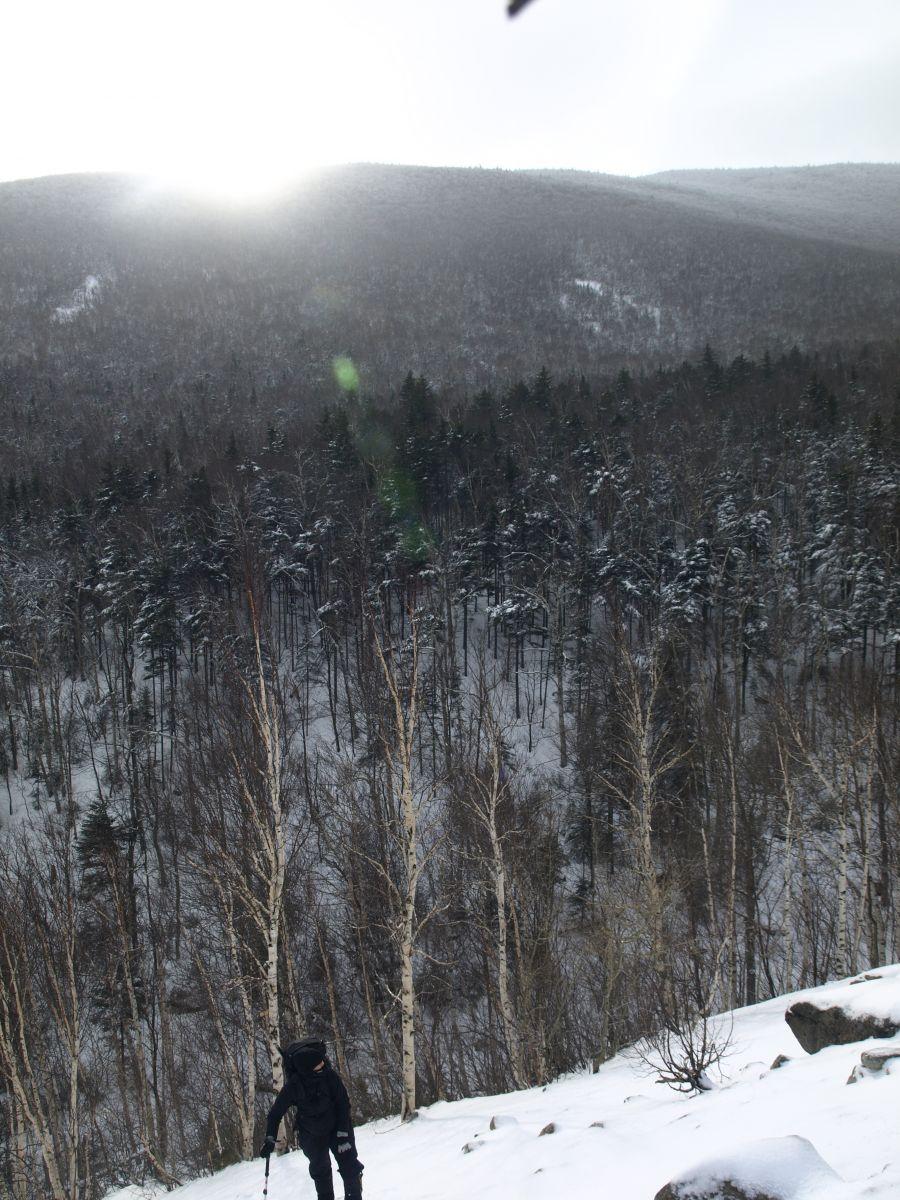 Finding views on Esther
Eventually, we made our way back down to White Brook for a very short period of time. Actually, White Brook made its way back up to us, is a better way to look at it. As we walked along the brook, we looked at the opposite side and opted to hop back across it one more time to advance through more open terrain. While along this side of the brook we could see an attractive open slope high above us to our right, that was sure to gain us some stellar views, we went for it.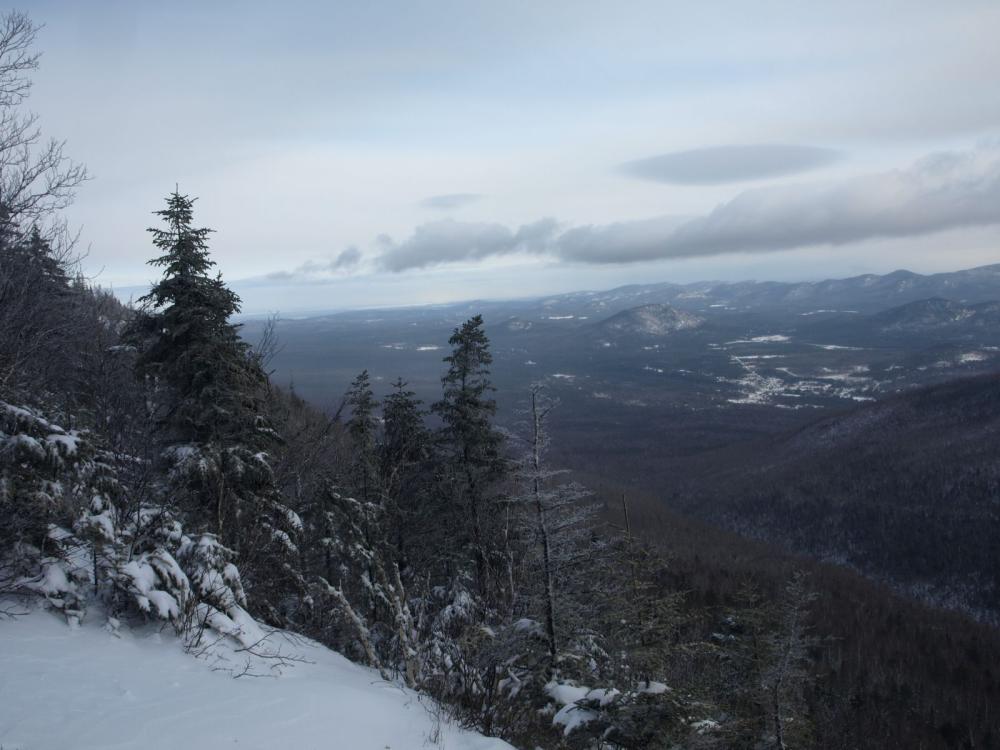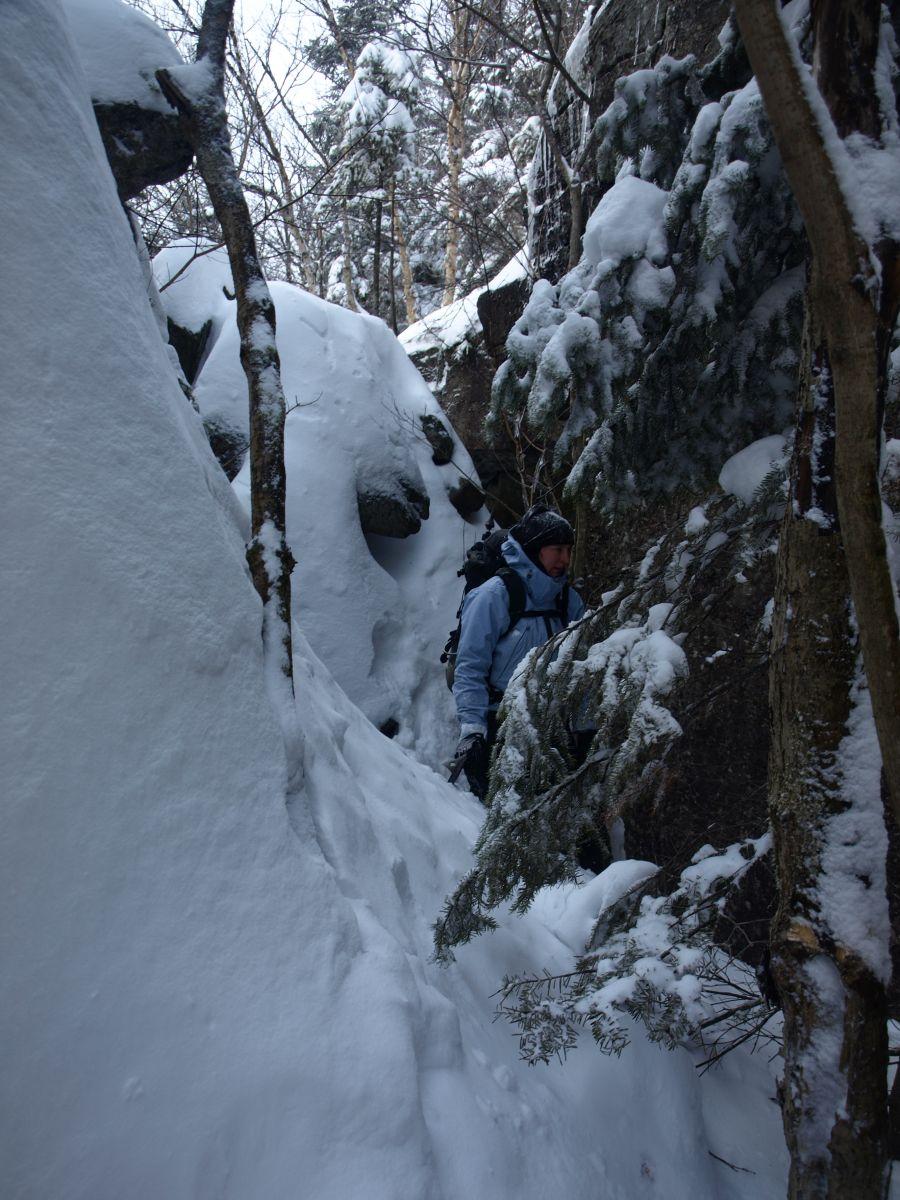 Incredibly this side of the brook was steeper than before, but with a break every few steps we reached the open hillside. The views were fantastic and they kept getting better as we climbed higher along the slope to the ridge. From here we had to push through the trees a bit to the base of what looked to be a very impressive cliff in the distance. It was remarkable, and tough to get around. We attempted the first spot we came to, but the rock was too slab-like and not holing snow and ice for grip, we couldn't get any purchase with our snowshoes. We traversed the side of the cliff to the left and tried a couple more spots to no avail. As Corenne advanced along the cliff I kept trying to climb, then I heard a bit of commotion. Come to find out she had failed multiple times to get up this one section and kept sliding back down; each time sliding further than the last and with more frustration. I scrambled up with a bit of trouble, and then helped Corenne find a better spot slightly further down near the trees. We finally got to the top, exhausted. This cliff top was constructed of a couple of smaller shelves with mind-blowing views.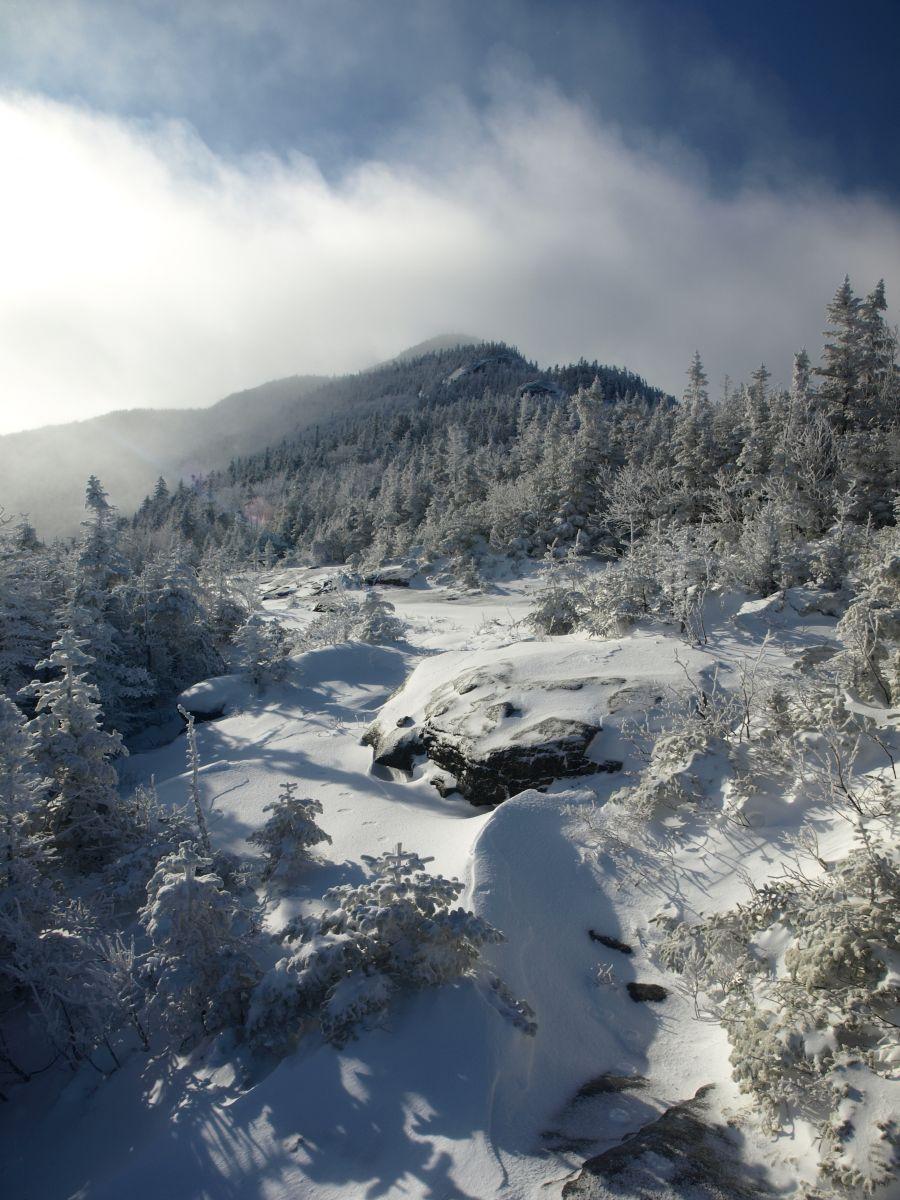 Summit of Esther Mountain
We would summit by dark, but with the slow going in a few locations we had our doubts, we feared it would be a long hike out with head lamps. The forest was starting to get very thick and with the trees covered in fresh snow, it was going to take us a good hour to go the remaining third of a mile, I estimated, it ended up being closer to 90 minutes. The views were much less past this point, but an occasional outcropping gave us a bit of reward. At this point we didn't even stop to take pictures, we just pushed on. Snow falling from the trees, kept us cooled to the core, we couldn't stop for long for fear of getting a chill. We summited Esther with the unfortunate welcome of no views. The clouds were too low to allow for any, but we didn't hang around for long anyhow. The descent was a quick one, and we did make it back to the main trail for Whiteface before we had to break out the head lamps for the final section back to the car. We found it fortunate that someone had summited earlier that day, probably starting after us and finished already. Fortunately too, for us, it was a broken trail, which was easier to snowshoe and follow back to the trailhead; even breaking trail downhill can be tiring.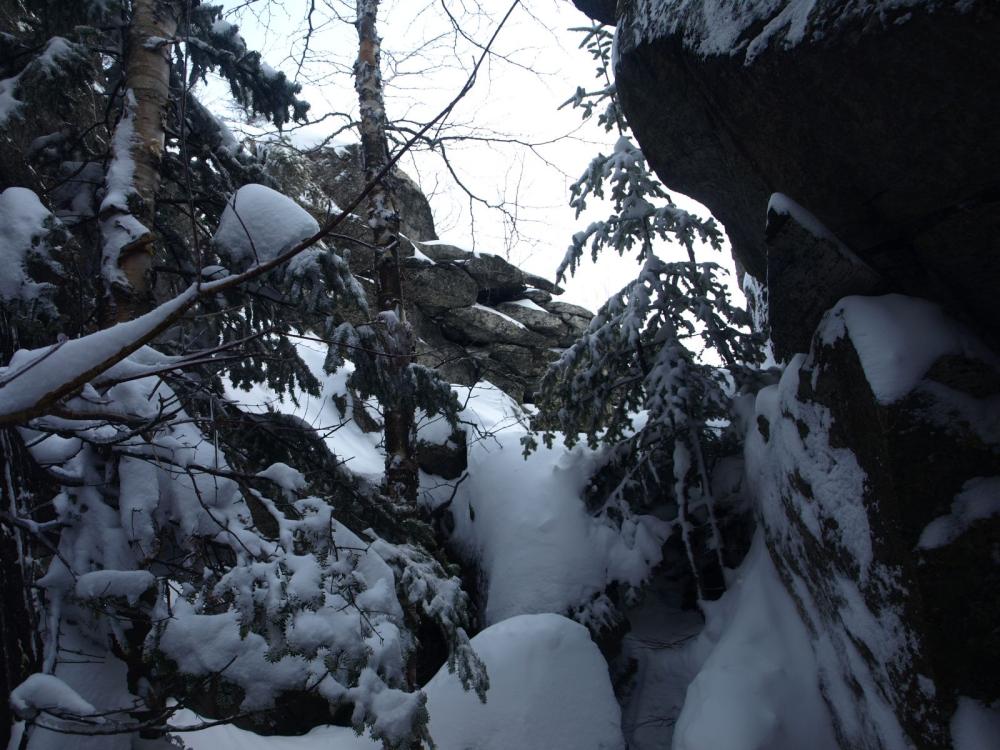 It was a great adventure, not one that I think I would attempt with much more snow or anytime in the near future. On a good note though, it was a very gratifying way to summit Esther. Interested in summiting Esther via White Brook or by trail, or maybe visiting Whiteface? Go to a local guide service to check out details. Maybe you want to see other big mountains? Pick up a guide book at a local bookshop and jump right in.