For me, this week began across the border.
I don't like to stray too far from our Adirondack paradise, but Quebec represents an important travel market for our region. As such, each year I conduct a presentation to a group of media - some old friends, some new faces - at an intimate gathering in Montreal.
This year, as always, my presentation featured all of our Adirondack regions, including Schroon Lake, Lake Champlain, Whiteface and our flagship destination, Lake Placid, of course. My goal was to provide an overview of all of our regions and their attributes, and to highlight the winter experience and winter sports heritage of Lake Placid.
In a shocking twist this year, I provoked a jaw-dropping moment by illustrating that all of these wonderful experiences are only TWO HOURS AWAY.
But I didn't stop there: I further surprised them by telling them that Lake Placid has been a winter destination since long before it hosted the 1932 and 1980 Olympic Winter Games. We've been playing in the snow here for over 100 years!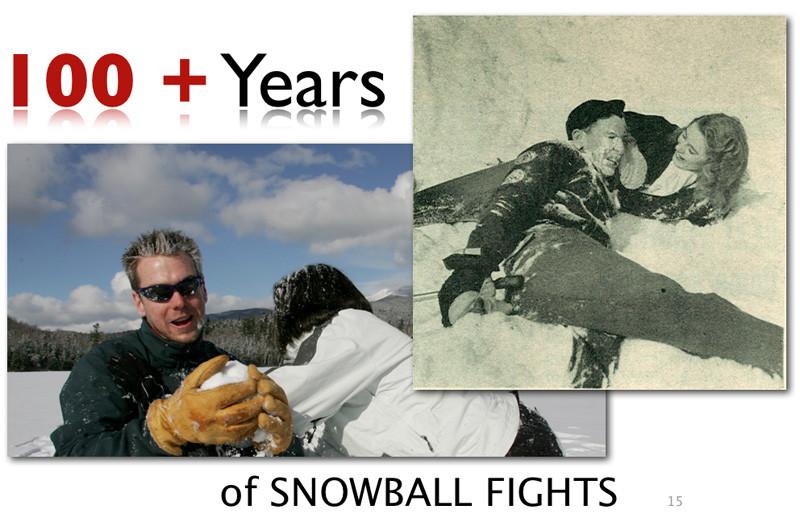 Though the Adirondack village had become a popular summer destination for Northeast city dwellers in the late 1800's, Lake Placid's winter sports history began with Melvil Dewey, of Dewey Decimal System fame and founder of the Lake Placid Club. Dewey refused to listen to skeptics, extending the Lake Placid Club's season through the winter of 1904-'05. By 1914, Dewey had garnered the support of the community as he succeeded in creating America's First Winter Resort.
Sidenote: Lake Placid, New York and Lake Placid, Florida , which have Melvil Dewey in common, recently signed a Sister City Proclamation. READ ALL ABOUT THAT.
For the present, I was pleased to be able to tell them that our alpine ski season had begun, and that Whiteface Mountain had indeed opened as planned on November 25th. We've had a mild fall season, but are ramping up for a great winter, complete with skating, toboggan rides, pond hockey, cross country, and alpine skiing, and of course, snowball fights.
I invited the media to visit and experience America's First Winter Resort for themselves. Of course, you're invited to invent your own perfect winter days here, too!
-Kim Rielly is the director of communications for the Lake Placid CVB/Regional Office of Sustainable Tourism