A delightful day in Keene and Keene Valley
Nestled amidst the picturesque beauty of the Adirondack Mountains, the towns of Keene and Keene Valley in upstate New York offer a charming escape for travelers seeking a blend of natural wonders, outdoor adventure, and unique shopping experiences. Happily, my home is about 10 miles from Keene Valley; so armed with some local expertise and experience, I am thrilled to share what I know about the unique, interesting and charming local businesses in the area.
Located approximately 20 minutes from Lake Placid, Keene and Keene Valley are well known by hikers, surrounded by the Dix and Giant Mountain wilderness areas, and leading directly to the High Peaks, the highest mountains in the state. Known for Adirondack wilderness adventure opportunities including hiking, rope- and ice-climbing, backcountry adventures, and challenging hikes that skirt the edge of waterfalls, the villages also offer an abundance of small town charm for those who prefer a more laid-back approach to their adventures.
Whether just passing through or deciding to make a day trip while in the region, Keene and Keene Valley offer plenty of places to spend the day exploring, shopping, and sampling locally made products.
Full disclosure: I am enamored with local, quaint, quirky and unique shops. I love specialty items and I love learning about the stories of how these shops came into existence. Whenever I travel, I am immediately drawn to the unique storefronts along village main streets, in city market areas and along waterfront boardwalks. I really enjoy local products - the feel, the packaging, knowing that a regional entrepreneur made that item in small batches with his or her own hands - or maybe their own machine. My long-time acquaintance Kristy owns a shop like that.
Shop 'til you drop - local foods and unique items in Keene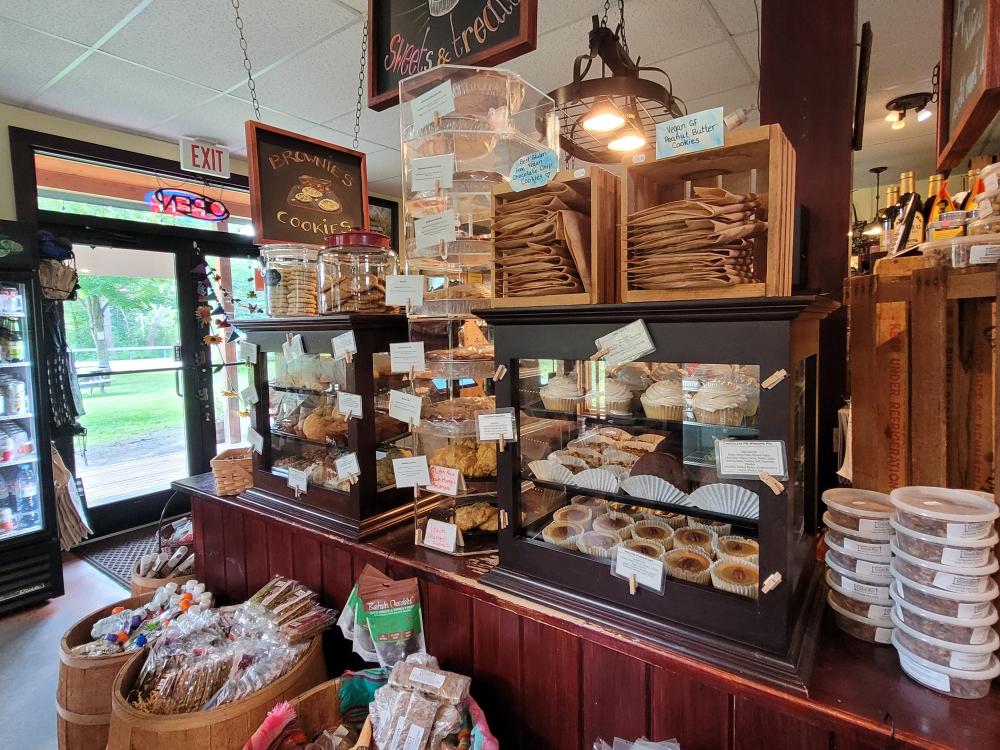 Cedar Run Bakery & Market
, located in Keene, is one of the most interesting shops that I've ever encountered. Kristy Deyo Farrell began her journey as a child who simply loved to bake. She would often make extravagant and complicated desserts for her family – desserts that many adults would never consider tackling – and her creations were met with cleaned plates and thoroughly licked spoons. Her love of baking and cooking continued when she worked alongside her brother at Baxter Mountain Tavern. Eventually, she struck out on her own, opening Cedar Run Bakery and Market.
Kristy's unique product mix includes a bit of everything, including pantry staples, snacks, hard-to-find foods and household items. Homemade "take and bake" meals include both breakfast and dinner options, appetizers, pizzas and various sauces. The small spirit shop, located within the store, offers locally produced beer and spirits. Fresh foods such as breakfast platters and breakfast casseroles, along with baked goods, including many unique pie recipes, round out the product offering. (The bourbon cherry pie looks particularly delicious!) Cedar Run also offers a number of non-alcoholic spirits for those who enjoy a mixed drink, without the effects of alcohol.
East Branch Organics is another of the area's unique businesses. Tucked away just off Route 73, the business offers a diverse selection of organically grown annuals, perennials, shrubs, trees and hanging baskets - the setting is beautiful and punctuated with color. Complementing the garden center is a well-stocked wine and spirits shop, featuring locally distilled spirits and a nice selection of wines. Its craft beer center, sitting adjacent to the wine and spirits shop, showcases an amazing variety of hard to find craft beers.
One of East Branch Organics' most popular offerings is orange wine, a favorite among those who appreciate the flavor of naturally produced wine. Orange wine is a type of white wine produced by leaving the grape skins and seeds in contact with the juice, creating a deep orange-hued wine. It is a more natural product, with few additives, if any. The orange wine trend is embraced and appreciated by the patrons of East Branch Organics, which has become known for its selection.
Black Rooster Maple, located mere feet from East Branch Organics, is another small business and local producer of maple syrup, candies and other products. The family-owned and operated maple sugaring farm boasts 3,500 sugar maple trees from which sap is collected and boiled on-site. This charming roadside stand allows visitors to purchase fresh maple syrup produced in the sugar house directly behind the building. Black Rooster Maple products are also available at various locations throughout Keene and Keene Valley -and it is also used in many recipes developed by the local restaurants and bakeries.
Adirondack decor and design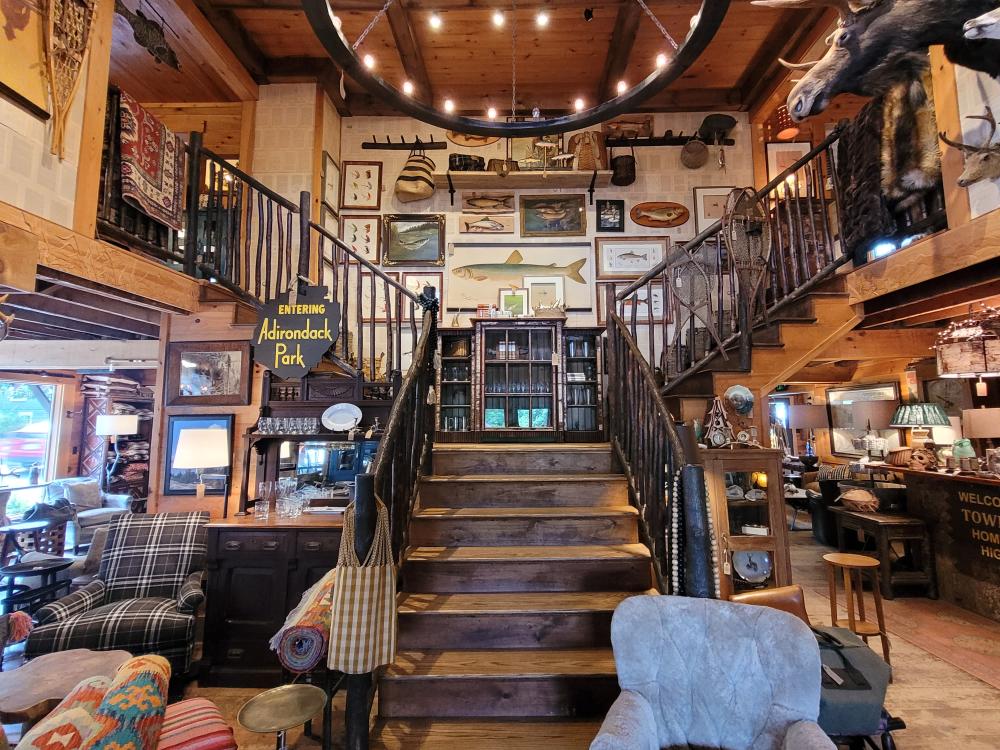 Those looking for Adirondack design inspiration, or simply those who would like to imagine their home decorated in the Adirondack tradition should be sure to visit Dartbrook Rustic Goods, located in Keene. Dartbrook is a paradise for those who want to be immersed in Adirondack style – so that they can purchase the perfect piece for their home, or simply find a small accent piece to remind them of Adirondack adventures.
Visitors to Dartbrook Rustic Goods are very likely to be overwhelmed, in the very best way possible, by the selection of items. The Dartbrook campus comprises two adjacent locations, each showcasing handcrafted wood furniture along with home furnishings, chairs, antiques, lighting, rugs, pillows, artwork, and taxidermy – giving visitors a sense of true Adirondack style. This charming shop offers thousands of unique items, along with offering custom design services. Many items can be designed and produced on-site. Dartbrook also has on-site work shops, located directly behind the storefronts, where a team of highly-skilled artisans specialize in woodworking, finishing, and upholstery.
The local farmers market - worth a visit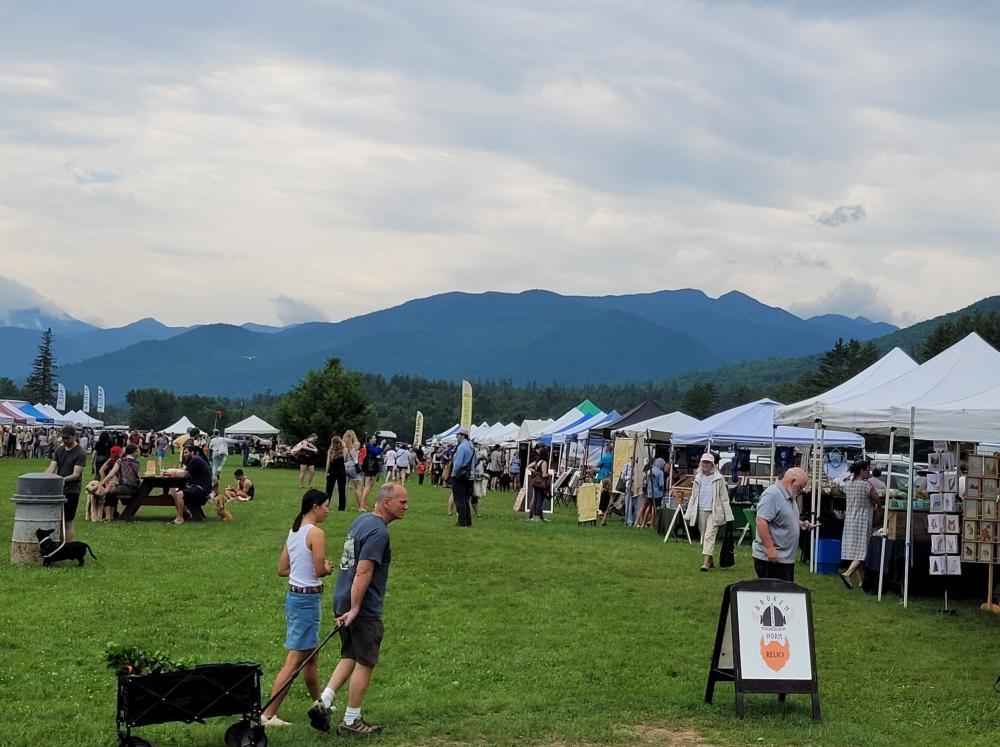 Local residents, visitors to the area, and those simply passing through who are hoping to find even more unique local and regional products can spend a lazy Sunday morning at the Keene Farmers Market, taking place at Marcy Field, midway between Keene and Keene Valley. During the summer and fall, hundreds of people (often along with their canine companions) spend Sunday mornings at the farmers market, admiring the artwork, purchasing veggies for dinner or a salad, and grabbing a loaf of AH-MAZING(!) sourdough. My family has been known to sometimes grab a fresh-squeezed lemonade and bag of kettle corn for breakfast. Hey, don't knock it!!
This farmers market welcomes more than 50 vendors who share their talents, their treats and their bounty each weekend. Meat and eggs are available from local farms, along with colorful fruits and vegetables. Locally produced maple syrup, honey, bread and locally produced cheese is available. Many of the area's artisans, local brewers, Adirondack furniture makers, painters, photographers and jewelry makers share their craft. Local artist Matt Horner is on-site each Sunday, sharing his rock carving talent with those looking for a unique Adirondack treasure for their home. Shoppers can also visit Gristmill Distillers, also based in Keene, to learn more about and purchase their spirits.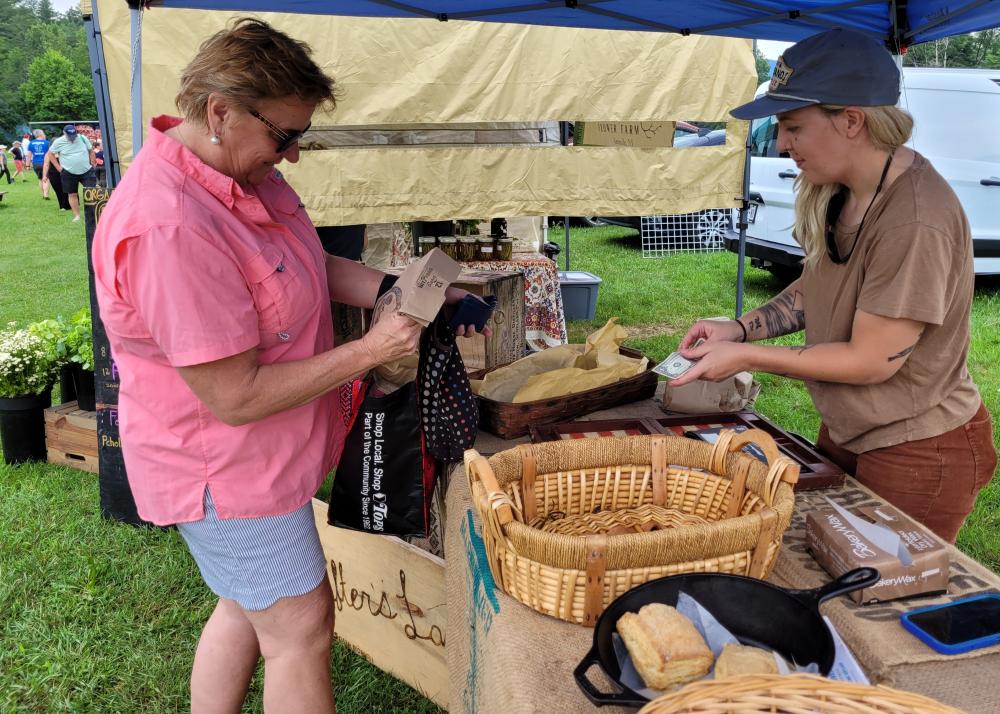 A unique fact about this farmers market is that it takes place adjacent to an active runway. Yes, a runway! Marcy Field, while it appears to simply be a big expanse of field, is also part runway for small, private airplanes. So, yes, while you are shopping, a small plane may take off, or land, a few feet from the vendors' tents. If you look closely in the photo above, you'll see the headlight of a small plane, just about to land.
Pro tip: Those who visit the Keene Farmers Market should be sure to stop and look at the scenic surroundings and really take it in. The setting is breathtaking!
Keene Valley - local shopping and delicious treats
Keene Valley is also home to many unique and specialty retailers including The Mountaineer, The Birch Store, Keene Valley Grocery and Rivermede Market. Each provides visitors with interesting local products and other specialty items. The Mountaineer is an iconic outdoor specialty store that has become known for its selection of mountaineering and outdoor equipment for more than 45 years. Its adventure equipment focus shouldn't stop visitors from checking out this local gem. Clothing, household items, local maps and an amazing selection of books that share Adirondack region information are also available. The Birch Store is a lovely shop that offers clothing, home goods and Adirondack-themed products; it is certainly worth browsing during a stroll through Keene Valley.
Rivermede Farm Market
is the storefront for Rivermede Farm, providing locally sourced products, produce and plants from the farm's greenhouses and gardens nearby. Visitors can purchase sandwiches to help recharge after a hike, local maple syrup or chocolates, along with unique Adirondack-themed and locally produced gift items. Many people, including the two young men I met recently, along with their very handsome golden retriever (who was such a good boy), enjoy a sandwich at the picnic table on the front porch of Rivermede after hiking one of the local mountains.
Valley Grocery is another local shop that everyone who passes through should visit. The business has been a part of the Keene Valley community for as long as I can remember; in fact a former owner of one of the region's most well-known restaurants used to work there as a teenager. While it experienced a temporary setback after a fire some time ago, it is now stronger than ever. The store is known for its selection of meats and freshly made sausage; people travel from miles around to purchase this delicious, savory treat. The store also offers a "catch of the week" – fresh seafood and fish, right here in the mountains!
Noon Mark Diner, is a Keene Valley icon, likely achieving legendary status, I suspect. The Noon Mark has been a staple of the area for many years, and is perhaps best known for its (also legendary) "mile high" apple pie, sure to satisfy any sweet tooth. Many people make a stop at the Noon Mark, simply to pick up a pie as they enter or leave the region (my brother is one of those people). Meals are freshly made, the service is delightful and the parking lot is always full – a sure sign of success!
Old Mountain Coffee is an exciting addition to the Keene Valley neighborhood. Directly across Route 73 from the legendary Noon Mark Diner, Old Mountain Coffee is a specialty coffee shop offering fresh-roasted coffee, latte, muffins, pastries, breakfast treats and other baked goods. Some items are made in-house and others made by local producers throughout Keene and Keene Valley. During the afternoon, Old Mountain Coffee switches gears and provides visitors with grab-n-go sandwiches, soups and hosts the occasional pizza night.
Old Mountain Coffee, along with many other local shops offer products made by Courtney Marvin, the the proud and very talented owner of The Drifters Loaf, a small organic bakery in Keene Valley. Sourdough is Courtney's passion but she also produces a variety of breads and baked goods including cookies, baguettes and flatbreads. On Sundays, Courtney can be found sharing her breads at the farmers market. It's worth taking the time to visit with her to learn more about her products and her process.
Restaurants in Keene and Keene Valley
While many of the local shops provide sandwiches and snack specials, there are a few restaurants at which to enjoy a sit-down meal and beverage after your local shopping adventure. The AuSable Inn, located in Keene Valley, along with Forty-Six and Baxter Mountain Tavern in Keene offer delicious meals in beautiful settings, along a charming Main Street, adjacent to a softly flowing river, and with the region's mountains providing the backdrop. After a busy tour of these small villages, a meal at one of the local restaurants can provide the perfect ending to a Keene and Keene Valley adventure.
The natural beauty of Keene and Keene Valley, nestled among the High Peaks, combined with the area's unique, interesting and charming local businesses is sure to delight anyone who makes the stop when passing though or plans a day trip to the region. Put Keene and Keene Valley on your itinerary - I promise you won't be sorry. And I bet you'll come back for more pie.