Your Lake Placid fix
Ready for your own private getaway? Pack up the car and visit Lake Placid! Create your own perfect day and memories that'll last a lifetime. First, perk up your senses with Origin Coffee. Origin is like no other around it, bringing uniquely crafted coffee to the Lake Placid region! You'll want to hang out at their coffee bar for hours, there's plenty of seating to tuck away and hide in your cup, finally crack open that book, or answer some emails. The faint glow of their neon sign casts over baristas as they handle each cup with care. With two Adirondack locations, Origin Coffee is quickly becoming a local favorite. Come for the coffee, and stay for the food! A fan favorite lately has been Banh Mi, a Vietnamese-style pulled pork sandwich, paired with espresso serves as a perfect midday pick-me-up. If your perfect day starts on a sweeter note, fresh baked pastries are also available to pair with a latte or cappuccino!

Upgrades people, upgrades
Leaving Origin Coffee, take a stroll through Lake Placid's upgraded Main Street. Through the past year, Lake Placid has been hard at work perfecting its business district to elevate the Main Street experience of residents and travelers alike! Enjoy greater accessibility, safer walking and driving conditions, lovely flower beds, and enhanced aesthetics on Main Street as you go from shop to shop and explore the cuisine and locally owned businesses.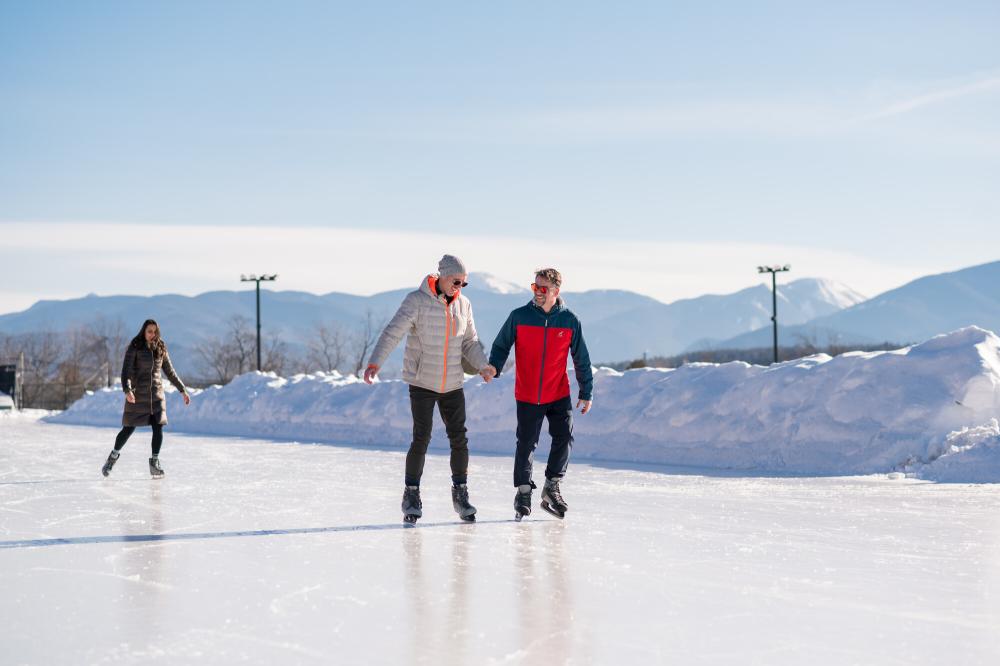 Get your balance
After your morning stroll, lace your skates and hit the ice. The Olympic Oval, once home to champions and speed skating gods, is now open to anyone wanting to skate their way to gold. If you don't quite have the tact to keep upright on skates, no worries! Heaven Hill just down the road offers unbeatable snowshoeing trails. And yes, it's called Heaven Hill for a reason. The incredible views you'll find will have you feeling like you're in a snow globe! Rent a pair of snowshoes, and take off on the miles of trails.

Cozy up
Make your final stop at Peak 47. Equipped with a comfortable bar and lounge, you'll feel like you're in your very own hunting lodge! Sit by their perpetually burning stone fireplace, order a round of their signature drinks, or try a glass of wine from their extensive wine list (a winner of Wine Spectator's Award of Excellence).