Fall evokes a lot of feelings. Cool temperatures have you reaching for cozy flannels and fallen leaves crunching underfoot reawaken your inner child. Just as nature takes on a fresh color palate this time of year, the taste of the season transforms as well, bringing with it warm beverages, sweet squashes, and earthy spice. It's a special time of year, and all the excitement builds to a heightened sense of adventure. Sate your desire for epic fall activities when you visit Lake Placid.
Located in the heart of the Adirondacks, surrounded by nature and wild places, Lake Placid knows how to do fall right. Not only does the region boast some of the most spectacular fall foliage on the East Coast, it also offers plentiful opportunity to immerse yourself in the season and satisfy your need for adventure. We're not talking about a fun day. We're talking about the perfect fall day.
Grab breakfast to go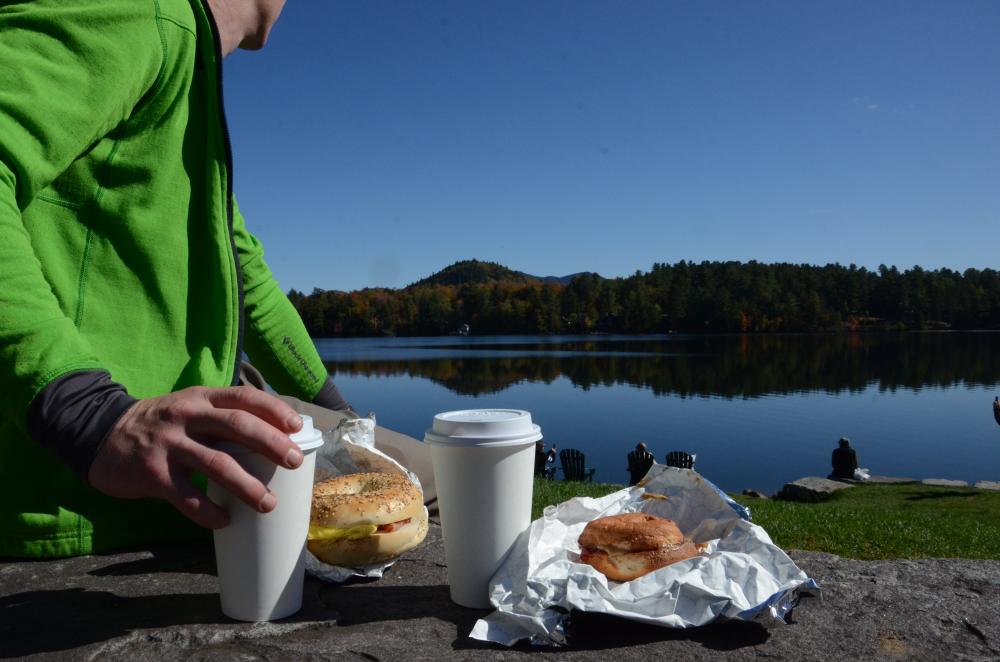 Fuel up for you perfect day with a delicious but efficient grab-and-go breakfast. Sure, we all love a bourgie sit-down brunch, but there's too much to do to get distracted by bottomless mimosas. Make the most of your day by ordering a take-out breakfast and eating it right downtown in Mid's Park. Overlooking Mirror Lake with views of Cobble and Whiteface mountains in the distance, it's the perfect place to cozy up in an Adirondack chair and watch misty lakeside mornings give way to brilliant foliage days. Get a taste for the local flavor by grabbing a bagel breakfast sandwich at the Breakfast Club's café counter. Their friendly baristas will even custom-craft you a pumpkin spice latte using real spices!
Take a stroll with your Pumpkin Spice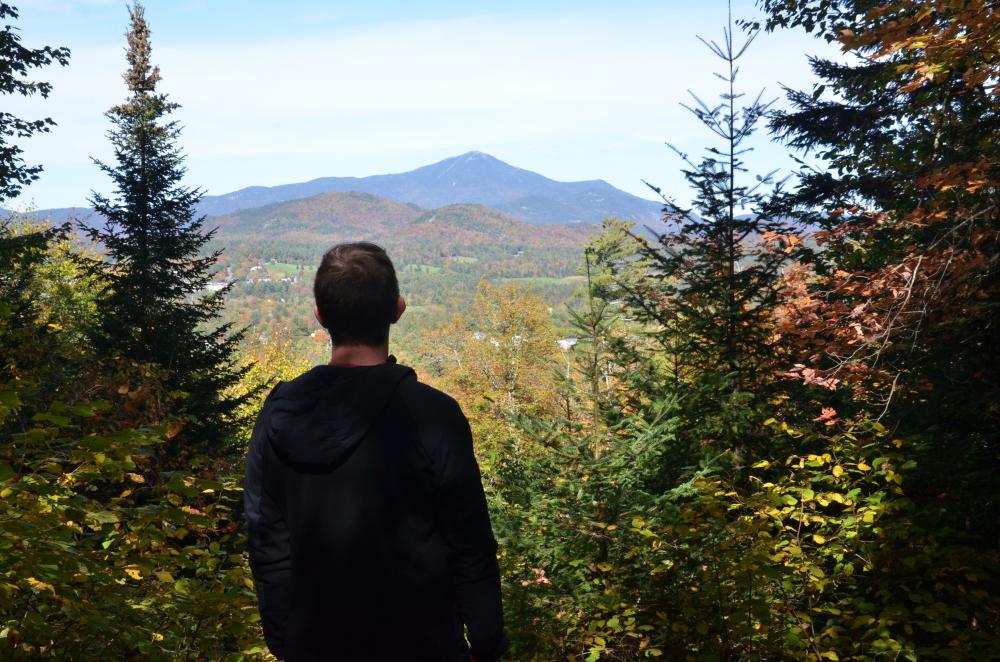 With a bagel in your belly and a preview of the incredible views, it's time to take what's left of your latte for a walk. Just a few miles outside of downtown Lake Placid lies Henry's Woods, a small system of public trails that offers big rewards for very little work. The well-maintained trails are mostly flat with some sections of gradual elevation – exactly what you need to get stretched out, warmed up, and excited for your day. In addition to the smattering of color found within the dense forest, there are also two viewing points from which you can see Whiteface Mountain (again) and the rugged mountains of the Sentinel Range.
Rent a mountain bike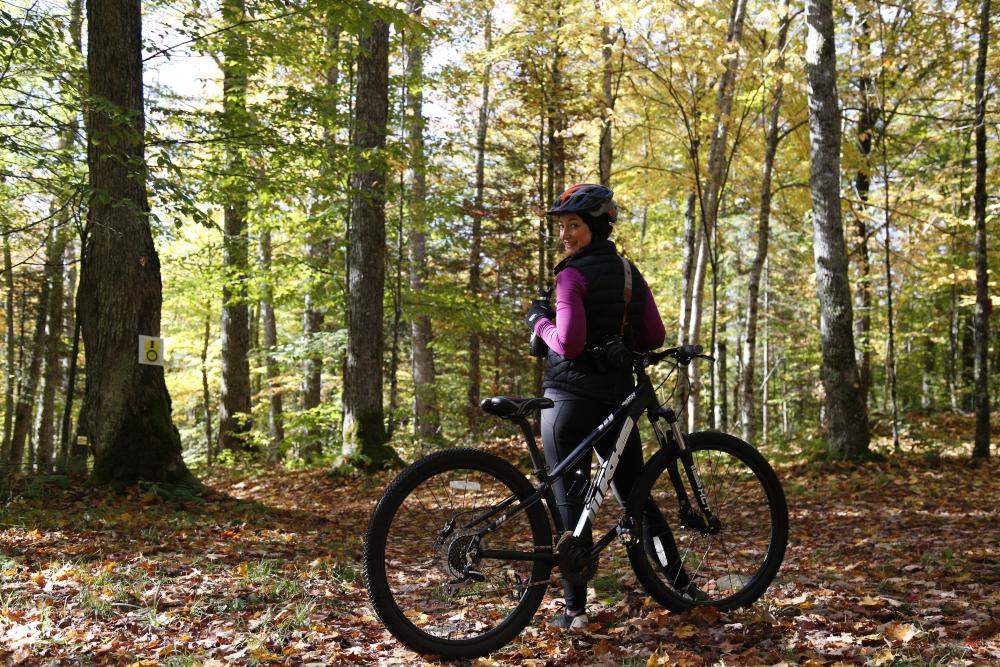 Now that you've loosened up a bit it's time to kick your perfect fall day into high gear – literally. Since Lake Placid has mountain bike rentals, mixing fun with fall foliage is easy. Rent a mountain bike from High Peaks Cyclery and hit the local trails. They'll suit you up with everything you need, and they can point you toward tons of beginner trails to explore. While the surrounding mountains lend themselves to epic riding, there are also plenty of wide, well-groomed trails with only moderate elevation change to be found. The Craig Wood Trails in Lake Placid or the Hardy Road Trails in nearby Wilmington are a great place to start. As you gain speed peddling past the red, orange, and yellow leaves the colors will become a beautiful blur blazing like fire in your peripheral vision. Enjoy the swish and crunch of fallen leaves on the trail as your tires roll through. It's far from your basic fall experience, but it might just become one of your new favorites!
Go on a moose hunt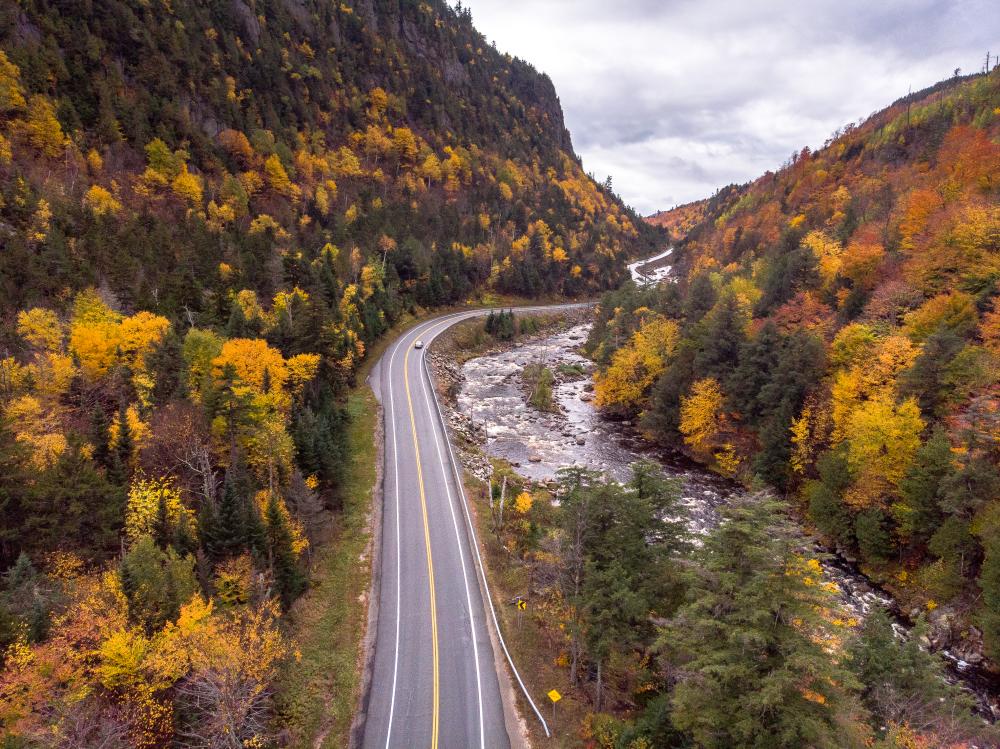 After you've gotten your sweat on, take a break by going on a moose hunt. Ok, this is more like a scenic drive, but with the moose rut beginning, your chances of spotting one of these majestic giants is higher! Grab a snack or a quick lunch before you hop behind the wheel to enjoy fall's spectacular show on winding backroads. Better known as "The Notch," the section of Route 86 that stretches from Lake Placid to Wilmington offers a series of stunning vistas. Running alongside the West Branch of the Ausable River, past High Falls Gorge and Whiteface Mountain, this is a drive you should definitely take your camera on. Several small parking pull-offs along the way are perfect for snapping a few foliage pics and hey, maybe a moose will wander into the frame.
Enjoy a summit sunset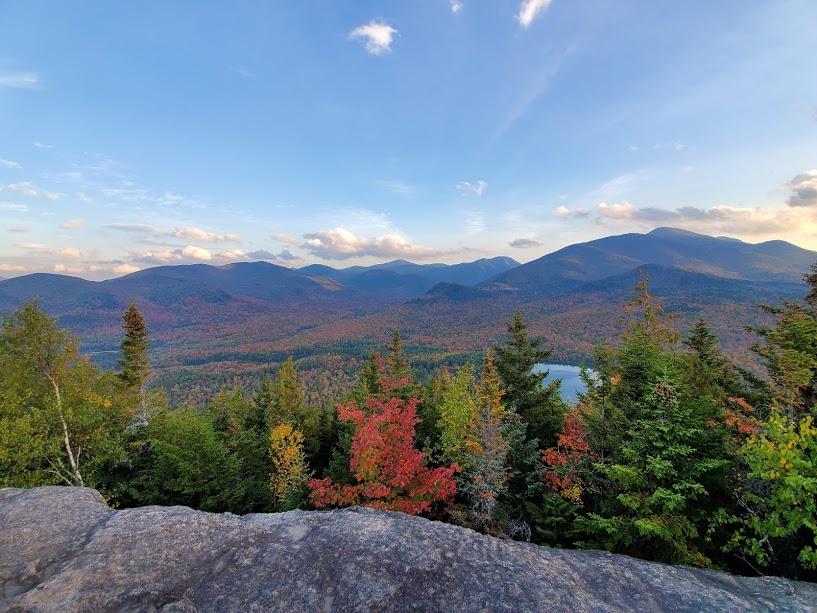 Your legs might still be burning from biking, but you can rest tomorrow. After all, there's no better place for peeping foliage than the summit of an Adirondack mountain at sunset. Before you head to the trailhead, be sure you have the essentials: water, snacks, a headlamp or flashlight, warm layers, sturdy shoes, and a trusty first aid kit. Mt. Jo is a beginner-friendly 2.6-mile round trip hike that offers stunning views of the High Peaks and is among the best fall hikes New York has to offer. The trailhead begins on the Adirondack Mountain Club property at the end of Adirondack Loj Road and offers two trail options – the Long Trail and the Short Trail. Predictably, the Long Trail is longer but follows a more moderate grade. The Short Trail is shorter and steeper. Pick your path and enjoy the journey up to the small summit. Pull up a seat and watch as the setting sun slowly transforms the landscape, illuminating the fiery colors of fall with its golden glow. When the sun finally slips behind the mountains casting shadows on the valleys below, flip on your headlamp and enjoy a peaceful dusky hike back to your car.
Recap over dinner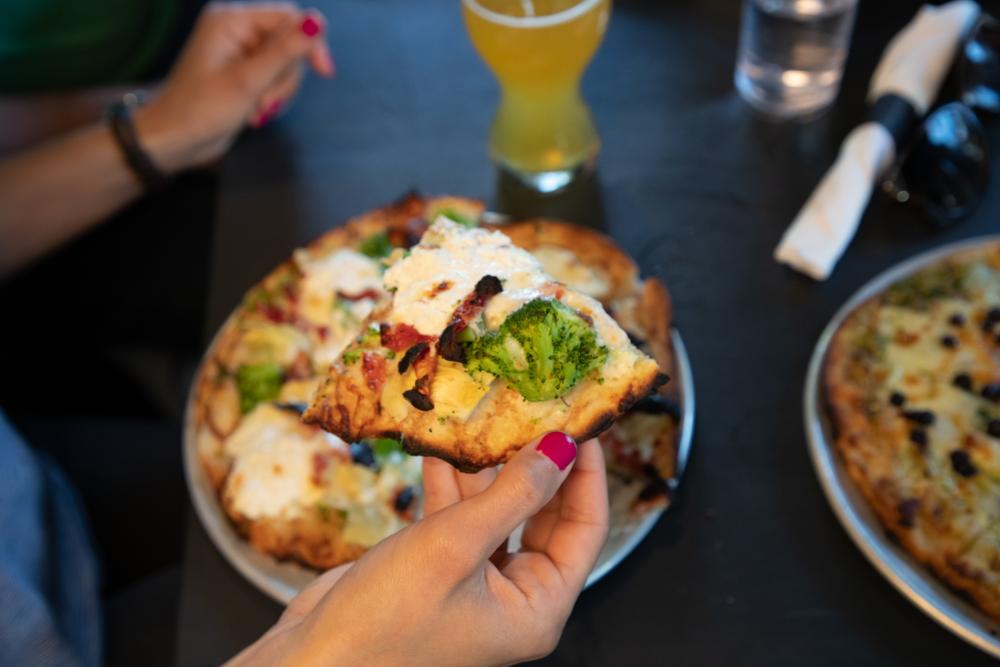 After an eventful but perfect fall day you're probably hungry. Freshen up and hit Main Street, Lake Placid for a very satisfying, very delicious meal. From house smoked barbecue to authentic Italian, casual Americana, and creatively crafted local cuisine, the chefs of Lake Placid put their all into making your dining experience as exceptional as the rest of your Adirondack experience. No matter what fabulous food you find, take some time over dinner to recap your day. Scroll through those Insta-worthy photos, share your favorite moments, and toast to a fall day well done.
Every fall day in Lake Placid is perfect in its own way. Discover what makes it your perfect day on your next Adirondack adventure.
---