Winter training
Living and training as a triathlete in the Adirondacks isn't like training anywhere else. I train year-round and the winter months are no game-stopper. Some might begin to decrease activity, hang up their bikes, and settle into hibernation for off season, but not me! As soon as the weather begins to change, I shift gears and adapt to the elements.
Although, as race season simmered to an end this year and the sun started to lose its vibrant summer energy, I did too. Most endurance athletes experience a low point following races. Just like there is no way to avoid the approaching winter months, the lull the body experiences after race season is inevitable too. The only way to get through the lull unscathed is to find that silver lining. I embrace this time for what it is, and allow myself to discover all the ways I can enjoy being somber in the Adirondacks. Luckily, I am blessed to live in an area that makes this transition from high intensity race season to the off season blues a little smoother.
This year's training all started with a decent block of recovery and mellow walks in the woods with my big goofy dog, who had waited oh-so-patiently all summer long for this time of year to arrive. The time when mom can finally slow down enough to be on the trails at her pace again. This period is probably one of the most vital times for an athlete. It is time to reflect and allow our bodies to deeply recover, not only physically but mentally for a new season to come. I personally take this time to honor all the ways I may be feeling, to disconnect from the outside world a bit, and to reconnect with myself, nature, and my surroundings. I use this time to be alone among the mountains and winding trails; to allow myself to get lost in the woods with my thoughts; and to find solitude along the lakes and streams.
Winter started early this year, with some of the best snow right off the bat in the beginning of November. Just as quick as the snow appeared, my off-season training began. Right along with the fast seasonal change, my energy and drive began moving again.
The Adirondacks provide the perfect playground for some of the best cross-training out there. The newest aspect to my training this winter was the integration of alpine tour skiing. Some people say they don't believe in love at first sight, but I am here to tell you, it most certainly can happen! There is nothing better for an endurance athlete than to ski 3,330 feet of elevation gain two to three times a week on top of your normal training schedule. All winter I was out working my endurance and strength in a way I had never done before. In just one off-season, I progressed more than I had in all of last year. Watch out bike course, my legs are powerful now!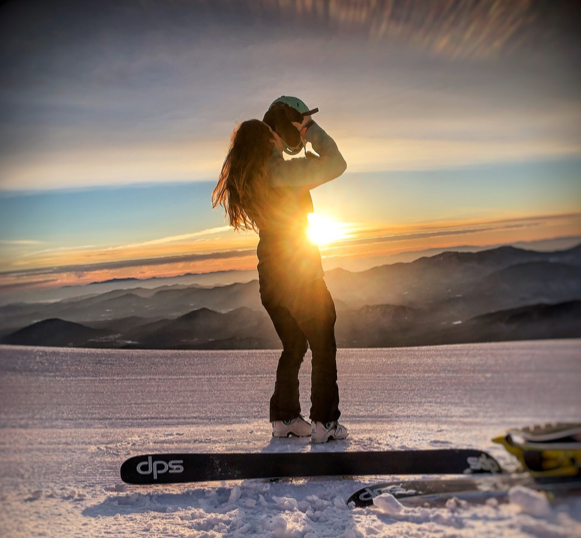 Being a triathlete in the Adirondacks isn't like being a single sport athlete. The surrounding mountains I live in play a major role in everything I do, and encourage me to always do more. I allocate an equal amount of attention to each of my disciplines: swimming, biking, and running. Then, I discover new passions outside those three disciplines for cross-training, fueling that fire deep in my soul to burn stronger and brighter, being stoked by all that I do.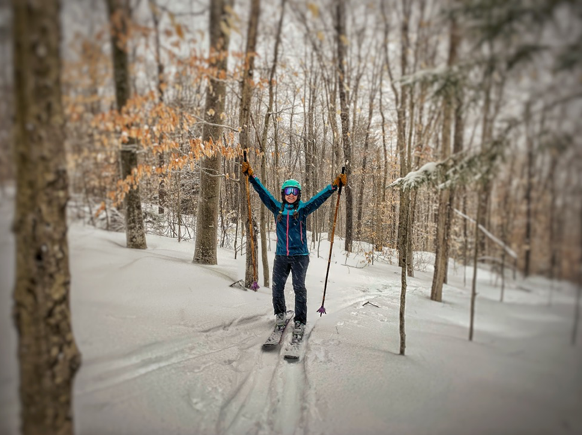 A big game changer for me this winter was to purchase my smart trainer and to transition into biking with power instead of heart rate. This may be a foreign language to all non-triathletes. To keep it simple, it basically translates to kicking ass! This whole winter of training seemed to be that of power. Powering up mountains at 5 a.m. Hitting watts on the bike. Strength training in the gym. High intensity interval running. And, just flat out killing it with strength at the pool.
Lake Placid is now home to a brand-new state of the art medically integrated fitness facility. Their salt water lap pool, replacing the missing ocean in this perfect mountain town, provides yet another part to the triathlete's training paradise here in the Adirondacks. Lake Placid is known for having the best open water swim course to train and race in, and now it has a pool to match those expectations throughout the winter months.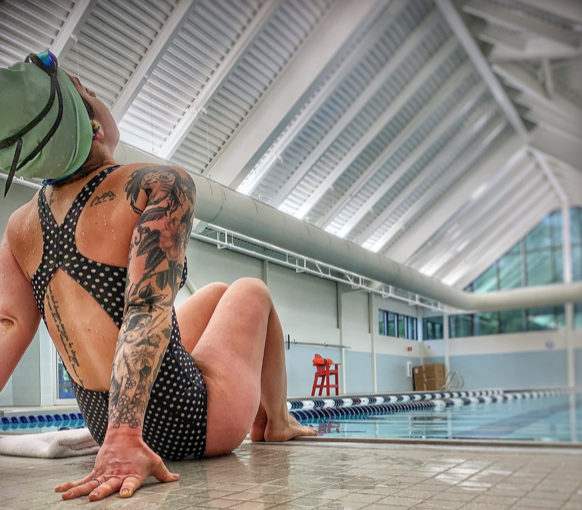 Spring training
Before I knew it, winter flew by and spring was approaching fast. This winter was one of our longest yet, but it went by so fast because I was doing it all, plus more, and ignoring all the signs that I was trying to do too much. Sometimes when it all becomes too much, the universe takes over and makes its own plans to get you to slow down. This is when everything changed for me. I made the choice to cancel both of my scheduled races located across the country and to stay here instead to race in Ironman Lake Placid 70.3. I am blessed to live in an area that has one of the most sought after Ironman courses, a course thousands of people travel to from all over the world. I only have to walk two feet off my front porch to access it. One of the most important things to keep at the forefront of all that I do is gratitude. I am grateful for exactly where I am in life and to be heading into another triathlon season here in the Adirondacks. Sometiemes a loss can provide gains.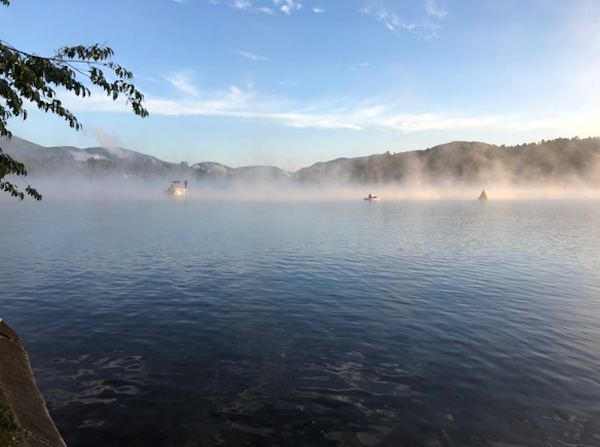 As I begin to get ready for a summer season of training and off-season comes to its close, I remember what it felt like to ski this winter and how it taught me to listen to my heart just a little bit more. I am reminded that I love having the last thing I think about before falling asleep and the first thing I think about when I wake be the excitement of riding my bike, swimming, or running right here in the mountains that I love. I choose to follow the passion for where I live and to let that reignite the energy for what I love in life. Everything I am so passionate about is right here at my fingertips.
As the first signs of life begin to pop up through the once frozen ground I too am becoming more energized, ready to enjoy another race season here in the Adirondacks. I have decided to take this season as a season for enjoyment and authentic growth. It will be a summer of building onto the previous layer so that I can be better prepared for whatever I plan next. This isn't me taking a season off, giving up, or letting go. In fact, it is the complete opposite. It is taking the smart approach to getting to where I want to go.
My coach was at my place the other day for a bike fitting, and not just any bike fitting. The most thorough four-hour bike fitting I have experienced. Patrick also lives, trains, and makes a living here in the Adirondacks doing what he is most passionate about. I have learned so much from him over the years. When someone sees potential in you, and invests their time in you, you can't help but not give up and see that great potential in yourself as well. Spending that time getting completely dialed into my bike for this season only made me all the readier to really see where I can go with my training this summer. I am so grateful for who I am today, how far I have come, all I have learned, and the amazing inspirational people who have come into my life to help me along my path.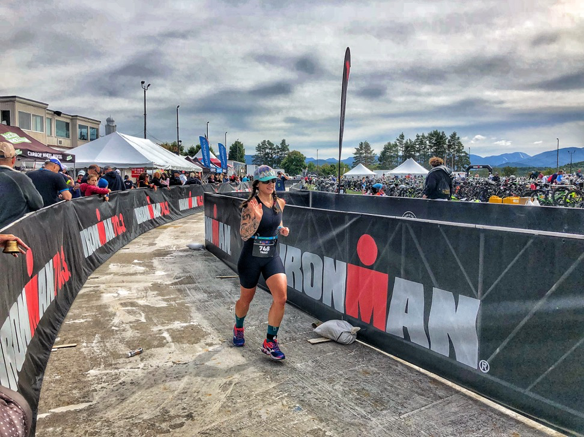 I am a triathlete living in the Adirondacks. Find me this summer out on the roads, in the mountains, or on the trails biking for miles on top of miles, riding in pure bliss. I will be racing in Tupper Lake's Tinman triathlon, a race that has been taking place in the Adirondacks for 37 years, and Ironman 70.3 in Lake Placid.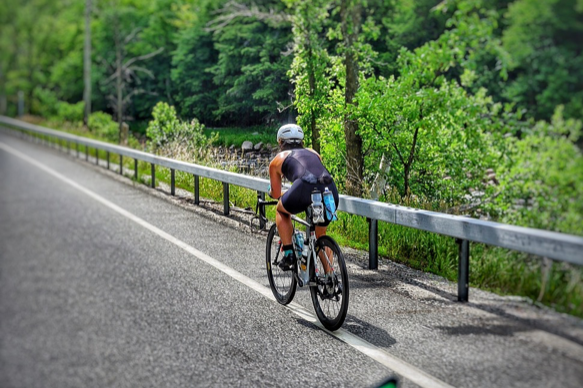 Lake Placid has plenty of opportunities even if you are not a traiathlete. You can volunteer for a race, be a spectator, and party like an athlete once the races are over. Start planning your trip today!