One of my favorite things to do in Lake Placid is take a walk and check out what's new in town. From menus to merchandise, there is always something different to try and see. Recently I have noticed that there are great new additions to Lake Placid that go beyond the little things. There are new businesses, and businesses in fresh locations. Here is a guide to what is new, and where you can find some of your favorites in new spots. Take a walk and check them out.
New for your feet:
1. The Adirondack Foot Sanctuary
This is a welcome addition to Main Street. What a treat for feet that have been out hiking or simply taking a walk around the lake. This warm and inviting space lit with candles is a sanctuary for sure. Just walking in the door you feel the relief from the day's stresses. The Foot Sanctuary offers treatments for your "soul and your soles" including foot soaks, lower leg and foot massages, and tea to sip on to rejuvenate your spirit. There is also an assortment of wellness gifts to bring home or to gift yourself. Relax and get pampered with this accessible spa on Main Street.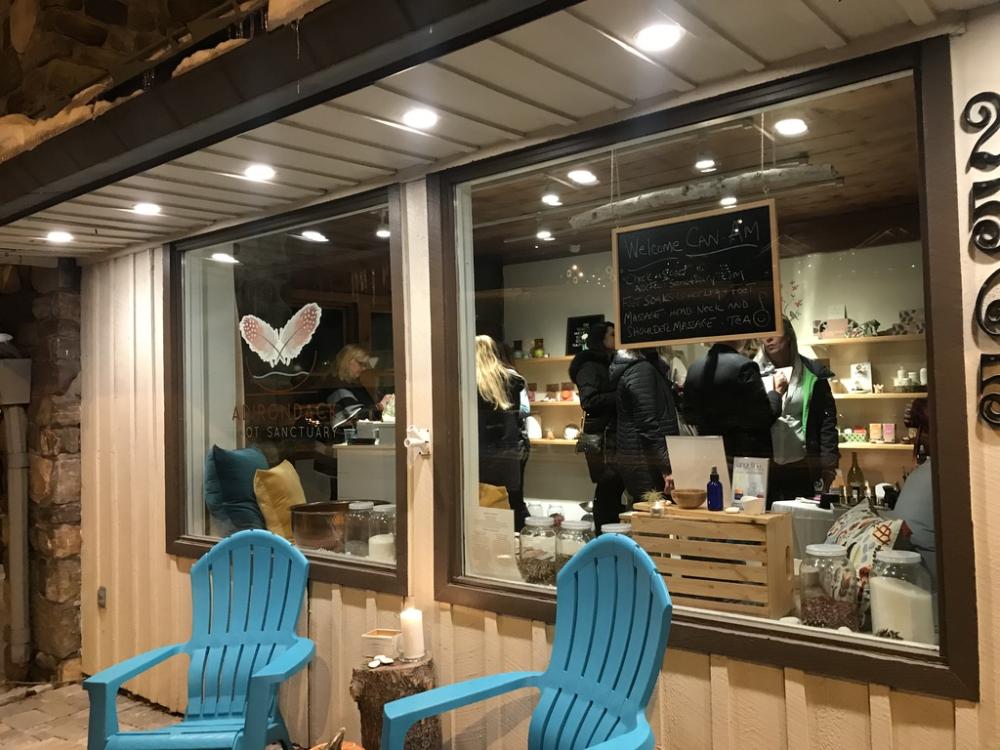 New for your mind:
2. Imagination Station
This toy store has been a fixture on Main Street for years. They have simply moved to a new location two doors down from the old one. The new set up on Main Street is where the old "Fortunes of Time" store front was located. If you are looking for fun, you have found it. Games for all ages, gifts galore, puzzles, unique signs, and so much more. I must admit, this shop is a weakness for me, I frequent it more than I should. I can't get enough of the puzzles and mind teasers, and they put out one of each so you can try it before you buy it. The new home to Imagination Station is a stately brick building that has been repaired after a fire from a few years ago. The changes made are beautiful and this construction is an impressive addition to Main Street. Go check out the new location and this great Lake Placid store.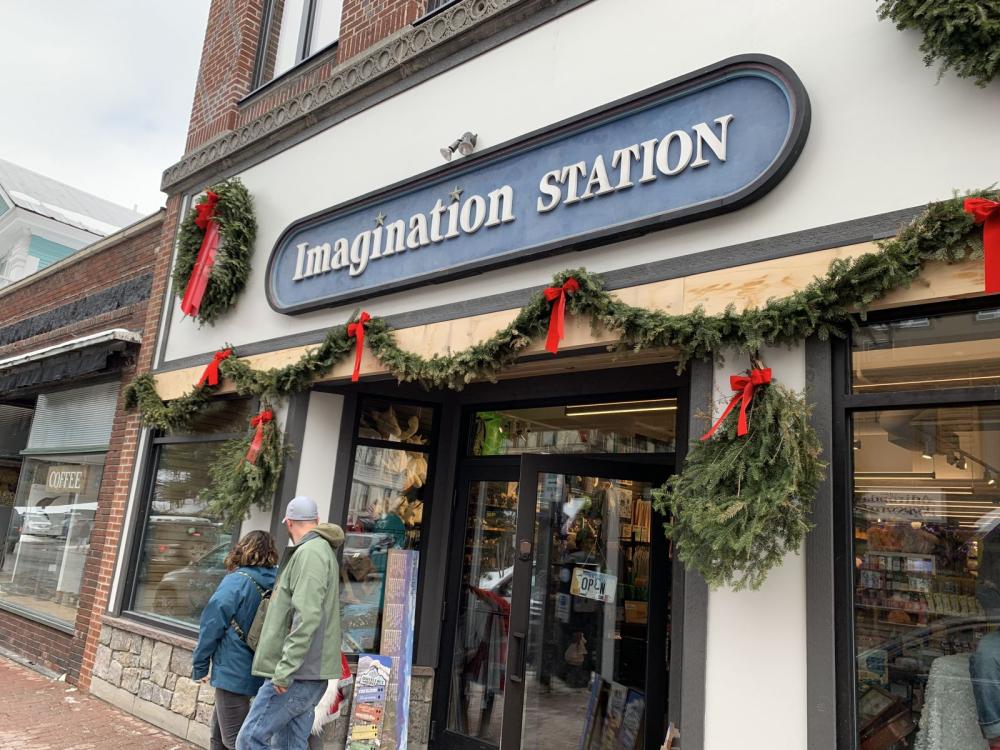 New for your taste buds:
3. Hershel's Delicatessen
Breakfast all day? Yes, please. My family and I were very pleasantly surprised at this new Lake Placid eatery. This is a walk-in, order at the counter, and find your seat kind of place, and it's fantastic. We were all over the menu. Do we want breakfast? Lunch? Dessert? Well, yes and we ordered it all. My daughter went for the French Toast from the all-day breakfast menu, which has waffles, pancakes, and more to offer. This did not disapoint this French Toast enthusiast in the least. She loved the powdered sugar and fought my husband and I off several times as we tried to sneak extra bites. My order was simple: grilled cheese and French fries. But, it was really, really good. Fresh bread, tasting fresh (I hate it when I can taste meat and things from the grill's previously made sandwiches) and this one was perfect. I included a Coca-Cola with mine, because they offer fountain drinks in old fashioned Coke cups. Made my day. My husband enjoyed a pastrami sandwich and fresh coleslaw. We all enjoyed our meals so much that we got cookies for dessert. When we left my husband said "two thumbs up for that place" and he doesn't say that often. Go check it out.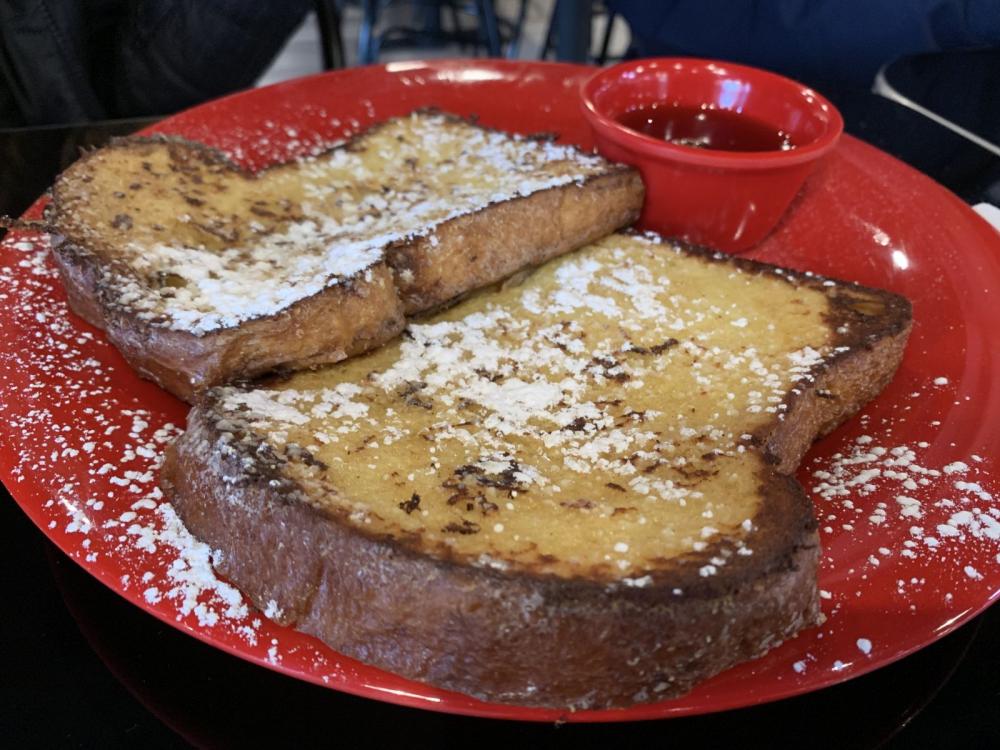 Luna Restaurant and Valcour Brewing Co.
Lake Placid loves to eat, and loves to drink, especially craft beer. Two new restaurants have added to the dining and craft beer experience in Lake Placid. Luna Restaurant is a pretty Main Street spot with seats looking out the large front window, so if you love to know what is happening on Main Street, sit there and watch the people go by. There is a great wine selection and the beautiful new bar is comfortable and a quiet spot for a date or quiet conversation. Down the road is the new Valcour Brewing Co, across the street from The Olympic Oval. Does Valcour Brewing sound familiar? This is the second location from the original located on the old Air Force Base in Plattsburgh, NY. The beers are brewed at the Plattsburgh location and brought down to this location in Lake Placid, perfect for sampling while watching the kids ice skate on the oval. Make sure the kids come over after the skate, there is a kids menu and free hot chocolate to warm them up.
New for your eyes:
4. Gallery 46
Across the street from the original gallery is the new and improved, Gallery 46. Take a peek into the gallery while you are strolling down Main street, or taking a walk around the Mirror Lake. This gallery has been on Main Street for years, but it's new location attached to The Alpine Mall is perfect for viewing the art on the wall. There is no pressure in the gallery, they love when people just come in to see the beautiful art. The gallery represents over forty artists who live, create, or work within the Adirondacks. Everything from oil paintings, jewlery, and pottery make this a must stop at this new location and the fact that Adirondack artists are featured guarantees you that you are taking home something authentic from your travels.
New Concept:
6. Bliss and Vinegar
This is a completely different concept in Lake Placid. A place for "connection, collaboration and creativity." Imagine buying fresh flowers and taking a class from the farmer that grew them, all in the same space. You can sip your tea or coffee made right there at this elegant herbal cafe. Known already in Lake Placid for the amazing fresh sourdough and workshops, this addition to town offers so much more than delicious food. The farm menu will keep you returning, and the friendly service will keep welcoming you.
Next time you are in Lake Placid, venture out and see what has changed, it's so much more than the weather.
---
This week in ADK news: