Downtown Lake Placid combines the charm of an alpine village with pedestrian-friendly dining and shopping. This is also where a large selection of resort hotels can be found. The all-in-one ease of on-site dining and activities can have a powerful pull.
Here's five fine choices.
All about nature
Golden Arrow Lakeside Resort was the the first resort in the U.S. to receive the Audubon International's Platinum Eco Rating for Hotels, and is still only one of six in the nation to receive this recognition. Their love of the outdoors shows in the decor, the farm-to-table choices in their dining, and the way they fuss over family pets. Each pet gets an organic goodie bag of their own, and the hotel donates 10% of the pet fees to the local Humane Society.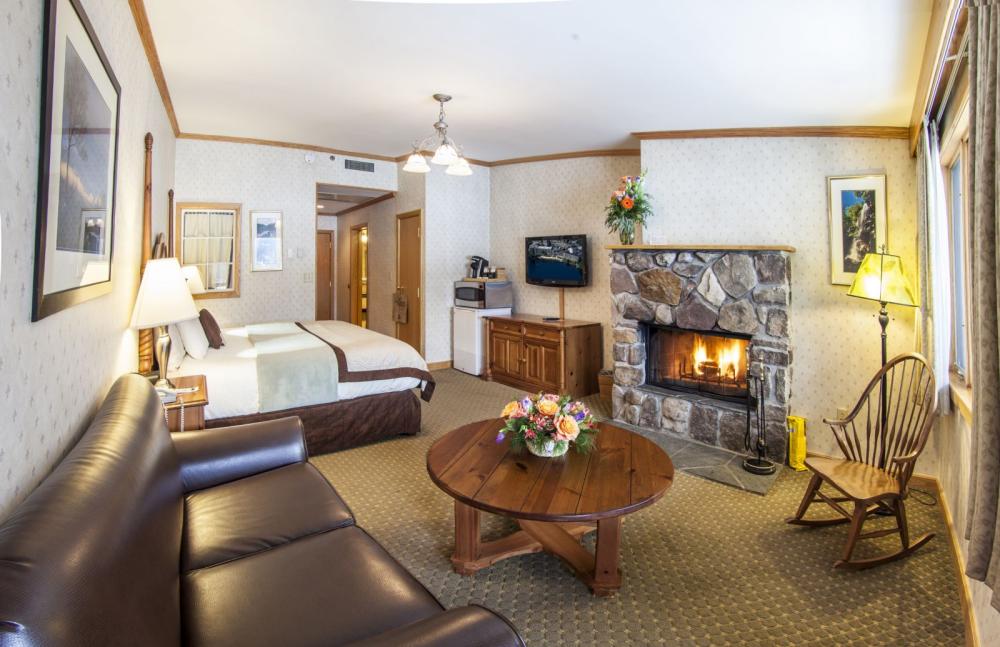 They are located on the shores of Mirror Lake, with their own private skating rink, easy access to dogsled rides and cross-country skiing on the lake. Rejuvenate indoors with their indoor heated pool, sauna, steam room, and whirlpool tub. Get festive with a choice of three different restaurants and nightclubs, and there's even an interior walkway to the Alpine Mall with its interesting shops.
Center of the action
The new kid in town, the Grand Adirondack Hotel, has a grand location in the center of downtown, with newly renovated rooms and modern luxury with a rustic flare. While it is not opened yet, the Grand Adirondack Hotel "looks to its storied past through a modern lens to reinvigorate an iconic building and again become a vibrant hub in the heart of Lake Placid for travelers and locals alike."
The original hotel, once known as Hotel Marcy after New York's highest peak, dates back to 1897. It was most recently known as the Hotel North Woods. Changes of ownership and constant expansion led to updates to this now iconic and historic hotel so it's ready to provide more Adirondack memories during your stay here.
Home away from home
The Haus offers classic Adirondack lodging with a modern feel, right on the lake! There's nothing official, but rumor has it this hotel has the best views in town.
This is a true "vacation home hotel;" everything is cozy and inviting. Most of the suites have sweeping views across Mirror Lake to the High Peaks beyond. And the best part? You can sleep soundly knowing you selected an eco-friendly hotel. In 2008 when the building was renovated, the owners took every effort to ensure materials were repurposed to ensure they left a small footprint, but with a big reward!
Choice of experience
The High Peaks Resort is another celebrated hotel that has a long history. Over time, it has grown to the point where it can offer three different lodging experiences, all in the same complex.
The main resort has concierge service, close to their award-winning spa and the Dancing Bears restaurant. Lake House offers a Great Room modeled after the appeal of a lake house with fireplaces, comfy couches, and stunning views of Mirror Lake. There's also The Bar at Lake House, with hand-selected craft brews and cocktails made-to-order, all part of the casual atmosphere.
The Waterfront Collection has rooms with the feel of a cabin of a cruise ship with fantastic views. All of them enjoy access to abundant common areas, from charming Great Room inspired lobbies to the snug little upstairs spot known as The Den, a double hearth natural stone fireplace, craft libations, and a menu of small plates as well as entrees.
About the views
Lake Placid Summit Hotel Resort and Suites has gorgeous public areas with floor to ceiling windows, giving panoramic views of the mountains and lake. The views are especially nice when seen from the indoor heated pool.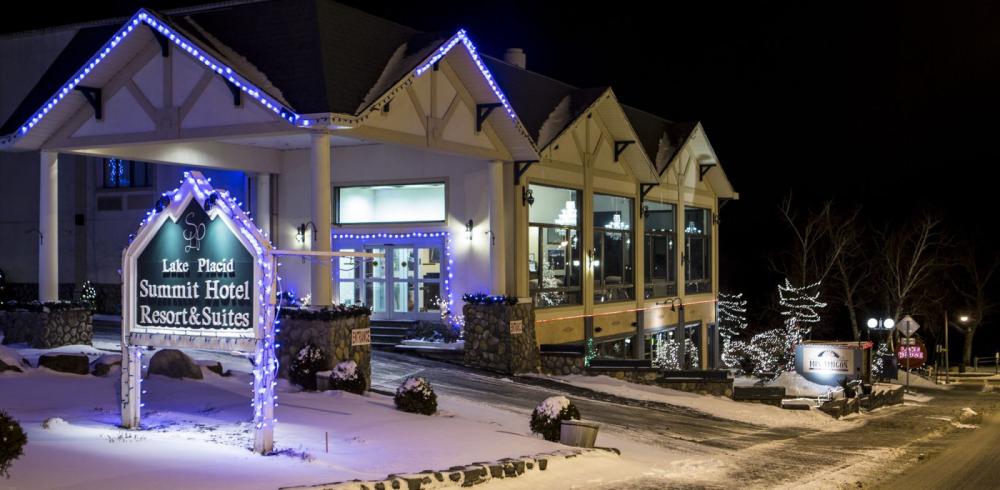 The bar downstairs is a great place to relax, with more gorgeous views from the bar.
About the elegance
Mirror Lake Inn is still family owned from the 1930's. That whisper of a bygone age continues in some welcoming traditions, such as the mid-afternoon tea with the famous chocolate chip cookies from a family recipe. There's three different dining options, with fine continental dining at The View, "comfort food with European touches" in Taste Bistro & Bar, where you can hear live music, and the après-ski atmosphere of The Cottage, right on the shore of Mirror Lake.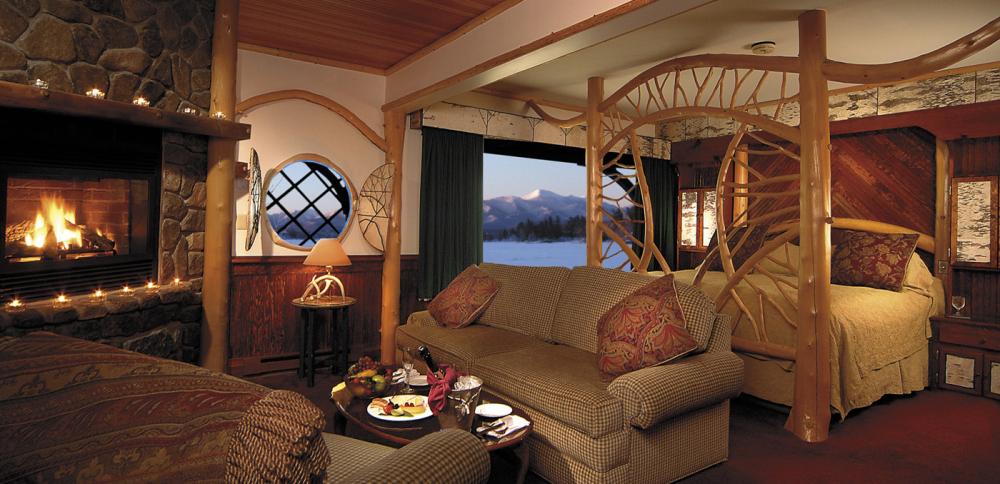 They have a spa, with Adirondack inspired decor and amenities.
---
Winter can be many things to different people. For some, it's a cabin nestled in the woods and a glorious cross-country ski across a frozen lake. Others might prefer a mountain inn near the ski slopes. A Lake Placid resort winter can be about watching the snow fall during a full moon, with a roaring fire and heart-to-heart conversations.
Downtown is a great place to stay for easy enjoyment.