If you came to Lake Placid because you like water, you won't be disappointed. And since we like variety here, you're bound to discover a new way to make waves. So dive into this list and you'll find four ways to get wet when you're in Lake Placid. If you're not into doing it yourself, sign up for a scenic boat tour and enjoy the ride!
1. Motorboat on Lake Placid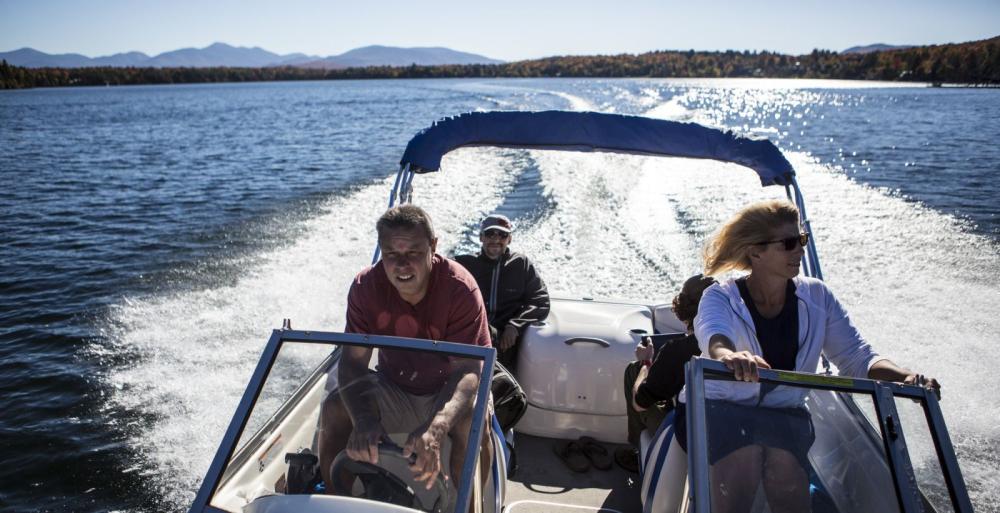 Imagine the wind in your hair, the sun on your face, and mountains on the horizon. Boating on Lake Placid lake guarantees all of the blue sky and blue water you can handle, and it's easily accessible via the state boat launch. Hook up a pair of waterskis and cruise the waves, or just coast around enjoying the view of Whiteface Mountain. This large lake is big enough for a day-long outing.
Bonus: There's a dock at the northeastern portion of Lake Placid called Whiteface Landing, from which a trail up Whiteface Mountain can be accessed. It's only about 3.5 miles to the 4,867-foot summit, but it's a steep haul so bring food, lots of water, and allow plenty of time if that's your plan.
Getting there
The state boat launch is the best place to access Lake Placid. From downtown, simply follow Route 86 west and go straight onto Mirror Lake Drive when 86 bends left. Follow this for about a half mile and look for the large boat launch sign on the left.
2. SUP or aqua bike on Mirror Lake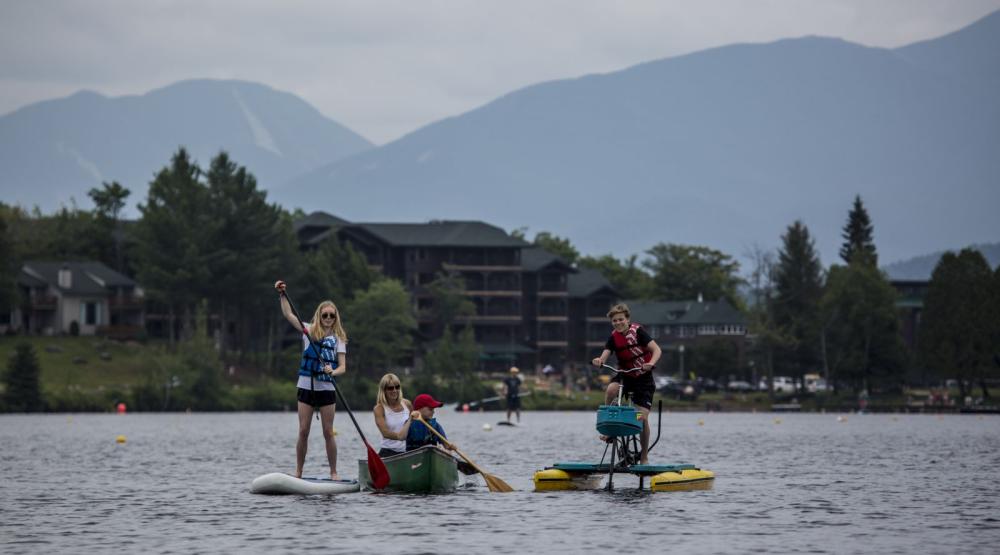 There's nothing like relaxing in Lake Placid — placid is in the name, after all — and taking a standup paddle board or aqua bike onto Mirror Lake are about the best ways to do this. Sure, one requires a little more balance than the other, but they're both a fun, unique way to experience the water. Both can be rented from a number of places downtown, so getting on the water quickly is never a problem.
Bonus: Float on over to Mid's Park when the free Songs at Mirror Lake music series is happening for the best seat in the house.
Getting there
If you're in downtown Lake Placid, you're already there. The public beach is a great place to set sail, but there are other places to launch from around Mirror Lake. Any place that rents outdoor gear can point you in the right direction!
3. Canoe or kayak Upper and Lower Cascade lakes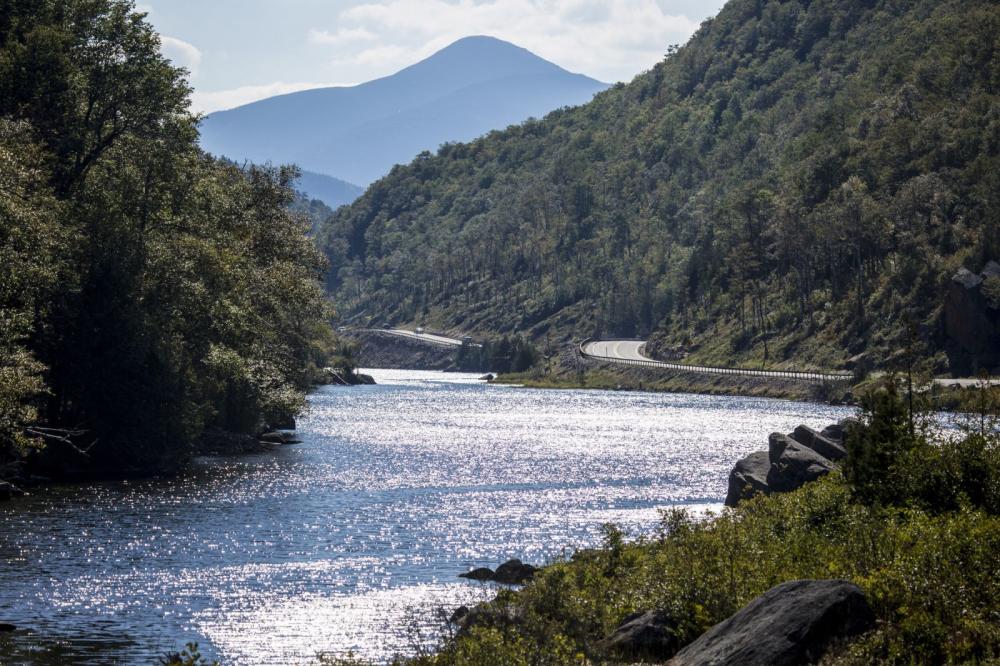 If you want to feel like you're deep in the wild without going deep into the wild, the Cascade lakes are the way to go. Just a short drive from Lake Placid, you'll turn right down the driveway to arrive at a narrow strip of land between these two long, scenic lakes. The massive cliffs on Cascade Mountain rise from the eastern shore of Lower Cascade Lake, and the rocky wall of Pitchoff is in full view to the west. This is a great spot for a picnic, and for a leisurely paddle.
Bonus: Cross the wooden footbridge at the back of the parking area to reach a path that leads to the base of a fairly new slide. Carefully continue up, through the jumble of large rocks, and you'll reach an impressive waterfall. It can be seen from Route 73, but it's way better up close.
Getting there
From downtown, head east on Route 86, then turn right onto Route 73 at the four-way intersection. You'll pass the Cascade Mountain trailhead on the right, followed by Upper Cascade Lake. Immediately after Upper Cascade Lake there's a sharp right turn — it's about 8.5 miles from the turn onto Route 73. Take that to get to the wonderful picnic area that separates the two lakes.
4. A backcountry swim in Copperas Pond
There are two approaches to Copperas Pond, and both are lovely. The longer route follows a scenic brook, skirts an area flooded by beaver activity, then arrives at Owen Pond in a half mile. Next, it climbs over a hill and descends to a designated tent site on the shore of Copperas Pond, 0.7 mile from Owen Pond. There are a few good places to dive in, but the best is the large jump-off rock that's directly across the pond from the campsite.
A faster way to get to the rock is to start from the second trailhead. This half-mile hike climbs steeply for 400 feet to the crest of a hill before dipping down to the pond. Take a right to reach the rock and turn left to get to the aforementioned tent site.
Bonus: Just past jump-off rock there's a lean-to that's a great place to spend the night, and since the pond is set in a bowl it feels pretty secluded even though the road is a mere half-mile away.
Getting there
From downtown, head east on Route 86, toward Whiteface Mountain and Wilmington. The Owen Pond trailhead and parking area are on the right after about 6.5 miles. The Copperas Pond parking area is on the left in another 0.3 mile, the trailhead is on the right.
---
Rent some gear, get dinner in town, and spend the night.
---