When I was a kid all I wanted to do on vacation was swim. It didn't matter what the hotel was like, it mattered what the pool was like. The other stuff was just details that mattered to my parents, but not to my siblings and me. Vacation meant swimming. Swimming until our skin was wrinkly and we were so exhausted we would fall asleep wrapped up in a towel by the water. Whatever vacation means to your family, whether it's hiking, biking, shopping, or swimming, Lake Placid has what you are looking for — beautiful resorts to go along with gorgeous swimming spots. Dive right into summer in Lake Placid under the perfect mountain sky.
Whiteface Lodge Resort & Spa has it all. This all-inclusive resort has a pool that the kids and the adults will enjoy, there is even an adults-only hot tub so you don't need to worry about being splashed or having the kids jumping around you. There are three hot tubs total, and they are all amazing. They are constructed from natural materials, so you feel as if you are in a hot spring high up in the mountains. The heated pool is an indoor-outdoor pool and they are connected by a tunnel to swim through. This pool is my childhood dream come true. My kids enjoy it every chance they get, for hours. I love to sit in the oversized, super comfy loungers. Luxury loungers, I mean, complete with thick cushions and their own umbrellas.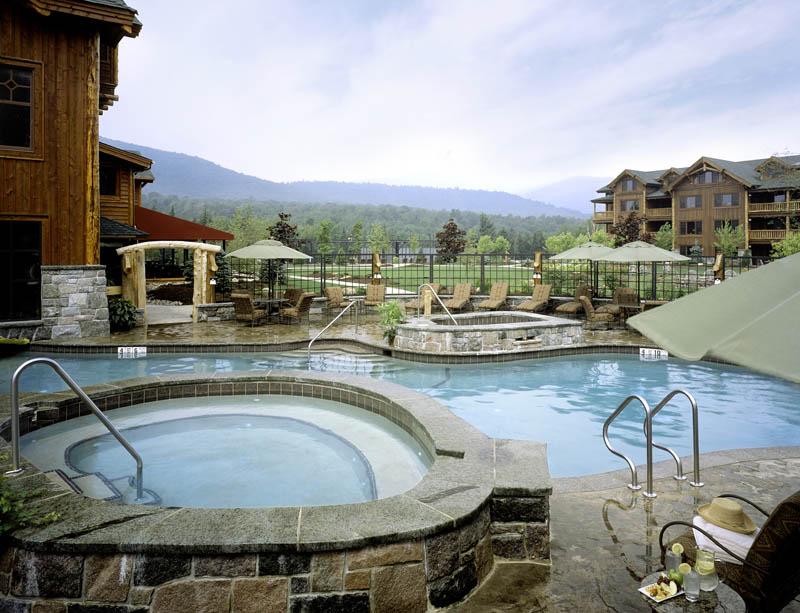 Another all-inclusive resort in Lake Placid is the four diamond Mirror Lake Inn Resort and Spa. This resort has so much to offer. Located right on Mirror Lake, there is a private beach for swimming, fishing, and boat use for guests. There is also an indoor pool and hot tub that cannot be beat. The outdoor pool, with its gorgeous views of the High Peaks and lake, makes this resort one of the best for swimming in Lake Placid. There are just so many options, you will want to move in. The Mirror Lake Inn offers complimentary spa robes in your room. These "Frette" robes of the finest quality will keep you covered as you roam from one swimming spot to another in style and comfort. This family friendly resort has everything for a perfect family vacation.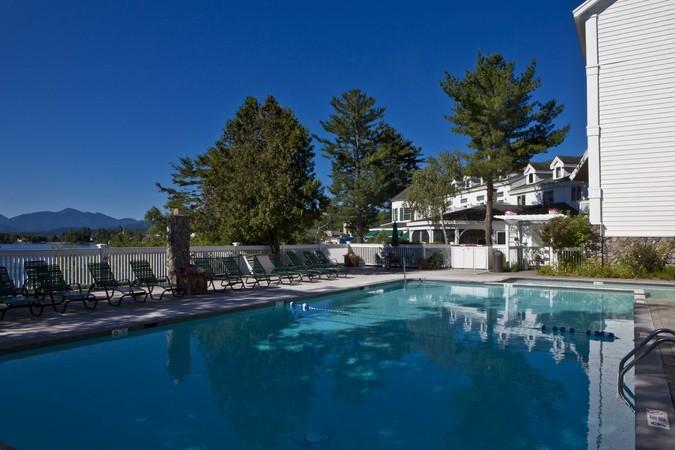 A pool with a view is always a plus. High Peaks Resort in Lake Placid is on the lake as well, and the pool is right on the shore. You can swim in the pool one minute, and literally be in the lake the next. This is a great spot for little ones that may be nervous to hit the big lake, but want to feel as if they are right there. The pool is surrounded by nature, green grass, the lake, and gorgeous mountain views. If you prefer to be on the lake, there are plenty of paddleboards, canoes, and kayaks available to guests. There is also a pool in the main building of the High Peaks resort and the Lake House. So, let's go swimming.
White sand beach? YES, please! Golden Arrow Lakeside Resort is different and exceptional. This private beach is made with crushed limestone to decrease the effects of acid rain. This is no surprise considering this hotel was once named the "greenest hotel in the United States." This white sand beach is also amazing for sand castles. The kids love how the shallow water leading into Mirror Lake is safe and easy to swim as well as clear and sorrounded by beauty. There is also a playground on site, so if the kids get tired of swimming, which will not happen, they can play nearby while you lie on the blue lounge chairs and get some vitamin D.
There is also fishing and boating right from the shore. Just jump in the boat and enjoy the water. Life jackets are provided. Mirror Lake has a motor ban, so all boats are motorless. A unique feature to the Golden Arrow Beach is the handmade gondola cruise. This gorgeous Italian gondola will take you around Mirror Lake, so grab some wine and a cheese platter from Generations Restuarant to enjoy during the ride. It's perfect family fun on the water. The Golden Arrow also has a heated indoor pool for those chilly or rainy days.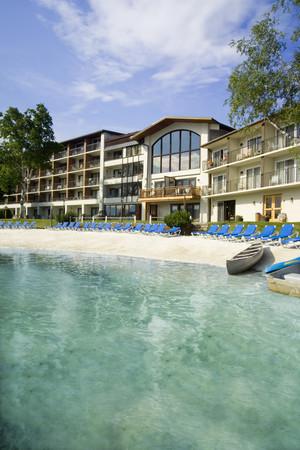 Crowne Plaza has a very large indoor pool and hot tub. There is also a huge indoor space for families to relax and eat in while the kids are busy swimming. A half-mile down the road is thier private beach to Mirror Lake. This walk is short and worth it. "The boathouse" offers a private beach, complete with everything you will need for the day, including boats and beach chairs. You don't even need to carry your towel down with you, just head over and enjoy the gorgeous scenery of the beach and lake.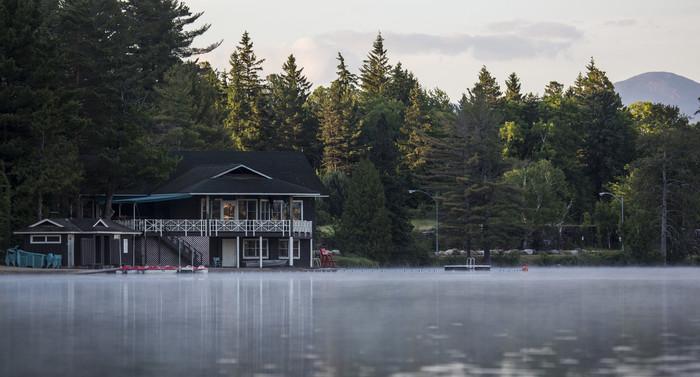 If you want to leave the comfort of the hotel and get out and experience a great day on Mirror Lake, the public beach has lifeguards on duty, so you can take a load off and relax while the kids swim. Bring a towel to lie on and some toys to create sand sculptures and you are all set. The swimming is fun here; there's a dock to jump off of and a lot of new friends to make. The beach offers views, friends, and swimming all day long in Mirror Lake. Nothing could be more perfect.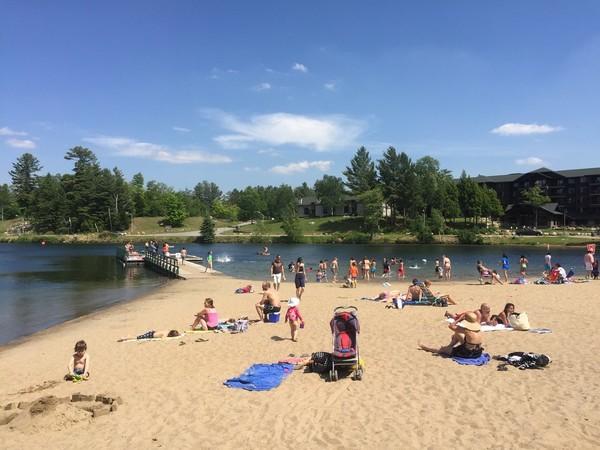 Lake Placid has swimming pools and hotels with great amenities to help you invent your perfect summer day. Just keep swimming.
---